A musician takes the stage, quickly winning over an audience with musical prowess. As we listen, we lose ourselves in the music, rarely thinking about the instrument upon which the music is made. But someone somewhere made that instrument. For many musicians, that "someone" is actually a team of nameless workers at a factory where much of the "craftsmanship" is lost to efficiency.
But for many professional musicians or well-to-do amateurs, such mass-produced instruments simply won't do. They want handcrafting, and whether they play a harp, dulcimer, guitar, or ukulele, they need travel no farther than SLO County to find a world-class, handcrafted instrument made by artisans.
One of the area's first luthiers was Fred Artindale, a first-rate violinmaker who slowly produced instruments in his Palm Street shop. Artindale died in 1995, but others such as guitar maker Peter Yelda, who for 25 years has made and repaired stringed instruments have carried on this old-world tradition.
For so small a community, we have a high percentage of such instrument-makers, not to mention two major guitar manufacturers (National Resophonic and Ernie Ball), both of whom, though mass-producing their instruments, still use plenty of handcraftsmanship and enjoy reputations for creating superior instruments. We've also got a couple of world-class pick-up makers in Baggs Pick-ups and Highlander Musical Audio Products. Though far from all-inclusive, the following will give you a small sampling of the many fine luthiers working in our area.
PHOTO BY JESSE ACOSTA
PETER YELDA GUITARS: 544-1071
# Aside from Fred Artindale, Peter Yelda is one of the original luthiers in SLO County. Now, he mainly devotes his time to repairing instruments.
"I haven't made a guitar since 1999 due to health problems, but I hope to pick it up again," Yelda said. "I think I only made about 35 guitars in my 25-year tenure, but I've repaired guitars quite a bit. From the late '70s until the late '90s, I was the only guy who did it. In 1980, I received a National Endowment for the Arts grant, a fellowship for better guitar making, which led to an artist-in-residency grant at Friendship School, and later in the '80s, I taught guitar building at a senior center in Santa Maria."
One technical breakthrough Yelda has heralded is Computer Numerical Control (CNC) machines, which every luthier interviewed for this story either had or wished they had. These machines are like a computer-controlled lathe and can precision-cut a guitar neck, for instance, in a fraction of the time it would take a luthier to hand carve one.
"I think it's a good way to use technology. They're tools just like everything else, but they have to be used properly ... programmed correctly," Yelda said. "It gives a level of accuracy pretty hard to achieve by hand."
Still, even with the use of such machines, the process of creating a custom guitar is extremely time consuming, which is why it's not uncommon to pay $5,000 or more for an instrument.
"The CNC does a lot of the rough cutting and drilling of holes, but [an instrument] still has to be finished out," Yelda explained. "You're still assembling components, adjusting how thick the top is, the braces. So a CNC helps save time, but it's no substitute for what makes a good guitar."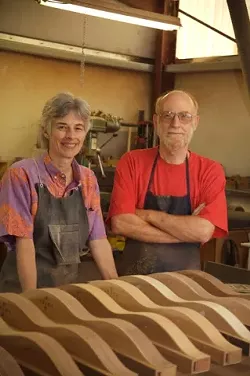 PHOTO BY JESSE ACOSTA
BLUE LION MUSICAL INSTRUMENTS: Robert and Janita Baker 10650 Quail Lane, Santa Margarita 438-5569 (call for an appointment) bluelioninstruments.com
# Compared to the ubiquitous guitar, the dulcimer is a rare instrument indeed, and most of those manufactured today come from small builders. While there are a couple of U.S. shops that create as many as 3,000 instruments a year, most dulcimer manufacturers are one- or two-person operations building fewer than 100 instruments a year.
One of the best small manufacturers is Blue Lion, run by husband-and-wife team Bob and Janita Baker, who deliver about 150 dulcimers a year from their Santa Margarita shop. They're best known for their rosewood dulcimer with a rose inlaid in the body. Bob does most of the construction, while Janita does the inlay work and finish sanding.
They've yet to invest in a CNC machine, instead relying on pin routers, electric saws, and sanders which all commercial manufacturers now agree are necessary to profitably make instruments.
"We're not doing everything by hand," Bob said. "It wouldn't be possible to make a living. In fact, I don't know anyone making them completely by hand. I've done that when we started building guitars 30 years ago, and it's very time consuming!"
Blue Lion ships about half its inventory to shops, and custom makes the other half for private clients.
"We're working on one custom dulcimer right now that's going to push $8,000," Bob said. "There's a lot of detail and inlay. Before that, I think our most expensive one was $4,000 for a mahogany instrument with a carousel theme."
Folk artist Tracy Chapman and comic Steve Martin are a few of the celebrity owners of a Blue Lion instrument, and it doesn't require much checking around to find that these instruments are the most highly rated dulcimers in the world.
"In terms of functionality and art, I'm not aware of anybody even competing with us on that level," Bob said.
PHOTO BY JESSE ACOSTA
TRIPLETT HARPS: Debbie and Stephen Triplett 220 Suburban Road, SLO 544-2777 (call for an appointment) triplettharps.com
# Triplett Harps has been in operation for 25 years, establishing a wide network of dealers worldwide though locally you'll need to contact them directly to purchase an instrument.
"We went international about 10 years ago," said Debbie Triplett, who, with husband Stephen, runs their SLO-based shop. "There are a couple hundred small manufacturers of these kinds of harps, but we know of only three who are our size: 14 employees."
Triplett which makes Celtic-style harps with the sharpening mechanism (which makes notes sharp rather than flat) on the neck rather than as a floor pedal says its goal isn't to create historically accurate replicas, but to further evolve the harp.

"We want to improve on the sharpening mechanism, better strings for tonal quality, and improve on the pick-up system," Debbie said.
For those who want their instrument electrified, they use Highlander pick-ups. Because their harps are beautiful works of art, they've made them for decorative purposes, but, according to Debbie, even those harps ended up getting played.
"If you can play the piano, you can play the harp, and when the harp is in tune, it's probably the most beautiful instrument you can start to play. You can sound like you know what you're doing the first day."
Like most handmade instruments, they're not cheap, starting around $1,000 and going up to about $6,000.
"We know our reputation is quite high, because we're known worldwide, and people tell us all time how much they like the way our instruments sound and play."
Mike Baranik is getting ready to raise his base prices from $5,100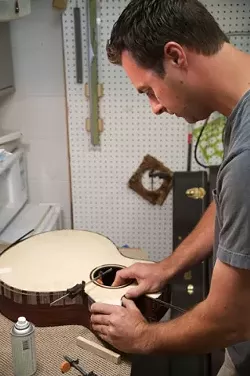 PHOTO BY JESSE ACOSTA
MIKE BARANIK GUITARS: 541-1737 (call for an appointment)
# to $6,500 beginning Oct. 1. Seeing as how he only makes 20 instruments a year and there's always a waiting list to buy a custom guitar, it shouldn't affect his sales.
"I have five U.S. dealers, one Japanese dealer, and one in the U.K.," said Baranik, who learned his trade at the Roberto Venn School of Lutherie in Phoenix. "My guitars are highly crafted, with lots of detailed woodworking. I have a couple CNC machines, and I like to make my own tools and jigs. The CNC rough carves the necks and frees me up for working up real detailed parts."
Baranik's prices have risen steadily in the last seven years. He started selling his custom-made guitars very reasonably and quickly developed a reputation that's made him internationally known. His guitars fetch as much as $12,000 for highly detailed and customized models.
"When people see my guitar for the first time, I think they're amazed at the quality, and to have a guitar made by one person is unusual," he said. "A factory-made guitar might have 25 or 30 people working on it, but when I make a guitar, I know it inside and out."
What Baranik likes most about working out of SLO County is the camaraderie of local luthiers.
"Being part of the community out here is so wonderful, and I really enjoy working with private customers to get them exactly what they want," he said.
National Reso-Phonic Guitars, Inc. is probably the best-known resonator guitar manufacturer in the world, but even with all its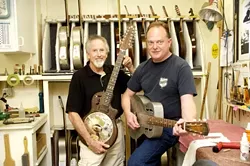 PHOTO BY JESSE ACOSTA
NATIONAL RESO-PHONIC GUITARS, INC.: 871 Via Esteban, C, SLO 546-8430 (call for an appointment) nationalguitars.com
# CNC machines and 24 employees, it barely makes 1,000 instruments a year, which is why they're so highly prized not to mention expensive.
According to McGregor Gaines (left), vice president of the company, their reputation is derived from their niche market.
"We're not an instrument like a Fender and Gibson, brand names that have quite a strong market and are known throughout the world for a certain style of music," he said. "Our instruments are associated with traditional music, styles that came from an earlier time."
Recently, other manufacturers have made forays into the resonator guitar market, many from China, with much lower price points than the basic National model but Bob Dylan, Mark Knopfler, and G. Love don't buy those guitars. They buy National.
"We're a community-based manufacturer that hires locally, and for a lot of people buying high end guitars, 'Made in the USA' still means something," Gaines said.
"Though we have a lot of machinery, making our guitars is still a very labor intensive activity. We have an unusual factory situation where we do combine a lot of metal working as well as woodworking," added Gaines, who, with business partner Donald Young (right), studied vintage National Guitars to create the dyes and tooling they use to create these American masterpieces.
PHOTO BY JESSE ACOSTA
RON SAUL UKULELES: 870 Capitolio Way, No. 6, SLO 549-8530 (call for an appointment)
# Ron Saul is a guy who likes to have fun. He even invented the Pittuba, a bagpipe-like instrument that fits under your armpit and makes farting noises. He's sold a few of them, but he makes his living making and selling ukuleles.
"I sell 'em in shops, mostly. I have two in Hawaii and two in Japan. Locally here, I sell 'em myself, and dreamguitars.com carries my ukus," said Saul, who used to work for Ernie Ball and set off on his own to make banjos.
"A friend brought me a broken ukulele to fix, and I thought it'd be fun to make one, which I did, and then someone wanted it," he said. "I make concert ukus, which are bigger than the little soprano ones. There are also tenor and baritone ukuleles, and I want to make tenor ukus next."

One of the things that makes Saul's ukus so popular is the exotic woods he uses: Oregon myrtle, Honduras mahogany, Brazilian rosewood. The instruments start at $850 and go up to $3,000 for the Brazilian rosewood with ebony trim and pearl inlay. Saul laid in a supply of the rosewood before it became unavailable due to rainforest depletion which accounts for the price but he thinks the Honduras mahogany offers the best tone.
"Traditional Hawaii ukuleles are made of koa, which only grows in Hawaii," he said. "That's also my toughest market. I only sell two or three ukus a year there, because Hawaii musicians are very loyal about buying Hawaiian-made instruments."
Because Saul believes a stringed instrument sounds better if it's played and because he says it helps relieve stressed glue joints he strums each string on his instrument one million times before selling it.
"I made a machine, and it takes about 11 days for it to finish. It sometimes drives me crazy listening to it, but usually I can tune it out," he laughed.
Saul runs a one-man shop and produces only 70 or so ukus a year. He also plays bass in a couple of local bands, his own old-guy surf rock outfit The Dentures, and The Howlie Playboys, who specialize in Hawaiian music.
If you're looking for a top-quality stringed instrument, it's clear that SLO County is ripe for the plucking.
Glen Starkey plays the spoons the nice silver ones he lifted from his mom's special silverware drawer. Ask him to join your band at gstarkey@newtimesslo.com.