Belle Glos 2012 Pinot Noir Blanc Sonoma Coast

BELLE GLOS 2012 PINOT NOIR BLANC SONOMA COAST:
This pretty pink wine is exquisitely dry yet expressively fruity. Named oeil-de-perdrix (French for eye of the partridge), it's made with pinot noir grapes grown expressly for making this rosé, explained winemaker Joseph Wagner who also makes Meiomi wines. That means it's not made from juice run-off from red wines. It's partially fermented in French oak barrels to add light spices and texture. Vibrant aromas and flavors of strawberry, raspberry, and tangy cherries are nicely offset by subtle spice in this refreshing pink wine. Great alone, it perfectly complements shellfish, bouillabaisse, or roast chicken dishes. I've had it in restaurants but this French-like rosé is a very good deal at $18 retail online, only at meiomiwines.com.

Meiomi 2012 Pinot Noir Central Coast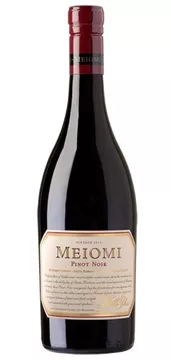 MEIOMI 2012 PINOT NOIR CENTRAL COAST:
A blend of pinots grown in Monterey, Santa Barbara, and Sonoma counties, this delicious red is rich, bold, and impressive. It opens with a delightful array of red and black berries, juicy plums, with nuances of spice and earth. It is as enjoyable on its own as it is at the table. Pair it with something special like filet mignon, rack of lamb, wild salmon, or seared ahi. Made by Joseph Wagner, fifth generation of the famous Napa Valley Wagner family that owns Caymus, they have long respected the Central Coast for the quality of the excellent pinot noirs grown here. This is available at BevMo, on sale for only $19.99 (normally $24.99), or at meiomiwines.com.