BEST NEW COMPANY OF 2017
Paso Robles Casino & Craft Paso Bar
1144 Black Oak Drive, Paso Robles
Paso Robles's newest gem is the Paso Robles Casino and Craft Paso Bar. The new casino offers gaming, food, and beverage options. There are tournaments and live games such as Blackjack and Texas hold 'em with friendly dealers at the Gaming Club. The casino, lounge, and bar are open from 8 p.m. to 2 a.m. throughout the week. The biggest draw could be the exotic rum cocktails being served by the bartending team. "These guys are expert mixologists and chemists with vast experience from many previous gigs in SLO County's best establishment," co-owner Don Ezzell said.
—Karen
runner-up: Indie Salon & Beauty Bar

BEST RADIO STATION
KJUG 98.1 FM
3620 Sacramento Drive, suite 204, SLO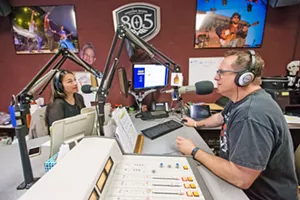 Yeeehaww! Just because you're stuck in traffic on Highway 101 doesn't mean you can't feel like the cowboy or cowgirl you know that you are. KJUG 98.1 prides itself on being No. 1 in providing listeners with today's best country music hits: Sam Riggs, Keith Urban, and more. In addition, the station is also home to Tom and Becky in the mornings every weekday from 6 to 10 a.m. The station has been providing the Central Coast with music, public service, and fun since 1992. You can even take them with you by downloading the KJUG mobile app on your phone!
—Chris
runner-up: KCBX 90.1 FM

BEST NEWS SOURCE
New Times
1010 Marsh St., SLO
Well, color me surprised. I assumed most people only picked up New Times for the massage ads, but then I read, "NOTICE: ALL ADS IN THIS CATEGORY ARE FOR THERAPEUTIC NON-SEXUAL MASSAGE," so that couldn't be it (plus, LAME! What about my happy ending?). I also thought most people got their news from Twitter these days, but maybe that's just for fake news. Maybe for real news, people still like the feel of newsprint between their fingers, especially if they want local news from a team of dedicated journalists and one snarky office machine to satirize it all. We rule!
—The Shredder
runner-up: KSBY

BEST PLACE FOR A WEDDING RECEPTION OR BIG BASH
Madonna Inn
100 Madonna Road, SLO
From intimate groups to grand events, Madonna Inn accommodates any occasion with its unique, decadent style. Gorgeous outdoor locales like the Secret Garden are nestled among 1,000 acres of beautiful rolling hills and backdropped by the grandeur of the inn itself. Ballrooms holding anywhere from 20 to 250 guests are available to rent, along with Madonna Meadows and the Expo Center that can hold thousands. The inn is nothing short of picturesque, the perfect spot for stunning photos. No wonder SLO County voted this Best Place for a Bash. How could you forget a party covered in the rosy glow of Madonna Inn pink?
—Anna
runner-up: The Graduate

BEST CATERER
Taste! Catering & Eatery
2900 Broad St., SLO
Taste! Has been trusted with serving dishes and appetizers at corporate and private events throughout SLO County since 1998. The catering service has done everything from galas at Hearst Castle, weddings on the Oceano Dunes, to New Year's Eve parties. Elaine Danicic said the catering crew has done it all and has had fun bringing great eats to every occasion. "I want to thank the community for its support and trust with their important occasions. It is incredible to be recognized again for our hard work and dedication to making events memorable," Danicic said.
—Karen
runner-up: Farmhouse Corner Market

BEST CAR WASH
Quiky Car Wash
2595 Broad St., 1460 Calle Joaquin, SLO
Almost 290,000 cars have rolled through the Quiky Car Washes in San Luis Obispo. Each one gets its own personal sweet sudsy bath in three minutes before hitting the road in a shiny show of cleanliness. The driver never has to leave the car, even to pay. They also offer a monthly pass, a prepaid cash or gift card, or a wash book (buy six washes for the price of five). "We want to put a smile on your face while you're here with us at our state-of the art car wash facility, and when you're on the road enjoying your sparkling clean car," the website states.
—Camillia
runner-up: Sunset North Car Wash

BEST MEDICAL MARIJUANA DELIVERY SERVICE
House of Holistics
SLO County
What does it take to run a Best Of-winning medical marijuana delivery service in SLO County? "Constant dedication to our patients," "extremely fair prices on quality product," and "a willingness to give back to our community," said House of Holistics founder Helios Dayspring. Whether it's flower, edibles, or extracts, indicas, sativas, or hybrids, House of Holistics has some pretty sweet deals, too—including a free gram of flower for first-time patients. Dayspring started the delivery service in 2013, and has worked with partner Valnette Garcia ever since to serve the Central Coast cannabis while "showing meticulous dedication to the advancement of our industry."
—Peter
runner-up: Go Green Care

BEST LOCAL BANK/CREDIT UNION
SESLOC Federal Credit Union
SLO, Arroyo Grande, Atascadero, Paso Robles
Did you know SESLOC stands for School Employees of San Luis Obispo County? Yes, 75 years ago, a group of local teachers and staff decided they wanted to form a credit union to enable "people of ordinary means to borrow at reasonable interest rates under thoroughly honest and fair conditions," per its website. They launched with just $500 in assets. Today, SESLOC Federal Credit Union has more than 40,000 members across SLO and Northern Santa Barbara counties, four local branches, and they continue to clean up this Best Of category year after year!
—Peter
runner-up: Rabobank

BEST REAL ESTATE COMPANY
Richardson Properties, SLO
Paso Robles, Templeton, SLO
With 44 real estate agents spread throughout three SLO County offices, "Richardson Properties has an unstoppable drive to exceed client expectations while positively shaping the community," according to Marketing Manager Brittani Tom. The brokerage has a dedicated new home development division and worked on projects such as the Marsh Street Brownstones. The real estate company is affiliated with Christie's International Real Estate and Leading Real Estate Companies of the World, and is the only SLO-based affiliate of Luxury Portfolio International. They can offer clients "an incomparable level of service, global visibility, and superior opportunities for network marketing when buying or selling real estate."
—Camillia
runner-up: Keller Williams, Pismo Beach

BEST LAWYER
Harris Personal Injury Lawyers
1025 Farmhouse Lane, suite 2F, SLO
Since 2010, Harris Personal Injury Lawyers has been in SLO taking on motor vehicle accident cases involving cars, trucks, cyclist, scooters, pedestrians, and more. Marketing assistant Katie Tomkinson said seven lawyers and 20 case managers, paralegals, and legal assistants work out of their office across from the new SLO County airport terminal, plus 25 lawyers and close to 75 staff in the state. "We care about every case and every client. We have built our reputation and our law practice on a strong desire to not only deliver justice to each of our clients, but to also earn their respect," she said.
—Camillia
runner-up: Ilan Funke-Bilu, Attorney at Law

BEST HOME & GARDEN SERVICE
Purlieu Landscape Design & Build
725 Buckley Road, suite A, SLO
Purlieu Landscape's mission is to "design and build edible and ornamental landscapes without putting additional strain on any site's potable water system." They're more than a landscaping company though; Purlieu has built rainwater-harvesting systems for its clients that have captured more than 404,000 gallons of rainwater since 2016. Now, that's pretty cool. According to the company's website, "We exist to build meaningful relationships, design unique experiences, and craft landscapes with the same integrity that we've built our company on."
—Camillia
runner-up: Brezden Pest Control

BEST MOVING COMPANY
Meathead Movers
3600 S. Higuera St., SLO
Meathead Movers won't stop growing. "We've had such incredible momentum over the last year or so," Dawn Mean, a Meathead Movers manager, said. They are in the middle of a big hiring push, looking to bring on about 200 student (or former) athletes companywide this summer. And companywide covers a lot of ground. Founded by Aaron and Evan Steed in 1997 in SLO County, the company now has offices all over Southern California offering moves as far away as Washington, Idaho, Utah, Colorado, and New Mexico. Annually, Meathead packs up and ships out 14,000 homes, 4,200 of which were in SLO County in 2017.
—Camillia
runner-up: ASAP Movers

BEST PLUMBER
Total Plumbing
2750 Broad St., suite B, SLO
With someone available 24 hours a day, seven days a week, Total Plumbing serves the entire Central Coast. "From minor leaky faucets to major sewer lines and repairs and everything in between. We've seen it all," the company's website says. "Anything that has to do with water and waste, we specialize in." Clogged or smelly drain? They'll save you. Water backing out of the toilet? They're on your side. Broken gas or water pipe? They'll fix it. Just call them, and they'll be there.
—Camillia
runner-up: Drain Busters Plumbing

BEST DENTIST
Matthew Kim DDS; and Nathan Wong, DDS
1370 Chorro St., SLO
When you think about it, smiling is kind of weird. You're basically showing people part of your skeleton, but if you're going to show your skeleton, it might as well look good! I've been going to Dr. Kim for years, and he's the best dentist I've ever had. He lets you know the options and explains what he's doing. "We are humble and grateful," Dr. Kim said. "We provide high technology with a caring human touch. I do emergency maxillofacial dental trauma and lecture on such topics. We also have the most amazing patients and staff!" Make that skeleton sparkle! Smile!
—Glen
runner-up: SLO Smiles

BEST ORTHODONTIST
Garrett Orthodontics
SLO, Arroyo Grande
Dr. Brett Garrett is rocking his orthodontics practice, as evidenced by back-to-back "Best Of" awards! The Cal Poly grad said his office deploys 3-D imaging on patients, a technology rarely found on the Central Coast. "It helps me get a better diagnosis and treatment plan together," Dr. Garrett said. He's got two offices to better accommodate patients countywide. Both are staffed with warm, friendly people ready to make your trip to the ortho not suck (or suck less). Dr. Garrett said his staff gets frequent shout outs in Yelp reviews. "I have an awesome team," he said.
—Peter
runner-up: Milde Family Orthodontics

BEST DOCTOR
Dr. David Schultz, OD (Urban Optics)
1001 Higuera St., SLO
Dr. Dave Schultz wears his passion on his face—he's got cool glasses, state-of-the-art facilities, and a desire to keep his patients' eye health in tiptop shape. Dr. Dave reacted to his win with glee: "It's a true pleasure to be honored as a favorite doc in SLO County! I've always strived to provide my patients with a unique experience in a relaxed non-medical environment. Our mission is to make our patients feel part of the family. Our waiting room resembles a living room and my staff treats our patients as best friends! We do all this with professional, high-tech optometric care."
—Anna
runner-up: Dr. Rene Bravo, MD (Bravo Pediatrics)

BEST AUDIOLOGIST
Karen Scott Audiology
3220 S. Higuera St., suite 320, SLO
Say what?! Karen Scott Audiology has been helping local residents restore and protect their hearing since 1978, and now they are the winner of one of this year's new categories. Karen Scott Audiology offers a number of hearing-related services to patients, including hearing assessments, prescribing rehabilitative treatments, and providing hearing devices like hearing aids and assistive listening devices. They also help provide state-of-the-art protective hearing devices, and work with local businesses to help them protect employees from damaging workplace noise. "We love our patients," the Karen Scott Audiology website states. "And would love to help you, too."
—Chris
runner-up: Hurdle Hearing

BEST CHIROPRACTOR
SLO Wellness Center
SLO, Los Osos
Snap, crackle, pop. There's a lot of that going on at SLO Wellness Center, where chiropractic adjustments are the lifeblood of the facility that also offers nutrition counseling and massage therapy. The center has multiple bone crackers to choose from, offering both male and female hands. Longtime office manager Monica Esparaza said it's the clients who make the center the best. "Thank you SLO County for your support!" Esparza said. "SLO Wellness has always striven to be the resource for chiropractic care on the Central Coast. With five doctors and one vision, we are ecstatic that our community has chosen us as Best Chiropractor of SLO!"
—April
runner-up: The Beacon Clinic of Chiropractic

BEST VETERINARIAN
Pismo Beach Veterinary Clinic
990 Price St., Pismo Beach
What's the 911 alternative for pets? It could be a friendly veterinary clinic in Pismo Beach that's here for your pet's medical needs. For the best in furry friend care, our readers point you to the Pismo Beach Veterinary Clinic, founded in 1996. It's the only American Animal Hospital certified clinic in San Luis Obispo County. It's a place where you and your pets will be treated like family, while receiving the best and most compassionate care. The main focus of the clinic is preventative care. Because your animal friends can't speak, the vets rely upon regular check-ups to catch changes in your pet's body.
—Karen
runner-up: Animal Care Clinic

BEST AUTO MECHANIC
Rizzoli's Automotive
2584 Victoria Ave, SLO
Grandpa Mario Rizzoli opened Rizzoli's Automotive in 1976. The business was passed on to his kids and later his grandchildren, Karen and Kyle Rizzoli. Karen deals with financials and marketing, and Kyle works with the day-to-day staff and shop operations. The two recognize the hard work that their family had put into the business and strive to continue that work ethic and relationship with the community. Karen said it's the little things that count. "Since day one, Grandpa has had doughnuts on Thursday, and we continued that. Some customers book that day just for that. Sometimes it just takes a box of doughnuts," she said.
—Karen
runner-up: Morin Brothers Automotive

BEST OIL CHANGE
Jiffy Lube
SLO, Arroyo Grande, Paso Robles, Atascadero
Maybe it's time to get those fluids checked, give that sweet ride of yours a quick lube and tune at the local Jiffy Lube. Because chances are, there's one on a corner near you. Four of the more than 2,000 franchisee-owned service centers across the country are right here in SLO County. This company is in the oil change business, people! It's kind of their thing—their niche, if you will—and our readers can't be wrong (they say, the reader's always right) when they say Jiffy provides the best oil change in our little strip of paradise.
—Camillia
runner-up: Reeve's Auto Repair

BEST USED CAR DEALER
McCarthy's
43 Higuera St., SLO
Thinking about going to a used car lot to purchase a vehicle probably conjures up images of slimy men looking to exploit buyers by selling fake cures, so it's a good thing the guys and gals who sell cars at McCarthy's are nothing like the "snake oil salesmen" of days gone by. Not only are the salespeople top notch, so are the vehicles, which is the most likely reason, according to general manager Chris Wesney, that the used car dealer has been named the best for the last decade. "I think we generally focus on a higher quality product than what people tend to expect to find on a used car lot," Wesney said.
—April
runner-up: Smith Volvo

BEST NEW CAR DEALER
Sunset Honda
12250 Los Osos Valley Road, SLO
At Sunset Honda, customers are offered several options when shopping for a vehicle—new, certified pre-owned, and used. If they don't have the vehicle you are looking for, they will contact a nearby dealer to see if the car is in stock and have it driven to SLO. Now that's service. There's also no pressure to buy. Full disclosure, though, I'm biased as I purchased my 2014 Honda Civic from the lot. It was simplest transaction I ever did. It was also all cash, so that helped—and for the record, I haven't had any issues, yet (knock on wood).
—April
runner-up: Toyota San Luis Obispo

BEST CAR AUDIO COMPANY
Lombards Stereo
356 Santa Rosa St., SLO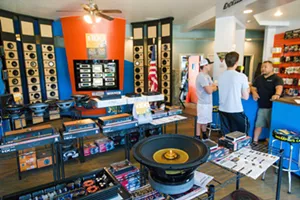 Lombards Stereo is the one-stop local shop for buying audio systems, whether it's a living room, car, RV, or boat you're tricking out. Owner Dave Joy said he holds a simple and effective philosophy for selling stereos in today's internet-driven retail market: pretend like it's 1985. "We operate like there's no internet," Joy said with a laugh. "It's just the old-school 'shaking your hand and actually meaning it.'" After all, he said, "you can't hear a pair of speakers on Amazon." Lombards' staff focuses on educating customers about their products. When it comes to sound, Joy said, "it's like ice cream. Everyone likes a different flavor."
—Peter
runner-up: Car Audio Center

BEST FURNITURE STORE
Couch Potato
SLO, Paso Robles, Morro Bay, Pismo Beach
Yet again, New Times readers are calling this locally owned furniture retailer the best! Couch Potato owner Guntug Yilmaz works with vendors from Southern California and the East Coast to fill his four SLO County showrooms with classy contemporary-style pieces. You'd be hard-pressed to find better prices, too. In fact, Couch Potato guarantees that you won't. "We will beat any price you find on the same item by 5 percent," their website vows. Online shoppers should also know that the store sells more than 100 of its items on the website and offers free shipping!
—Peter
runner-up: Habitat Home & Garden