BEST NORTH COUNTY RESTAURANT
The Range
22317 El Camino Real, Santa Margarita
If an unpretentious, inviting restaurant serving some of the best food in the county sounds perfect for your next night out, look no further than this unassuming spot on Santa Margarita's main drag. Standard classics such as a filet of beef, fresh local fish, and greens are
go-tos
, but The Range also offers seasonal specialties and an atmosphere for both a casual get-together on the patio or romantic, candlelit occasions inside. With a classic Western ambiance, you'll feel right at home. But no reservations, nor credit cards—pack your cash and head to one of the best meals of your life!
—Anna Starkey
runner-up: Fish Gaucho
BEST NORTH COAST RESTAURANT
Taco Temple
2680 N. Main St., Morro Bay
Have you seen Taco Temple's tacos? They are literally the size of dinner plates, piled high with cabbage, carrots, meat, and whatever else they add to that stack of deliciousness. Oh, I can't forget that fried mess of shredded potatoes. So good! These are definitely not your one-hand holding, folded, stuff in your mouth street tacos. They're more of the knife and fork, struggle to eat, shovel in your mouth sort of tacos. And it's totally worth the struggle. Especially if you get a taco, tostada, or burrito with fresh seafood or one of their daily specials. Make it part of your next day trip up the coast.
—Camillia Lanham
runner-up: Kuma

BEST SAN LUIS OBISPO RESTAURANT
Ciopinot Seafood Grille
1051 Nipomo St., SLO
You won't see a bat-signal shining in the sky over San Luis Obispo tonight. Longtime reader Commissioner Gordon has replaced the iconic searchlight's bat-shaped emblem with an oyster-shaped one in honor of this year's Best SLO Restaurant winner. What makes Ciopinot Seafood Grille, a SLO staple since 2009, the best? Their carefully curated pinot selection? The warm customer service? The oyster bar? According to head server Ann Paredes, it's all to do with one man, owner Leonard Cohen. "The reason Ciopinot is the best restaurant is because Leonard is the best boss," she said with certainty.
—Caleb Wiseblood
runner-up: Novo

BEST SOUTH COUNTY RESTAURANT
Ember
1200 E. Grand Ave., suite 101, Arroyo Grande
Smack! Crap! Pop! That's not caped crusaders duking it out, but glowing coals in the wood-fired oven at Ember in Arroyo Grande. Ember has a loyal following, but it also attracts new visitors all the time, owner and chef Brian Collins said. Anyone who has tasted his food knows why—farm-to-table ingredients, adventurous combinations, and an obsessive level of quality. "Ultimately I think it boils down to: The food is made from scratch, me and my crew really care about the diner and the diner experience," Collins said. "We're trying to provide the bigger city experience here in Arroyo Grande and South County."
—Joe Payne
runner-up: Jocko's

BEST SOUTH COAST RESTAURANT
The Spoon Trade
295 W. Grand Ave., Grover Beach
For fancy comfort food, The Spoon Trade in Grover Beach can't be beat. "I think we offer the whole package," owner Brook Town said. "The food is all handmade from scratch and with lots of care, and the hospitality matches the food." Regulars love the meat loaf, fried chicken with sourdough waffles, and tri-tip tartare. New on the menu is the Idaho grown pork tenderloin. And locals can now buy the restaurant's tasty sourdough creations at its newly opened sister business, Grover Beach Sourdough, right across the street.
—Ryah Cooley
runner-up: Ventana Grill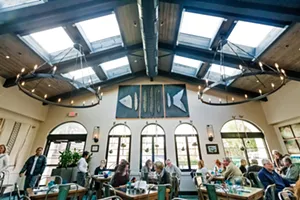 BEST NEW RESTAURANT 2017
La Esquina Taqueria
1049 Nipomo St., SLO
"Everything from the tables, the chairs, the chandeliers, the pottery, hand painted tiles, all from Guadalajara," La Esquina restaurateur Leonard Cohen said. The Ciopinot owner wanted to create an authentic but modern vibe in his new joint. It's a high-end Mexican restaurant that he's been waiting for someone to open locally, so he did it himself. What's special about this restaurant is the menu. Cohen put a seafood twist on everyday favorites like chorizo. For instance, the chorizo and clams: clams sautéed in chorizo, onions, jalapeños, tequila, cilantro chicken stock, and finished with garlic and butter.
—Karen Garcia
runner-up: Vegetable Butcher

BEST BREAKFAST
Kitchenette
105 S Main St. No. 1, SLO
The Kitchenette emphasizes local— on its menu and as the restaurant's essence. "I love my locals. We have a great customer base here, they're very friendly and very loyal," manager Jenn Tremble said. Locals and newcomers alike are greeted by the friendly staff upon entering the restaurant. Its atmosphere can only be described as very Templeton—eclectic and warm. The best part is getting to know one another and becoming regulars. The hottest menu item is the pork posole verde, a pleasantly warm soup with linguiça, avocado, cabbage, feta, jalapeño, and a crispy soft-boiled egg.
—Karen
runner-up: Louisa's Place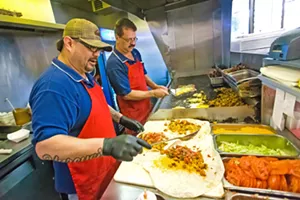 BEST BREAKFAST BURRITO
Frank's Famous Hot Dogs
950 California Blvd., SLO
They come for the hot dogs, but they stay for the breakfast burritos. That's not the motto of Frank's Famous Hot Dogs, though, I just made it up. But maybe it should be. New Times readers once again chose Frank's breakfast burrito as the very best in all of SLO County. This modern masterpiece, if unaltered, comes complete with eggs, bacon, cheese, country potatoes, and pico de gallo sauce. If you're ever looking for a quick breakfast in downtown SLO, don't miss an opportunity to try it. It's a sin not to.
—Caleb
runner-up: The Breakfast Buzz

BEST WEEKEND BRUNCH
Ventana Grill
2575 Price St., Pismo Beach
SLO County residents don't fool around when it comes to brunch—they want it hot, fresh, and with mimosas. Ventana Grill in Pismo Beach does more than just squeezed juice and dry champagne, they go to the next level. It's hard to beat such a selection. Ventana's brunch includes a seafood station, omelet and homemade tortilla bar, a carver station, a wide selection of hot entrees, various salads, and a dessert station. Yes, it's all you can eat (including the crab legs!), and the mimosas and bloody marys are bottomless.
—Joe
runner-up: Marisol at the Cliffs

BEST HANGOVER FOOD
Louisa's Place
964 Higuera St., SLO
After a long night of partying—I mean, fighting crime—what can the average superhero rely on to renew his or her strength? The answer can be found at Louisa's Place, where you can feed a hangover like at no other restaurant in the county. Louisa's menu features a variety of omelets, breakfast sandwiches, and burritos to help any hero, villain, or civilian get back up on their feet. It's no wonder Louisa's is so popular with Cal Poly and Cuesta students—they're fighting crime all the time!
—Caleb
runner-up: Sylvester's Burgers

BEST VEGETARIAN FARE
Vegetable Butcher
712 Marsh St., SLO
At Vegetable Butcher, eaters of all kinds can come together in peace. "We have vegans bringing in meat eaters," manager John Windels said. "People now have the ability to dine at a place that can accommodate both." Menu favorites include the forbidden sesame cauliflower, spring vegetable shishito frito, the fingerling potato taco, the short rib taco, and the hot fried chicken taco. Windels also said they make a mean margarita with agave wine, and now you can enjoy brunch there from 11 a.m. to 3 p.m. on Sundays with offerings like chilaquiles, mimosas, and bloody marys.
—Ryah
runner-up: Big Sky Café

BEST SEAFOOD
Ciopinot Seafood Grille
1051 Nipomo St., SLO
Since opening in 2009, not a single year has gone by without Ciopinot Seafood Grille taking home this poll's Best Seafood award. You don't have to read the entire menu to realize why. All it took was the first item on the appetizer list to convince me—large prawns stuffed with Monterey jack cheese, wrapped in honey-cured bacon, lightly breaded, and deep-fried until crispy. You had me at large prawns.
—Caleb
runner-up: Oyster Loft

BEST MEXICAN FOOD
Taqueria Santa Cruz Express
1308 Monterey St., SLO
Taqueria Santa Cruz Express is situated just far enough up Monterey Street in SLO to reach those hungry Cal Poly students, but not so far that downtown workers and visitors won't walk a few blocks for a tasty burrito! Seriously, this taqueria is slammed at pretty much any time of day, but that doesn't bog down the service or the quality. It just creates a festive, friendly atmosphere. Whether it's a quick lunch, a family dinner, or a late night excursion with friends, Taqueria Santa Cruz is ready to fill your belly. Wash it down with a Mexican beer or glass of horchata!
—Peter Johnson
runner-up: Efren's Deli Shop

BEST CHINESE FOOD
Mandarin Gourmet
1316 Madonna Road, SLO
"Mandarin is the best Chinese in San Luis!" shouted Ashley from SLO. James agreed. "Happy customer for almost 20 years," he said. "Food is great, service is good, take-out and delivery is fast. That's why we've been coming here since 1992," gushed Ted and Josette from SLO. That's a loyal customer following for the Chinese restaurant that's been in the Laguna Village Shopping Center since 1992. It's the finest Szechwan and Hunan cuisine in SLO, with more than 100 dishes to choose from. And free delivery within SLO city limits. I could really go for some Mongolian beef.
—Camillia
Runner-up: Mei's

BEST JAPANESE FOOD
Goshi Japanese Restaurant
570 Higuera St., suite 155, SLO
Tucked in the Creamery Marketplace is the hidden gem of Japanese restaurants in SLO County. Goshi strives to serve authentic Japanese sushi, rice, and noodle dishes. The restaurant itself is small but the closeness of the friendly staff and other customers creates the best atmosphere for a good time. Order some sake from its lengthy sake list and if you're not in the mood for the freshest sushi around, the Gyu Don will satisfy your taste buds. Stewed thinly sliced beef, onion, and yam-starched noodles on a bed of rice with a miso soup and salad is the perfect dinner combo.
—Karen
Runner-up: Kuma

BEST THAI FOOD
Thai Boat
3212 Broad St., suite 140, SLO
Waiting in a long line for really savory and perfectly portioned food is completely worth your time. That's how I would describe a Friday night at Thai Boat. Sure sometimes I have to wait, but the minute my order is in, the staff begins working fast and hard to prepare it. I'm instantly pampered with a Thai tea, and what's also worth the wait is that the staff makes it a point to remember you, even if you've only been in a handful of times. Try the pineapple fried rice—stir fried steamed rice with pineapples, cashew nuts, and mixed vegetables.
—Karen
Runner-up: Noi and Doi's 2nd Street Cafe



BEST ITALIAN FOOD
Giuseppe's Cucina Rustica
SLO, Pismo Beach
Boasting a rustic yet refined feel next to Rose Alley, Giuseppe's is SLO's not-so-secret spot for authentic, dynamic Italian food. If words on a menu like fresh pecorino, espresso-caramel gelato mud pie, and Parmesan crusted free range chicken breast call to you, Giuseppe's will win your heart in no time. Their front of house deli-style setup means you can grab a quick, decadent lunch, or desserts, dried pastas, and pizza. Sundays are for Bellini brunches, and with a beautiful outdoor patio and plenty of natural beauty, it's no wonder SLO picked Giuseppe's as their favorite local trip to Italy.
—Anna
runner-up: Flour House

BEST MEDITERRANEAN FOOD
Petra
1210 Higuera St., SLO
Whether you love Mediterranean food or have never even heard of shawarma, Petra is the place to go. The staff and owners care about consistency and high quality ingredients, but perhaps most importantly, they also care about their customers. When the usual greasy downtown grub just doesn't sound appealing, go get yourself some healthy fare, like a scrumptious gyro and a tasty Mediterranean salad. And there's also pizza, which you can get with yummy toppings like gyro, sundried tomatoes, spinach, and chopped garlic.
—Ryah
runner-up: Jaffa

BEST PIZZA
Woodstock's Pizza
1000 Higuera St., SLO
This year marks the 31st time Woodstock's Pizza has made the most delicious 'za in the county. "I wouldn't be working here if I didn't love it," Woodstock's manager Nick Damico said of his favorite pizza in town. Damico still recalls trying Woodstock's for the first time as an incoming Cal Poly freshman. "I was instantly hooked," he said. Pies aside, the popular pizzeria is also known for its weekly events including Wednesday pint night. And whether you're a superhero, or just a superhero aficionado like me, trivia night at Woodstock's is always the place to be on Tuesdays at 9 p.m.
—Caleb
runner-up: Petra

BEST BARBECUE
Firestone Grill
1001 Higuera St., SLO
Firestone Grill sends out plumes of delicious smoke daily, alerting everyone in downtown about what's cooking. It's barbecue, and New Times staffers can smell it every morning. There's the tri-tip—which you can get on a sandwich or a salad. The chicken is always juicy, whether you get the full meal or just a half chicken, and is available on a number of salads. But it ain't barbecue until you mention the ribs, and Firestone has full racks ready to go. If you really want to complete the experience, don't forget the bread and beans!
—Joe
runner-up: Ribline

BEST STEAK
Jocko's Steakhouse
125 N. Thompson Ave., Nipomo
There are rows of succulent cuts of meat sitting, aging to perfection at Jocko's Steakhouse in Nipomo. Continuing a tradition of more than a century, Jocko's aged steaks are waiting for the perfect moment to hit the grill over that famous oak pit. It's why so many people are lined up out the door every night. Jocko's is about the experience, but the steak is at its juicy heart. Whether you get the large Spencer, the sirloin, or filet mignon, you're going to get a giant, perfectly cooked steak every time at Jocko's. Better make it rare.
—Joe
runner-up: The Range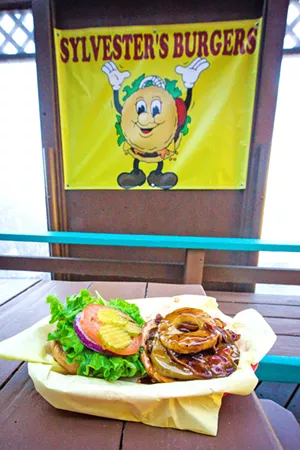 BEST BURGER
Sylvester's Burgers
Los Osos, Atascadero, Oceano
"They're big, hot, and juicy, just like the motto says," said Kaytee Lankford, shift leader at the original Sylvester's in Los Osos. "We have so many different styles and flavors. And the sauce, everybody loves the sauce," Lankford added, referring to the restaurant's signature "Sylvester Sauce." And no matter which Sylvester's location you get a burger (and garlic fries) from—whether it's Los Osos, Atascadero, or Oceano—you can be sure it's made from all-American beef, owner Brian Englund promises.
—Caleb
runner-up: Eureka

BEST CHICKEN WINGS
Buffalo Wild Wings
309 Madonna Road, SLO
Keep an eye on those wings, or they'll be gone before you blink. You can get them boneless or traditional, saucy or dry, with Asian zing, Thai curry, Caribbean jerk, or bourbon honey mustard sauce. And the levels of hot go from mild to blazin'. Yep. This place is all about that chicken with 16 sauces and five seasonings. The combos are endless, just like all the sports you'll be able to watch from a comfortable booth or slightly less comfortable barstool. With all those choices, it's like a salute to being an American. And you just need to drive down Madonna to find it.
—Camillia
runner-up: Wing Stop

BEST SALAD
Firestone Grill
1001 Higuera St., SLO
Ordering a salad at lunch can bring up a dilemma—will it be enough food, or leave you hungry later? You don't have to worry about that at Firestone Grill. These salads are big and protein loaded, filled with fresh ingredients. Many of the salads are vegetarian friendly, but you can still get one topped high with chicken or tri-tip. The steak Cobb salad has it all: leaf lettuce, red onion, red bell pepper, tomato, blue cheese, bacon, and chopped tri-tip. With all the house-made dressings to choose from, you'll never face the salad dilemma again.
—Joe
runner-up: Urbane Cafe

BEST TACO

La Esquina Taqueria
1049 Nipomo St., SLO
The newest restaurant to join The Creamery Marketplace on the south end of downtown San Luis Obispo is La Esquina Taqueria. This Mexican restaurant is taking traditional dishes and adding a zesty seafood flavor to the mix. "The menu is me, and that sounds funny because if someone says, 'What style of Mexican food is this?' and it's all the things I like," owner Leonard Cohen said with a laugh. Cohen has had a background in seafood his whole life so it's no wonder that aside from the seasoned beef tacos, he also offers Baja style fish, prawns, and oyster tacos.
—Karen
Runner-up: Taco Temple

BEST BURRITO
Las Delicias de Zacatecas
12304 Los Osos Valley Road, SLO
There are plenty of Mexican restaurants on the Central Coast, but Las Delicias de Zacatecas prides itself on serving authentic dishes to its customers. A large flour tortilla holds rice, beans, fresh pico de gallo, sour cream, cheese, and salsa with your choice of a savory protein—shrimp, chile relleno, pollo, asada, homemade chorizo, carnitas, pastor, or ting (shredded chicken with onions in chipotle sauce). A customer favorite is the chorizo for breakfast or the asada for dinner. Stop in Las Delicias de Zacatecas for the great food and friendly customer service; stay for the beautiful artwork on the walls.

—Karen
runner-up: Tacos de Mexico

BEST CHOWDER
Splash Cafe
Pismo Beach, SLO
Splash Cafe's clam chowder is a national treasure, and anyone who says otherwise is a liar. Seriously, if it wasn't so accessible—being shipped around the country and whatnot—I'm sure Nicolas Cage's next movie would be about him trying to steal the recipe. Get it? National Treasure. But that's just my opinion. Let's hear what New Times readers have to say about the subject. Oh! Looks like it won Best Chowder this year! But what exactly makes Splash Cafe's chowder so darn good anyway? For shift leader Ella Udlock, it can be narrowed down to three nesses: richness, creaminess, and freshness.
—Caleb
runner-up: Duckie's Chowder House

BEST JUICE PLACE
Seeds
1133 Garden St., SLO
There's a white neon sign on the wall that reads "Nurture the Human," and Seeds does just that. Looking for a refreshing alternative to breakfast and lunch is a no-brainer at this juice company. The menu offers an array of acai bowls, smoothies, avocado toast, and chia pudding with healthy additions to choose from. Summer vibes call for a smoothie blend of orange juice, banana, strawberry, pitaya, blueberries, pineapple, hemp, and bee pollen. A huge plus is the intimate patio area toward the back of the establishment. It's a great spot to hang with a friend and enjoy your healthy treat.
—Karen
runner-up: Virtjuice

BEST ICE CREAM/ FROZEN YOGURT
Doc Burnstein's Ice Cream Lab
Arroyo Grande, San Luis Obispo, Santa Maria
I scream, you scream, we all scream for Doc's ice cream. Yep, it's a cliché. But, seriously, who doesn't want to scream for ice cream, especially if the sweet, creamy stuff hits a nerve in one of those pearly whites when you take a lick from a scoop. (Maybe two. Heck, go for the triple scoop. YOLO.) Or it's dripping from a chocolate covered, sprinkle-dipped waffle cone from Doc Burnstein's Ice Cream Lab. Doc's owner Greg Steinberger said it's always an honor to win in Best Of as he strives "to be the most beloved ice cream brand, at least on the Central Coast."
—April Charlton
runner-up: Yogurtland

BEST DOUGHNUT
SLO Donut Company
793F Foothill Blvd., SLO
Whether your vice of choice is sugar or caffeine, SLO Donut Company is open 24/7 so you can stay buzzy all day long. Their rainbow colored selection of tasty doughnut masterpieces can be overwhelming to choose from. Business manager Brandon Miller recommends enjoying customer favorites like the bacon maple bar, Nutella pillow doughnut, or the tie-dye galaxy donut while taking in a concert, stand-up comedy show, or board game at the shop's newly expanded space. "We want to make sure our doughnuts are delicious, but second to that we want to create a space that's intriguing," Miller said.
—Ryah
runner-up: Surfside Donuts

BEST DESSERT
Madonna Inn
100 Madonna Road, SLO
When you think of cake and San Luis Obispo, you think of the decadent pink chocolate swirls that adorn the Madonna Inn's famous pink champagne cake. "We make everything from scratch," bakery manager Gracie Tejeda-Mora said. "Everything from the white cake to the chocolate cake, and that really makes a difference in the flavor. We've been following the same recipes for 50 years. It's tradition." In addition to the pink champagne cake, Tejeda-Mora said that the black forest cake is also popular among customers. Right now, the bakery is also offering a seasonal strawberry cake.
—Ryah
runner-up: Batch SLO

BEST SANDWICH
High Street Deli
350 High St., SLO
Come 4:20 p.m. each day, High Street Deli is packed with sandwich aficionados trying to get their favorites at a discount for a cool 40 minutes. "It's the quality of our product and the customer service that sets us apart," General Manager Eric McFarland said. The Dutch Punch (featuring Dutch Crunch bread by Back Porch Bakery) and the California Turkey remain the reigning favorites on the board of sandwich specials. In about a year and a half, High Street Deli will open a second location on South Higuera Street as part of the new SLO Public Market.
—Ryah
runner-up: Gus'S Grocery

BEST BAKERY
Splash Cafe
1491 Monterey St., SLO
There are only a few differences between the original Splash Cafe in Pismo Beach and its sister location in SLO, but the biggest factor that separates the two really stands out. I'm referring to Splash's excellent artisan bakery located at the second cafe. "I think it's the creativity, time, and effort we put into it that attracts customers," shift leader Ella Udlock said. Her favorite Splash dessert is their lemon raspberry cake. Sweets aside, the SLO location's menu is also unique for its pizza selection, all created on fresh dough made in the bakery.
—Caleb
runner-up: House of Bread

BEST OUTDOOR DINING
Novo Restaurant And Lounge
726 Higuera St., SLO
Soft twinkly lights and the peaceful sound of the creek flowing by are just part of what makes dining on the patio at Novo Restaurant and Lounge special. "It's right on the creek so it has all the natural foliage," owner Robin Covey said of the restaurant's patio. "The fact that there's different levels to the patio and there's an oak tree. It's just part of an iconic spot." The cozy heaters, boozy hand-crafted cocktails, and long list of local, delicious wines certainly don't hurt either.
—Ryah
runner-up: Luna Red

BEST KID-FRIENDLY RESTAURANT
Sylvester's Burgers
Los Osos, Atascadero, Oceano
Who wouldn't want their meal served to them on a frisbee? This isn't my inner child speaking, it's the real me. That's the way every kids meal at Sylvester's Burgers is prepared, whether it's the burger, hot dog, or chicken strips—atop your very own "Sly's Frizbee." This isn't the first time Sylvester's Burgers has won this poll's Best Kid-Friendly Restaurant award, and it's definitely not the last, according to shift leader Kaytee Lankford. "Kids love coming in for free burgers on their birthdays, too, and getting their photos on the wall. It's fun for everyone," she said.
—Caleb
runner-up: Gino's Pizza

BEST CHEAP EATS
Firestone Grill
1001 Higuera St., SLO
It's lunch hour, you're hungry, you've got a faceoff with your arch nemesis in 30 minutes, and you're broke! What do you do? Hit up Firestone Grill. It's hard to come by a fresh, delicious meal in SLO Town without dropping less than $20, unless you line up at Firestone. Most of the burgers are around five bucks, you can get the famous tri-tip sandwich or a salad for less than $10, and side of fries is only $2.29. Don't worry, you'll have the energy to clobber that bad guy, and you won't have the break the bank to get the calories necessary.
—Joe
runner-up: Urbane Cafe

BEST MEAL TO TREAT YOURSELF
Ember
1200 E. Grand Ave., suite 101, Arroyo Grande
Ember in Arroyo Grande isn't a casual dinner, it's something special. Locals know when they walk in, owner and chef Brian Collins said, that dinner at Ember is an event. "It's like dinner and a show," Collins said. "The kitchen is the stage, the cooks are the musicians, the servers are the ushers who are going to take care of you. It's entertaining; it pleases all the senses." It's no secret that it's pricey, but it's also no secret how life-changingly delicious everything is. "We want to make sure it's super delicious," Collins said. "We really toil over that."
—Joe
runner-up: Madonna Inn

BEST FISH MARKET
Giovanni's Fish Market & Galley
1001 Front St., Morro Bay
Giovanni's is an institution in Morro Bay, with its signature giant clam shell outside and fresh, local seafood inside. Besides fish and chips, owner Giovanni DiGarimore said local Dungeness crab is the most popular item, which they will cook and crack for you for no additional charge. What service! DiGarimore commented on the family vibe, saying, "Giovanni's is all about tradition! I can't tell you how many people have told me that their first experience was their parents bringing them for fish and chips and to look at the live crabs! I must hear it at least once a week."
—Anna
runner-up: Pier 46

BEST BUTCHER
Arroyo Grande Meat Company
120 E. Branch St., Arroyo Grande
Located in the heart of the Village, Arroyo Grande Meat Company has offered choice meats and sausages since opening in 1897. Suffice it to say, these butchers know what they're doing! From wild fish and game to deli meats, specialty sausages, and Hearst Ranch local grass-fed beef, their meat knowledge cannot be beat. They are happy to help you with the best cooking methods for your cut of choice, and they offer custom processing, curing, smoking, and sausages as well as tri-tip sandwiches. Their motto is simple: "If it's not good enough for my mom, it's not good enough for you!"
—Anna
runner-up: Whole Foods

BEST FOOD TRUCK
Grilled Cheese Incident
Facebook
If you're on the hunt for the perfect grilled cheese sandwich to melt in your mouth with each gooey bite, check out the stops listed on the Grilled Cheese Incident's Facebook page. The food truck was once just an idea that Mike McGourty, a former Cracked Crab chef, had. But with the loving support of his late wife, Annie Lynch, the cheesy truck can be found at wineries and breweries around town. Are you a breakfast-all-day person? The Hangover will cure you—cheddar cheese, muenster cheese, a fried egg, shredded potatoes, roasted poblano peppers, and bacon. As McGourty would say, "Stay cheesy, my friends."
—Karen
runner-up: Cubanissimo