We, as a society, ask people to cut it out a lot: A coupon. A picture from a magazine. That annoying thing you do when you hold your finger about a centimeter away from your sister and say, "I'm not touching you! I'm not touching you!"
Just cut it out, already!
Maybe we heard the command one too many times lately, because we applied the message to this year's Best Of issue, our 29th annual. There's plenty here that could prompt you to get out a pair of scissors and start clipping away. Looking for the Best Restaurant? Best Hike? Best Car Wash? Best Barista? Cut it all out!
We also did something new this year, adding some fresh categories (look for the blue scissors!) and splitting the winners into new sections.
—Ryan Miller, executive editor
View a slideshow of the "Best Use of Taxpayers' Money."
Food and Drink
BEST NORTH COUNTY RESTAURANT
The Range
22317 El Camino Real, Santa Margarita
Before you go to The Range, you need to know a few things. They don't take reservations. They don't take credit cards. The place is the opposite of pretentious. They play country music over the sound system. You can buy beer in a can. You can wear a cowboy hat, T-shirt, shorts, and flip-flops and get the same great service as someone in a suit or dress. The most important thing you need to know, however, is the food is the best you'll ever have. Seriously. Whether you're having the filet of beef (See? They're so lacking in pretension they call it filet of beef instead of filet mignon!), sand dabs, pickled beets, or salads made with fresh organic greens, you'll be in heaven. Let me put it this way. If it was my last night on earth, before the execution, the last meal—you get the idea—I want to eat one last time at The Range.
—Glen Starkey
runner up: McPhee's Grill
BEST SOUTH COUNTY RESTAURANT
Ember
1200 E. Grand Ave., Arroyo Grande
Ember, the new restaurant focused on rustic, wood-fired food and earning rave reviews, is owned by Arroyo Grande native, chef Brian Collins. "It feels great to be supported in a community that I have always appreciated being a part of. My goal in opening the restaurant was to provide something different, or a fresh point of view, to the restaurant landscape on the Central Coast," he said. Ember's menus change monthly, but always include some mix of outstanding salads, innovative flatbreads, fresh seafood, cooked-over-coals sustainably raised meats, and divine desserts. This is good, honest food—honest!
—Wendy Thies Sell
runner up: Jocko's
BEST SOUTH COAST RESTAURANT
Ventana Grill
2575 Price St., Pismo Beach
You can't dine much closer to the crashing waves in Pismodise than at Ventana Grill. The restaurant's Latin-inspired cuisine features such flavorful items as carne asada nachos, Alaskan halibut ceviche, Peruvian scallop salad, and chimichurri steak. Boasting an impressive selection of tequila, the bar at Ventana Grill is a super spot for a pre-dinner prickly pear margarita or cucumber and ginger martini. Then come back for Ventana's popular Sunday brunch buffet, also just feet from the pounding surf.
—Wendy
runner up: Giuseppe's Cucina Italiana
BEST NORTH COAST RESTAURANT
Robin's
4095 Burton Drive, Cambria
For 30 years, Robin's has been serving up eclectic fare, or what they call "hand-crafted global cuisine," to both regulars and first-timers who just keep coming back. The restaurant's fresh and locally sourced food comes in many forms, and is diverse in both the menu's worldly inspiration and the different dietary preferences it caters to. The Cambria staple was the premier restaurant before owners Shanny and Robin Covey opened the popular downtown SLO restaurants Novo Restaurant and Lounge and Luna Red Restaurant and Bar.
—Jono Kinkade
runner up: Taco Temple
BEST SAN LUIS OBISPO RESTAURANT
Novo
726 Higuera St., SLO
Novo always seems to win this category. It's the polar opposite of an underdog story—Novo is the textbook definition of an overdog (or at least it would be, if overdog were actually a thing). There's a reason for Novo's long reign over the Best Restaurant throne: It's consistently amazing. The atmosphere is the ideal blend of classy sophistication and breezy California chic. An evening at Novo always feels fun and fancy, but never the least bit stuffy. Atmosphere is important, but restaurants really live or die on their food; Novo's dishes are positively perfect. Their meals are seasonal, creative, and above all delicious. From the perennial favorites like ribeye or scallops, to more worldly fare like carnitas sopes or their fantastic curries, Novo never disappoints. In a city full of great restaurants, our readers agree that Novo is pretty much the gold standard.
—Cliff Mathieson
runner up: Ciopinot Seafood Grille
BEST RESTAURANT. PERIOD.
Novo
726 Higuera St., SLO
Think about what it means to be the Best Restaurant. Period. There's a lot of great dining in SLO County, a lot of places to choose from, so to be the very best? It means something special. Novo has something for everyone: great food, wine, and spirits; relaxed and professional service; amazing creek-side patio dining overlooking Mission Plaza in downtown SLO. Even if you just want to pop in for a glass of wine, Novo boasts an award-winning list that's arguably the best in the county. No matter the occasion—a light meal before a movie, a business lunch, a birthday or anniversary party for 10 or 40 or more, a place to show off for out-of-town guests—Novo does it all. The diverse menu is filled with choices of flavors and cuisines, plenty of price points and options, and much of the fare is sourced from local farmers. If you want a place that's classy but not stuffy and casual but not sloppy, Novo is the Best. Period.
—Glen
runner up: Ciopinot Seafood Grille
BEST NEW RESTAURANT OF 2014
Ember
1200 E. Grand Ave., Arroyo Grande
The hottest new restaurant in the county is appropriately called Ember. Hot, as in extremely popular, and the cuisine is cooked in the restaurant's sizzling hot, wood-fired oven. Owner Brian Collins designs his monthly dinner menus mindful of what's in season, and he's thrilled with the community's response to Ember: "I would sum up 2014 as one of the most rewarding years of my life. Ember has been a dream of mine 20 years in the making, and now that it is a reality. Wow, I am a lucky guy! Thank you!" No, thank you, Brian!
—Wendy
runner up: Foremost Wine Company
BEST BREAKFAST
Louisa's Place
964 Higuera St., SLO
It's been said that Louisa's makes great breakfast. And great lunch? Louisa's eats great lunch for breakfast. Sure, I said that last year when I wrote the blurb for SLO's iconic downtown diner, but I can't think of anything to top it. And that's a lot like Louisa's, a staple of hungry San Luis Obispo-ans since 1976 that needn't change a thing. Even the cook has been serving up grub since 1991, according to Kay Sine, who owns the restaurant alongside husband Scott Sweeny. So what do Kay and Scott have to say to their loyal customers who consistently give Louisa's the nod as best breakfast? "We want to let them know thank you, from the bottom of our hearts," she said. "Because without them we would not exist."
—Colin Rigley
runner up: Big Sky Café
BEST WEEKEND BRUNCH
Marisol Restaurant at The Cliffs Resort
2757 Shell Beach Road, Pismo Beach
Every Sunday from 8 a.m. until 2 p.m., The Cliffs Resort outdoes itself. The Champagne brunch at Marisol Restaurant is the ultimate, featuring a seafood market including hand-cut sushi and peel-and-eat shrimp; a Latin market with fajitas, carne asada, and crab and cheese enchiladas; prime rib, waffle, and omelet stations; the main breakfast buffet; and fresh desserts by renowned pastry chef "The Muffin Goddess" Hannah Ingham. After brunch, stroll the resort's cliff-top path with spectacular views of the coast.
—Wendy
runner up: Ventana Grill
BEST HANGOVER FOOD
Frank's Famous Hot Dogs
950 California Blvd., SLO
So, you dropped your iPhone in the toilet (after drunk texting your eighth-grade ex), tried to fight the bear statue outside Mission San Luis Obispo, and woke up on Pismo Beach surrounded by curious seagulls. The only thing that can bring you back—back to sanity, and back to the world of the living—is an egg-stuffed, bacon-crammed breakfast burrito brimming with home fries, tomato, onion, mayo, and salsa from Frank's Famous Hot Dogs. Of course, you don't have to be immensely hung over to enjoy the pleasures of biting into a piping hot chili dog, massive monster burger, or stack of fluffy pancakes. But it helps.
—Hayley Thomas
runner up: Sylvester's Burgers
BEST VEGETARIAN FARE
Big Sky Cafe
1121 Broad St., SLO
Nowhere are vegetables more sexy than at Big Sky Café. My heart flutters at the sight of their spring rolls, perfect for dunking into from-scratch Southeast Asian dipping sauces (and don't even get me started on that jalapeño corn bread). Unlike some restaurants that may offer a "token veggie item," Big Sky Café makes the meat eaters wonder if the grass really is greener. From Vegan Chopped Salad to Chilled Sesame Ginger Noodles, this locally sourced menu is as health conscious as it is rousing. Where else can you choose from globally inspired vegetarian soups and breakfast munchies like Veggie Huevos Rancheros? That's what I thought. Allow me to close with the only four words you really need to know: Black Bean Vegetarian Chili.
—Hayley
runner up: The Natural Cafe
BEST SEAFOOD
Ciopinot Seafood Grille
21051 Nipomo St., SLO
Two of my favorite things are fresh seafood and no corkage fee. Lucky for yours truly (and anyone with similar taste), Ciopinot Seafood Grille boasts both of these treasures in spades. Whether you're in the mood for bold prawns wrapped in honey-cured bacon or a classic plate of fresh salmon, Ciopinot is your deep sea destination in the heart of downtown. Plus, as Ciopinot Owner Leonard Cohen said, "We are the only place in SLO that has an oyster bar." Too fishy for your date? Choose from flat iron steak or a juicy filet mignon entrée. However: If they can't appreciate lobster tail dunked in clarified butter, I say dump 'em.
—Hayley
runner up: Tognazzini's Dockside Restaurant
BEST MEXICAN FOOD
Tacos de Acapulco
SAN LUIS OBISPO • GROVER BEACH

For Californians, what is the best—and what is the most "authentic"—Mexican food can be a highly contested debate that could get more heated than the hottest of habañero salsas. Around San Luis Obispo, preferences and options vary drastically, but through the ages, Tacos de Acapulco has maintained its reputation as being the best Mexican food around. The original San Luis Obispo location on Laurel Lane is a bit out of the way, but well worth the trek. The food—and the restaurant itself—speaks of traditional and no-nonsense Mexican fare. And now, you can hit them up on California Boulevard if you're looking to get a quick burrito or a few tacos.
—Jono
runner up: Old Juan's Cantina
BEST CHINESE FOOD
Mandarin Gourmet
1316 Madonna Road, SLO
Mandarin Gourmet really seems to take the gourmet part of its name seriously. The unassuming shopping center location is practically bursting at the seams with rich, luxurious flavor. The chefs at Mandarin Gourmet are cooking up basically every Chinese dish you could think of—and some Japanese and Vietnamese ones, to boot. From sweet and sour pork in a thick zesty sauce to decadent, fried, cream-cheese-filled wontons, this is not a restaurant to visit on a diet. It's also one of the few places on the Central Coast to find pho—a slow-simmered Vietnamese soup that's all the rage these days. If you want to bring some of that Mandarin Gourmet sumptuousness home, you're in luck; the restaurant offers free delivery anywhere in SLO on orders more than $20.
—Cliff
runner up: Mei's Chinese Restaurant
BEST JAPANESE FOOD
Goshi Japanese Restaurant
SLO • Paso
When it comes to sushi, only the best will do. No fancy techniques or overpowering flavors can truly disguise a subpar product. If your fish isn't a cut above the rest, your customers are going to know it. That's why top-notch sushi joints—like Goshi—use the highest quality seafood. At Goshi, you can really taste that quality. They serve up traditional sushi and sashimi; it's simple, it's fresh, and best of all, it tastes amazing. Sure, that kind of mastery comes with a pretty substantial price-tag, but a roll at Goshi is worth every penny. For a sophisticated night on the town, you really can't beat Goshi.
—Cliff
runner up: Yanagi Sushi
BEST THAI FOOD
Thai Boat
3212 Broad St., Suite 140, SLO
I think we can all agree that Thai food is pretty much the best thing in the entire universe. And with no shortage of Thai restaurants in SLO County, it's easy to get overwhelmed with the many options. Enter Thai Boat. The restaurant boasts modest prices and some truly mouthwatering entrees, like their pineapple fried rice, the pad Thai, the pineapple curry, the Thai iced tea—really everything. Everything is good. Just go and order the entire menu. It may take you a while to eat your way through it, but it will be magnificent.
—Adriana Catanzarite
runner up: Noi's Little Thai Takeout
BEST ITALIAN FOOD
Giuseppe's
Pismo Beach • San Luis Obispo
If I'm going to be "overdoing it" on the bread and olive oil before consuming more brick-oven fired pizza than any human should, then you'd better bet I'm making a hot date for Giuseppe's. That's what Palazzo Giuseppe Manager Giuseppe DiFronzo would recommend. After all, he likes to tell customers, "Chi mangia bene, vive bene" ("Who eats well, lives well.") Swanky bar serving up delicious signature cocktails? Check. Mood lighting? Double check. Butternut squash gnocchi with slow-braised pork, red onions, pecans, apples, and wild boar bacon? Oh, yeah! Whether you're looking for Grandma's meatballs (made the old fashioned way) or osso buco veal shank, Giueseppe's is the definition of "eating well." Check out what the Pismo restaurant, express shop, and Palazzo in SLO have to offer.
—Hayley
runner up: Rosa's Italian Restaurant
BEST MEDITERANIAN FOOD
Jaffa Café
SLO • Paso Robles • Arroyo Grande
Something super magical happens when the smells of lamb, falafel, and grilled veggies mix under one roof. I like to call it "The Jaffa Effect," and it is one drool-inducing spell, to be sure. When the prices are this good and the flavors are this Mediterranean fresh, everyone wants a piece of the action. Whether you go for the gyros, kabobs, shawarma plates, wraps or addictive hummus, chances are you know someone eating at the table next to you. Here, college students, bigwigs, city officials, and artists come together to rub elbows and break bread. Or, pita, that is. It's a truly beautiful thing.
—Hayley
runner up: Petra
BEST PIZZA
Woodstock's Pizza
1000 Higuera St., SLO
At Woodstock's Pizza, you choose your flavor adventure: dine-in or take out. You choose your crust (hand-tossed white or whole wheat), choose your sauce (zesty red, pesto, creamy garlic, BBQ, Kauai, or Sriracha) and—the best part—choose your toppings, which range from fresh veggies to applewood smoked bacon, pulled pork, chicken ... the list goes on). Whether you adore the SLO Classic (pepperoni, sausage, black olives, 'shrooms, and onion) or crave the All Meat Orgy (Canadian style bacon, pepperoni, sausage, salami, and crispy bacon), chances are you are going to like what's on top of your 'za. Speaking of elevating the competition, Assistant General Manager Jaime Sterling had just one thing to say: "We like it on top."
—Hayley
runner up: Palo Mesa Pizza
BEST MEAT LOVERS FARE
Jocko's Steak House
125 N. Thompson Ave., Nipomo
Every time I dine Jocko's—which is every chance I get—I do the same thing: Loosen my belt, let out a sigh of satisfaction, and count the seconds until I can unwrap those meaty leftovers. There is nothing on Earth like a Jocko's Large Spencer steak, which you can see and smell sizzling on a Santa Maria style oak coal barbecue just outside the dining room (as it states on their placemats: "Jocko's" stands for: "Jenuine Oak Coals Kooks Our Steaks"). Although massive portions of beef steal the show here, everyone has their own vice. Whether it be the lamb, ribs, sweetbreads, or pork chops, we all know the feeling of excitement that a Jocko's doggy bag can bring.
—Hayley
runner up: Firestone Grill
BEST STEAK
Jocko's Steak House
125 N. Thompson Ave., Nipomo
If it ain't broke, don't fix it! This is the mantra of the folks at Jocko's Steak House, who've been cooking their popular steaks the same way since the 1940s: seasoned well, over oak coals, on an old-school Santa Maria-style barbecue. You can smell these choice slabs of meat—with their juicy interior and distinctive, smoky charred exterior—from a few blocks away. Perhaps that's why the iconic steakhouse's stickers read "Follow me to Jocko's!" The restaurant's extra cut Spencer steak (of Flintstones proportions) is nationally famous for a reason. Whether you live in Paso Robles or San Francisco, Jocko's is well worth a barbecue pit stop.
—Hayley
runner up: F. McLintocks Saloon & Dining House
BEST BURGER
Sylvester's Burgers
Los Osos • Atascadero • Oceano
Burgers are a delicious, inevitable part of the fast-food lifestyle. There are a cornucopia of burger joints in SLO County, but our readers say not one of them holds a candle to the famous Sylvester's. Where else can you choose from a variety of mouth-watering burgers that include grass-fed beef, buffalo, wild boar, and the Flaming Armadillo? Answer: Nowhere but Sylvester's. "We just try to consistently give it a fun, family vibe," Brian Englund, the owner, said. "That's kind of why our ads are so untraditional. Plus, our burgers are different. They're cheaper than others, and we use fresh ingredients. It's like a home-cooked burger."
—Adriana
runner up: Eureka!
BEST SALAD
Pluto's
1122 Chorro St., SLO
This wholesome-yet-spunky downtown hangout has rocketed "cafeteria-style" to interplanetary levels of awesome. Here, the humble salad is transformed into a form of self-expression, where unique toppings like strawberries, sweet corn, broccoli, caramelized balsamic onions, grilled fennel, and sweet walnuts collide. Choose whatever combo of fresh, vibrant toppings you desire, then pick from a mess of quality meats to set the whole thing off (including chicken, turkey, beef, and even sausage). Yes, this is still a salad we're talking about! With every crunchy bite of farmer's greens, romaine, or baby spinach, you can rest assured you are doing something good for your health—and your sense of adventure.
—Hayley
runner up: Firestone Grill
BEST TACO
Taco Temple
2680 Main St., Morro Bay
I'm going to go out on a limb here and say that Taco Temple is the most quintessentially Californian restaurant in the county. With bright Mexican-fusion cuisine and a laid-back surfer atmosphere, this place is so Cali it almost hurts. The food is fresh, flavorful, and inventive. Their tacos are almost more like salads (which sounds like a bad thing, but it's not) topped with loads of cabbage, radishes, greens, and a zesty sauce. Somehow when you combine the salad-ish components with one of their delicious meat options (like perfectly crispy carnitas or fish that tastes like it was swimming hours ago) it becomes something greater than the sum of its parts. I'm not sure if it's alchemy or black magic, and I don't really care—I'm more than willing to worship at the Taco Temple.
—Cliff
runner up: Taqueria Santa Cruz
BEST BURRITO
Tacos de Acapulco
SLO • Grover Beach
If you told me that this restaurant owed its success to one thing—its burritos—I would believe you. Every bite of one of Tacos de Acapulco's massive burritos packs an undeniable punch of flavor; it's impossible not to fall in love with that moist, perfectly seasoned meat. From pollo, to carne asada, to al pastor, you really can't go wrong with what some locals affectionately call "The De."
—Cliff
runner up: Taqueria Santa Cruz
BEST CHOWDER
Splash Cafe
Pismo Beach • San Luis Obispo
Splash Café's award-winning chowder is truly the chowder to rule all others (their original Pismo Beach location has served as a mecca since shoulder pads were all the rage). Why are foodie magazines still vying for the recipe? Why do diehards drive hundreds of miles just to get a whiff? Simple! It's made from scratch every day. Then there's the just-baked bread bowl, soaking up all that tender clammy goodness. Oh, and it doesn't hurt that you can have a fresh frozen batch shipped to you anywhere in the United States. Thanks to Splash, there is no excuse to ever sip sub-par chowder ever again, no matter where you roam.
—Hayley
runner up: Sylvester's Burgers
BEST ICE CREAM/ FROZEN YOGURT
Doc Burnstein's Ice Cream Lab
Arroyo Grande • San Luis Obispo • Orcutt
Ice cream—it's just what the doctor ordered. Doc Burnstein, that is. Doc Burnstein's Ice Cream Lab, with locations in San Luis Obispo, Arroyo Grande, and Orcutt, serves up good, old fashioned, "super-premium" ice cream made on site daily. "After 12 years of creating memories in Arroyo Grande, bringing our Ice Cream Wonderland to Downtown SLO is a major step in our growth," said owner Greg Steinberger. "Doc" plans to continue his commitment to the community, creating more unique flavors like Merlot Raspberry Truffle, Doc's Java, and Elvis Special.
—Wendy
runner up: Yogurt Creations
BEST DESSERT
Madonna Inn
100 Madonna Road, SLO
Some desserts are too pretty to eat. Some are so pretty, you have to eat them. Madonna Inn's cakes, pies, and sundaes certainly fall into the latter category. Whether you go for the classic Pink Champagne cake adorned with coiffed pink frosting or get your kicks digging into a seasonal strawberry pie, there's nothing more "festively SLO" than a sweet treat in the famous Copper Café. Birthday? Anniversary? Random Tuesday? It doesn't matter. Raise a colorful glass goblet into the air and know that you are an honorary knight of the Pink Palace.
—Hayley
runner up: Doc Burstein's Ice Cream Lab
BEST SANDWICH
High Street Deli
350 High St., SLO
Sometime in the mid-18th century, John Montagu, the 4th Earl of Sandwich, allegedly invented one of history's greatest foodstuffs. Around 200 years later, High Street Deli in San Luis Obispo perfected what Montagu began. The deli, which opened in 1927 as a small market, offers more than 15 specials and endless custom options, all with fresh ingredients, local vegetables, and homemade sauces. As owner Doobie Coates says, "I've searched all over the world for a better sandwich and have yet to find one." His personal favorite? The pulled pork torta with Yucatan spices. To quote the cinematic masterpiece The Fast and the Furious, this place is "sandwich crazy" in the best way.
—Jessica Peña
runner up: Gus's Grocery and Deli
BEST BAKERY
Madonna Inn
100 Madonna Road, SLO
One thing Madonna Inn is famous for, aside from the fairy-tale cottage design, is the food. Packed with a mouth-watering array of treats, like French pastries, cream puffs, and chocolate éclairs, the Copper Café is rife with the sweet smell of, well, sweets. And if your olfactory senses are on overload and you don't know what to pick to shove down your gullet, just stick with the classics. "Our Pink Champagne Cake is super popular," Amber Russell, the bakery manager, said. "That and our Black Forest Cake. We've been making them since the 1950s. It's part of the Madonna Inn tradition."
—Adriana
runner up: Carlock's Bakery
BEST OUTDOOR DINING
Novo
726 Higuera St., SLO
Escape hectic Higuera and enter an urban oasis to sip salmon bisque al fresco on Novo restaurant's multi-level creekside patio, shaded by a big beautiful oak tree. "I'm blessed with being the steward of a location that really belongs to the city of SLO," said Novo's owner, Robin Covey. "It has become an iconic location and part of the SLO destination experience." Novo features global cuisine, Central Coast wines, and an astounding selection of herbal teas. At night, Novo is "the place" to dine outdoors, with lighting and heaters setting a romantic scene.
—Wendy
runner up: Luna Red
BEST KID-FRIENDLY RESTAURANT
Sylvester's Burgers
Atascadero • Los Osos • Oceano
The locally owned, family-friendly burger joint with three locations in San Luis Obispo County is perfect for a kid's budget. Monday through Friday, from 3 to 5 p.m., fries and sodas are only $1, and, as an added bonus, all kids meals come on a Frisbee. Sylvester's is the cool, after-school hangout in Atascadero—reminiscent of The Peach Pit from TV's Beverly Hills, 90210. "We are dog friendly, kid friendly, and family friendly," said owner Brian Englund. And community friendly: Sylvester's gives back—to the tune of $100,000 a year to kids' causes and activities on the Central Coast. All the more reason to eat at Sylvester's!
—Wendy
runner up: Klondike Pizza
BEST MEAL FOR YOUR MONEY
Firestone Grill
1001 Higuera St., SLO
A 1/3-pound, oak-grilled hamburger with everything on it for just $4.89? Talk about bang for your buck! No wonder there's always a line out the door at Firestone Grill in downtown SLO. The tri-tip steak sandwich, priced at $9.25, is legendary. And who knew Firestone Grill had so many salads on the menu? So join the crowd at "the stone," whether it's to watch a Giants game or to keep track of your bracket during March Madness, Firestone Grill serves up the county's Best Meal for your Money.
—Wendy
runner up: Sylvester's Burgers
BEST MEAL TO TREAT YOURSELF
Ember Restaurant
1200 E. Grand Ave., Arroyo Grande
Ember has all the ingredients—pun intended—of a fantastic restaurant: a rustic atmosphere, an exposed brick fireplace studded with handsome sky-blue tiles, as well as all the sights, sounds, and smells of delicious food being created. Ember boasts an ever-changing menu of entrees like grilled lamb chops, prosciutto tortellini, and wood-fired cauliflower salad. It makes you feel like Gwyneth Paltrow just reading all the ingredients, which are all locally sourced and seasonal, don't you know. If you find your head spinning with all the sumptuous options, co-owner and chef Brian Collins has got your back. "Our prosciutto-wrapped artichokes are always really popular," Collins said. "Same thing with our chocolate caramel cake with an oven-toasted marshmallow." Just try not to drool while you're waiting for your food.
—Adriana
runner up: Ciopinot Seafood Grille
BEST FISH MARKET
Giovanni's Fish Market and Galley
1001 Front St., Morro Bay
If the words "fish market" conjure thoughts of smelly fish heads iced in barrels, perish the thought. You can smell Giovanni's crispy fries (which mysteriously become "chips" once paired with freshly battered and fried fish) all the way down the block—but don't let the siren song of the deep fryers be the only call you heed on their nearly endless menu. There are "South of the Border" specials like shrimp tacos and the surf-and-turf burrito, a host of burgers, and so many choices of fresh fish, you probably haven't heard of them all, so sit out on their patio with your filet of choice and watch the day's catch get loaded into the freezers straight from the docks.
—Carl Harris
runner up: Olde Port Fisheries
BEST BUTCHER
Arroyo Grande Meat Company
118 E. Branch St., Arroyo Grande
In this day and age, butcher shops can feel old fashioned—even a bit scary. With strange sausages and dozens of arcane cuts of beef, it can be tough to go to a real butcher without feeling like a deer in headlights. Luckily, Arroyo Grande Meat Company knows that most people can't tell the difference between a flank and a shank—and they're happy to help. A friendly and knowledgeable staff is paramount when it comes to butcher shops, and the people at AG Meat Company are about as friendly and knowledgeable as you could hope for. It also helps that their meats are top quality. From fine steak filets and racks of lamb, to fresh mouth-watering sausages, the AG Meat Company serves it all with a smile.
—Cliff
runner up: Whole Foods
AFTER HOURS
BEST SAN LUIS OBISPO BAR
Black Sheep Bar and Grill
1117 Chorro St., SLO
Comfort—that's what people want in a bar. They want to feel comfortable, welcomed, and respected. And that's what Black Sheep provides. Well, that and really good food and a family-friendly atmosphere! "My vision is for great food, perfect drinks, and exceptional customer service," said co-owner Myriam Olaizola. "We want to make a positive impact on our community and environment, to make a difference in people's lives. I tell my employees, 'One meal, one drink, one smile at a time,' we're making an impact on people's lives, trying to make Black Sheep a home away from home that's always comfortable and always consistent. I think that's what sets us apart from other bars." This month they celebrate their 10th anniversary, so check with the bar for upcoming events. Oh, and after you've been in a few times, don't be surprised if they greet you by name.
—Glen
runner up: Mother's Tavern
BEST NORTH COUNTY BAR
Pappy McGregor's
1122 Pine St., Paso Robles
So, you're going out. Do you want to drink fancy cocktails or beer? Do you want to grub down? Do you want to dance your bum off? At Pappy McGregor's, there's no need to sacrifice one dream for another. With live, local music throughout the week, Thursday night karaoke, Tuesday Pub Trivia, and more food and drink specials than you can shake a shillelagh at, you have found your pub pot o' gold. Just follow the rainbow of premium booze, craft beer, and local wine (not to mention hearty menu items like Lobster Mac and Cheese). We all know that Santa is a hoax, but dear old Pappy McGregor? He's alive and well, spreading his magic (on both sides of the grade)!
—Hayley
runner up: Dunbar Brewing
BEST NORTH COAST BAR
Old Cayucos Tavern
130 N. Ocean Ave., Cayucos
If you ever want to travel to the Old West, there are easier ways than using a time machine built by Doc Brown. For a throwback to an earlier, wilder era, just head through the wooden doors of the Old Cayucos Tavern. Built in 1906, this self-described "old Cowboy bar" offers the smoky atmosphere of an authentic saloon, down to the poker tables in the backroom. "We've been around for a long time," bartender Jeremy Barnes said. "We got some cool nostalgic stuff, live music on Saturday nights." And what's the house specialty? "Jack Daniels shooters for $4."
—Jessica
runner up: Merrimaker
BEST SOUTH COUNTY BAR
Mr. Rick's
404 Front St., Avila Beach
"Location. Location. Location." That's what makes Mr. Rick's in Avila Beach stand out, according to General Manager Rachel Weintraub. The bar features a stunning beachfront view that provides the perfect setting for their tropical cocktails, eclectic mix of live music, and scrumptious menu that includes "Machos Nachos" and Mahi Mahi tacos. "It's like summer every day here," Weintraub said. "You can't beat that view." The house specials include an "Avila Mai Tai," "Pirate's Punch," and the very popular "Pink Mermaid," an enticing mix of raspberry vodka, passion fruit rum, lemonade, Sprite, and cranberry juice. If the Little Mermaid had to have her 21st birthday somewhere on land, this would be the place.
—Jessica
runner up: Mongo's Saloon
BEST PLACE TO DANCE
The Graduate
990 Industrial Way, SLO
It's a Saturday night. You're in San Luis Obispo, and you have an urgent need to bust a move. Where you gonna go? Sure, you could breakdance in Barnes & Noble, but there's a better place. For 40 years now, The Graduate has been the go-to hot spot for those who like to move to the groove. "Nowhere else has the biggest dance floor," General Manager Brittany Sons noted. And it's true. The Graduate offers the largest dance floor on the Central Coast, which is plenty of space for their weekly dance nights that include Country and Latin themes.
—Jessica
runner up: Mother's Tavern
BEST CLUB TO CATCH A BAND
SLO Brewing Company
1119 Garden St., SLO
Jeff Bridges. Snoop Dogg. Ke$ha. They've all played at SLO Brew. So what is it about this local staple that attracts bands and audiences alike? "For us, it's the intimacy of the venue," General Manager Monte Schaller said. "We create a whole experience; it's much more about enjoying an entire evening." With its brick walls and cavernous atmosphere, SLO Brew feels like the music clubs of yore. It's small, yes, but accessible enough for just about any genre, from mariachi metal to acoustic singer-songwriters. Even with a new location on the horizon, Schaller said SLO Brew will retain its original, authentic vibe.
—Jessica
runner up: Frog & Peach
BEST PLACE TO GO ON A FIRST DATE
Novo Restaurant and Lounge
726 Higuera St., SLO
Ah, first dates. The over-thinking, the sweaty palms, the nervous glances, and the desperate, overwhelming desire to "get it right." Let's be real: Unless you're Mr. or Mrs. Suave, you're going to need all the help you can get to make sure everything goes according to plan. Never fear, though, worriers: SLO's Novo Restaurant and Lounge has got all the ambiance, romantic atmosphere, and delicious food you're looking for on a first date. Novo Marketing Manager Molly Kiely said that Novo is a "sure thing" among local venues for first dates, adding that she often sees first-date couples dining at the restaurant. This writer humbly suggests dining on Novo's creekside patio, where the twinkling lights and babbling creek create a powerfully romantic vibe.
—Rhys Heyden
runner up: the beach
BEST LOCAL BAND
Mean Gene Band (MGB)
meangene.org
MGB and I go way back to when they were Mean Gene and the Portable Jons. "This award has taken us completely off guard because there is so much incredible local talent," said Gene Baker, the founder and fearless leader of this terrific cover band who enjoys introducing new talent with "Mean Gene Presents" on the last Saturday of each month at Mongo's Saloon in Grover Beach. Guitarist and lead singer Baker renamed the group MGB for Mean Gene Band, but what hasn't changed is their excellence. The meanest thing about Gene is his gutsy guitar riffs. Three other outstanding members give the band its punch, including singer and bassist Johnny Punches, drummer Brian Monzel, and lead vocalist Kelly Atwell. They also formed the group Rebel 66, playing original metal rock. MGB has been packing dance floors statewide with their eclectic range of music. Like the sports car, they are tuned, love the road, and ready to rock 'n' roll.
—Ariel Waterman
runner up: Captain Nasty
BEST PLACE FOR A BEER
SLO Brewing Company
1119 Garden St., SLO
Aside from being swooningly handsome and having an Australian accent as smooth as melted butter, Hamish Marshall is probably best known as one of the leads of SLO's premier brick-encased nightclub, pub, brewery, and music venue. If it's a game of pool you're looking for while you pull sweet hoppy sips from a pint of liquid gold, SLO Brew is the place to get your drink on. Marshall thinks you all selected SLO Brew as the best place to grab a beer because of its quality. "We're pretty true to the quality, and then the environment that we provide around that," he said in an accent so charmingly masculine it has its own chest hair. And a few months after you read this, SLO Brew will likely be in its new home around the corner on Higuera. "We look forward to our move and expanding the beer and our location over the next 12 months," he said.
—Colin
runner up: Spike's Pub
BEST FANCY COCKTAIL
Sidecar
1127 Broad St., SLO
When locals say that Sidecar serves up the Best Fancy Cocktail around, they could be defining fancy any number of ways. Perhaps it's the choice of drinking glass, which perfectly matches each cocktail. Maybe it's the breadth and depth of ingredients and drinks, both historic and modern. My money is on the quality ingredients, and the fact that the house drinks are literally made in-house from the infusions, syrups, and bitters up. The menu changes over time, most recently including the spicy Horse + Donkey (cilantro-infused gin with a cayenne tincture, house sours, and ginger beer) and the Happy Tackle (lemongrass-infused bourbon with a colorful supporting cast, including sage and frankincense tincture). Spring means the Winter Fox has gone back into hiding, as cranberries to infuse that cocktail's vodka are no longer in season. But there's plenty more to choose from.
—Ryan Miller
runner up: Koberl @ Blue
BEST MARGARITA
Pepe Delgado's Mexican Restaurant
1601 Monterey St., SLO
Here's the thing: Margaritas are great. That is an absolute fact. What Taco Tuesday is complete without that sweet and salty beverage? The answer: No Taco Tuesday is complete without a margarita. Absolutely none! I mean, I don't think I'm exaggerating when I say that margaritas make the world go round. And Pepe Delgado's has got what you need for one that truly kicks butt. With good service, a fun atmosphere, and delicious strawberry margaritas, this place has all you need to eat your tacos in style.
—Adriana
runner up: Ventana Grill
BEST BLOODY MARY
Sidecar
1127 Broad St., SLO
Pickled Brussels' sprouts, spicy bacon, and chipotle-infused vodka: These are the trappings of an above-average (dare I say overachieving) Bloody Mary. "We really like taking tried-and-true cocktail recipes and tweaking them a bit," said Sidecar Co-Owner Josh Christensen. "It's fitting we won two Best of SLO drinking categories since we drink quite a bit ourselves!" Like I always say, never trust a mixologist who doesn't drink. Brunch is now hotter than ever thanks to the meaty Caveman, jalapeño-spiked Bang! Bang!, and revamped Classic Mary (swimming with assorted pickled veggies). Because spice is nice, but bold is better. And that's what a #SundayFunday is all about.
—Hayley
runner up: The Custom House
BEST HAPPY HOUR
Mongo's Saloon, Restaurant & Sports Bar
359 West Grand Ave., Grover Beach
What makes a way happier happy hour? Just head over to Mongo's Saloon in Grover Beach and belly up to the bar. You'll find inexpensive, stiff drinks from 3 to 7 p.m. every day and $1.50 Hump Day drinks starting at 9 p.m. every Wednesday (featuring DJ Drumz). But that's not all, folks! Veterans can take advantage of Military Mondays with a special Burger and Beer happy hour from 11 a.m. to 7 p.m., too. When it comes to taking the edge off, these folks do not mess around. Whether you order an award-winning bloody or just want to watch the game with a cold one in hand, Mongo's means "me-time."
—Hayley
runner up: Luna Red
BEST SPORTS BAR
Firestone Grill
1001 Higuera St., SLO
Walk into Firestone Grill any time between noon and 10 p.m., and you're likely to see the following scene: crowds of men and women glued to TV screens, beers before them, and a spirited raucous of cheers and jeers. This is what any ideal sports bar should be, and this is what Firestone Grill excels at. For the past 20 years, it's been a central hub for sports enthusiasts due to its high-def broadcasts, affordable drinks, and, most of all, its finger-lickin-good barbecue. If only competitive tri-tip eating were a professional sport. Firestone would place first every time.
—Jessica
runner up: Buffalo Wild Wings
BEST LOCAL RED WINE
Talley Vineyards
3031 Lopez Dr., Arroyo Grande
Spreading out a picnic blanket at Talley Vineyards and popping open a bottle of award-winning pinot noir is a local pleasure that people the world round wish they could enjoy more often. As SLOcals, we are ridiculously lucky to have an incredible array of Talley Vineyards estate-grown pinot noirs at our fingertips 365 days a year. Ranging from smoky and spicy to bursting with berry-licious flavor, there's a pinot for every occasion. Just like a mood ring, these reds can accommodate everything from a romantic anniversary to weeknight feast and every little occasion in between.
—Hayley
runner up: Opolo Vineyard
BEST LOCAL WHITE WINE
Edna Valley Vineyard
2585 Biddle Ranch Road, Edna Valley
Edna Valley Vineyard proves that the "SLO Life" isn't just for people; its world-famous grapes enjoy a slower pace of life, too. The winery's celebrated white offerings—including its world-famous chardonnays—reflect more than three decades of winemaking tradition in the AVA, which boasts the longest growing season in California. That fact, combined with rich soil, cool ocean fog, and reliable sunny weather, makes for elegant wines and grapes that "aren't in a hurry" to ripen. That's right. In SLO, even our grapes are Zen. As winery marketing rep Blythe Conaway said, "When it comes to making wine, the Edna Valley Vineyard team cares about one thing: offering a true expression of California's Central Coast."
—Hayley
runner up: Baileyana Winery
BEST LOCAL BREWERY
Firestone Walker Brewing Co.
1400 Ramada Dr., Paso Robles
You have to be pretty darn gutsy to proclaim that your beer is "what we drink around here." Firestone Walker Brewing Co. has had no trouble with making this vast blanket statement, however, as it just so happens to be true. From Grover Beach to San Miguel, you'll find Firestone beers clinking among friends, family, and coworkers. Whether Double Barrel Ale, 805, Union Jack, or a seasonal offering, this beer is as much a part of the landscape as oak-studded hills, Morro Rock, and flip flops-with-everything. As Firestone Walker Brewing Co.'s David Walker said, "When you get a pat on the back from an old friend, you know you are doing something right."
—Hayley
runner up: Tap It Brewing Company
BEST TASTING ROOM—NORTH COUNTY
Tobin James Cellars
8950 Union Road, Paso Robles
Pretentious. Fancy. Stuffy. These are not words used to describe Tobin James Cellars. This Paso Robles hot spot is all about relaxing, having a laugh with friends, and sipping on killer, unpretentious wines. Winemaker Tobin "Toby" James may continuously churn out award-winning zinfandel, syrah, and cabernet sauvignon (to name just a few), but he doesn't take himself too seriously. Fans who religiously attend the winery's barbecues and events know what I'm talking about. Tobin James gives that cliché "live, laugh, love" stuff a run for its money. That's just how the James Gang rolls.
—Hayley
runner up: Firestone Walker Brewing Co.
BEST TASTING ROOM—SOUTH COUNTY
Edna Valley Vineyard
2585 Biddle Ranch Road, Edna Valley
Established in 1980, Edna Valley Vineyard has truly earned its old school status. The pioneering winery is known for its award-winning chardonnay, as well as its incredible setting, which has been captured in the form of countless envy-inducing Facebook and Instagram photos. "The tasting room showcases the most picturesque view in the county," Winery Media Representative Blythe Conaway said. Considering the rolling hills, sweeping vineyards, and plenty of picnic-worthy spots at which to sip fine wine in the sun, I would have to agree with that statement wholeheartedly. Sorry in advance for making you wish you weren't in a cubicle right now.
—Hayley
runner up: Talley Vineyard
BEST WINE BAR
Luis Wine Bar
1021 Higuera St., SLO
Beyond being a swanky place to sip on more than 50 incredible local and regional wines, Luis Wine Bar is multitalented to the max. Experience an extensive wine list while savoring the hangout's modern, stylish atmosphere, or pepper your visit with a worldly craft beer, interesting cocktail, or delicious gourmet meat and cheese plate. Ever-changing monthly wine flights focus on one white and one red varietal hailing from three different regions of the world (sure to impress your friends and enemies). Just don't let all these killer options go to your head. All you have to do is walk through the door. The folks at Luis Wine Bar will make sure you get what you came for.
—Hayley
runner up: The Wine Shed
BEST WINERY OR BREWERY TASTING TRANSPORTATION
Hop On Beer Tours
There's no sense in celebrating if you don't get home safely afterward, which is why Hop On Beer Tours exists. Owner Brant Myers explained that the transportation service began as a way to promote local breweries while keeping drinkers intact at the end of the day. Partiers let someone else drive as they mark 21st and 40th birthdays alike. Everything from casual to serious tasting is, of course, an option—and you don't even have to decide between wine and beer. Mix-and-match tours take tasters to both, and ensure that the drinkers (and everyone else on the road) arrives home in one piece.
—Ryan
runner up: The Wine Wrangler
BEST DRINK FOR THE MONEY
Mongo's Saloon, Restaurant & Sports Bar
359 West Grand Ave., Grover Beach
As Donna Summer once said, "She works hard for the money, so hard for it, honey. She works hard for the money, so you better treat her right." Summer may well have been singing to her bartender with that catchy little ditty. I mean, really: Why throw away your hard-earned dough on a "fancy" cocktail that lacks flavor, panache, and ... well ... booze? With daily drink specials from 3 to 7 p.m. and a slew of weekly promotions (check their website for deals), Mongo's Saloon, Restaurant & Sports Bar is your destination for cheap, delicious drinks 365 days a year. Make Donna Summer proud. Keep your money in your Hello Kitty wallet, right where it belongs.
—Hayley
runner up: McCarthy's Irish Pub
BEST DRINK WITH A VIEW
Ventana Grill
2575 Price St., Pismo Beach
Tequila is a beautiful thing. An extensive selection of tequilas paired with a breathtaking view of the ocean is a whole other thing altogether. Nowhere else are the waves more glittery or is the sunset more sunsetty than at Ventana Grill in Pismo Beach, which boasts a seaside view that could make a live mermaid shed tears of joy. "We really appreciate this award, especially because it comes from our guests," said Ventana Grill Chef Ricardo Ortega. "We love our locals." It's safe to say the feeling is 100 percent mutual up and down the Central Coast.
—Hayley
runner up: Marisol at the Cliffs Resort
BEST BARISTA
Eric Pettis of BlackHorse Espresso & Bakery
1065 Higuera St., SLO
Eric Pettis does not keep a creepy book filled with details about your life, kids' sports activities, and favorite morning drinks. Amazingly, he actually keeps all of that information in his brain. When I asked the BlackHorse manager and decade-plus veteran of the biz what makes a good barista, he was quick to the trigger. "Intimacy," he said. "We try to get to know every regular on a personal level. People who aren't regulars, we try to make them feel at home." The result? New-timers quickly become regulars and strangers become besties. If Pettis were a Care Bear, he would surely boast a cup of Joe emblazoned on his belly.
—Hayley
runner up: Rochelle Stepro of Coastal Peaks Coffee
BEST LOCAL COFFEE SHOP
BlackHorse Espresso & Bakery
SLO
BlackHorse is a San Luis Obispo favorite for good reason: the people of SLO love good coffee. Everyone in town knows and adores BlackHorse; if you see someone walking downtown at 9 in the morning, there's a 50-50 chance they're holding a steaming cup of BlackHorse (and the other 50 percent are probably on their way to BlackHorse). They've only been around since '95, but BlackHorse has quickly become a staple, with locations scattered all across SLO. It's all because they do coffee right. BlackHorse serves up quality cups every time—their coffee is great, their tea is great, their specialty drinks are great (do yourself a favor and try a black and white mocha), and even their pastries are great. You'd be hard pressed to find something mediocre on a BlackHorse menu. I don't need to be telling you this, though—if you live in SLO, you already know how awesome BlackHorse is.
—Cliff
runner up: Scout Coffee Co.
BEST LOCAL COFFEE ROASTER
SLO Roasted Coffee
1172 Los Olivos Ave., Los Osos
I fondly remember smelling the SLO Roasted Coffee beans at the Cookie Crock Market in Cambria when I was a kid. And when I was old enough to finally drink the stuff, SLO Roasted was the company that got me hooked on caffeine (thanks a lot, by the way). SLO Roasted cares a lot about their beans, and that love is apparent at first sip. It's roasted fresh, in small batches, so the SLO Roasters can pay more attention to their beans than any of the big coffee roasters out there. Plus, it's the coffee they serve at the Apple Farm, Linn's, and Brown Butter Cookie Company. If it's good enough for those fine establishments, it's certainly good enough for you.
—Cliff
runner up: Coastal Peaks Coffee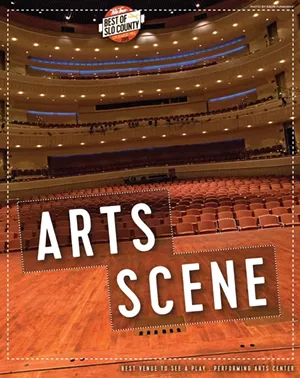 ARTS SCENE
BEST FESTIVAL
Arroyo Grande Strawberry Festival
The Village of Arroyo Grande
Prior to the late 1700s, the only strawberries were wild ones, and those have a history that stretches back to at least ancient Roman times. They've been cultivated and tamed since then, but the red gems are allowed to cut loose again each year in the annual Arroyo Grande Strawberry Festival, which boasts a Strawberry Stampede (a 5k walk/run or 10k run) for humans, strawberry royalty, a strawberry cook off, and carnival attractions, live music, food of all kinds, and more—all in celebration of the sweet, vitamin C-packed powerhouses that attract thousands of people to the festival in their honor.
—Ryan
runner up: SLO Craft Beer Festival
BEST PHOTOGRAPHER
Steve E. Miller
Steve E. Miller can make a maple leaf look like an acid trip. The SLO-based photographer has shot nearly everything, from local wineries like Laetitia Vineyards in Arroyo Grande to haunting lighthouses, the Fremont Theatre, and sweeping panoramas of SLO County's hilly landscapes. What unites these disparate images is a clean elegance and bold composition. For years, Miller worked for us here at New Times, making our paper pop with his characteristic versatility. "I just want to say thank you to everybody who wrote my name in and voted for me," Miller said.
—Jessica
runner up: Hayley Marie Photography
BEST LOCAL ARTIST
Drew Davis
A Nipomo native, Drew Davis grew up drawing and painting whatever came to his mind. When he was about 15 or 16 years old, he took a painting workshop, and he's since evolved into a dynamic artist, painting landscapes, people, biblical scenes, and abstracts with a vivid mix of oils and acrylics. Davis recently showcased his colorful pieces at Linnaea's Café. "I really enjoy abstract and expressionist styles," he said. "I think there's an exploration and mystery of endless possibilities to a piece. I like the mystery of that, figuring out what I can come up with."
—Jessica
runner up: Lena Rushing
BEST FINE ART GALLERY
San Luis Obispo Museum of Art (SLOMA)
1010 Broad St., SLO
It's not every day that you get the itch to see art up close. When you do want to be drenched in inanimate holy art glitter, visit SLOMA. The galleries are spread out in a way that's visually pleasing to the eye. Karen Kile, the executive director at SLOMA, said that they are "a museum-like venue with good lighting"—plus the available space means the exhibits can be bigger. That definitely plays a role in the distinction of the art gallery. Kile's favorite show from the past year was Artists and Their Mentors, which was just recently taken down. SLOMA itself has been up and running for about 65 years and is still "filling up the walls," which is very comforting for Kile and artists alike—as well as the local art-loving community.
—Morgan Chadwell
runner up: Steynberg Gallery
BEST TATTOO ARTIST
Keith Duggan, Ink Dynasty Tattoo
791 Dolliver St., Pismo Beach
Keith Duggan has been using the human body as a canvas for more than 15 years, two of those out of his own studio: Ink Dynasty in Pismo Beach. While he specializes in realism and Japanese-style work, Duggan insists he still has "a great time with all other styles," and he's got the portfolio rich with detailed line work and bold colors to prove it. And despite the fact that Duggan alone was chosen as the Best Tattoo Artist in the county, he insisted on sharing the love with his fellow artists at Ink Dynasty Tattoo, each of whom was hand picked by Duggan. And while there's more to running a successful tattoo shop than artistic talent—Duggan specifically referenced the facility's sterile environment and friendly atmosphere—ultimately, as far as Duggan is concerned, it all boils down to "trying to make the world a more beautiful place one person at a time."
—Ashley Schwellenbach
runner up: Shad Perlich, Traditional Tattoo
BEST MOVIE THEATER
The Palm Theatre
817 Palm St., SLO
In a cinematic world dominated by anodyne corporate movie theater chains, The Palm Theatre offers something completely different. The three-screen cinema is resolutely old-school: The tickets are ripped off of carnival-style spools, the popcorn butter is actually butter, and the box office opens only 30 minutes before showtime—no advance tickets are available. The Palm showcases a robust mixture of independent, art-house flicks and more mainstream fare. Best of all, movie tickets at The Palm range from $5 to a maximum of $9—far cheaper than you'll find almost anywhere else. Palm owner Jim Dee said he hoped his theater's win was due to its "film programming, reasonable prices, knowledgeable and friendly staff, a connection to the community, and an overall love of film." The Palm has been going strong in SLO since 1988, so that seems like a safe bet.
—Rhys
runner up: Fremont Theatre
BEST LOCAL THEATER GROUP
SLO Little Theatre
888 Morro St., SLO
SLO Little Theatre isn't just a place to see plays in San Luis Obispo. It's an institution. Since 1947, it's been a consistent source of quality theater, running more shows a season than any other theater group on the Central Coast. "The staff and board of the Little Theatre feel that it's our responsibility to produce the widest variety of theatre possible," said Kevin Harris, managing artistic director. And that's no lie. This year alone, the Little Theatre has produced a beloved musical (Singin' in the Rain), a contemporary drama, and a daring one-woman show. It may be "little" in name, but not in ambition.
—Jessica
runner up: The Great American Melodrama
BEST VENUE TO SEE A PLAY
Performing Arts Center (PAC)
1 Grand Ave., SLO
There's only one place on the Central Coast where you can see a 20-ton pipe organ and radio heartthrob Ira Glass at the same time. That's right. We're talking about Cal Poly's Performing Arts Center. Since 1996, it's been a major cultural center in SLO County, bringing both local and world-class acts together in a sterling, state-of-the-art theater. With more than 1,000 seats and a variety of diverse acts, from male ballerinas in drag to the Royal Shakespeare Company, the PAC is where it's at. As Managing Director Ron Regier said, the PAC "has unsurpassed technical capabilities and is very intimate for a large hall."
—Jessica
runner up: The Great American Melodrama
BEST DANCE COMPANY
CORE Dance Company
3422 Miguelito Ct., Suite 140, SLO
Dancing is equal parts graceful and beautiful to watch. CORE Dance Company does all of that in the most lithe, distinct way. Zheila Pouraghabagher, one of the three owners at CORE Dance, said that the company's most unique offerings currently are "international travel performance opportunities for company members, multiple cash scholarships throughout the year (helping students to subsidize their tuition and company fees), studio directors that span the age range of three decades, and classes for all ages, starting at 2 and ending at 80." CORE Dance has added a few new options to the list in the past year, including Absolute Beginner Workshop for adults and ballet and tap styles. Pouraghabagher said CORE plans on expanding its offerings in the future: "Hip-hop and jazz are definitely in those plans."
—Morgan
runner up: Academy of Dance
BEST LOCAL ENTERTAINER
Louie Ortega
Louie Ortega's been playing the guitar since he was a teenager. Now, in his 60s, the SLO-based musician is a master. After playing with groups like the Sir Douglas Quintet in his early days, Ortega settled here on the Central Coast, where he's been playing a virtuosic mix of blues, rock, and Latin hits alongside his own material for years. With a laid-back vibe and smooth style, Ortega owns the stage, putting some spice into every one of his performances. As he told New Times, "What I do is I put myself into song. I just wanted to thank everyone who has supported me and live music in the community."
—Jessica
runner up: Rich Ferguson
BEST LIVE MUSIC VENUE
SLO Brewing Company
1119 Garden St., SLO
When you see a band live, you want to see the lead singer's sweat right up close. It's raw and visceral. That's what live music is all about, and that's what SLO Brew offers. There, you can not only hear great bands, from local rock 'n' rollers to Neil Frickin' Young, you can feel the music. For these reasons, SLO Brew has been the heart and soul of the Central Coast's music scene for more than 20 years. "We're going to try and keep as much of our heritage for live music as possible," General Manager Monte Schaller said, referencing SLO Brew's imminent relocation. "It's a huge part of our history."
—Jessica
runner up: Vina Robles Amphitheatre
BEST COMMUNITY EVENT
Farmers' Market
Higuera Street, SLO
There are numerous farmers' markets throughout the city, county, and Central Coast, but when someone here asks if "you want to go to Farmers'," you know they're talking about the weekly tradition that fills downtown San Luis Obispo's Higuera Street each Thursday night. The farmers from whom this event takes its name line both sides of the street with booths bursting with fresh produce, while each intersection reveals a new diversion, from local musicians to youth acrobats and gymnasts to the ever-popular-with-the-kids real fire truck. You'll come home with the smell of barbecue smoke in your hair, a bagful of berries, and a song stuck in your head—and you'll want to come back for more of the same next week, too.
—Ryan
runner up: Concerts in the Plaza, SLO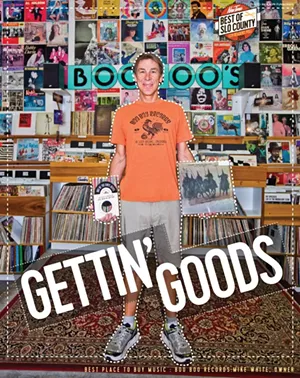 Gettin' Goods
BEST LOCAL BOOKSTORE
Phoenix Books
986 Monterey St., SLO
Phoenix Books owner Bruce Miller offers a simple, dry explanation for his shop's dominance in the annual readers poll: "Lack of other bookstores." There's some truth there—Miller notes that when he first came to town there were something like five used bookstores—but it's an oversimplified answer. "We buy books," he added. "We're one of the few bookstores in town where you can walk in with books and walk out with cash. And it's usually the other way around." Miller also apologized for the recent clutter at the store's Monterey Street location; in June, Miller's sons are opening a used bookstore in Atascadero, and the preparations have required stuffing a space already rich with literature with even more volumes to help start the new location. Whether Book Odyssey will give the better established Phoenix a run for its money in next year's poll is difficult to say, but it's an undeniable truth that more bookstores is a win for the community.
—Ashley
runner up: Nan's Pre-Owned Books
BEST PLACE TO BUY MUSIC
Boo Boo Records
978 Monterey St., SLO
"The way we treat our customers I think sets us apart," said Boo Boo's owner Mike White. "We haven't really done anything different over the years. We've always put a huge emphasis on customer service, selection, and a fair price." Add to that the resurgence in vinyl records and Boo Boo's longtime commitment to the once near-dead format, and you've got a store that's weathered the storm in the face of big changes in music retailing. "Vinyl's seen a true renaissance," White said. "It's gone way beyond what anyone expected. We've also diversified over the years and went heavy into guitar accessories, apparel, and iconic lifestyle gift choices." Is it any wonder Rolling Stone magazine placed Boo Boo's on its list of the 30 Best Record Stores in the USA?
—Glen
runner up: Cheap Thrills
BEST PLACE TO BUY MUSICAL INSTRUMENTS
Central Coast Music
365 Morro Bay Blvd., Morro Bay
Are you a burgeoning musical prodigy? Have you never played an instrument but always had a sneaking suspicion that you'd be amazing at it? It doesn't matter which one you are, because Central Coast Music has got whatever you need either way. Guitars? Check. Amps? Check. Drum sets, violins, and violas? Check, check, and check. They even offer instrument repairs, not to mention vocal lessons for all the aspiring Christina Aguileras out there. The only thing missing is the Grammy awards you'll get when you sweep the ceremonies with pure unadulterated talent.
—Adriana
runner up: Lightning Joe's Guitar Heaven
BEST MEN'S CLOTHING STORE
Patrick James
641 Higuera St., Suite 100, SLO
Oscar Wilde allegedly once said, "Looking good and dressing well is a necessity." Patrick James in downtown SLO takes this to heart. "We're forward fashion thinking," Store Manager Eric Danilewicz said. "We are a store that's evolving. We're not your grandpa's store." Too true. Patrick James has won Best Men's Clothing Store multiple times for its wide-ranging selection of high-quality, designer threads and commitment to customer service. Fashion is always changing, and so is Patrick James. That's what makes them stand out. Like a sharp wool blazer, they are always in style.
—Jessica
runner up: Jules D.
BEST WOMEN'S CLOTHING STORE
Ambiance
737 Higuera St., SLO
Searching for women's clothing is nothing short of a daunting task, but Ambiance makes it easy to find fresh looks for young women. When the decision comes to find something trendy and chic, our readers say hitting up Ambiance is the way to go. Manager Kalsee Voshal said that Ambiance's style is "very unique and features Southern California boho styles, for the girl who wants to set herself apart." Voshal also states that "our eclectic style and great customer service" sets them apart from other clothing boutiques. "We search for new trends, too." If you're looking for something that's on the latest cover of a hot magazine, Ambiance is your best bet.
—Morgan
runner up: Collections
BEST INTIMATE APPAREL
Fanny Wrappers
799 Higuera St., SLO
There are several ways a woman can cover her naked body: ironic T-shirts, sad khakis, Winnie the Pooh onesies. But for the truly adventurous, there's Fanny Wrappers. For more than 30 years, this SLO staple with the tongue-in-cheek name has offered a sultry selection of bras, underwear, and other fun "unmentionables." As Manager Lisa Borba said, it's the "merchandise and customer service" that make Fanny Wrappers stand out. They carry a wide assortment of lingerie, from elegant negligees to raunchy garters, fit for any form. If you're in the mood to look good, there's no better place to wrap it up.
—Jessica
runner up: Victoria's Secret
BEST THRIFT STORE
Goodwill Industries
San Luis Obispo • Paso Robles • Grover Beach • Atascadero
Shopping at a thrift store is not for the faint of heart. It's a battle—a quest, one might even say—to find something that's perfect for you amid the bedazzled and glittery prom dresses and Halloween costumes and everything in between. But if one thing that you love more than a challenge is holding that one shining item, then more power to you. Go ahead and prowl those racks of clothing for that piece that will make a one-of-a-kind ensemble. There's furniture, too. And books, and housewares, and shoes, and odds and ends. The world is your oyster. Go forth and conquer it with style.
—Adriana
runner up: Mission Thrift
BEST ANTIQUE SHOP
Ruby Rose
1235 Monterey St., SLO
Antique shops are one of the greatest gifts to SLO; you can find tons of great vintage items, if you're willing to dig around. Ruby Rose has a deal for you that's calling your name. Stephanie Hendry, the store's owner, said "the most popular items being bought at Ruby Rose are blankets, art, clothing, and interior decor." A good bunch of those items come from Los Angeles and San Francisco, where they specially pick them for the store. Hendry mentioned that Free People is one of the several brands of clothing that they carry and said that the items are "from the 1940s to the 1970s era." This gives anyone a great excuse to find something from an earlier time and keep it as their own.
—Morgan
runner up: A Glance Into the Past Antiques
BEST CONSIGNMENT BUSINESS
Zoey's Home Consignments
3566 S. Higuera, SLO
Zoey's has been putting on the dog for three years. The family-owned and operated store is even named for a canine family member: their yellow Labrador retriever. Like its namesake, Zoey's is your best friend for finding great bargains on beautiful, gently used home decor. Owners and spouses Brian Moore and Marie Menk offer terrific deals on quality pre-owned furniture, art, accessories, outdoor furnishings, and jewelry in styles from retro to recycled and modern to vintage. "We look in secondary markets, like galleries, for unique pieces," Menk said. Her daughter Nicole teaches chalk painting classes, and the friendly staff is happy to share decorating tips. "Andrea Gardner is our go-to gal for everything and quite knowledgeable about several styles and periods," Menk added. Zoey's also provides excellent consignment services, including eBay sales. Whether you are buying or selling, the folks at Zoey's are ready to guide you through the process and make it satisfying and fun.
—Ariel
runner up: Finders Keepers
BEST PET STORE
Lemos Pet Supply
Arroyo Grande • Atascadero • Los Osos • Morro Bay • Nipomo • Paso Robles • San Luis Obispo
Whether you're welcoming a new, furry member to the family or just looking for a special treat for your best friend, Lemos Pet Supply is the place to go. With seven locations throughout the county, Lemos is more than your average pet store. "We offer more options to people," Paul Benedix, the general manager, said. "You get more than just cat litter and dog food here. We offer community vet clinics, and anesthesia-free teeth cleanings." Benedix is also confident in the capabilities of his staff. "We have the best services, and we invest in staff training to make sure they're trusted sources," he said. So get yourself down there and get your pet the very best.
—Adriana
runner up: Tails
BEST PLACE TO PAMPER YOUR PET
The Golden Paw
2314 Broad St., SLO & 8135 Morro Road, Atascadero
Anyone who's ever had a dog that weighs more than 40 pounds knows that baths are not the easiest feats to accomplish. So save Fido—and more importantly, yourself—the hassle, and leave it to the professionals. And for those who want to give their feline companions a little scrub-a-dub, save yourself the cat scratch fever and bring them into The Golden Paw. With two locations in SLO County, clean facilities, friendly staff, and even pet sitting services, it's safe to say that your animal friend will be in very good, loving hands.
—Adriana
runner up: Happy Tails Kennel
BEST LOCAL HARDWARE STORE
Miner's Ace Hardware
SLO • Atascadero • Morro Bay • Los Osos • Arroyo Grande • Grover Beach • Nipomo
Miner's Ace Hardware is the hardware store of SLO County; there's a location in almost every city on the Central Coast. It's so ubiquitous, it was a shoe-in for the victory in this category. Luckily, it also happens to be a fantastic place to shop. The staff is extremely helpful and will go out of their way to answer questions and direct confused-looking shoppers—which can be vital in the labyrinthine aisles of some of their stores. Plus their shelves are packed to the brim with every hardware-related thing imaginable. From screws, to lumber, to lights, to tape, to hoses, to pink lawn flamingos—every necessity is present and accounted for.
—Cliff
runner up: Pismo Bob's Hardware and Nursery
BEST GROCERY STORE
Trader Joe's
SLO • Templeton • Arroyo Grande
I don't know what I'd do without Trader Joe's. It's such an amazing grocery store, I feel like it's tailor-made for me. Their prices are always good, and they sell food with a little more panache than any other grocer around. From quinoa sweet potato super burritos, to comforting pork buns, to South African style chips, to peanut butter cups that are somehow even better than Reese's—Trader Joe's knocks it out of the park every time. The service is always great, and every time I'm in need of a dinner idea, I just need to stop by the sample counter for something delicious and easy. It feels like Trader Joe's is going out of its way to make me love it, and you know what? It's working.
—Cliff
runner up: California Fresh Market
BEST FLOWER SHOP
Open Air Flowers
1055 Osos St., SLO
The artistry of Open Air Flowers' work is as recognizable as the glittering green storefront in the middle of downtown SLO; each flower, stem, and leaf contributes to an arrangement or bouquet that far surpasses the sum of its parts. It's clear that head designer Leslie Weber, who co-owns Open Air with husband Vance, works through every aspect of the arrangement with diligence. She explained that texture, scale, and—most importantly—the needs of the customer are all carefully considered, and as what Vance calls "occasion florists," this is how Open Air contributes to the community: by providing (whether to an individual customer or an entire banquet) the perfect floral decoration for any occasion.
—Carl
runner up: Shell Beach Floral Design
BEST GAMERS STORE
GameStop
SLO • Paso • Atascadero • Arroyo Grande
GameStop gets the job done. Perhaps the biggest thing the chain has going for it is its ubiquity. It's the only game store that has a location in North County, South County, and SLO. There are GameStops literally all over the place, and when a new game comes out—be it a first-person shooter, immersive fantasy, or puzzle challenge—you can be sure that they'll have it. Sometimes dependability is what lands you the title, and New Times readers have shown that they depend on GameStop for their button-mashing needs.
—Cliff
runner up: Captain Nemo Games and Comics
BEST EYEWEAR STORE
Urban Optics
1001 Higuera, SLO
Remember the clunky glasses you had to wear as a kid that made you look like a super nerd? Or hearing people say, "Guys don't make passes at girls who wear glasses?" Welcome to the 21st century, people, where nerdiness is in and girls who wear glasses are mysterious and cool! And the coolest looks in eyewear can be found at Urban Optics, where optometrist (and Best Doctor winner) Dr. David Schultz helps correct your vision, and his remarkable staff will help you envision a new look. "When we started 25 years ago we embraced being different than everyone else," Dr. Schultz said. "We always carried products that were fashion forward and unavailable anywhere else and try to carry exclusive products designed by eyewear designers." Urban Optics also carries the latest in contact lenses. Check them out for your next set of specs and you'll say, "I've been framed!"
—Ariel
runner up: Costco
BEST JEWELRY STORE
Kevin Main Jewelry Design and Studio
720 Higuera St., SLO
Whether you really believe Marilyn Monroe's infamous declaration that diamonds are a girl's best friend or if your tastes run more toward intricately designed knives, Kevin Main Jewelry is the place to go. Kevin Main has been in business for more than 40 years, and has been voted Best Jewelry Store for 12 years in a row. Co-owner Kathi Main attributes their stellar success to their high standards and friendly staff. "Our storefront is unique and welcoming," she said. "And once inside, clients find a warm and comfortable environment with a knowledgeable team that focuses on education and entertainment, and turning clients into friends."
—Adriana
runner up: Hamilton Estate Jewelry
BEST TOY STORE
Tom's Toys
682 Higuera St., SLO
Tom's Toys is one of those distinctly SLO businesses. It's an honest-to-goodness independent toy store. It even has window displays! Eat your heart out, Ralphie Parker! Rivaling FAO Schwartz for multi-leveled childhood wonderment, the store offers local kids a one-stop-shop for about 12,000 items in stock. Owner Ted Frankel was out of town when I tried to reach him, but he explained last year that Tom's Toys is unique to SLO, as other cities in which he owns businesses (there are three Tom's Toys) don't have toy stores that aren't buried within a big box store. He added that SLO residents tend to appreciate the independent nature of his store.
—Colin
runner up: Whiz Kids
BEST SHOE STORE
Charles Shoes
867 Higuera St., SLO
Charles Shoes has been a Central Coast institution, providing excellent shoes and outstanding customer service from the same location since 1966. Cindy Ashley and son Jason have carried on the business practices, started by Jason's grandfather, of helping customers start off on the right foot—and left! Helpful, knowledgeable, and friendly staff, like Kristi, make shopping at Charles Shoes a pleasant experience. "We carry several styles, including Danskos [her favorite], Florsheim, Pikolinos, Clarks, and Rockport, just to name a few," she said. "We specialize in making sure our customers are comfortable in their footwear and have a lot of repeat customers, including nurses, doctors, food service staff, and anyone who is on their feet for long periods." Charles Shoes is also the go-to place for hard-to-find sizes and widths, as well as eco-friendly footwear. This place definitely puts a lot of soul into their soles!
—Ariel
runner up: Takken's Shoes
BEST TIRE STORE
The Tire Store
252 Higuera St., SLO
What is a car without tires? Absolutely nothing. Just a hunk of useless metal, and maybe a radio or foldable seats or something. But not many people know that much about tires, or even cars in general. Cue The Tire Store, which is celebrating its 25th anniversary. Joe Beckwith, the co-owner, said their success is simply due to their honesty and customer service. "We always try to put the customer first, basically just fulfilling their needs," Beckwith said. "We don't sell things that people don't need. We really try and make it as easy and painless as possible."
—Adriana
runner up: Big Brand Tire and Service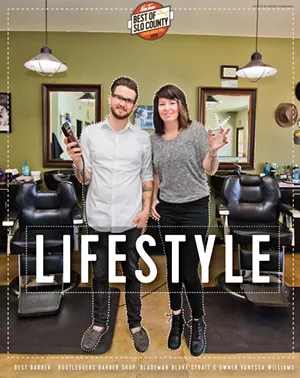 LIFESTYLE
BEST HAIR SALON
Bluebird Salon and Spa
742 Marsh St., SLO
The Bluebird Salon and Spa has been soothing and grooming clients in SLO for seven years. They're not just about hair, mon frere! They also do makeup, body waxing, facials, peels, massage, and spray tanning. Owner Ariel Shannon moved the business to its present location last May and plans to add manicures later this year. "Our main value is in our name—the bluebird of happiness," she said. "We want everyone to leave here happy and rested." Her fantastic team serves a clientele of women and men from working professionals to retirees, students, and stay-at-home parents in an inviting atmosphere. Massages include hot-stone, wellness, and relaxing rubs for moms-to-be. Wedding and spa packages are available. Try the Ultimate Luxury—an O2 lift oxygen facial with chocolate-apple-fondue body scrub and massage or go for a body-polish treatment finished off with hot towels. They truly put the "aaah" in spa.
—Ariel
runner up: The Bladerunner
BEST NAIL SALON
@Nails
1519 Froom Ranch Way, SLO
Manicures and pedicures, while not an essential part of life, are a nice treat every once in a while. A little buff, a little shine, maybe a massage and some scented lotion, and voila! Your keratin-infused koala claws have been transformed into a living work of art. But there are so many salons out there, it's hard to find the one that offers the best bang for your buck. Well look no further than @Nails. Manager Kieu Nguyen said they stand out from the rest with their large selection and quality products. "Not only that, I think our workers are great, too," Nguyen said. "Everyone has a really good attitude and are good at working together."
—Adriana
runner up: Marigold Nails
BEST BARBER
Bootleggers Barber Shop
235 W. Grand Ave. Grover Beach
Owner Vanessa Williams opened Bootleggers Barber Shop on May 1, 2012. She and No. 1 blade man from day one, Blake Strait, are barber stylists, licensed to use straight razors. This amazing team offers haircuts and styles from fades to tapers, straight razor shaves, beard shaping, and trims. "We do everything from classic to modern," Williams said. "The current trend is what I call the 'Mad Men,' for the popular TV series. It's a classic look, parted on the side and sleeked back." Try the hot razor shave with steamed towels and a light face massage for just $25. Bootleggers does grooms' parties and children's hair, and offers discounts to seniors, fire and law enforcement, military members, and veterans. The place has a warm, friendly atmosphere. "My dad was a Navy guy who hated going to old school barbershops or salons," Williams said. "My shop is a comfortable place for men—like a man cave." Where better to get a shave than in a man cave?
—Ariel
runner up: Mark "The Barber" Ramirez, The Ritual
BEST HEALTH CLUB/GYM
Kennedy Club Fitness
SLO • Paso Robles • Atascadero • Arroyo Grande
Owner Kevin Kennedy started his fitness venture as a senior project at Cal Poly in 1977. He now has locations in San Luis Obispo, Arroyo Grande, Atascadero, and Paso Robles. "We're a club, and not a gym," Kennedy said. "We try to remove the gym mentality. Members can work out, then share a pitcher of beer in our lobby. We're probably the only fitness facility to have this. We try to create fun with fitness." He added, "Ours is a multipurpose club with everything from exercise equipment and classes, swimming, and racquetball." The club offers health education, child care, kids programs, and camps. You can try out the club for free in May with GASLOC (Get Active San Luis Obispo County). "My goal is to make SLO County the healthiest place in the world!" So get fit and have fun doing it at Kennedy Club Fitness.
—Ariel
runner up: Pismo Beach Athletic Club
BEST YOGA STUDIO
Smiling Dog Yoga
1227 Archer St., SLO
Despite being thousands of years old, yoga has seen its popularity do nothing but grow, especially in recent years. The physicality of it, while challenging, is by no means impossible, making it perfect for those wanting to start exercising and those who are already ripped. Smiling Dog Yoga is a great place to jump on the exercise bandwagon. "Well, we are yogis after all, so we're first and foremost very humble," Roxy Banta, the owner and director, said. "We are grateful to those who love us, yet we also know we can improve and look forward to continuing to better serve our community in the years to come."
—Adriana
runner up: Harmony House
BEST PLACE TO GET A MASSAGE
Sycamore Mineral Springs Resort & Spa
1215 Avila Beach Dr., SLO
Life is stressful, and sometimes you need a break. Sometimes, you just need to step into heaven, and Sycamore Mineral Springs fills that need better than the rest. At its world-class resort, located near naturally occurring hot springs by Avila Beach, Sycamore specializes in the healing arts with nine different types of massages, including a "Wine Therapy Massage" that comes complete with a dip in the mineral springs and a complimentary glass of locally made chardonnay. The result? "A perfect harmony within the body," according to Marketing Manager Laura Bowman.
—Jessica
runner up: Massage Envy Spa
BEST PLACE TO GET WAXED
Tigerlily Salon and Spa
659 Higuera St., SLO
It can be a very hair-raising experience—ha!—for a woman to get her nether regions waxed. You can't get just anybody to take care of your grooming needs. You want to entrust yourself to a true professional, like the people at Tigerlily Salon and Spa. Not that they just wax the, ahem, downstairs area. They do everything: arms, legs, underarms, and face. If you so desire it, you can waltz right out of there as hairless as the day you were born (or maybe even better than that).
—Adriana
runner up: The Bladerunner
BEST PLASTIC SURGEON
Dr. Wally Hosn
1250 Peach St. Suite D, SLO
Dr. Wally Hosn (pronounced "ha-sen") came to SLO after a four- to five-year stint in Beverly Hills. He's been a private practice plastic surgeon for approximately 16 years, and during that time he's found that what really sets one plastic surgeon apart from another is the combination of medical knowledge and artistic finesse. "I think one of the things the patients appreciate is that you have to have an aesthetic eye for what looks good and you have to be able to pinpoint that and you have to be able to accomplish it," he said. Most of his patients come in for facelifts and breast surgery, but Hosn also takes on patients who need facial reconstruction after surgery for skin cancer, or breast reconstruction after breast cancer. "When you really love what you do, people see that," he said.
—Colin
runner up: Dr. Ke-Ping Tsao
BEST PLACE FOR SKIN CARE
Dr. Bradley Kurgis
1320 Las Tablas Road, Suite B, Templeton
Dr. Bradley Kurgis and his amazing staff provide the latest in skin care and treatment, and they accept most insurances. Services include fillers, Botox, lasers, facials, microdermabrasion, cosmetic dermatology, and hair restoration. Dr. Kurgis also performs Mohs micrographic surgery for treating skin cancer and offers photodynamic therapy for removing precancerous skin. "Skin cancer is the No. 1 cancer in the U.S.," Dr. Kurgis said. "Most skin cancers are treatable." He provides pediatric as well as adult dermatology and said, "The favorite part of my job is treating skin. The best aspect of my field is that I get to practice both medical treatment and surgery." Dr. Kurgis has been helping Central Coast community members keep their skin healthy and gorgeous for 23 years. "We're dedicated to making your skin and hair care experience the best possible. We treat you like family."
—Ariel
runner up: The Bladerunner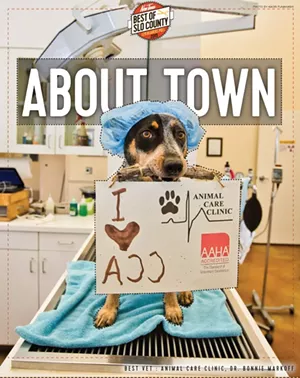 About Town
BEST NEW COMPANY OF 2014 (TIE)
Scout Coffee Co.
1130 Garden St., SLO
When a brand new coffee shop opened a few doors down from beloved SLO cafe Linnaea's, locals were upset. Who did these punks think they were? But these punks (AKA Scout Coffee Co.) quickly proved themselves to be every bit as at-home in SLO as Linnaea's—or any other downtown cafe, for that matter. Scout Coffee slid right into the hearts of locals with a one-two punch of cheerful service and fantastic product. The staff treats you like friends, the atmosphere is welcoming and trendy, the coffee is top-notch, and the pastries are the best in town (try the scones; you'll thank me later). It's no surprise that Scout is quickly becoming SLO's new favorite cafe.
Foremost Wine Company
570 Higuera St., SLO
In a rare Best Of tie, Foremost Wine Co. is sharing the title of Best New Company of 2014. Just like our other winner, Foremost Wine feels hip and fresh. It seems like people have finally cracked the code of what it takes to make a new business a hit: quality product, friendly service, and cool and classy decor. Like many other restaurants, Foremost has nailed these three categories, but it's seeking to set itself apart from the rest of SLO's successful upscale eateries by focusing on one oft-forgotten aspect of the foodie experience: wine. Wine is first and foremost at Foremost; it's the centerpiece that the entire (delicious) menu is built around. With this unique perspective shift, Foremost has made itself unlike any other restaurant in the county, and that's a good thing.
—Cliff
runner up: Bang the Drum Brewery
BEST RADIO STATION
KCBX 90.1
4100 Vachell Lane, SLO
Being a public radio station means providing what the community wants. So how does KCBX cater to the tastes of a community as diverse as that of the Central Coast? Just take a look at their programs: a combination of local, regional, and national news (yes, NPR included), plus a smorgasbord of classical, bluegrass, jazz, world music—you name it. The variety's almost overwhelming, until you dive right in and see just how KCBX "fills a void" in the local radio landscape, as Frank Lanzone, the station's general manager, puts it. They refuse to limit the scope of their programming, and that's how the folks at KCBX satisfy not just one of the community's needs, but many.
—Carl
runner up: 98.1 KJUG
BEST LOCAL NEWS SOURCE
KSBY
1772 Calle Joaquin, SLO
KSBY has consistently swept this category since it was introduced to the annual readers poll. While there's always the temptation to credit the volume and sheen of their reporters' hair for the news station's success in winning the hearts and minds of locals, President and General Manager Katherine Choal has a different explanation: "Hard work, dedication, and loyal viewers are behind our success this year, and every year. We strive every day to do the best we can for our local viewers who depend on us for the big story, the small story, and everything in between." Better still, when given the opportunity to taunt her defeated competitors (New Times among them), Choal instead took the classy route, saying, "While we appreciate the accolades, we are also proud of our competitors who are hard-working journalists in a tough business that is constantly evolving."
—Ashley
runner up: New Times
BEST PLACE FOR A WEDDING RECEPTION OR BIG BASH
Madonna Inn
100 Madonna Road, SLO
There are breathtaking beaches and wonderful wineries all over SLO County, but there's only one Madonna Inn. The famous landmark is a strange, reality-bending place that's somehow so gaudy it's beautiful, and so baroque it's classy. It has this magical air of specialness about it that makes it the perfect place for a wedding reception or a big bash. Everything about it is memorable, from the pastel pink exterior to the kitschy Germanic interior to the outstanding cake—and even the surprisingly great bar (try the Pick and Shovel). If you want an enchanting party that you and your guests won't soon forget, locals say there's really only one place to go.
—Cliff
runner up: Dolphin Bay Resort and Spa
BEST PLACE TO PAY TO STAY
The Cliffs Resort
2757 Shell Beach Road, Pismo Beach
The Cliffs Resort is a remarkable hotel with some of the most beautiful ocean views on the Central Coast. But guests don't just come for the view. They come for the fantastic service, lavish guest rooms, and superb treatment by the top-notch staff. "Our focus is on guest services," said Lee McGregor, director of sales and marketing. "There is a great sense of pride in saying that you work here." The Cliffs Resort accommodations feature private balconies or patios, Italian marble baths, HD flat-screen TVs, high-speed wireless Internet access, and comfortable workstations. The resort also offers spa services that simply can't be beat, and locals know that The Marisol Restaurant is top rated, serving fantastic food for breakfast, lunch, and dinner. All of this comes with those breathtaking coastal and mountain views. Follow McGregor's advice: "Come visit and see for yourself!"
—Ariel
runner up: Dolphin Bay Resort and Spa
BEST CAR WASH
Sunset North Car Wash and Detail Center
SLO • Arroyo Grande • Paso Robles
These days, it's pretty hard to wash your car in your driveway and suffer through the withering glares of neighbors as water runs down the street, yet nothing's worse for your paint than dirt and grime. Sunset North to the rescue! With four locations, this gentle hand-wash haven will keep your vehicle looking sharp, and according to head honcho Bart Devaney, "We're in the process of upgrading all our facilities. There are four things we're really focused on: quality assurance, customer comfort, flow, and cleanliness. If you see someone in a red vest, he's there for quality assurance. We want the customer experience to be as good as it can be, and we have free wi-fi at all locations." And what's better than a nice, clean car?
—Glen
runner up: Quiky Car Wash
BEST MEDICAL MARIJUANA DELIVERY SERVICE
Ethnobotanica (The Pot Deli)
potdeli.org
You may have noticed a lack of medical marijuana storefronts around these parts. That's because none exist, the result of a series of full-court presses from local law enforcement agencies and municipalities to ban them city by city. But not all hope is lost! In lieu of the missing brick-and-mortar spots, all you've got to do is look toward the back pages of New Times, and you'll find a long line of mobile services vying for you to become their new customer. At the front of the pack (and also on the front lines of fighting off attempts by cities to ban the mobile services) is Ethnobotanica. Co-owner Stephanie Kiel and her colleagues at the collective have been ardent advocates for safe access to quality medical marijuana. The collective only offers organic, quality medical cannabis, and all concentrate products are lab tested to ensure that they'll help—not harm—you. They also offer discounts as part of their compassionate care philosophy.
—Jono
runner up: Canna Express
BEST LOCAL BANK/CREDIT UNION
SESLOC Federal Credit Union
SLO • Arroyo Grande • Atascadero • Paso Robles
SESLOC (School Employees of San Luis Obispo County) was started more than 70 years ago, in 1942, by 10 school employees who pooled together $500 in assets. Now, with nearly 38,000 members, SESLOC offers services to everyone in San Luis Obispo and Northern Santa Barbara counties. A new location is on the horizon to serve Santa Maria and the military community at Vandenberg. Carla Swift, assistant vice president of marketing, has been with SESLOC for 18 years. "It's a great place to work," she said. "We pride ourselves on being an education-based credit union." SESLOC offers education to families, children, college students, and groups who seek information to help them make sound financial decisions. The credit union has two investment advisors and estate planners who also help with certain insurance needs. McGregor stated, "We educate our members to help keep them financially healthy."
—Ariel
runner up: Rabobank
BEST REAL ESTATE COMPANY
Keller Williams Pismo Beach
350 James Way, Suite 130, Pismo Beach
Keller Williams is the real deal when it comes to real estate. Winner of multiple Quadruple Gold-level awards, Keller Williams is staffed with knowledgeable real estate agents who have lived in the area since 1978. They are the go-to team to have with you when buying or selling a home or seeking an investment or commercial property. Realtor and team leader Ashlea Boyer, an alumna of Arroyo Grande High School, said Keller Williams works with multiple lenders to help buyers to find the right loan for their needs. "We get to sell real estate in one of happiest places on earth," she explained. "Clients like us because we generate happy, helpful people who offer clients help and education when buying a home. We're like the happy cows in the commercials!" So when you're ready to moooove, call on Keller Williams!
—Ariel
runner up: Patterson Realty
BEST LAWYER
Ilan Funke-Bilu
1008 Walnut St., SLO
As the old saying goes: "Stay out of trouble, or don't get caught." Well, OK. Maybe that's not quite how it goes, but it's good advice. If you do get caught—wrongfully accused, maybe—or you've got a friend or family member in deep trouble, you better call IlanFunke-Bilu. You may have heard his name—it precedes him. Word on the street is that he's one of a select few defense lawyers you call when a miracle is in order. Asked what the 36-year legal veteran had to say about the honor awarded to him from you readers, he didn't have much to say, except this: "This is the first time in my life that I'm speechless," Funke-Bilu said. "The only thing I can say is thank you."
—Jono
runner up: Harris Personal Injury Lawyers
BEST HOME AND GARDEN SERVICE
Sage Ecological Landscapes and Nursery
1188 Los Osos Valley Road, Los Osos
Whether you're a DIY gardener looking to spruce up your yard, looking to find a new plant to replace that bush that keeps dying, or looking for an entire overhaul and a new landscape installation (maybe to replace that water guzzling lawn?), Sage Ecological Landscapes and Nursery has got you covered. The company has been steadily growing atop a rich reputation of offering both beautiful landscapes and eco-conscious choices. The business was offering drought-tolerant avenues before it became mainstream, and it's now in the perfect position to help you turn a new leaf in doing your little part to deal with the drought.
—Jono
runner up: Gardens by Gabriel
BEST PLUMBER
Smee's Plumbing
855 Viaduct Esteban, Suite D, SLO
Is your clogged sink draining you? Does your toilet run you ragged? Are your pipes giving you gas? Time to call the professionals at Smee's Plumbing, providing reliable, honest, and quality service since 1929! Owner David Smee heads this local, family-owned and -operated business, offering same-day service for most projects. He also offers green alternatives, and free estimates are always available. Services include general system maintenance, drain cleaning and sewer service, water line and gas pipe repair, and tankless water heater installation. His dependable team of plumbers gives personalized service and always cleans up before leaving your premises. The staff at Smee's Plumbing takes pride in providing the kind of service that exceeds your expectations—and that's no pipe dream!
—Ariel
runner up: Jack's All American Plumbing
BEST AUTO MECHANIC
Rizzoli's Automotive
2584 Victoria Ave., SLO
Rizzoli's Automotive is celebrating 40 years and three generations of servicing cars in SLO. Grandpa Mario Rizzoli opened his shop in 1975. Son Jim later took the reins, and now grandson Kyle (the handsome guy in the TV commercials) runs the business. Rizzoli's professionals service all makes and models, specializing in Audi, Volkswagen, Lexus, BMW, Mercedes, hybrid, and electric cars. "Our motto is we're trusted by locals, staffed by experts," Kyle Rizzoli said. There's a two-year/24,000-mile warranty on all parts and labor, and student, veteran, AAA, and senior discounts are available. "We educate customers how to keep their vehicles running and safe." Hate to wait? Shuttle service is available. "We put the customer first and try to make the process as stress-free as possible," Kyle said. "Our waiting room is clean with free wi-fi, doughnuts every Thursday, and we always have fresh coffee and cookies!" Grandpa Mario would be proud!
—Ariel
runner up (tie): Superior Automotive, Villa Automotive
BEST DENTIST
Ron Barbieri, DDS
1131 Pacific St., SLO
Ron Barbieri, DDS, has been practicing general pediatric and adult dentistry in San Luis Obispo since 1976. His name, Italian for "barbers," is fun and ironic since dentistry used to be performed by barbers. Our readers have chosen Dr. Barbieri as Best Dentist before and probably will again. He and his staff provide first-rate comprehensive oral health care using state-of-the-art techniques and technology. "This award is an honor," he said. "When people vote for a dentist, I think they are also voting for his staff, and my staff is amazing! I surround myself with good people, and we try to make the experience less stressful." The biggest part of his practice is preventive dentistry and educating patients in the care of their teeth and bodies. His wife, Maureen, is a hygienist; they have two new dentists—Dan Copp, DDS, and Greg Thurston, DDS—and they're taking new patients. "It's all about the patient," Dr. Barbieri said. "The patient is the boss here."
—Ariel
runner up: Scott Morton, DDS
BEST DOCTOR
Dr. David Schultz, Urban Optics
1001 Higuera, SLO
Dr. David Schultz been an optometrist in San Luis Obispo for 25 years. This is not the first time the good doctor has been lauded by our reader, and his practice, Urban Optics, was chosen as this year's Best Eyewear Store. He provides eye exams, vision correction, and treatment for eye diseases—short of surgical intervention—and offers eyeglasses and contact lenses. "The favorite part of my job is my patients. I have patients who are twice as old now as when they first came to me, and now they bring their children," he chuckled. "Some were students when I started the practice and now have families." Dr. Schultz keeps up with his patients and the times. "We strive to keep up with the changing electronic media," he said. "We keep in contact with our many patients via text and emails, and they really appreciate it. We have a website and Facebook page to keep up with changes in the community." Now that's a guy with vision!
—Ariel
runner up: Dr. René Bravo
BEST CHIROPRACTOR
Paul S. Wolf, DC, Wolf Chiropractic
604 E. Grand Ave., Arroyo Grande
Paul S. Wolf, DC, isn't just any run-of-the-mill bone-twister! Active in the community, Wolf is a member of the Rotary Club of Arroyo Grande. An avid dog lover (with a name like Wolf, you'd have to be!), he supports the Santa Maria Humane Society and is famous in Arroyo Grande for his holiday decor. "My wife, Fahey, loves Halloween, and I love Christmas," he said. "We like to make people smile and feel good!" Wolf incorporates various techniques of spinal manipulation, customizing each treatment to what works best for each patient, including electrical muscle stimulation, ultrasound, cervical traction, cold laser, and home exercises. Certified massage therapists Tami Henriksen and Tracy Corley offer deep tissue, stress relief, shiatsu, reiki, and prenatal massage. "We try to incorporate whole muscular-skeletal treatment to treat the entire system to help patients get better as soon as possible," Wolf said. So come by and let him have a crack at you!
—Ariel
runner up: Dr. Brian Buchanan
BEST VET
Animal Care Clinic, Dr. Bonnie Markoff
162 Cross St., SLO
Animal Care Clinic opened as a small practice in 1989, launched by owner and veterinarian Dr. Bonnie Markoff. That's a lot of dog years and kitty lives! The clinic takes great care of all creatures small, treating dogs, cats, and little furry critters like hamsters and guinea pigs. Dentistry is available, including cleaning, extraction, and digital dental X-rays to see under the gums. The team includes five vets, nine Cal Poly students as kennel and veterinary assistants, and Cate Morris, office administrator extraordinaire! Overnight care is provided by employees who live on site, and all are pet owners (Dr. Markoff has two dogs and Vincent, a three-legged cat!). "Our focus is on whole families, not just the pet," said Dr. Markoff. "We work to enable owners to better care for their pets depending on their situations." Get a free exam if you adopt from a shelter. They'll even stay and see you if you call before they close. Now that's the cat's meow!
—Ariel
runner up: Pismo Beach Veterinary Clinic
BEST MOVING COMPANY
Meathead Movers
3600 S. Higuera, SLO
Once upon a time, two bold high-schoolers—Aaron and Evan Steed—used their muscle to help people move to earn money. They had a pager, a pay phone, and a vision, working hard for a few bucks and a pizza. Business boomed, and their Princess Packers gently bubble wrap and pack your treasures, and Meathead Movers donates $1 to local children's charities for each box they pack! Then athletic Meatheads efficiently load heavy items and transport them. "We invest heavily in our training so our people know what to do and how to do it, and reward them for keeping clients happy," Aaron said. Meathead Movers also moves victims of domestic violence to shelters or new homes for free and organizes supply drives for disaster victims. "We are very thankful for loyal customers and work to make their move fun and memorable." So call Meathead Movers and make your move!
—Ariel
runner up: Sandercock Moving and Storage
BEST NEW CAR DEALER
Sunset Honda
12250 Los Osos Valley Road, SLO
Started in 1977, Sunset Honda is known for its excellence in the car business. Owners George Peterson and Chris Baughman are proud of their own 24-year reputation for treating customers like family. "Clients will be a part of our life from the day they purchase a car to when they hopefully return for a new one," Peterson said. "We try to make every deal we can by helping people with good, bad, or challenged credit, those new to the area, and students. It's not always about price but what works for customers economically that meets their needs. We want to make sure you're happy and safe in the car you buy." Sunset Honda also offers full service and parts, a detail shop, shuttle service, and the LOIL change—Loyalty Oil Change—for $19.95. Buy a car from them, and you always get that price while you own the car! Viva l'oil!
—Ariel
runner up: Perry Ford Lincoln of San Luis Obispo
BEST USED CAR DEALER
McCarthy's
43 Higuera St., SLO
McCarthy's has been selling affordable, top-quality, pre-owned vehicles in SLO County for 35 years. Owner Mike McCarthy said, "We ascertain what buyers need and won't push a car on someone if it is not right for them. It takes time to help a person find the right car." They have a diverse selection of foreign and domestic cars, trucks, and SUVs and some RVs. "We do a full quality-control check and comprehensive evaluation, essentially remanufacturing the car to bring it up to the right standard before it is sold," McCarthy explained. "All of our cars are recall-free, and all come with a CarFax report and a warranty." McCarthy's works with you to get the right financing for your credit and budget, too. "We have good staff who really care," McCarthy said. "What makes us different is that we're in the people business, not the car business."
—Ariel
runner up: Ted Miles Motors Inc.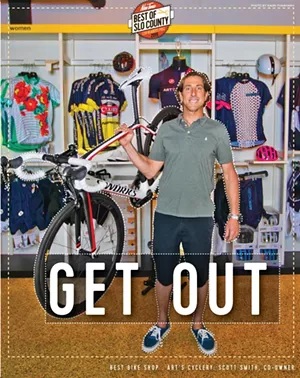 Get Out
BEST WEEKEND GETAWAY IN SLO COUNTY
Sycamore Mineral Springs Resort and Spa
1215 Avila Beach Dr., SLO
If you find yourself needing a break from your routine, but you don't relish the thought of battling the inevitable north or south traffic, take a jaunt to picturesque Avila Beach, where tucked away from the hustle and bustle is Sycamore Springs. They have everything you need for a calming, rejuvenating weekend. Replete with hillside hot tubs, massages, mimosas, and even an Oasis Waterfall Lagoon, you can treat yo'self to a better you. Take in the breathtaking panoramas on the nearby hiking trails, or just lounge about in the spa—whatever floats your boat.
—Adriana
runner up: Cambria
BEST PLACE TO GET SWIMWEAR
SLO Swim
795 Higuera St., SLO
Shelley Filip has been selling swimwear since 1986. A real pro, she opened SLO Swim in 1998. "I am really lucky to have such loyal customers," Filip said. "I put people in swimsuits when they were 12, and now I'm suiting up their 12-year-old daughters!" Filip stocks a large selection of women's swimwear in styles and sizes from juniors to ladies 24/26, including bra sizes D, DD, E, F, G, and H. She also carries athletic suits, cover-ups, accessories, totes, and sun hats. Her remarkable staff and super manager, Sue Balentine, will help you find the perfect suit that makes you feel confident, comfortable, and looking your best! They do special orders and work with women who have had breast surgeries. SLO Swim carries designers like Billabong, Rip Curl, and Luli Fama. Our readers say SLO Swim will suit you best!
—Ariel
runner up: Central Coast Surfboards
BEST BOARD SHOP
Central Coast Surfboards
855 Marsh St., SLO
Forty years ago, two Cal Poly students sold skateboards from their dorm room. Jim Hall and Mike Chaney started Central Coast Surfboards in 1975, and CCS has been first in the water ever since. Hall retired, and Chaney has since been working the business as a family affair with wife Leanne and their offspring: "I love what I do and enjoy going in the store every day!" General Manager Mike Jacot "has been the heart and soul of the business for 18 years and is what makes this place so good," Chaney said. Locals say this terrific team offers the best in surfboards, snowboards, skateboards, and men's and women's clothes and shoes, and has a terrific kids' department. "It's great to see people who've been buying from us for years come put their kid in wetsuit and teach them to surf," Chaney said. "Our customers trust us, and we're proud of it!"
—Ariel
runner up: Moondoggies Surf Shop
BEST GOLF COURSE
Morro Bay Golf Course
201 State Park Road, Morro Bay
The smell of sea salt and eucalyptus, beach sand blown in on the breeze—New Times readers know that nothing compares to a golf course with a seaside location. The course is kept in top-notch quality under the direction of General Manager Tammy Doshier; as she notes, the course is "player-friendly," making it inviting for newcomers as well as a welcome old friend to the veterans of the green. But it's the location and its gorgeous view that ensure everyone returns, where the sea breeze cools you down in the heat of competition, and a panorama of Morro Bay offers the perfect view for strategizing when you're walking from hole to hole.
—Carl
runner up: Blacklake Golf Resort
BEST HIKE
Bishop Peak Trail
Ah, the great outdoors: fresh air, sunlight, and beautiful views. It's just an easy little trip up a mountain to appreciate the majesty of nature. That's all that one can seemingly expect when going out on this 3.5-mile hike that has become a kind of rite of passage for those visiting or living in SLO County. If you haven't done this hike, get ready for a good dose of totally deserved shame, and if you have done this hike, shame those who haven't, and then drag their lazy bums up that mountain. They'll thank you for it later. Or not. Either way, it'll give you a chance to see the glorious scenery again while simultaneously foisting the experience on someone else. Everybody wins. Unless you have asthma.
—Adriana
runner up: Montaña de Oro
BEST LOCAL OUTDOOR STORE
The Mountain Air
667 Marsh St., SLO
Established in 1975 by Wayne Patterson, The Mountain Air has everything you'll need for hiking, skiing, climbing, snowboarding, backpacking, travel, camping, and glamping in all kinds of weather! Co-owner Josh Haring said, "We've been here for 40 years with the highest quality goods and customer service." The Mountain Air is the go-to place for outdoor equipment, offering gear by Patagonia, Arc'teryx, prAna, The North Face, and more. They have great apparel and accessories for fashion-forward men and women, and a wide range of outdoor footwear, including trail running shoes and hiking boots. They also sell all kinds of energy bars, snacks, and freeze-dried meals. "My favorite is Italian beef pasta," Haring said. "We even have wine glasses and double-wide sleeping bags for glamping!" he added. Your adventure starts here!
—Ariel
runner up: Four Seasons Outfitters
BEST FRIEND TO THE ENVIRONMENT
Land Conservancy of San Luis Obispo County
1137 Pacific St., Suite A, SLO
The Land Conservancy currently boasts a portfolio of 15,200 acres of land. That might not mean much if you happen to be unfamiliar with the organization's mission to "protect and enhance lands having important scenic, agricultural, habitat, and cultural values for the benefit of people and wildlife." But when you think of these acres in terms of what an organization like Land Conservancy can accomplish with them, 15,200 is an incredible gift to the community. Communications and Marketing Manager Teresa Tibistra credits the conservancy's involvement in the Pismo Preserve with increasing the community's awareness of what they do across SLO County. The Land Conservancy's future projects are outlined in a five-year Heart and Soil Campaign that includes such efforts as opening the Octagon Barn Center to the public, creating multi-use outdoor recreation trails at the Pismo Preserve, conserving critical watersheds in North County, and establishing a park and trail system in the South County, among a handful of other efforts.
—Ashley
runner up: ECOSLO
BEST BIKE SHOP
Art's Cyclery
181 Suburban Road, SLO
First opened in Los Osos in 1982 by Art Leech, Art's Cyclery is your resource for everything related to cycling. Scott Smith and Eric Benson bought the store in 2002 and relocated to San Luis Obispo. Art's Cyclery partnered with Sports Warehouse and expanded, stocking the best in bikes, helmets, parts, apparel, and accessories. They carry mountain bikes, road bikes, and recreation bikes, and they even build custom bikes. The terrific staff is also all about cycling safety. "We also provide bicycle safety checks for schools and groups when asked," Smith said. Art's Cyclery has grown from a small local store to a national brand online through artscyclery.com but is proud of its roots in this area. "We're here for the local community," Smith said. "It feels good to have been chosen as the best by our customers, and we'll keep working hard to keep their trust."
—Ariel
runner up: Flanders Bicycle
BEST NURSERY/GARDEN STORE
Miner's Ace Hardware
SLO • Atascadero • Morro Bay • Los Osos • Arroyo Grande • Grover Beach • Nipomo
Garden stores can be magical places. The best nurseries of the world are sprawling labyrinths, filled with just about every type of plant you could imagine—delightful and confounding decorations hidden everywhere just to keep you on your toes. Miner's Ace Hardware is this type of garden store. The selection at Miner's Ace runs the gamut from practical basil plants to extravagant orchids, from subdued Buddha-esque statues to vibrant pink lawn flamingos. Plus, since Miner's Ace is also a hardware store, they've got all of the tools you need to keep your garden happy and healthy. If nothing else, it's just a nice place to spend an afternoon.
—Cliff
runner up: Sage Eco Gardens and Nursery
BEST LOCAL TACK SHOP
Farm Supply
SLO • Arroyo Grande • Paso Robles
Saddles, stirrups, bridles, bits—most folks know a thing or two about these. But when it comes to hackamores, surcingles, and cruppers, things can get complicated for novices and seasoned equestrians alike. That's where folks like Dale Beights come in. Beights, who works the main counter at Farm Supply in SLO, has the tack expertise customers need, but what counts is that she's able to make it accessible by getting to know customers and their animal's needs; according to Beights, this helps customers feel like they're in good hands. Whether you're buying chicken feed, fencing, matching cowboy hats, or horsetack, Farm Supply is about trust—and trust is what makes caring for these magnificent critters so special.
—Carl
runner up: Riding Warehouse
BEST PET SITTER OR BOARDING
Happy Tails Kennel
415 Prado Road, SLO
In 1991, fresh out of Cal Poly, Diann Burchak decided to open a local kennel for pet boarding—but with a twist. Her radical idea? Let the dogs play! "There was no way I could do the lock-up thing," she told New Times. She pioneered group play times and doggie daycare, quickly winning over her canine clients (and their owners). She explained that those who use Happy Tails' services rave about the great staff. Humans use their words, and dogs use their tails—plus some friendly licks, too. The client list is packed, so if you know of a dog in need of a fun home away from home, don't wait to contact the team. So go! Go get it! Go get it!
—Ryan
runner up: Thousand Hills Pet Resort
BEST CHILDCARE CENTER
Orfalea Family and ASI Children's Center
Building 133 at Cal Poly, SLO
This center, located on the Cal Poly campus, has been going strong for 40 years, offering a unique environment for creative expression between children and teachers. Associate Director Patty Greig explained, "We encourage children to explore their environment and teach them how to build their ideas into deeper thinking." Staffed with two full-time teachers and Cal Poly students, the program provides a secure environment and social settings for kids to learn with their peers. "We work with infants 3 months old through kindergarten during the school year," Greig said. "In the summer, we offer Poly Trekkers, a day camp for kindergarten grads to third graders. The campus is an extended classroom, and we take them on nature walks, to the science unit, to play on the soccer fields, go bowling, and swim in the pool." Go, little future Mustangs!
—Ariel
runner up: United Methodist Children's Center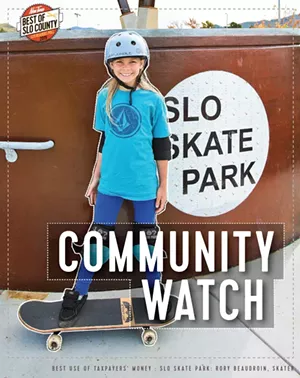 Community watch
BEST CONTROVERSY OR SCANDAL
Arroyo Grande city manger scandal
300 East Branch St., Arroyo Grande
This scandal had everything: A mysterious late-night interaction between a boss and a subordinate at City Hall, a splash of doubt, a pinch of possible sex, denial of that theory, a sprinkle of public outrage, and a final dusting of ballot box drama. Nobody except for former City Manager Steve Adams and Community Development Director Teresa McClish knows precisely what happened on the night of July 3, 2014, at City Hall, but that hasn't stopped practically everybody from speculating. Now that the dust has fully cleared, Arroyo Grande has a new mayor (Jim Hill), a new councilwoman (Barbara Harmon), a new city attorney (Heather Whitham), and—most notably—a new city manager (Dianne Thompson). Only time will tell if all this change will be healthy, but 2014 was certainly a year of unprecedented tumult for Arroyo Grande.
—Rhys
runner up: Supervisor Adam Hill
BEST ANNOYING PUBLIC FIGURE
SLO County Supervisor Adam Hill
Supervisor Adam Hill doesn't care for this category. Hill—who's represented SLO County's District 3 since 2008—may be a repeat BAPF winner, but he doesn't take any pride in that distinction. He declined to participate in our "insulting" Best Of issue. Nobody could ever claim that Hill is bashful about sharing his opinions, and it's no secret that Hill and New Times (or, really, Hill and many others) have had a turbulent relationship over the years, but what relationship doesn't have its ups and downs? We're still glad that Supervisor Hill sets aside the rockiness to interface with local media on behalf on his constituents.
—Rhys
runner up: SLO Mayor Jan Marx
BEST USE OF TAXPAYERS' MONEY
SLO Skate Park
1050 Oak St., SLO
SLO County has a new premier shred destination: The SLO Skate Park in Santa Rosa Park. The brand-new park opened on Feb. 28 of this year, and it's been so popular that it rocketed right up the sick vert ramp that is the New Times Best Of voting process to claim victory in this category. The $2.2 million park features 15,500 square feet of rails, bowls, ramps, and stairs that combine to form a skater's paradise. Taxpayers will be happy to know that $1.2 million of their Measure Y (half-percent sales tax) dollars went toward the SLO Skate Park, with other funds coming from park fees, donations, and even the Tony Hawk Foundation. Skate on, bros.
—Rhys
runner up: Los Osos Vallley Road overpass
BEST ELECTED OFFICIAL
Katcho Achadjian
Assembly District 35
When I asked Katcho Achadjian why he thinks you, the esteemed readers of New Times, voted him the best elected official, he played it so cool I actually got a chill. "It could be that I'm visible where I work," Achadjian said casually from his office perched two floors above our own in downtown SLO. And visible he is. Hang around long enough, and you'll likely see Achadjian—the former county supervisor turned Republican assemblyman—cruising down the street in his blacked out SUV with the license plate A35. According to Achadjian, even when his constituents don't like one of his votes, they tend to come away happy because he and his staff make themselves available. "It makes us feel good that it doesn't go unnoticed," he said.
—Colin
runner up: Congresswoman Lois Capps
BEST NONPROFIT
Woods Humane Society
875 Oklahoma Ave., SLO
Woods Humane Society has been in continuous operation for the past 60 years, offering sanctuary to the county's needy and forlorn four-legged and furry residents. In addition to their adoption services, Woods Humane Society provides spay and neutering services, dog obedience training, and various community engagement events, including an adorable opportunity at the end of each year for Fluffy or Fido to sit on Santa's lap. According to Director of Marketing and Community Programs Steve Kragenbrink, the shelter recently launched Woods U K9 Obedience Academy, and registration for Critter Camp in June is already underway. Kragenbrink added, "Aside from the obvious, Woods Humane Society takes an individual approach toward each animal in our care," and "every dog and cat receives comprehensive medical care, love, and socialization while they call Woods temporary home ... ."
—Ashley
runner up: Grover Beach United
BEST TEACHER OR PROFESSOR
Laurie Johnson
Los Ranchos Elementary School, SLO
In a county full of educators who take pride in being mustangs, cougars, eagles, and a whole menagerie of other animals, a roadrunner sped to the top of this year's Best Teacher or Professor category. Fifth-grade teacher Laurie Johnson welcomes Los Ranchos Elementary School fourth graders at the beginning of the year, helps them to explore the world around them, and then sends them off to be the big kids on campus for their final year at the K-6 neighborhood school. Like all of the teachers at the school, Ms. Johnson aims to lead her learners in work that's both challenging and engaging—as well as well-rounded and motivating: Her fifth-grade students were the top earners in this year's jog-a-thon fundraiser, bringing in more than $3,000 in their classroom alone!
—Ryan
runner up: Erin Pringle, Ocean View Elementary School
BEST COMMUNITY PROJECT OF 2014
SLO Skate Park
1050 Oak St., SLO
In 2006, a group of skaters walked into a City Council meeting. A ton of hard work and bureaucracy later, the new SLO Skate Park was finally a reality—and it's better than anyone could have imagined. With a lot of community support and even a grant from Tony Hawk, the city was able to take a sorry, rundown, mess of a skate park and transform it into something beautiful. The new skate park is truly a piece of practical art. The park has concrete pools painted to evoke the sea, cool grind-rails adorned with cubist street signs, and huge industrial tree sculptures. It's almost as fun to look at as it is to ollie at—and it really shows you what this community is capable of when everyone decides to work together.
—Cliff
runner up: Bob Jones Bike Path Extension
Rory Beaudroin skates in what New Times readers voted to be 2014's Best Use of Taxpayers' Money.
PHOTOS BY KAORI FUNAHASHI