PAINT BY BUILDINGS: Jessie Skidmore exhibits "Art + Architecture: Building Portraits" at the Land Conservancy, 547 Marsh St., through May 28. An Art After Dark reception takes place May 7, from 6 to 9 p.m. For more information visit jessieskidmore.com.
W
hen Jessie Skidmore took a sabbatical two years into her career as an architectural designer, she had one purpose in mind: to learn how to paint. She had managed to acquire a Bachelors of Fine Arts from Rhode Island School of Design without taking any painting classes. Initially, she had no idea what she would paint. But a subject emerged and, not surprisingly, her muse had strong ties to her passion for architecture.
"I had a few buildings that stuck out in my memory," she explained. She'd originally seen the structures—mostly barns and spaces that served an agricultural purpose—in rural landscapes around Seattle. Without a car to take her back to the sites, or photographs to jog her memory, Skidmore began to paint the buildings as she remembered them.
"Sometimes people will say 'I like that string of windows' and I'll say I don't know if those are really there. So they're not accurate, and I don't care about accuracy," she admitted.
Since she started painting in 2003, Skidmore has completed just 10 paintings, all of them on exhibit at the Land Conservancy office in downtown SLO through May 28. She acknowledges that she paints slowly, though her pace has accelerated since she appropriated a shed in her backyard as a painting studio. The tedious process of assembling and dissembling her painting materials in her living room, waiting for the oils to dry, is lessened by the luxury of a separate space dedicated solely to art.
Oils are Skidmore's one and only medium. She insists that acrylics dry too fast, which undermines her penchant for changing her mind. She also sticks acrylics with the charge that they lack luminosity, a quality that transforms her ordinary barns and water tanks into whimsical and entrancing artistic subjects.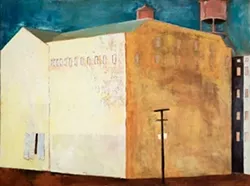 IMAGE BY JESSIE SKIDMORE
PORTLAND :
Prior to moving to San Luis Obispo nearly three years ago, Skidmore spent seven years in Seattle, one year studying in Rome, attended college in Rhode Island, and grew up in New York. Her wanders are reflected in the title of her paintings—"South Seattle," "Carrizo Plain," "Portland," "Providence," "Vermont," and "Bellevue." The images span thousands of miles and a handful of states, but Skidmore's appreciation of simple forms carries through each of her paintings.
During her first Art After Dark opening in April, people approached Skidmore with different ideas of how the paintings related to one another. The paintings are scaled in such a way that the buildings appear monstrously large, and the view is unhindered. Skidmore points out that it's rare to have an unobstructed view of a building, which influences the way people interact with her paintings. Having lived in so many different cities, Skidmore was well qualified to depict the subtle differences in the types of structures an inhabitant might encounter and in the fields of natural color where the building is situated. Her "Carrizo Plain" sky is pink, and the buildings float on a field of grass more yellow than green. Her Seattle paintings have no grass, though one building is situated beneath an intensely turquoise sky. Portland's sky is a darker mix of slate gray and blue, and Vermont's is a warm shade of peach.
As a general rule, Skidmore has discovered that people tend to gravitate towards the paintings of their hometown. Her Seattle friends buy prints of her Seattle paintings. It could be that they recognize the title of the painting as their hometown, but she's seen people connect with a painting before they're close enough to read the title.
The element that most differentiates the SLOscapes from scenes of other cities is, quite simply, land. In each painting, the land defines the structures and in some cases, the buildings serve as a frame for land and sky rather than vice versa. But, more than any other city she's painted, Skidmore's San Luis Obispo is full of land. Which is why, though her art primarily depicts buildings as the subject, she's a perfect pairing for the Land Conservancy.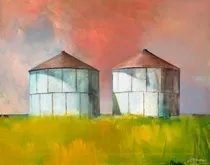 IMAGE BY JESSIE SKIDMORE
CARRIZO PLAIN :
Skidmore's structures are rarely landmarks. In fact, one of her paintings is of a San Luis Obispo barn that doesn't exist. It's comprised of elements of Skidmore's favorite elements of many barns, an agrarian Frankenstein.
"I'm painting them because I don't necessarily know what was drawing me about these buildings," explained Skidmore. "I'm painting them as an exploration of what makes these buildings beautiful to me. It's a good lesson in knowing just the right amount of elements in compositions. There's a lot of beauty in blank walls if you pay attention."
Arts Editor Ashley Schwellenbach likes land and lollipops. Send earthworms and sugar to aschwellenbach@newtimesslo.com.