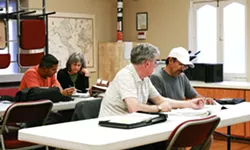 PHOTO COURTESY OF SLO LITERACY COUNCIL
MEETING OF THE MINDS: Learners and volunteers Nino Patricio, Sandy Chertok, Bob Rothermel, and Ruben Rodriguez (from left to right) meet at one of the learning centers in SLO County.
According to a study conducted by the U.S. Department of Education in 2012, about 14 percent of the population cannot read. In addition, 21 percent of adults read below a fifth grade level. And in San Luis Obispo County, there are an estimated 25,000 adults who are functionally illiterate.
The San Luis Obispo Literacy Council is a nonprofit organization working to combat these statistics. They help teach families, and adult learners, as well as non-native English speakers how to read and write. For anyone looking for a meaningful way to spend the rest of their summer, the Literacy Council offers tutor training in August.
The organization offers an English as a Second Language (ESL) program for people who understand little or no English. Tutors will help clients learn how to speak, read, and write in English. There is also a basic English literacy program for native English speakers who are unable to read or write. The council's family program helps parents of young children become literate so they can participate in their child's early learning. The SLO Literacy Council also has a program at the California Men's Colony, where volunteers teach literate inmates how to effectively tutor their illiterate peers.
"In the past year alone we have served 670 individual learners," said Grace Morgan, the administrative marketing assistant for the SLO Literacy Council. "And we have tutors and learners in almost every community in San Luis Obispo County. Some tutors and learners meet independently at libraries or coffee shops, though most meet at our learning centers, which are donated spaces at churches."
The upcoming training workshops will focus on how a volunteer can properly use teaching materials and techniques, and participants must attend all the sessions in order to complete the workshop. Then, a coordinator will pair a tutor with a student, or a small group of students for two one-and-a-half-hour sessions per week. And according to Morgan, volunteers don't need to have any prior experience tutoring in order to participate.
The SLO Literacy Council recently conducted an anonymous online survey, where the tutors reflected on what they enjoyed the most about their volunteering experience:
"Contact with the learners: They are interesting, grateful, and I feel like I 
get more from them than I give to them," one said.
"It's work of the heart as well as of the mind," another said.
Another volunteer cited, "the joy on the face of a learner when he or she achieves a new literacy skill."
The workshops will be held at the SLO County Library on Aug. 16 and 23, from 10 a.m. to 3:30 p.m. All volunteers have to pay an enrollment fee of $25. For more information about the workshops and programs, go to sloliteracy.org or email info@sloliteracy.org.
Fast fact
RISE, an organization working to help victims of sexual assault and domestic violence, had its very first RISEUP! awards on June 20 at the Pavilion on the Lake in Atascadero. The four volunteers who were honored with awards were: Detective Nicholas Coughlin of the Atascadero Police Department, for his work with survivors in the criminal justice system; Diane Mandala, for her six years of service to the organization; Michael Gayaldo from Norcast Telecom Networks, who provided four years of free phone and Internet service to RISE; and Karen Christian, who helped to provide Spanish translations of outreach materials. For more information about RISE's programs and services, go to riseslo.org.
Intern Adriana Catanzarite compiled this week's Strokes and Plugs. Send your business and nonprofit news to strokes@newtimesslo.com.