It's hard to tell what the biggest show is this week. I guess it depends on your tastes. Country fans won't want to miss the Pozo Stampede with Dwight Yoakum, while blues fans are going to want to check out Charlie Musselwhite. For those suffering from '80s nostalgia, The Motels are here, and then there's one-of-a-kind troubadour Leon Redbone.
We've got to start somewhere, so let's head to Pozo Saloon on Saturday, April 30, for the second annual Pozo Stampede, which features a fat lineup of established, up-and-coming, and alternative country acts.
PHOTO COURTESY OF DWIGHT YOAKUM
ICON & OUTSIDER : Despite his outsider status, Dwight Yoakum, who headlines the Pozo Stampede on April 30, has become a music icon.
Musician and actor Dwight Yoakum headlines the event, which also includes Easton Corbin, Jack Ingram, The Devil Makes Three (a personal favorite!), Truth and Salvage Company, Jade Jackson, and Honeymoon.
The doors open at 11 a.m. for this show, with the first act kicking off at 11:30. Tickets cost $50 for general admission or $60 for reserved seating. Visit the saloon's website to get tickets for this all-ages show, where kids age 10 and younger get in for free.
PHOTO BY STEJAN FALKE
GOOD TIME CHARLIE : The always-amazing Charlie Musselwhite, who recently returned to Alligator Records with his Grammy-nominated new release The Well, hits SLO Brew on April 29.
Even when Charlie Musselwhite is singing a track like "Dig the Pain," he still sounds like he's having a helluva good time: I can't seem to give you up/No I ain't out of touch/Can't let it go/Can't hang it up/I dig the pain too much. And he's singing about quitting drinking!
After a recent return to Alligator Records, he's released The Well, a Grammy-nominated collection of impossible-not-to-love narrative blues songs driven by Musselwhite's chugging train harmonica and smooth-as-silk crooning. It's the first full-length album of his almost 50-year career in which he wrote every single track.
On Friday, April 29, he'll play SLO Brew with opening act the Lenny Blue Band (doors at 7:30 p.m.; 21-and-older; $18 presale or $20 at the door).
PHOTO COURTESY OF MARTHA DAVIS
CHECK IN THE MOTELS : Original front woman Martha Davis performs as The Motels on May 1 at SLO Brew.
And while we're on the subject of SLO Brew, I might as well tell all you closet new wavers out there that on Sunday, May 1, The Motels are coming (doors at 7 p.m.; 21-and-older; $18 presale or $20 at the door).
Featuring guitarist-vocalist Martha Davis, The Motels peaked in the early '80s with "Only the Lonely" and "Suddenly Last Summer," two tracks so mesmerizingly hooky and haunting they're impossible to forget. Davis reformed the band in 1998 and continues to play as The Motels with various lineups.
PHOTO BY NANCY DEPRA
TRUE ORIGINAL : As if left from some alternative past, Leon Redbone continues to march to the beat of his own syncopated drummer. See him on April 29 at the Clark Center.
And then there's Leon Redbone, he of the white Panama hat, dark glasses, bow tie, well-kept mustache and flavor saver. Seeing him live is like watching a musical museum come to life, a museum that's filled with artifacts from some alternative past. His music—turn-of-the-19th-century tunes, flapper-era radio ditties, Depression-spawned ragtime, and World War II folk-jazz—sounds familiar yet otherworldly.
Tickets for his 8 p.m., Friday, April 29, all-ages show at the Clark Center are $30 to $40, available by calling 489-9444.
Songwriters at Play
Steve Key's "Songwriters at Play" showcases keep on rolling. On Thursday, April 28, he's booked That Evening Sun to play The Porch in Santa Margarita (6:30 p.m.; all ages; pass the hat). This local act features Shannon Savage (vocals, guitar), Ben Erchul (bass), Steve Kindel (vocals, bouzouki), Paul Silva (vocals, guitar), and Debra Windsong (harmonica). Expect three-part vocal harmonies and lively musicianship.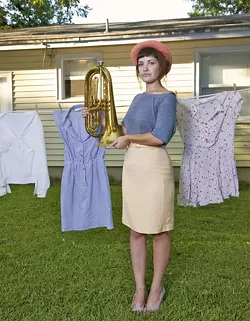 PHOTO COURTESY OF BEARKAT
AUSTIN'S LITTLE WEIRD ONE : Bearkat (aka—Katy Pearson) will bring her quirky songwriting and clever arrangements to Sculpterra on May 1.
On Sunday, May 1, Sculpterra will host Bearkat (aka—Katy Pearson), a folk/indie-pop/ukulele lover based out of Austin. She's been compared with Feist and The Ditty Bops and is known for her quirky songwriting and clever arrangements (1 p.m.; all ages; pass-the-hat).
After a 15-month run of Tuesday nights at Steynberg Gallery, Key has moved the SLO Town showcase to a different "berg," Kreuzberg. On Tuesday, May 3, you can see featured act Melody Stanford (6:30 p.m.; all ages; pass-the-hat). Arroyo Grande's Stanford, winner of the Clark Center's 2010 Search for the Stars contest, is a folk-jazz artist whose voice has been compared to Eva Cassidy and Ella Fitzgerald.
All the showcases feature several performers doing four-song sets, with a featured performer sandwiched between. Eat up!

More music …
SoCal reggae act Babylon Saints brings its feel-good music back to Frog and Peach on Thursday, April 28, at 10 p.m. Said the band, "Promising to always land somewhere between incarceration and canonization, the Saints intend to bring their positive vibrations to all the world one being at a time."
The Martine Donovan Band plays Frog and Peach on Friday, April 29 (10 p.m.; 21-and-older). A recent transplant from L.A. to S.F., Donovan's been playing with her band all over the state, and she's been getting airplay on indie and college radio, building up fans as she prepares to release her debut album, The Manifold, a dark, alternative pop album.
Or maybe not! I've also heard from Humboldt's roots reggae act Woven Roots, who say they're playing Frog and Peach on Friday, April 29 (10 p.m.; 21-and-older).
"Inspiration for the powerful lyrics and beats comes from living close to the earth in the beautiful woodlands of the Pacific Northwest," according to Woven Roots. "This young group of musical visionaries is on a quest to create original music using nature as a model of how to maintain the continuity of life on earth."
You've got two chances to see The Sign, a duo that hails from Tasmania, when they play Friday, April 29, at Linnaea's Café (8 p.m.; all ages; pass-the-hat) and Thursday, May 5, at The Pour House (9 p.m.; 21-and-older). According to the band, they play original rock, blues, pop, and folk music in styles ranging from Led Zeppelin to Eric Clapton to The Beatles, Roger Glover, The Pretenders, XTC, Joan Baez, and beyond.
Live jazz will light up the Bay Club at the Inn at Morro Bay on Friday, April 29, from 7 to 10 p.m. when the Mike Raynor Group brings the heat. Featuring Bob Harway on piano, Dylan Johnson on bass, and Mike Raynor on drums, they're a tight little trio with a diverse repertoire.
On Saturday, April 30, from 7 to 10 p.m., there's more jazz at the Inn at Morro Bay when jazz vocalist Camie Schneider reunites with Trio 14. Camie, a Berklee College of Music grad, did a two-year stint performing with Trio 14 four years ago. The group features Ryan Garcia on guitar, Clint Iwanicha on bass, and Mike Raynor on drums.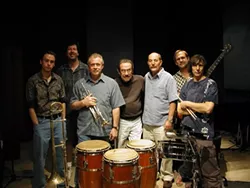 PHOTO COURTESY OF SLO MAMBO
CALLING ALL LATIN DANCERS!: SLO Mambo will bring its Latin and salsa sounds to D'Anbino Winery in Paso Robles on April 30.
After seeing De La Bahia a few weeks ago at D'Anbino's tasting room (710 Pine St.), I can assure you there's a cool Latin dance scene going on in Paso Robles. On Saturday, April 30, the spicy heat continues with SLO Mambo from 7 to 9 p.m. Bring a dance partner or find one there. You can also enjoy D'Anbino's terrific wine. Tickets cost $5 and $10 at the door.
Jeff, the guitarist from Cityzen, recently wrote to tell me about his band: "We have a unique act since our singer, Toby Forrest, is a quadriplegic who has a powerful voice and excellent musicians backing him up. We're a progressive funk/rock band from Los Angeles, and we've just returned from playing a few showcases at SXSW, and we played at the Hard Rock Cafe on the strip in Las Vegas this past New Year's Eve as a part of the grand prize for winning a battle of the bands." See them Saturday, April 30, at Frog and Peach (10 p.m.; 21-and-older).
Los Angeles tenor saxophonist Bruce Eskovitz is the next attraction at the Famous Jazz Artist Series at the Hamlet in Cambria, set for Sunday, May 1. The All Music Jazz Guide praised Eskovitz as one of the West Coast's most prominent saxophone artists and rated his recording One For Newk as one of the year's best. He'll be joined by Dylan Johnson on bass and Darrell Voss on drums, as well as series co-producers Charlie and Sandi Shoemake (piano/vibraphone and vocals). There's a 4 p.m. show for $15, a 7:15 p.m. show for $12, or see both for $20. Call 927-0567 for reservations.
Jay Schwed, an international sound healer, will bring his show "The Song of the Healing Crystal Bowls" to two concerts: Wednesday, May 4, at 7 p.m. in the QuietStar Center for Transformation (11549 Los Osos Valley Road, suite 109, SLO; $18 presale or $24 at the door; call 783-2662); and Friday, May 6, at 7:30 p.m. in the Conscious Colors Energy Center (2005 9th St., Los Osos; $18 presale by May 1 or $24 at the door; call 305-0046). According to promoters, "Jay incorporates sound, vibration, sound-infused aromatherapy mists, and healing color light therapy to bring this healing/meditation experience to a deeper and more profound level."
Music news …
Years ago, Chris Lawhorn put out a benefit CD for Oxfam's Community Aid Abroad division.
"Basically, I put it together over a decade ago—and it's been a modest, but steady seller," he said. "Then, last year, some folks at NPR stumbled upon it and picked a track as their 'Song of the Day,' which led to some renewed interest. All the profit still goes to Community Aid Abroad. They've been providing aid in East Timor, a country that gained its formal independence in 2002 from Indonesia, after a quarter century of occupation, in which 100,000 to 200,000 lives were lost. To put this into context, the region is home to just over a million folks. I don't want to dwell on troubles there as folks can check out Oxfam's site or Google 'East Timor' if they want more details or to better assist."
Readers, if you want to help out and pick up a sweet little album, visit chrislawhorn.com/timor.
Also, a hearty congratulations has to go out to Boo Boo Records, which recently was ranked 27 out of the "30 Best U.S. Record Stores!" Holy guacamole, Batman! Way to go! ∆
Keep up with Glen Starkey via twitter at twitter.com/glenstarkey, friend him at Myspace.com/glenstarkey, or contact him at gstarkey@newtimesslo.com.