Avila Beach is beautiful, but it isn't big.
There's the eponymous beach, three piers, a golf course, some hot springs, and a small downtown. The 2010 census listed Avila's population at 1,627, and many of those people live in developments tucked back into the hills.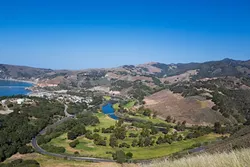 PHOTO BY KAORI FUNAHASHI
THE AVILA TRIAD: As seen from Ontario Ridge, Avila Point (far left), the Avila Beach Golf Resort (center), and Wild Cherry Canyon (background) surround the tiny community of Avila Beach. The ultimate fate of development plans at all three sites could significantly impact the future of Avila.
No highways enter Avila Beach. The rolling hills that surround the tiny community are mostly full of trees and grass, devoid of buildings.
Much of the town was wiped off the map not so long ago. A great deal of Avila had to be torn down and rebuilt after the 1989 discovery that a nearby oil tank farm had leaked around 400,000 gallons of oil products under the town and beach over the course of decades. Many residents and businesses left and never came back after the years of remediation and tumult.
All that said, residents and visitors today will frequently tell you that Avila's relatively undeveloped nature is precisely what makes it a desirable place to live and visit. Others will tell you it's high time for a change.
In 2015 and the years to come, all of that history and all of those viewpoints are converging on three major Avila-area development proposals coming to fruition around the same time.
Though the development proposals—at the Avila Beach Golf Resort, in Wild Cherry Canyon, and on Avila Point (the former tank farm)—are nascent and different in many ways, they're all within a few miles of each other—and they've got the community abuzz. An April 9 town hall meeting addressing the proposals drew more than 150 attendees—a whopper of a crowd for Avila.
"I think the two things that people hate the most are change and things staying the same," said Ryan Hostetter, a senior planner with the San Luis Obispo County Department of Planning and Building assigned to the Avila Point project. "From the county's perspective, it's really about balance. We can't tell people they're not allowed to develop their property and nothing's ever going to happen in Avila, but we can't be a rubber stamp either."
New Times spoke with county planners, local officials, developers, landowners, and Avila residents, all of whom have a role to play in shaping—and ultimately determining—Avila's future.
So, what might be next for Avila Beach?
Wild Cherry Canyon
The fate of the Wild Cherry Canyon property—comprising much of the hilly terrain overlooking Avila Beach—is perhaps the most important factor in determining the Avila area's future.
PHOTO BY KAORI FUNAHASHI
THE VIEW FROM THE TOP: The 2,400-acre Wild Cherry Canyon property—which is currently being evaluated for development possibilities—offers panoramic views of the SLO County coast.
There's a lot of history tied up in the roughly 2,400-acre property. Namely, a prolonged, countywide effort to devote the entire property to conservation almost succeeded, but officially sputtered out in 2013. Since then, the owners of Wild Cherry Canyon have been evaluating the possibility of developing the property.
Though Eureka Energy (a subsidiary of PG&E) owns the underlying fee title for the land, the "Pacho Limited Partnership" ownership group holds two long-term leases on the property, which won't expire for 150 years or so.
The major players in the Pacho Limited Partnership are New York-based conglomerate Leucadia National Corp. and HomeFed Corp., a Carlsbad-based residential real estate development company that is majority-owned by Leucadia.
Tom Blessent, the development manager for Wild Cherry Canyon, and the public face in SLO County for HomeFed, told New Times that HomeFed is seriously interested in the property but also at an early stage in its evaluation process, making specifics elusive.
"At this point, everything is still on the table," he explained. "We're extremely aware of the constraints on the property: traffic congestion in Avila; emergency evacuation in the case of a flood, fire, or incident with Diablo Canyon; and the water shortage. We're currently determining how and if we can solve those constraints."
Blessent took a New Times reporter and photographer on a tour of the property on a recent sunny afternoon. Driving past oak groves, grassy meadows, and scenic vistas, Blessent made a point of noting that "the development we're contemplating" would only take up about 240 acres—or 10 percent—of the land, primarily on the lower part of the property, setting aside the rest of the parcel for public open space.
At a public meeting earlier this year, the project's architect—Andrés Duany—made a comment that the development could include as many as 1,500 homes, setting off alarm bells in the Avila community.
When asked about that controversial number, Blessent said that Duany's statement was taken out of context, and that 500 of the hypothetical homes Duany mentioned would be "accessory" or "granny" units on the same property as other homes.
"What I'd really like to make clear is that we don't have an actual number yet," Blessent said. "There are about five different options for what we could do with the land. That said, we need more housing in SLO County to accommodate growth, and I think we can help that situation by bringing in housing."
Unsurprisingly, there are some people in the Avila community who disagree with the notion that putting housing in Wild Cherry Canyon would be beneficial.
Kara Woodruff, a local financial planner who spearheaded the effort to preserve the property for many years, is probably the most vocal opponent of developing Wild Cherry Canyon.
"The direction we take in Avila right now is going to define what we value most as a community," Woodruff said. "It will either be that we value conservation, open space, and outdoor opportunities for the public, or that we value high-priced real estate for the lucky few.
"Personally, I think there's a better way to go than just becoming Southern California," she added.
Woodruff said she plans to lobby the Wild Cherry Canyon principals to come back to the conservation negotiation table, and she added that there's a "very high probability" that she can once again pull together the necessary funds.
"I would love for the developers to reconsider," added Denise Allen, a local doctor and Avila Valley Advisory Council member. "I haven't heard any non-developer support development in Wild Cherry Canyon, and I don't want to see that type of grandiose development happen here."
Though many discussions and lots of planning are happening behind the scenes, HomeFed has yet to submit any formal development plan or application to the county for Wild Cherry Canyon. Blessent told New Times that he hopes to submit a preliminary "authorization application" for processing to the county by late summer or early fall of 2015.
"As long as we're going to have more people in this county, we'll need to house them somewhere," Blessent said. "The thought of bringing all development to a grinding halt isn't how progress works."
Avila Point
Over at Avila Point—the former tank farm property overlooking downtown Avila Beach—plans for potential remediation and development have already kicked into gear.
The 95-acre property is owned by oil giant Chevron, whose Environmental Management Company (CEMC) is currently overseeing work on the remediation and development plans.
PHOTO COURTESY OF SLO COUNTY PLANNING DEPARTMENT
GAME PLAN: On Chevron's 95-acre Avila Point property, the oil giant is proposing a combination remediation and redevelopment plan on the site of a former oil tank farm. Shown in this schematic is a rough, hypothetical idea of the "appropriately sized resort" with various amenities that Chevron is proposing for the site once cleanup is complete.
According to Chevron spokesperson Juliet Don, a comprehensive environmental impact report (EIR) for the Avila Point project is in the process of being completed. Once that report is finished, the project will go before various county and state authorities to seek approval.
"The repurposing of this heavily disturbed industrial site to an appropriately sized resort with public amenities presents an opportunity to provide a unique destination in San Luis Obispo County that will provide benefits to the Avila community and the region," Don wrote in an email to New Times.
Don added that before any development would occur, Chevron's "remediation plans will address the impacts of the past industrial use of the site to be protective of human and ecological health." She was vague on precisely what form the "appropriately sized resort" might take, as Don noted that "Chevron has not finalized a specific redevelopment plan."
In a subsequent email, Don wrote that the resort could feature "amenities such as amphitheater/gathering area, wellness center and day spa, and a public restaurant." She also mentioned that Chevron plans to build a California Coastal Trail extension and provide public access to open space on the Avila Point property "for the first time in more than a century."
Hostetter of the county planning department is assigned to the Avila Point project, and she said that her department—which is also involved with the EIR process—will be examining the entire Avila Point proposal, and well as other potential projects in the area such as those at Wild Cherry Canyon and the Avila Beach Golf Resort.
"We're going to have to look at all of these projects—not in a vacuum—but cumulatively, as state law requires," Hostetter said. "After that, it's up to various elected officials to decide if they want large developments in this community or not."
The cumulative impact of all these development proposals is also on the minds of some Avila Beach residents. Two locals in particular—Ann Feeser and Rose Hanson—recently decided to form a group called "Concerned Citizens," which played host to the town hall meeting on April 9.
"Not one person who spoke at that meeting was in favor of any of these developments," Feeser told New Times. "I don't see how we could support all those mega-developments and also ensure our collective safety and quality of life. People come to Avila Beach because it's not Newport Beach."
For her part, Hanson said that she's not against economic development, but she added that development has to be responsible, in her opinion.
"The more I've learned about these large projects, the more concerned and overwhelmed I've felt," she said.
In a press release announcing the April 9 meeting, Concerned Citizens advocated for a moratorium/hold on development in the Avila area until the San Luis Bay Area Plan (one of several land use plans guiding development in the Avila area) is fully updated.
In response, Hostetter said that her department is legally obligated to process all applications it receives within a certain timeframe; they can't just sit on paid-for applications, much as some Avila residents might like them to.
In addition, a direction to update the area plan would have to come from the county Board of Supervisors, not the planning department, Hostetter added.
Avila Beach Golf Resort
Just north of downtown, the Avila Beach Golf Resort has grand development plans of its own.
Resort owner Rob Rossi told New Times that he's envisioned adding lodging and various amenities to the golf course property for about 15 years, and he said that now is the right time to realize that vision.
"We're trying to put the idea of 'destination golf' back in the golf business," Rossi said. "This would be a four-star hotel that would be operated unlike any other hotel in the county."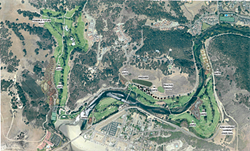 PHOTO COURTESY OF SLO COUNTY PLANNING DEPARTMENT
DESTINATION: GOLF: Shown in this schematic are plans for an additional 144 lodging units, a funicular, an amphitheater, a small vineyard, and a narrow-gauge rail loop on the existing Avila Beach Golf Resort property north of downtown Avila. Owner Rob Rossi submitted an application for a permit to authorize the changes on Feb. 13.
Rossi submitted a 32-page application for a conditional use permit to the county planning department on Feb. 13. In the plan, titled "Avila by the Sea," Rossi proposes transforming 20 acres of the 170-acre property into various forms of development—including 144 lodging units in the form of a hotel and bungalows, an amphitheater, a funicular to carry visitors up the hillside, a small vineyard, and a narrow-gauge rail loop around the golf course.
"It'll be gorgeous, and I really think the project is taking into account community concerns regarding fire, water, traffic, and Diablo Canyon," Rossi said. "We've tried to create something that could be really spectacular."
Terry Wahler, a senior planner with the county assigned to the golf resort project, said that Rossi's initial application was incomplete, and the county is currently working with Rossi to refine his plans.
"You could safely say that what's proposed is a pretty big change from the status quo with the golf course," Wahler said. "There will definitely be zoning issues and general plan changes needed, and it's reasonable to assume there will be some revisions along the way."
Wahler said there are still too many unknowns to speculate on any kind of timeline for the golf course project. For his part, Rossi said he's anticipating "some kind of environmental review," but that the project could be up for a hearing in "a year or two, optimistically."
On the Avila resident level, Sherri Danoff—a former land use planner and frequent Rossi critic—said she's concerned about Rossi's proposal, as well as the other Avila-area plans for development.
"Avila is small, and these are three big projects," Danoff said. "At this time, I don't support any of these developments, but I'm much less of a NIMBY than most. I just think people should be able to use, enjoy, and get to Avila Beach, and it would be wrong to create so many new residents and visitors that the public couldn't get into Avila.
"What becomes of these development proposals is the most important story in Avila going forward," Danoff added. "These developments might ultimately be OK, but we definitely have to think and talk about them more as a community."
Reach Staff Writer Rhys Heyden at rheyden@newtimesslo.com.