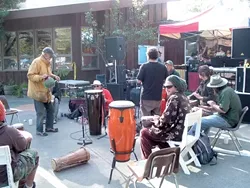 PHOTO COURTESY OF THE BIG SUR JADE FESTIVAL
IS THERE A HIPPIE IN THE HOUSE? : Hipster and trippers unite this weekend at the 16th Annual Big Sur Jade Festival, featuring three days of free live music Oct. 5 through 7, including a morning drum circle every day.
# I dig Big Sur, the most majestic stretch of coastline in California, one that can rival anywhere in the world. I'm not the only one who likes it up there. It's a magnet for weirdos.
I also dig weirdos. Go figure.
For the last 15 years in a row, hipsters, hippies, campers, artists, ne'er-do-wells, transients, spiritual seekers, body odor reekers, and other folks drawn to the magic of Big Sur (magic symbolically embodied in chunks of jade) have gathered for the Big Sur Jade Festival.
Now in its 16th season, the annual lapidary and music fest is scheduled for Friday through Sunday, Oct. 5 through 7, at the Pacific Valley School, located 45 miles south of Big Sur, 40 miles north of Cambria on Hwy. 1 in the Los Padres National Forest. This benefit for the Pacific Valley School PTO and the Pacific Valley Community Center features selected vendor art, fine food, and three days of live musical entertainment. Admission is free!
Music runs continually from noon to 6 p.m. on Friday, 10 a.m. to 6 p.m. on Saturday, and 10 a.m. to 5 p.m. on Sunday. Performers include The Mighty Croondogs, Calinambe, The Guy Budd Band, Rough House, Kenny Blackwell & David West, Big Rock Balalaika Orchestra, Seamus Conroy, Over the Falls, James Sweetwater, Dan Singer & Jud, Sus Corez, Frank West Band, Cuesta Ridge Mountain Boys, Gwyn Allie, Sweetrock, Jaimie Fauss, Higher Movement Drum & Dance Ensemble, Nashwa, and a drum circle every morning with Dick Horan! Get more info at bigsurjadefestival.com, then get weird!
Old dog, new tunes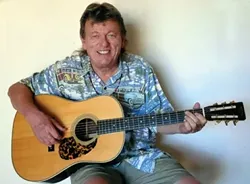 PHOTO COURTESY OF DON LAMPSON
MUSICAL SAGE : Hear new tunes by singer-songwriter Don Lampson when he plays an album release party for Heart of the Chaparral on Oct. 7 at The Porch.
# Don Lampson is a crusty old dog, a former prison guard (among other blue collar jobs) who traded in his rough-and-tumble experiences for a big ol' bag of songs that seem to have grown right out of the dirt. His newest CD, Heart of the Chaparral, will be released to the public during a party on Sunday, Oct. 7, at Porch Cafe in Santa Margarita from 3 to 6 p.m.
The title song from his album was written about the place where he lives, "out in the hills above the Cuesta Grade," and Lampson will be joined for this concert with a few of his "pickin' partners." Hors d'oeuvres will be served, and beer and wine from local vineyards will be available.
Let Lampson take you on a musical travelogue of the places he's seen and the people he's met, who populate his songs to tell their stories through his words. The show is free.

Sing for your supper
Paso Robles' River Oaks Hot Springs & Spa is the site of the steel cage deathmatch championship for the title of the best winery music band in all the land on Sunday, Oct. 7, beginning at 2 p.m. The whole shebang is going to be broadcast live around the world on the Internet.
For those of you who haven't been paying attention, all summer long Paso wineries have been hosting a competition for performers from the United States and Canada, competing for a pile of prizes.
The performers were judged by a pool of 20 music industry insiders, including Jon Anderson (of the legendary rock group Yes), Antonia Bennett (jazz singer and daughter of the great Tony Bennett), and Jake Hooker (composer of "I Love Rock'n'Roll"). Out of 100 entrants, six remain: Shannon Curtis from Los Angeles Dominic Castillo & The Rock Savants of San Luis Obispo (Woohoo! Go local boys!) Amber Norgaard of Tucson, Ariz. Debra Arlyn of Portland, Ore. Holiday & The Adventure Pop Collective of San Diego and Machine from Templeton (Woohoo! Go local boys too!).
Who will take home the title, the fabulous prizes, the biggest red wine stain on their white dress shirt? Buy a $50 ticket online at brownpapertickets.com or by calling 1-800-838-3006, or tune in on the Internet video stream on winerymusicawards.com to find out.
No, I'm higher
No matter where I turn, the marketing campaign is relentless. No one could possibly be as high as I am, which is why Azhiaziam is,
PHOTO COURTESY OF GREEN RIBBON
LOCAL CONNECTION : Iration and Tomorrow's Bad Seeds may be the big chiefs at the Oct. 9 Downtown Brew reggae show, but I'm rooting for local act Green Ribbon, which opens.
# like, infringing on my trademark. Lucky for them I'm too laidback to care, dudes. Now Azhiaziam, the surf/clothing/lifestyle biz, is sponsoring Iration's Central Coast CD release party at Downtown Brew on Tuesday, Oct. 9. Tomorrow's Bad Seeds and Green Ribbon will open.
Instead of moving toward modern dancehall influences, Iration draws from classic reggae and rock'n'roll influences, with an emphasis on drum and bass dubbing. The duo of Joe Dickens on drums and Adam Taylor on bass provides a strong rhythmic foundation accompanied by the percussion sounds of Joe King. Add Cayson Peterson's organ/piano/synth attack on the keys, Micah Pueschel and Catlin Peterson's rock and blues guitar sounds, and vocalist Kai Rediske tying it all together, and you've got a modern reggae band with one foot in the present and one in the past.
Tomorrow's Bad Seeds strives to move away from commercialization and toward music "containing the substance that radio airwaves seem to lack." Their mix of high-energy reggae, rock, punk, and hip hop promises to get your booty shaking.
Green Ribbon will bring its own brand of rock, old-school punk, funk, soul, blues, and dub to this three-band show. The band features an old high school buddy of mine, Glenn A. Shannon (guitar, vocals), with Ruben Urtiz (drums, vocals), Rev. Rudie Bonefinger (bass guitar, backup vocals), Paul Vino Hanna (lead guitar, keys, wine bottle, shaker, vocals), and Mario Cassara (conga). For the record, I can play the wine bottle too.
Dead revisited
The ultimate Grateful Dead tribute act, Dark Star Orchestra, which re-creates classic Grateful Dead concerts from the past, brings its "thing" to the Clark Center on Tuesday, Oct. 9.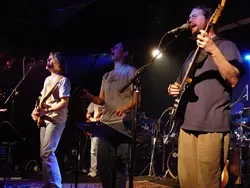 PHOTO COURTESY OF DARK STAR ORCHESTRA
JERRY, IS THAT YOU? : Re-creating the spirit of the Grateful Dead, Dark Star Orchestra is set to deliver a jam-tastic Dead cover concert on Oct. 9 at the Clark Center.
# According to the band's press materials, the group "performs Grateful Dead classics in the same way that an orchestra interprets music of classical composers. The composer spirit is derived and channeled in the live setting as the players capture the excitement and innovation of the original performances and compositions."
Made up of Rob Barracco (multiple keyboardists), Rob Eaton (Bob Weir), Dino English (Bill Kreutzmann), John Kadlecik (Jerry Garcia), Rob Koritz (Mickey Hart), Lisa Mackey (Donna Jean Godchaux), and Kevin Rosen (Phil Lesh), Dark Star Orchestra "seeks the individual style for each era of its performances and offers its own interpretations and improvisations of a group also famed and loved for their interpretations and improvisation. Anything more formulaic would quickly dispel the free spirit embodied in the music."
The group partners with the Grateful Dead's own charitable organization, the Rex Foundation, donating $1 from each ticket sold. Call the Clark Center at 489-9444 to reserve yours today.
More music
Surf dogs and cats have another dish to eat from courtesy of San Luis Surf Company, which celebrates its grand opening on Thursday, Oct. 4, with The Wavehogs Surf Band performing live at Farmers' Market at the corner of Morro and Higuera streets at 6 p.m. Hear songs like "Pipeline," "Miserlou," "Wipeout!" and more classics.
Mark Adams, singer-songwriter for Rancho Deluxe a critically acclaimed Americana roots band that plays regularly throughout California brings his alt.country stylings to Linnaea's Cafe on Friday, Oct. 5, at 8 p.m., performing songs from his debut CD as well as an upcoming album due for release in January. Check out some tunes and their friends' list, chock full of "Hotties," at www.ranchodeluxe.org, then head down to Linnaea's for a little twang and tonk.
De La BahÃa performs Saturday, Oct. 6, from 7:30 to 10:30 p.m.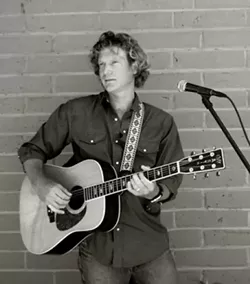 PHOTO COURTESY OF MARK ADAMS
TROUBADOUR : Mark Adams, frontman for the fantastic alt.country/Americana roots band Rancho Deluxe, plays Linnaea's Cafe on Oct. 5. Can I get a yee and a haw?
# at the Inn at Morro Bay. This fun Latin jazz combo is perfect for dancing and listening, with Maite on vocals, Larry Arone on piano, Clint Iwanicha on bass, and Mike Raynor on drums plus guest Latin percussionist David Solis.
Rich Mahan and Bill Burke have reformed Avocado Sundae to play the Cayucos Vets Hall on Saturday, Oct. 6, at 7 p.m. with local Cayucos band 9 Beers Under opening the free, all-ages show. Avo Sun was a favorite California touring band whose breezy, energetic jamming style made them a fav with Deadheads and Phish fans.
CREDO, a Russian a capella chamber quartet from St. Petersburg, Russia, performs at Hiawatha Lodge in Halcyon, on Saturday, Oct. 6, at 7 p.m. The Russian Orthodox musical heritage comprises the heart of the ensemble's repertoire however, the quartet also engages the listener with an array of Russian folk songs, western classical music styles, and contemporary works by Russian and international composers. The concert's free, though donations will be accepted gratefully.
After a long hiatus, North County alternative rockers Methadone Jones return to the limelight at O'Reilly's Bar & Grill on Saturday, Oct. 6. The 9:30 p.m. show will begin with an acoustic set by Methadone Jones frontman Brian Harris. Local punk rock band $2 Pistol hits the stage next, followed by Methadone Jones electric!
The Forbes Pipe Organ at the Performing Arts Center is ready for another run through its paces, this time under the capable hands of Santa Clara University Music Department professor and premier organist James Welch, who's been praised for his technical facility, solid musicianship, and creative programming. Hear him tickle those ivories, twiddle those stops, and throttle those pedals on Sunday, Oct. 7, at 3 p.m. in the Christopher Cohan Center. A pre-concert lecture with Dr. Welch will be held in the Philips Recital Hall at 2 p.m. General public tickets range from $14 to $26, with student discounts available on all seats, available by calling 756-2787.
Blues, rock, folk, country, and other musical genres can be heard at the West Coast Songwriters Competition on Sunday, Oct. 7, at Linnaea's Cafe beginning at 7 p.m. (no cover, all ages). The song contest and showcase is presented by West Coast Songwriters, a Bay Area-based nonprofit educational organization with more than 1,200 members. Before and after the contest, there will a number of guest performers, such as Ted Waterhouse, a longtime local blues musician who currently leads the Viper 6 and the Hot & Cool Orchestra. Judges include Daniel Whittington (lead singer/writer for the band Rhodes, who also teaches at the Music Lab Guitar School in SLO), Melody Klemin (performing songwriter and assistant manager at Blue Note Guitars in SLO), and Will Barkley (Santa Barbara songwriter, session musician, and sideman who once toured as a guitarist with Ray Charles).
PHOTO COURTESY OF "WEIRD AL" YANKOVIC
CAN YOU FEEL HIM, HOMEY? : The undisputed king of pop culture parody and former Cal Poly student "Weird Al" Yankovic brings his comedy stylings to the SLO PAC on Oct. 9.
# Jamaica still reigns supreme as the world's reggae Mecca, but for sheer "wow" factor, the U.S. Virgin Islands is reggae's new fount of fabulous, and no other band is generating more heat than Midnite. It's a little ironic considering the general dismissal of American reggae, but then the U.S. Virgin Islands are a lot closer to Jamaica than, say, the U.S. mainland, so maybe it's not so ironic after all. Check 'em out on Sunday, Oct. 7, at Downtown Brew. Doors open at 7:30 p.m., and tickets for listeners 21-and-older are $20.
Levator, a Seattle band featuring breathy lyrics and atmospheric melodies that are sweeter than a lullaby, plays the Frog and Peach on Sunday, Oct. 7, for a free, 9 p.m. show. This is indie pop at its most lilting, with trance-inducing guitars and lush vocals completely arresting, thoroughly fascinating.
The Yank-man is back and ready to bust a move on his "Straight Outta Lynwood" tour. That's right! On Tuesday, Oct. 9, with a special 7 p.m. early curtain at the Christopher Cohan Center, Cal Poly Arts presents "Weird Al" Yankovic, the undisputed king of pop culture parody. Yankovic's latest release, Straight Outta Lynwood, debuted at No. 10 on the Billboard charts, driven by its centerpiece single "White & Nerdy," a parody of Chamillionaire's No. 1 smash hit, "Ridin'." General public tickets range from $36 to $48, with student discounts available on all seats, available by calling 756-2787. ?
CD Reviews

Heliocentrics Out There
# James Brown said it: Play every instrument as if it was a drum. Malcolm Catto, a U.K. drummer whose obsession for soul 7-inches provided the basis for three funk compilations (Midwest Funk, Texas Funk, and Florida Funk), has turned his dusty-fingered hobby and vast knowledgeable repertoire into a full-length study of spaced-out funk. With his relentless drumming, The Heliocentrics resemble the coming together of several ideas: the sparse, heady funk of No Wave artists ESG, the spatial and cutting-edge recording arrangements of David Axelrod, and the experimental and celestial jazz devotion of Sun Ra all orbiting and influencing each other's gravitational pull. "Distant Star" grabs your attention instantly with its crisp snare and hard bass thumps that, decorated with a robotic-tinted organ and sound collages, revolve around sci-fi space exploration and the blipping sound of Sputnik. As kooky as this can all sound, at its core is the eternal beating rhythm of the best James Brown instrumental outfit in the universe.
Malik Miko Thorne, of Boo Boo Records and KCBX's "Night Train."
Joe Henry Civilians
# As a producer, Joe Henry has polished some of the finest albums from the likes of soul legend Solomon Burke, Elvis Costello companion recording with New Orleans treasure Allen Toussaint, and singer/songwriter Aimee Mann. Now Joe Henry has put his ear to heart of the American saga. With a backing ensemble featuring Loudon Wainwright, pianist/songwriter Van Dyke Parks, jazz guitarist Bill Frisell, and the touring band for Frisell's album Good Dog, Happy Man, you're musically unlikely to hear another album so tightly executed, as well as unpretentiously straightforward. On Civilians, Henry constructs songs that are welded with American histrionics, be it the bruised nature of "Our Song," which imagines Willie Mays within the aisles of a Home Depot reflecting on his tangled tenure within our twisted country, or the stoic isolation and rallying point that occurs in the tragedy of a civil war. It's an amazing accomplishment Joe Henry may have just knocked one out of the park.
Malik Miko Thorne, of Boo Boo Records and KCBX's "Night Train."
Glen Starkey towers over his competitors. Take a hacksaw to his stilts at gstarkey@newtimesslo.com.