It only happens a few weeks a year, a shining series of evenings where SLO County no longer seems like a remote musical outpost that can only attract those acts either on the rise or on their way down. I'm talking, of course, about the Mid State Fair, which brings some of the biggest names in the music industry to Paso Robles.


PHOTO COURTESY OF JOHN MAYER
RADIO READY : Singer-songwriter-guitar slinger John Mayer recently released Continuum, his third studio album, and plays July 23 at the Mid-State Fair.
With a 15,000-seat venue, they can bring in such biggies as Stone Temple Pilots (July 26), Fergie (July 31), and Rod Stewart (July 30), or in the case of this upcoming week, radio darling John Mayer on Wednesday, July 23 and country superstar Toby Keith on Thursday, July 24.
Singer-songwriter-guitar slinger John Mayer recently released Continuum, his third studio album, that follows the multi-platinum Room For Squares (2001) and Heavier Things (2003). The soulful new collection of songs features Mayer in the producer's chair, as well as behind the mic.
"The night I was recognized for 'Daughters' at the Grammys was the night this record started," he said in press materials. "I knew I had bought the time to learn everything I needed before I started this one. Continuum is not a shot in the dark, it's not a guesstimation. This is the first endeavor in my entire life, music or otherwise, that I did not cop out for a second on."
Twenty-two-year-old California beauty Colbie Caillat will open the John Mayer show, which starts at 7:30 p.m. Tickets cost $40, $46, and $56—available at the venue, online at either
www.midstatefair.com
or
www.vallitix.com
, or by phone at 238-3565 or 1-800-909-FAIR or 1-888-825-5484.
For the first time in his storied—and sometimes controversial career—Toby Keith decided to produce his last album, Big Dog Daddy, himself.
"The only reason I never produced an album by myself before is I didn't have time. Why not? Because I'm opening record labels and restaurants, working on movies and things like that. But I knew I was going to have to across the board [and] dive in if I wanted this album to be one of the best of my career. So I came in with guns blazing," said the characteristically humble Keith in a lengthy self-penned press release (yes, that was sarcasm).
PHOTO COURTESY OF TOBY KEITH
BIG DOG DADDY : Country superstar Toby Keith recently released Big Dog Daddy; he plays July 24 at the Mid-State Fair.
Keith courted controversy when he wrote "Courtesy of the Red, White, & Blue (The Angry American)," a song about his father's patriotism and faith in the USA shortly after he was killed in a car crash. He'd only been singing it at concerts, but Commandant of the Marine Corps James L. Jones told Keith it was his duty as an American citizen to record the song. He was asked to perform it on TV during a news special, but anchorman Peter Jennings, a Canadian, asked him to tone down the lyrics or sing another song. Instead Keith refused to perform at all.
"I get roped into these political arguments, but the truth is I don't see things right or left, I see them right or wrong. If you put check boxes on the left and right for all the big issues, my list will go back and forth all the way down. But all I have to do is disagree with a hard-core, far left liberal on one thing and they just mark me down with all the boxes on the right. And it's pretty much the same thing on the other side."
Tickets for Toby Keith cost $42, $52, and $62.


Renaissance man

There's something decidedly '70s-sounding about Shane Stoneman's new CD Days Gone By. Breezy California pop melodies give way to semi-psychedelic guitar solos, as Stoneman's soft tenor croons a folkrock version of Chet Baker.


PHOTO BY CHRIS LESCHINSKY
SUNSHINE ON HIS SHOULDER : Surfboard shaper, painter, and musician Shane Stoneman plays July 18 at Sweet Springs during an album release party for his sophomore effort Days Gone By.
Like fellow soul surfers-turned-folk artists, Jack Johnson and Donovan Frankenreiter, Stoneman's music has an undeniable sweetness, an earthy and natural quality that makes it impossible not to get caught into the swaying, sunshine-on-your-face feeling that washes over listeners.
This Friday, July 18, Shane Stoneman performs at Sweet Springs Saloon, with an all-star cast of Central Coast musicians, during the album release party for Days Gone By. Two of the musicians from the album—Dylan Johnson from Functus on bass and Zak Cornejo from Criticinue on drums—will join the man known simply as "Toes" from Resination on keyboards. Amy Cruz will sing backup—she also appears on the CD.
"They are freaky-good players that have always inspired me when I've seen their bands play," said Stoneman. "I just feel really lucky to play with these friends and want people to hear what we've created over the last couple of months. It's a cool mixture … almost like a Sly and the Family Stone meets Neil Young."
Stoneman is a former pro surfer, oil painter, musician, surfboard-shaper, and a new father. Recorded just three months ago, Days Gone By was "inspired by fatherhood and the American dream" and creates "a colorful world filled with youthful nostalgia; chain smoking, nicotine-addicted grandmothers; and old record players," according to his press release.
Learn more about this Renaissance man at
www.myspace.com/shanestoneman
or shanestoneman.com.


Dirty is good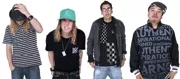 PHOTO BY DOVE SHORE
NOT THAT DIRTY! : The Dirty Heads will deliver their hip-hop-esque songs featuring reggae inflections and a punk attitude on July 18 at Downtown Brew.
Downtown Brew and Numbskull Productions are answering your prayers by bringing back the Dirty Heads to Downtown Brew on Friday, July 18 at 7:30 p.m., with opening acts Green Ribbon and MaloCulo. The all-ages show costs $10 in advance at Boo Boo Records or the venue, or $12 at the door.
"We want to be positive and entertain," said Dirty Heads vocalist Jared Watson in a press release. "We just want to make you feel good."
Their hip-hop-esque songs feature reggae inflections and a punk attitude, and the group embraces and celebrates its garage roots.
"We'd get our brothers who weren't even 21 at the time, who had fake IDs, to get us 40s and go get wasted in the garage and write stupid songs," continued Watson. "We never said, 'Let's do this certain style of song', we just automatically started writing Dirty Heads-style songs. And we loved it. It was the music we wanted to hear."
During the band's earliest gigs, they got their first taste of stardom.
"We would practice one song and then played it at shows with my brother's band. And people really started to like it," says guitarist/vocalist Dustin Bushnell. "They'd say, 'Play another song!' And we were like, 'We don't have another song'!"
"We didn't really pick the name—'Dirty Heads' was our song," added Watson. "And then everybody was like, 'When are the Dirty Heads playing again?'"


More music…


PHOTO COURTESY OF BAKA BEYOND
AFRO-CELT! : Baka Beyond, an African-rhythm-Celtic-soul act plays July 19 at Castoro Cellars.
Florida-based reggae/dub act Scholars Word plays the Frog and Peach on Thursday, July 17; and Friday, July 18 they are at Mongo's. Deep grooves and socially conscious lyrics blend to create soulful messages of peace and healing. This isn't one of those American reggae bands that feels the need to bastardize the genre with hip-hop or punk elements, nor are they attempting to mimic Jamaican acts. Instead, Scholars Word stays true to tradition without pandering.
The Cadillac Angels bring their revved up roots rock, rockabilly, and surf sounds to Old Cayucos Tavern this Friday, July 18 at 9 p.m. The relentless releasers of albums have yet another new disc for your spinning pleasure, Two Blocks Off Main, which must be their 15th or 20th! Be the first kid on your block to have one for only $10.
A big ol' pile of punk awaits at Hoovers Live this Friday, July 18, when The Wimpy Dicks, The Kilz, Honor Bound Heroes, Crisis Point, and Bl?dlust join forces to blow your ears open at 9 p.m. for a scant $3.
PHOTO ILLUSTRATION COURTESY OF GABRIELLE LOUISE
QUEEN OF HEARTS : Pop/folk/jazz chanteuse Gabrielle Louise plays with her trio at Last Stage West on July 23.
SLOfolks has an awesome act lined up for 7 p.m. on Saturday, July 19 at Castoro Cellars. Baka Beyond is anAfrican rhythm-Celtic soul act, featuring musicians from six countries in the Celtic fringes of Europe and the West coast of Africa, who have joined together to play their own brand of original world fusion. Expect high-energy music and dance, a pulsing beat that amazingly fits perfectly with Celtic and Gaelic. Doors open at 6 p.m., and a catered dinner by 10th Street Grill is available for an extra charge. Call 238-0725 for reservations. Concert tickets cost $22.
She looks like a smoky jazz chanteuse, but sounds like an ethereal genre-hopping pop folkie. I'm talking about Gabrielle Louise, an emerging artist whose poignant lyrics have made her a two-time John Lennon Songwriting Contest finalist and winner of the Jack Maher Songwriting Award. Her angelic voice and stunning good looks complete the package. This Wednesday, July 23, she'll play Last Stage West with Ryan Dricky on fiddle and vocal harmonies and Joe Skala on upright bass. Call 461-1393 for reservations.
CD Reviews
Abe Vigoda—Skeleton
Give the kids a place to play and eventually the noise will be heard. In Los Angeles, it's the Smell, a club that's been the outlet for such bands as No Age, HEALTH, and Mika Miko to pound delirious sounds out to young, hungry ears. Taking full, capable advantage of their scene's newfound limelight is Abe Vigoda, a four-man crew whose tumultuous drumming is underscored with equal measures tropical-influenced guitar melodies as well feedback-drenched noise. Instant comparison will be made to the other current Afro-pop/ indie-rock purveyors Vampire Weekend. But instead of their Ivy League pop sentiments, Abe Vigoda turns up the mix until everything bleeds together into a wash of energetic, lo-fi hurly burly no wave. It can all be quite exhausting, even at 30 minutes, so the few investigation into sound—the subdued, shimmering reverb of "Visi Rings" or the hollow feedback of "Whatever Forever"—act as a perfect palate cleanse before the percussion pummeling returns. Like Campari, this will be invigorating for some, bitter to others.
Damon & Naomi—More Sad Hits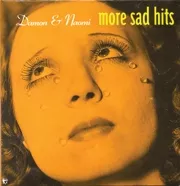 As the forefathers of the eventually shoegazer and slowcore nation that arose in the 1990s, Galaxie 500 released three perfect albums of beautiful, atmospheric pop songs that turned down the avalanches of feedback and distortion used by My Bloody Valentine, yet still had as much emphasis on textual effects and dreamy melody. When the vocalist/guitarist Dean Wareham left the trio to form Luna, the two remaining members, Damon Krukowski and Naomi Yang banded together and continued on with some coaxing by ubiquitous indie musician/producer Mark Kramer. Originally released in 1992, Damon & Naomi's debut More Sad Hits now gets remastered and repacked masterfully with linear notes written by the pair themselves, as they take a walk back into their past memories. Ghostly pretty, there are hints of the Cocteau Twins—hauntingly ethereal, yet with less gloom, all softed by Naomi's gentle voice. While not as glorious and balanced as Galaxie 500's output, this is a great soundtrack to your next rainy day, giving your Mazzy Star albums a deserved break.
—Malik Miko Thorne, of Boo Boo Records and KCBX's "Night Train."
---
Glen Starkey figures that since God is watching him, the least he can do is be entertaining. Give him a hand at gstarkey@newtimesslo.com.