Opportunities for bike riding abound in SLO County, with hundreds of miles of Central Coast beauty awaiting you and your two wheels. While that hobby brings nothing but joy to the biker, it can take a toll on the bicycle itself.
Bike SLO County is a local nonprofit that operates the Bike Kitchen in downtown SLO, providing the space, tools, and expertise necessary to learn about how to maintain and repair your bike. They've served more than 6,000 bikers since they opened the shop in 2010.
"What happens at the Bike Kitchen is there's usually one mechanic and several volunteers who know a lot about how to fix a bicycle," explained Kylie Mendonca, a volunteer at the Bike Kitchen. "You go in there, and these mechanics will help you use the tools, [but] you take the wrenches and do all the work."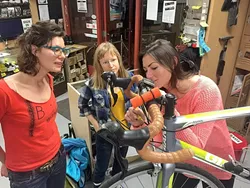 PHOTO COURTESY OF BIKE SLO COUNTY
BE A TEACHER: Kylie Mendonca (left) leads a workshop during Women's Night at the Bike Kitchen while Elisabeth DeSwart (Center) and Emma Patterson (right) practice bike repair techniques. Women's Night takes place every Thursday night at the Bike Kitchen from 6:30 to 8:30 p.m.
The Bike Kitchen recently introduced Women's Night at the Bike Kitchen. On Thursday nights from 6:30 to 8:30 p.m., women and bikers are invited to stop by the Bike Kitchen with their bikes to partake in a class/workshop where they can learn all about mechanics of a bike, make repairs themselves, and be a part of building a community around biking.
"It's less common for women to grow up using tools. We want to help people feel confident that they can fix their bikes," Mendonca said. "[Every Thursday night] we start with a demonstration on something, and then we do 'open shop' where you just work on your bike and there's female mechanics to help."
Women's Night puts a twist on the usual Bike Kitchen visit by offering a different theme or focus each week. On April 7, there's a workshop all about cables hosted by Mendonca. On April 14, volunteer Emma Patterson is leading a "Pedal to Professional" class.
Once a month at Women's Night, mothers are encouraged to bring their kids along to soak in the handywoman vibe.
"It's totally cool," Mendonca said of kids' night. "So much of what we're doing is about empowering women and giving women a space to explore and become comfortable with tools and empowering themselves. The kids get to see their moms learning, they get to learn with their moms, and they get the positive women role models at the same time."
A Women's Night volunteer doesn't need to have extensive bike expertise to be an instructor. In fact, sometimes a "student" at Women's Night winds up leading a workshop in the future.
"If you know how to fix a flat tire, you can show another woman how to fix a flat tire," Mendonca said.
Mendonca got a taste of the awesomeness of Women's Night when she ran the beta version of the program in the winter. The gatherings were so much fun that they decided to offer them long-term. They have to raise money to help fund the program, so they are asking for a $5 donation at the door.
Right now, the organization's primary goal is to attract more people and volunteers to participate.
"The main thing we need is to just get the word out," Mendonca said. "The response has been great, [but] if we had more people, that would be awesome."
If Women's Night sounds like a blast to you, check it out on a Thursday or reach Bike SLO County at 547-2055 with questions.
Fast Fact
The Buckingham Family was awarded "Conservationist of the Year" by the Coastal San Luis Resource Conservation District on March 22 for their efforts to make conservation improvements on their Los Osos ranch.
Staff Writer Peter Johnson wrote this week's Strokes. Contact him at pjohnson@newtimesslo.com.