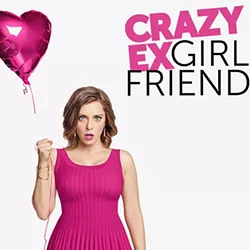 Photo Courtesy Of The Cw
UNWELL Crazy Ex-Girlfriend follows the mental health journey of Rebecca Bunch (Rachel Bloom) amid musical numbers, boyfriends, and cross-country moves to California.
When? 2015-present
What's it rated? TV-14
Where's it available? Streaming on Netflix
"Dude, she's crazy."
It's the go-to line that every guy trots out after things end with a girl, because it negates any ownership he has over the failed relationship. But what is crazy, and why is there such a stigma around the word? The CW's Crazy Ex-Girlfriend dives head first into this rabbit hole in a whimsical fashion, in a world where every episode is a mini musical.
Rebecca Bunch (show creator Rachel Bloom, who also stars in the upcoming film Most Likely To Murder) seems to have it all, a fancy law degree, an offer to be partner at her firm, and an apartment in Manhattan. But she's desperately unhappy. Then after a chance encounter with her ex-boyfriend from a high school summer camp, Josh Chan (Vincent Rodriguez III, Adam Ruins Everything), she decides on a whim to upend her life and move to West Covina, California, "And also by coincidence, Josh ... just happens to be here," Rebecca belts out in one of the many catchy musical numbers the show has to offer.
But amid those high notes and kick ball changes (Yeah! They dance too!) are some hard truths. In the pilot episode we see Rebecca flush some pills down the toilet, which is a cliché Hollywood move that's easy to overlook, but it's a move that has consequences as the plot develops. Rebecca is all of us, if we did every impulsive thing, good or bad, that came into our heads. You think double texting is bad and desperate? Try installing trackers on your crush's girlfriend's car with BFF/sleuth Paula (Donna Lynne Champlin, Another Period) or accidentally/on purpose putting a hit on your ex-boyfriend's current girlfriend on the dark Internet. Oops.
At the same time, Rebecca is charming, successful, and the girl everyone wants to be friends with. She really cares, which makes it all the more frustrating when she makes bad decision after bad decision. It seems a bit maddening in season one, but come season two and three the show is deep into themes of mental illness, alcoholism, abandonment issues, Bipolar Personality Disorder, and more. And it turns out Rebecca isn't the only one who's "crazy." You'll be hit with some truth bombs and entertained by musical numbers like "Sexy Getting Ready Song," "Let's Generalize About Men," "Love Kernels," and "What'll It Be?"
Three seasons of Crazy Ex-Girlfriend are currently available, and Bloom recently announced that the fourth and likely last season will air sometime during the 2018-19 season. (13 to 18, 45-minute episodes per season.) Δ