Where? FX and Hulu; 2014-Present.
As a big fan of the Coen brothers' 1996 film Fargo, I've been hesitant to delve into the TV series of the same name for fear it will either be a retread, or worse, taint the brilliant film. After gobbling up the first season, I'm happy to report it's a delicious black comedy that inhabits the bleak, wintery milieu of the original film without feeling hackneyed or repetitive.
The first season's story centers on put-upon insurance salesman Lester Nygaard (Martin Freeman), who's jealous of his more successful younger brother Chaz (Joshua Close) and tired of being henpecked by his shrewish wife Pearl (Kelly Holden Bashar). A chance encounter with Lorne Malvo (Billy Bob Thornton), a remorseless and manipulative thug, sends Lester down a criminal path that puts him at odds with a thoughtful sheriff's deputy named Molly Solverson (Allison Tolman), who begins to suspect Lester maybe be guilty of a crime.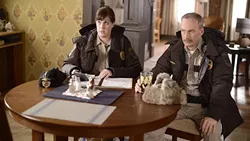 PHOTO COURTESY OF THE FILM DETECTIVE
WHODUNIT?: Deputy Molly Solverson (Allison Tolman, left) and Sheriff Bill Oswalt (Bob Odenkirk) work to solve a series of crimes in the first season of Fargo (2014).
The 10-episode first season cleverly weaves together multiple storylines, including Molly's ex-state police officer father Lou (Keith Carradine), now a café owner; Duluth police officer Gus Grimly (Colin Hanks), a love interest for Molly; Molly's hapless boss Sheriff Bill Oswalt (Bob Odenkirk); and grocery store magnate Stavros Milos (Oliver Platt), who's being blackmailed, and through a mere coincidence, believes the blackmailer knows about a dark secret from his past.
The pacing is just right, allowing viewers time to get to know the various players and give the actors time to develop their characters fully. Add in witty dialogue and plenty of unexpected twists and turns, not to mention a continuous stream of misinterpretations and misunderstandings, and this is a series that's impossible to turn off.
The mix of menace, suspense, satire, and pulp violence is right in line with the Coen brothers' original vision, and the two act as executive producers on the series.
Likewise, the casting is spot on. Freeman, a British actor, is terrific as Lester the Midwesterner, and Tolman as Deputy Solverson subtly relays the oppression of being the smartest person in a boys' club. Thornton, of course, is gleefully chewing the scenery as the malicious Malvo, and his calm ruthlessness is quietly terrifying. A scene when he's pulled over by Officer Grimly and talks Grimly into letting him go tells you everything you need to know about how Malvo gets away with his criminal behavior.
Season two—starring Kirsten Dunst, Jesse Plemons, Kieran Culkin, Jean Smart, Patrick Wilson, and Ted Danson—is available now and is next on my list, and Season three has been financed and will come to FX in 2017. Bundle up. It's going to be a long, cold, dark, and delicious winter! (10, 50-minutes episodes.)