When? 2018
What's it rated? TV-MA
Where? Streaming on NBC, Hulu
Not all criminals wear black hoodies, have tattoos, or don ski masks. Smooth criminals might just be your neighbor's wife, your mom, or sister. Yeah I'm talking about your average female badass who could be making millions right under your nose.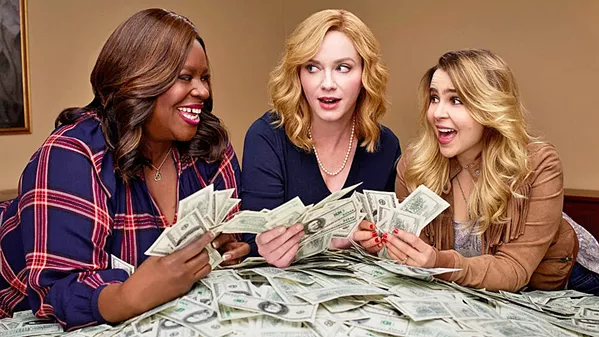 Photo Courtesy Of Variety
FEMALE REVOLT The three female leads of Good Girls, Ruby (Retta), Beth (Christina Hendricks), and Annie (Mae Whitman), have had it with struggling to make ends meet and are doing something about it.
That's the case for the ladies of Good Girls, NBC's newest drama. Three best friends Beth (Christina Hendricks), Ruby (Retta), and Annie (Mae Whitman) are all just trying to make ends meet supporting their families and leading calm suburban lives.
Beth is a housewife whose husband owns a car dealership. Between PTA meetings and caring after her handful of kids she's hilariously short with her sister Annie. Annie works at a supermarket and supports her daughter as a single mother. She's divorced and the baby daddy is still in the picture, but they're just friends. Sweet Ruby has two kids of her own, a mall cop turn law enforcement husband, and a part-time gig at a diner.
All three women find themselves in a rough spot financially, and supporting one another over a glass of wine and girl talk isn't just isn't enough. Things hit the fan when Beth finds out that her husband is cheating on her with the receptionist, a young bimbo of course, and it turns out he's gotten the family into mounds of debt. Ruby's biggest hardship is that her daughter has kidney disease, but she doesn't make enough money to pay for the only treatment option to keep her alive. Annie's ex-husband and his new wife are going to fight for sole custody of their daughter and she can't afford a lawyer.
Strapped for cash and in a pickle, Annie throws out the idea of robbing the grocery store she works in. With the insider knowledge of the store safe, the three devise a plan to hold up the store at night and leave with the loot.
With fake guns, heels, and ski masks, the women waltz into the store and yell, "Everyone on the ground now, this is a robbery!" It's hilarious how perfectly the women pull off the robbery and believe that they've made it home free. Yes, I said believe they got off scot-free.
The real story unfolds after the women find out that the money in the safe belongs to a prominent gang in the area. That's where things get really interesting because the three are in the debt of really handsome gangbanger Rio (Manny Montana).
This show is interesting in the sense that all women are very strong females in their household, whether it's by earning money to pay the bills or holding down the fort at home. It's only when the males in their lives make mistakes or don't earn enough to make ends meet that these good women turn bad. So when men make the mistakes it's the women that are left to clean up the mess left behind.
While this show isn't exploring new storytelling terrain, it's a fresh take on the TV hero being not one but three strong female leads. I love the cast: Hendricks, Retta, and Whitman have such a profound onscreen chemistry that while most of the show has serious scenes there are many instances of perfectly timed comedic relief.
This feels like the new Thelma and Louise of television, and I'm all for it. Here are women looking to just live a comfortable life and take care of their families. Leave it to the men to ruin that dream. These women are capable, strong, and upset. (10, 43- to 45-minute episodes) Δ