When? 2017-18
What's it rated? TV-MA
Where's it available? Netflix
When it comes to television, there's never been a better time to be a comic book fan.
While splashy, big-budget movies get most of the attention, television and streaming services offer a cornucopia of content based on both well-loved and lesser-known superheroes. From Netflix's stable of Marvel shows to the teen-centered DC offerings on the CW Network, there's no shortage of good stuff for comic book nerds of all tastes.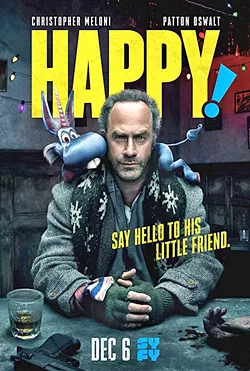 Image Courtesy Of Syfy
HAPPY! Syfy's Happy! is a hyper-violent, black comedy spectacle based on a comic book.
If those tastes lean toward the darkly humorous and hyper-violent, then the first season of Syfy's Happy! is right up your alley. Based on the comic book series by Grant Morrison, Happy! follows the exploits of an alcoholic ex-cop-turned-hitman named Nick Sax (Christopher Meloni). The show's eight-episode first season follows Sax as he tries to track down a daughter he never knew he had and save her from the clutches of a child-kidnapping psychopath who dresses like Santa Claus. If the premise weren't already bizarre enough, Sax is aided in his quest by the girl's imaginary friend, a tiny flying blue unicorn named Happy (voiced by Patton Oswalt).
Happy! is black comedy at its darkest. Meloni's Sax is slovenly, drunk, and incredibly violent, standing in sharp contrast to Happy, whose childlike, relentlessly positive and upbeat attitude is constantly under assault by Sax's lurid and murderous behavior. The violence in the show is so over-the-top and grotesque that it's comical. Still, through all the nihilism and darkness that is the show, Meloni brings a lot of pathos to the role, making it easy to root for a character who otherwise is just about as irredeemable as you can get. Oswalt, too, brings a lot of levity to the show, and his voice-acting talents inject a lot of life and dimension into what could be a pretty annoying CG character.
As Syfy prepares to drop a second season of the show, it's clear that while Happy! may not be for everyone, it demonstrates that comic book-based content on television can go far beyond the brightly colored spandex superheroes we all know and love. There's a large market hungry for more mature comic book shows, and Happy! along with Nexflix's Punisher and Jessica Jones, show that there is plenty of great source material out there to make it. (one season, eight episodes) ∆