Where? Streaming on Netflix
Try to remember one of the weirdest hookups of your life and you still (hopefully) wouldn't even come close to the unnecessary awkwardness that is happening between Mickey and Gus in Netflix's new series, Love.
While it may seem incredibly cheesy to give a show the broadest of titles, Love, it proves to be anything but generic. It's a show about terrible people who never should've gotten together.
Created in part by Judd Apatow, who brought us unconventional comedy in The 40-Year-Old Virgin, Knocked Up, Funny People, and Trainwreck, Love has similar humor drawn out over 10, 30-minute episodes set to a soundtrack of ecletically mixed old and new music.
At first glance, one might gather that this show will either run the theme of "cool girl dates nerdy dude" or "people in their early 30s can't seem to find love." While the latter may be closer to the truth than the former, it still doesn't really hit the nail on the head.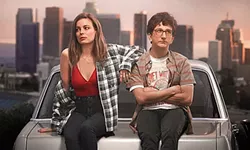 PHOTO COURTESY OF NETFLIX
FALLING FOR YOU : 'Love' is serving up a whole lot of loveable quirkiness with the just perfect amount of discomfort.
Seasoned party girl, Mickey (Gillian Jacobs) is a 31-year-old program manger of a satellite radio station. She's an alcoholic skater who jumps from guy to guy and has a personality that's more blunt than pleasant.
Gus (Paul Rust) presents a Woody Allen-esque dweeb of a character who is always doing or saying the wrong thing. Also in his early 30s, he is an on-set tutor for a bratty child actress on a popular television show.
The first episode begins with Gus and Mickey in separate relationships that ultimately end in devastation, leaving the two characters vulnerable and in tears. They meet at a gas station where a hung-over Mickey is begging the clerk to front her a cup of coffee because she forgot her wallet. As Gus steps up to the plate to buy her coffee, Mickey demands a pack of cigarettes as well. Gus, being the four-eyed pushover that he is, complies. This moment flawlessly defines the two characters, setting them up for failure right off the bat.
The two embark on an adventure of disarray and the red flags begin to stack up. The show offers up a lot of dry and cringe-worthy moments with some relatable scenes, such as an entire day where Gus is seen checking his phone over and over again for a reply text from Mickey, to which he simply follows up with "sup."
Mickey invites him to a party the next day, after which she sets Gus up with her flighty Australian roommate Bertie (Claudia O'Doherty)—a hilariously disastrous date. This leads to Mickey and Gus admitting their interest in each other, and they finally commence a tumultuous sexual relationship and go on a far from perfect date of their own.
Eventually, the roles switch and Mickey becomes the desperate one who isn't getting a response text from Gus. Gus loses interest and Mickey pathetically tries to redeem herself. Mickey shows herself to be an addict who is struggling to fix the mistakes she made in her 20s while Gus appears to be less of the nice nerdy type than we first assumed.
Love presents two characters that you really want to believe are good people, but you find out that they really aren't. The show relies on the principle that, surprise, two damaged people can't change or fix each other after all.