Welcome to Bingeable, a new occasional column highlighting a television show, series, or special that's binge-worthy, which is to say its episodes bear serial viewing. Some shows start out with a lot of promise—think the Lily Tomlin and Jane Fonda series Grace and Frankie—but don't quite maintain the quality of their premise. Others seem binge-worthy but over time drift into repetitive nonsense—think Lost or The Walking Dead. In this column, we'll try to introduce you to something worth watching that may have escaped your attention.
For the inaugural column, I can think of no better 10-part series than the Netflix original, Making a Murderer, about Wisconsin man Steven Avery, who was put away for life for a brutal rape and assault, only to have his conviction overturned 18 years later thanks to DNA advances. But that's only the beginning of the fascinating and infuriating story.
Once released, he starts to try to put his life back together, working at the family business, an auto salvage yard. His wife left him and took his kids while he was in prison, but he finds a new girlfriend and seems to be doing well. Meanwhile, he's become a cause célèbre, a poster child for injustice in the Wisconsin system, and he sues Manitowoc County for $36 million for his time incarcerated.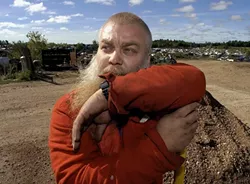 PHOTO COURTESY OF NETFLIX
CALM BEFORE THE STORM : The Netflix series 'Making a Murderer' examines the troubling case of Steve Avery.
Then a strange thing happens—a photographer for the local Auto Trader magazine goes missing after stopping to photograph a car at his salvage yard. Her car is later found poorly hidden on his property, the car's key is found in his trailer, and her bone fragments are found in a fire pit nearby. Is Avery a callous killer after all? Did his time in prison make him evil?
Over a series of 10 episodes, viewers must decide for themselves if he's being railroaded by a corrupt local justice system trying to avoid being held monetarily accountable for a gross miscarriage of justice, or if he's a cold-hearted killer.
The case is exacerbated by a confession from his near-mentally retarded nephew Brendan Dassey. It's particularly infuriating watching interrogators take advantage of Dassey's stunted intellect.
Using a trove of archival materials—the case was thoroughly covered by Wisconsin media and the courtroom proceedings were recorded—viewers are offered an insightful lesson about our criminal justice system, the power judges can exert over proceedings, the deference law enforcement is given over defendants, and the importance of being able to afford competent representation.
If you enjoyed the HBO series The Jinx—another binge-worthy series from 2015—fire up your Netflix account. You're going to love Making a Murderer!