When? 2016 | Where? HBO, Streaming on HBO NOW.
HBO has done it again with this crime drama based on the BBC's Criminal Justice. The eight-part series follows the murder case against Pakistani-American Nasir "Naz" Khan (Riz Ahmed), a college student accused of killing Andrea Cornish (Sofia Black-D'Elia), a mysterious young woman he encounters one night after he "borrows" his father's NYC cab to attend a party. Unable to turn on the "off duty" sign, Naz reluctantly agrees to drive her to the beach when she jumps in the cab. She ends up seducing him, bringing him to her apartment, drugging him, and making love to him. When he awakes the next morning, he finds her dead—stabbed to death—and in a panic, he runs. He's eventually apprehended, and he finds himself being represented by John Stone (John Tuturro), something of an ambulance chaser, and later Chandra Kapoor (Amara Karan), a novice lawyer whose boss hands her the case after becoming frustrated with Naz's refusal to take a plea bargain.
What makes the series so watchable is its combination of mystery, timeliness, social commentary, and terrific acting. We don't know if Naz is guilty or not. Even Naz isn't entirely sure, though he's clearly a good kid who isn't the killer type. However, as he continues his stay in Rikers Island, in order to survive, he's taken under the wing of Freddy (Michael Kenneth Williams), a prisoner who through bribes and controlling jail contraband essentially runs the institution, right down to being able to control some guards. Under Freddy's tutelage, we watch Naz transform from a mild-mannered kid to a hardened inmate willing to swallow balloons of drugs to smuggle them to his jailhouse mentor and beat-up his enemies. This kind of commentary on our criminal justice system helps the series transcend simple police procedural.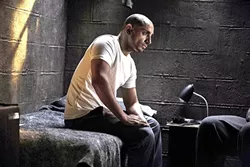 PHOTO COURTESY OF HBO
MAKING A CRIMINAL : In The Night Of, we watch Naz (Riz Ahmed) transform from a naïve kid into a hardened criminal and cynic.
As the series continues, we also watch Stone develop from a courtroom pariah into a tenacious litigator who really wants to help his client. He's pitted against a doggedly relentless detective named Sgt. Box (Bill Camp), who believes Naz is guilty. Both Stone and Box represent what we hope is the better side of an often-unfair criminal justice system. While many of his colleagues just want the case closed, Box follows the evidence even when it leads him away from Naz.
The series draws parallels to another bingeable series, Making a Murderer, a true-crime drama available on Netflix; as well as the podcast Serial, which in its first season followed the murder trial and incarceration of Adnan Syed. Interestingly enough, both of those cases are being reexamined thanks to the scrutiny they received after being made known to the public.
The Night Of has a decided ring of truth and authenticity because what happens to Naz is something we've seen play out in real life time and time again. It seems to reflect the public's growing suspicion of our criminal justice system in the age of social media and a renewed understanding that culturally we're not a colorblind society. (Eight 60-minute episodes.)