When? 2016 | Where's it available? Streaming on Netflix.
Fans of sci-fi, mystery, and supernatural fantasy can find something to enjoy in Netflix's original series The OA, about a 28-year-old woman (Brit Marling) who returns after being missing for seven years. The woman's adoptive parents Abel (Scott Wilson) and Nancy (Alice Krige) believed she had been abducted, but upon her return, she can't remember that her name is Prairie, and more mysterious still is that she can see. She was completely blind when she disappeared. What follows over eight episodes is Prairie's story of what happened to her, her childhood as the daughter of a Russian oligarch, how she lost her eyesight, her NDE (near death experience), how she was experimented on, and how she ended up with strange scars covering her back.
After she's released from the hospital to her adoptive parents, she refuses to tell them and the FBI what happened to her during her seven-year absence, but she does have a dramatic run-in with the neighborhood drug dealer and bully Steve (Patrick Gibson). In addition to her eyesight, Prairie, who now calls herself OA, seems to have other strange powers. She enlists Steve to find four other people she can use for a special purpose, and he finds Jesse (Brendan Meyer), Buck (Ian Alexander), French (Brandon Perea), and a high school teacher named Betty (Phyllis Smith). They gather in an abandoned house at night as OA reveals what happened to her.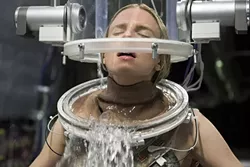 PHOTO COURTESY OF NETFLIX
LAB RAT : Prairie (Brit Marling) is forced to undergo repeated near death experiences, which bestow upon her strange powers.
One revelation they learn is that OA ran away from home and met Dr. Hunter Hap (Jason Isaacs), a research scientist who convinces OA to join his experiment. When she agrees and they fly to his lab, she realizes he's abducted her as well as three others—Homer (Emory Cohen), Scott (Will Brill), and Rachel (Sharon Van Etten)—all of whom have experienced NDEs. Soon after, the series drifts into ridiculousness as we learn their NDEs have revealed arcane movements that when repeated can heal people and even allow them to travel to other dimensions. Yes, it's pretty silly.
At this point, however, I was hooked, and I certainly don't want to reveal more of the plot, but suffice it to say, the series ends in groan-inducing absurdity, and yet it's still fun to watch and dramatically compelling, largely because the characters are wonderfully developed and their various problems are dealt with in a naturalistic way despite the series' fantasy trappings.
Conceived by writer-actress Marling and writer-director Zal Batmanglij, who also collaborated on Sound of My Voice and The East, The OA is a compelling and infectious series that's been compared to Netflix's Spielberg-esque Stranger Things. It's certainly more original.
While it's a bit slow going in the beginning and more than ridiculous in its conclusion, it's worth watching for the interplay between the characters. Creative, unique, and fascinating, if The OA hooks you, plan to lose a day to binge watching it. (8 episodes, 31 to 71 minutes each.)