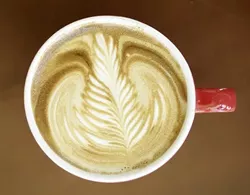 LATTE ART : Jonathan Withers of Joe Momma's Coffee poured this leaf.
# It's a mild late-March day in Berkeley, but at the Gaia Arts Center, the atmosphere is tense, and the intoxicating scent of coffee wafting through the auditorium only underscores the gravity of our gathering. The Western Regional Barista Competition comes but once a year, and only one champion can move on to compete in the 2008 U.S. Barista Championship in May in Minneapolis.
Thirty-five of California's best baristas have registered to compete, and for every competitor, there's at least a handful of groupies, well-wishers, and just plain coffee geeks watching the proceedings. For three days, the baristas compete under the watchful eyes of seven judges and dozens of audience members.
The competition is formatted so that each competitor has 15 minutes to produce a dozen drinks: four espressos, four cappuccinos, and four signature drinks for the four sensory judges. Two technical judges shadow the baristas throughout the competition space, evaluating their ability to work cleanly, and their completion of tasks like cleaning porta filters, flushing the group head, and proper extraction time (20 to 30 seconds for a shot of espresso). A head judge oversees the entire operation. A large screen above the workspace gives the audience a bird's eye view of each barista's performance, and when competitors' hands shake nervously as they pour latte art atop their cappuccinos, the crowd cheers supportively.
What's latte art? By shaking and swirling the steamed milk into an espresso-based drink, a barista can create patterns, such as leaves, hearts, and apples. This advanced skill is not to be confused with latte etching, which is much easier and entails a toothpick or other tool to shape sauce or syrup on top of the foam.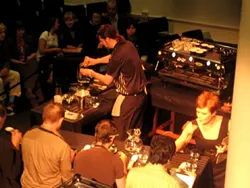 COFFEE IS CULINARY : Chris Bord of Linnaea's Cafe competed in the Western Regional Barista Competition in late March, with a handful of judges watching his every pour.
# Baristas spend months--even years--preparing for the event, memorizing the flow of conversation they're supposed to maintain for the judges, developing the perfect blend, and experimenting with the various spices, fruits, and nuts they may decide to incorporate into their signature drinks.
Most of the competitors represent big-name cafe s and roasting companies. Among them is Intelligentsia, which has locations in Los Angeles and Chicago Ritual in San Francisco and Coffee Klatsch, which has two locations in California. One competitor from Coffee Klatsch in San Dimas, Heather Perry, placed second at last year's World Barista Championship in Tokyo. She's also a two-time U.S. Barista Champion.
Two of the first-time competitors facing off against the big-name baristas are Jillian Woods and Chris Bord of SLO's Linnaea's Cafe .
I'm there under duress--or so I tell myself and my friends--as a supportive girlfriend of coffee geek Jonathan Withers of Joe Momma's. I'm in a strange world, where baristas are rock stars and the audience watches performances with bated breath.
Baristas working in the specialty coffee industry are a growing subculture, one that has its own publication (Barista Magazine), countless websites and discussion threads (one of the more popular discussion sites, Coffee Geek, has 33,896 members), and is gaining momentum by the day. Given that coffee is the world's second largest commodity--behind oil--it's not all that surprising that baristas are finally coming into their own.
Still, there are people who have never heard or don't understand the term "barista"--an Italian word that translates to "bartender," but refers to a person who is trained and skilled in the art of making espresso-based coffee drinks.
Marianne Orme purchased Linnaea's at the beginning of 2007 after nine years as the manager, and immediately began making changes. Her goal was to retain the established cafe 's community atmosphere while accentuating quality. Toward that end, she bought a La Marzocco Linea. La Marzoccos are the espresso machines of choice for regional, U.S. National, and World Barista championships, and the Linea is the workhorse of the line. She also began to purchase beans from a second coffee roaster, Joebella Coffee Roasters in Atascadero, out of a desire to support the local market.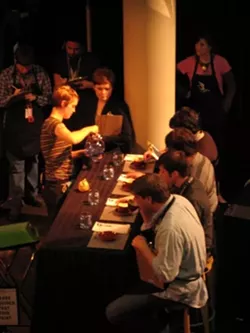 WHEN EVERY SECOND COUNTS : Jillian Woods of Linnaea's Cafe poured water for the judges as they tasted her cappuccinos at the Western Regional Barista Competition in late March.
# Orme started coaching Woods and Bord only two months before the competition this year. Woods began her career as a barista about three and a half years ago in San Luis Obispo, working for both Caffe Luna and Linnaea's before moving to San Francisco. It was during her year there, working for Tartine Bakery and Cafe and visiting such cafes as Ritual and Blue Bottle Coffee Company, that Woods really fell in love with coffee. She read Barista Magazine, watched online videos of barista competitions, and returned to San Luis Obispo eager for the opportunity to compete.
Bord, who's been a barista at Linnaea's for a year and a half, teamed with Woods, and the pair embarked on a whirlwind effort to prepare themselves for their first competition. Orme provided them with an 18-page packet of competitor rules and regulations. Joseph Gerardis, owner of Joebella Coffee Roasters, taught them how to roast coffee beans and helped them develop the blends they would use to make their beverages during the competition.
"Joe dropped off some beans for us at the cafe , told us to pull some shots, and see what we liked," Woods said. "We showed up [at the roastery] and he was basically like, 'Okay, what beans do you want to use? Let's roast.'"
Ultimately, Woods ended up with a blend primarily comprised of beans from three different origins: Chiapas in Mexico, Yirgacheffe in Ethiopia, and Bolivia. Her goal was to create a coffee that tasted like a chocolate bar to complement her signature drink, intended to replicate a Dagoba chocolate bar with pepper flakes. Bord's blend features beans from Sumatra, Brazil, and Nicaragua, creating a smoky, oakwood flavor.
Neither Woods nor Bord had any experience roasting prior to their stint at Joebella, and they relied heavily on Gerardis to help steer their efforts in the proper direction. There aren't any hard and fast rules to roasting coffee each origin accompanies a distinct flavor profile that a roaster looks to emphasize, but the final result is often the product of trial and error.
To help the team prepare for the competition, Orme occasionally halted normal cafe operations to allow Woods and Bord to practice on the Marzocco. Customers could buy the drinks and comment on the proceedings, making the practice sessions something of a community affair.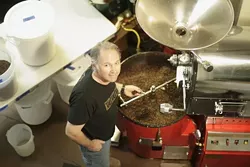 BEAN TOASTIN' : Joseph Gerardis of Joebella Coffee Roasters roasts coffee beans from his Atascadero workspace.
# "We called it a Barista Jam when we practiced," Orme explained. "Jill [Woods] and Chris [Bord] took turns making drinks. Chris made four, and Jill made four, and then we sold it for a dollar. If they sat for a while, we gave them away. It was better to give them away than to throw them away. When I think of all the lives that are involved in coffee, it seems sacrilegious to throw them away."
Orme's determination not to waste the coffee stems from her emphasis on sustainability and fair trade--two terms that are almost synonymous with the barista subculture. The team used organic coffee, milk, and sugar during the competition, a decision that's almost second nature now.
"Aside from the drinks themselves, I feel like where we're at in society today, whatever you're doing, it's best to think about the repercussions," Woods said. "If I were to get coffee, now that I know that they have fair trade and they have organic, it seems like the only way to go."
In the weeks preceding the competition, the big question was whether an emphasis on sustainability and two months of training would enable Woods and Bord to match skills with baristas with years of training and nearly endless resources.
The answer was both yes and no.
Both baristas completed all of their drinks within the mandated timeframe, a significant accomplishment for first-time competitors. Though both would have liked to score better--and recognized minor mistakes they made along the way--they acknowledge that there's a steep learning curve. Furthermore, they were competing against big businesses with considerably more resources. Five out of the competition's six finalists used modified versions of expensive grinders that automatically distribute the exact amount of coffee needed for a shot of espresso, creating a cleaner working environment and saving precious technical points and time compared to that of the other baristas who worked with the standard-issued Compak grinder or simply brought their own from home. Add to that the fact that the Western region served up the toughest competition--and, apparently, the best coffee. When the points for all 10 regions were tallied, the top three baristas represented the Western region, and all six Western region finalists placed in the top 11 baristas in the entire country.
Orme compares the experience to her own in culinary competitions as a Culinary Institute of America student. Competing against smaller schools with fewer resources, Orme was expected to win, and she was provided with the necessary equipment and expertise to clinch the victory.
"You've got some big business out there that has to win," she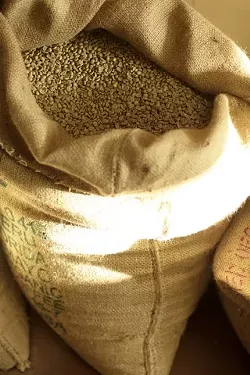 GREEN BEANS : These are unroasted coffee beans at Joebella Coffee Roasters in Atascadero.
# said. "It's almost like there's an elite club, in a way, but it's that way in any competition. We're a college town. Just about every barista in this town is a college student. They've got classes and work. A lot of the people competing are not doing customer service. They're doing training or sales."
Despite the enormity of the experience, Orme, Woods, and Bord all see themselves participating in future barista competitions. But the next time they go head to head with the state's best baristas, they're going in armed with different attitudes and expectations. Rather than focusing on trying to win, they'll approach the experience as an opportunity to learn.
"I don't think I've been blown away like that in a long time," Woods admitted. "It was really cool to embrace this coffee culture, but it was also crazy to go through this experience of competing."
At next year's Western Regional Barista Competition, the Linnaea's crew will be joined by some familiar faces. Joe Momma's Coffee, which opened last September in Avila Beach, will be sending its own pair of champions. But in the meantime, owners Mary Kay and Michael Kidd and the aforementioned Manager Jonathan Withers are still working out the challenges of running a coffeehouse that will be at the forefront of the county's growing coffee subculture, both in terms of sustainability and quality.
"When we moved here, the town had been excavated so there was a lot of rancor in the community and there wasn't a place where people could just get together," Mary Kay explained. "I wanted to have a social gathering place, a salon, and as I learned about coffee, I learned that coffee offered me a lot in terms of what I believed in. And then I realized that coffee could be good."
While living in New Zealand, the Kidds were exposed to a decidedly un-American approach to coffee, an approach that entailed regarding coffee as a culinary craft and therefore treating those who make coffee as craftsmen.
Then came the research and learning phase of the cafe 's development, a stage that a truly committed barista or cafe owner never fully leaves. The couple attended Coffee Fest in Chicago, querying every hapless coffee geek they met: "What machine would you buy for your cafe ?"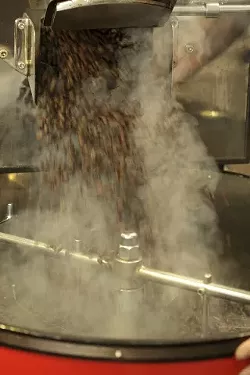 THE COOL DOWN : Freshly roasted beans spill into the cooling tray where their temperature will drop from more than 400 degrees to room temperature in a few minutes.
# For Joe Momma's the Kidds purchased a Marzocco FB-80 and later a one-cup-at-a-time Clover brewing machine--an announcement that may have elicited a big yawn from proponents of the "coffee is coffee" ideology, but is considered an event of some note by fans.
But even the world's best machinery is ineffective if the beans are old or sub-par. Joe Momma's buys beans from Intelligentsia (three of the six finalists at the barista competition represented this company) and Ritual in San Francisco (the cafe that represents Chris Baca, winner of the Western Regional Barista Competition), as well as Stumptown in Portland and Victrola in Seattle.
The cafe may be young, but its young horizon is also already filled with prospective cuppings and barista jams--meaning parties with baristas from other local cafe s with the purpose of sharing experiences and techniques. Cuppings are standardized coffee tasting experiences: "You're smelling and slurping and spitting," Mary Kay explained about the experience.
The whole subculture, with its competitions and jams and varietals and sipping and slurping, may sound completely mad, but how often do you encounter adults who love their job?
A bean's life
From tree to warehouse
Coffee trees grow around the world in regions along the equator, the primary growing regions being Central and South America, East Africa and Arabia, and the Pacific Islands. The trees range in size from small shrubs to mammoth arbors reaching upward of 30 feet and take five years to begin yielding coffee beans. From there, each tree produces, on average, one pound of coffee--when roasted--per year.

Growing methods deviate from farm to farm depending on many variables, such as altitude. After the coffee trees have matured, and the deep red clusters of coffee cherries have ripened, the fruit is either handpicked from the tree or shaken off with machines. Handpicking generally assures better results as machines are less capable of assessing the fruit's maturity.
Then comes the process of removing the pit of the cherry--which is actually the coffee bean--from its exterior. Again, there are numerous ways to go about this process. The first is a dry method that entails laying the beans out on a very large patio during the day the goal of this method is to remove all moisture from the fruit. The second method is a wet method, which involves washing the beans. The end result of either process is a hard, green bean.
From there, the coffee is purchased and shipped out to roasters or to warehouses where the beans are held for an indefinite period of time. Unlike their roasted counterparts, green beans can retain their quality for several months through several years.

From warehouse to roastery
There are coffee roasters around the world, including a handful in San Luis Obispo County. Joseph and Isabel Gerardis of Joebella Coffee Roasters are one such entity, and they've been roastin' beans locally for about five years. Roasting occurs in large heated drums. In Joseph's case, it's a drum roaster that runs on natural gas. As the drum is heated, the beans inside begin to cook, attaining a rich, brown color. Joseph roasts in batches of 20 pounds or less. The precise temperature and duration varies anywhere from 420 to 465 degrees and 12.5 to 16.5 minutes. Knowing the exact temperature-time equation is a matter of trial and error--and experience.
"It's sampling, sample roasting, cupping, roasting, cupping. You can have a hunch to start out with," Joseph explained.
The purpose of the entire exercise is to achieve a specific flavor profile that matches the origin of the bean.
After the beans are done roasting, Joseph dumps them into a rotating cooling tray and within five minutes they go from more than 400 degrees to room temperature. During the entire roasting process, the beans lose anywhere from 14 to 20 percent of their original weight.
Joseph sources his beans from a handful of importers, working exclusively with organic coffee. In September 2007, he opened Joebella Coffee Roasters, a cafe in Templeton that could showcase his work.
"In a bar, a glass of wine costs $8," he said from his workroom, which is full of bags labeled "Bolivia" and "Sumatra" and photos of smiling coffee farmers. "In a cafe , a cup of coffee should be $5, considering where it comes from and all the processes it has to go through. It's amazing to me that you can still buy a pound of coffee somewhere for $4, considering how many hands it goes through."
Where the coffee is
If you want to check out the cafe s mentioned in this article, Linnaea's is located at 1110 Garden St. in San Luis Obispo. Joe Momma's is located at 310 Front St. in Avila Beach. Joebella Coffee Roasters, a cafe that features coffee roasted by Joebella Coffee Roasters, is located at 1121 Rossi Road in Templeton.
Another popular downtown San Luis Obispo cafe is Black Horse Cafe , 1065 Higuera St., No. 101.
Soup to beans
Joe Momma's Coffee is working to build a community of coffee enthusiasts, people who appreciate the incredible lengths that farmers go through to transform a cherry-like fruit into the brown bean that people have come to identify with coffee. One of their first community-building efforts is Soup Night, a monthly opportunity for cafe regulars to gather together over a bowl of soup and enjoy some cafe -provided entertainment in the name of a humanitarian cause.
When the cafe was founded, one of Mary Kay and Michael Kidd's goals was to gather donations for infrastructure-based projects where coffee is grown. For their first project, they selected PlayPumps International, an organization that installs water pumps in countries in sub-Saharan Africa.
The water pumps are powered by merry-go-rounds that children play on, and the water is housed in a tower surrounded by public health service announcements. The cost of installing a PlayPump is $15,000, a price the owners and staff at Joe Momma's have committed to raising during Soup Nights held at 6 and 8 p.m. the first Wednesday of each month.
During the first event, on April 2, the cafe served soup from New Frontiers along with a beverage and dessert. The $15 donation also included a screening of the film California Dreamers, which was made in Avila Beach, where Joe Momma's now stands. During that first night, the cafe raised $1,700.
The next Soup Night will take place May 7, with one session at 6 p.m. and another at 8 p.m.
---
Arts Editor Ashley Schwellenbach says, 'Never date a barista.' Send Biloya to aschwellenbach@newtimesslo.com.