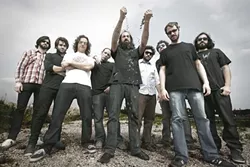 PHOTO BY KISHA BARI
HOT, NASTY, AND AWESOME! : The Budos band brings its Afro rock, psychedelic doom-rock, and nu soul to Downtown Brew on Aug. 14.
I
'm spinning "Black Venom" from The Budos Band's new CD,
The Budos Band III
, which is a pretty uncreative album title for a band that makes me feel as though I'm listening to a porn soundtrack Miles Davis and Ennio Morricone made for a '70s Italian skin flick starring Jim Brown and Sophia Loren.
This instrumental 10-piece started as an after-school project by a bunch of Staten Island teachers, and now the band is labelmates with Sharon Jones and the Dapkings. Together, these two acts define the Daptone sound: Afro rock, psychedelic doom-rock, nu soul.
Phat horns, layers of percussion, and jumpin' riddims combine into a sick record!
"Heading into the studio for Budos III, I really thought we were going to make the first psychedelic, doom-rock record ever recorded at Daptone," recounted longtime Budos de facto frontman and baritone saxophonist Jared Tankel in press materials, "but somehow it ended up sounding like a Budos record."
Like Budos I and Budos II, this record was tracked to analog tape and recorded live over the course of "an intensely productive 48-hour period." In other words, the record is an excellent indication of this extremely tight band's live sound.
"The Budos have become more of a brother-hood," explained bassist Dan Foder. "Egos suck, that's why bands don't last more than two records. Musically, we understand each other better now than when we were younger. That's why this is our best record. We're all on point—our playing and creativity are at a higher level—and we understand what The Budos Band means to all of us: family and friendship."
Together since 2003, they've sold 30,000 albums and toured the U.S., Canada, and Europe, playing everything from little rock clubs to large festival stages.
"
The sound of The Budos may be challenging for some to describe, but to the band, 'Staten Island instrumental Afro-soul' means internalizing such seemingly disparate influences as the Cairo Jazz Band, J.C. Davis, Mulatu Astatke, and Black Sabbath and coming together to form a mind-bending combination of rhythm and melody," stated the band's bio.
See The Budos Band this Saturday, Aug. 14 at Downtown Brew (7:30 p.m.; 21-and-older; $12 presale or $14 at the door) with opening act Funk N Public.
Of course, along with that show, the Brew has a few other choice events on tap.
The week kicks off on Thursday, Aug. 12 with local rock act PK (7:30 p.m.; all ages; $8 presale or $10 at the door) and opening Bay Area act Picture Atlantic. PK is on a roll right now. They won the coveted opening spot for Aerosmith's show at the Mid-State Fair. Their new album, Into the Roaring, is a finalist for the New Times Music Awards "Album of the Year," which will be presented during the final awards ceremony next Sunday, Aug. 22, at the Steynberg Gallery. Unfortunately, PK will be on "Operation West Coast Rumble Tour," which will take the band up and down the West Coast. Come see why they're hotter than Paris Hilton's underpants.
On Friday, Aug. 13, see Flogging Molly bassist Nathen Maxwell perform roots music acoustic (8 p.m.; 21-and-older; $10). Said his bio, "There comes a time in his life when each and every man needs to express himself, and for Nathen Maxwell that time has come. For the past 13 years Maxwell has been leaving his heart on stage as the bassist for the seminal Celtic rock band Flogging Molly, one of the biggest touring punk acts in the world. An accomplished songwriter in his own right, Maxwell has contributed songs to Flogging Molly albums in years past, but things progressed differently when the band went into the studio to record Float, their most recent release: 'I played these songs for the band and our singer Dave [King] said, "Nate, you've got your own story and I really think you should record these songs,"' Maxwell explains. 'Once I got his blessing, I figured it'd be bad karma not to record and release them.'"
On Tuesday, Aug. 17, Southern and country rockers Jason Boland & The Stragglers hit the club (8 p.m.; 21-and-older; $14 presale or $16 at the door). This is dust bowl music at its finest! The Bob Lawrence Band featuring Natalie Haskins opens the show.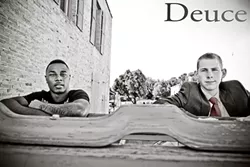 PHOTO COURTESY OF DEUCE
TWO TRUE : Deuce, featuring Cottrell Freeman and Mackenzie Starr, play La Perla Del Mar chapel in Shell Beach on Aug. 12.
More music…
Deuce has been generating some serious street buzz after the duo's appearance at Native Lounge, and now they're playing at 8 p.m. in La Perla Del Mar chapel in Shell Beach on Thursday, Aug. 12. The duo features Mackenzie Starr and Cottrell Freeman, who met at Cuesta where they played in a jazz combo together. Kindred spirits, they're playing a sound they call "classy and edgy, a new class of soul." I checked out their cover version of Michael Jackson's "Billie Jean" on YouTube and found them engaging. A $15 donation is requested at the door.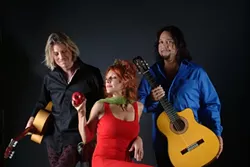 PHOTO COURTESY OF INCENDIO
FIERY SOUNDS : Prepare yourself for the Latin guitar world fusion sound of Incendio, which returns to the Paso's City Park on Aug. 13 for a free outdoor concert.
Prepare yourself for the Latin guitar, world-fusion sound of
Incendio
, which returns to the Paso's City Park this
Friday, Aug. 13
from 5:30 to 7:30 p.m. for a free outdoor concert. This duo has seven CDs of material to draw from and performs fiery, engaging music that will have you up and dancing or at least on the edge of your seat.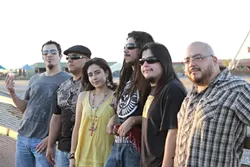 PHOTO COURTESY OF RADIO LA CHUSMA
TURN 'EM UP! : On Aug. 13, Mr. Rick's hosts Radio La Chusma during an 8 p.m. show.
On
Friday, Aug. 13
, Mr. Rick's hosts
Radio La Chusma
during an 8 p.m. show. "Bringing a unique perspective to the world through music, Radio La Chusma breaks down the barriers of age, race, language and religion," claims the band's bio. "This six-piece band features four-part harmonies, electrifying violin and guitar solos, and a high-energy live show. Their new pachuco
sound takes the reggae vibrations to a whole new level. Finding inspiration from pre-Columbian and African traditions, Radio La Chusma has been inspiring crowds for the past eight years."
Popular touring reggae act Dub Seeds returns to Frog and Peach this Friday, Aug. 13 for a 10:30 p.m. show. Think green.
PHOTO COURTESY OF CALIFORNIA CELTS
MEN IN SKIRTS : The California Celts are coming to Mr. Rick's for the Avila Beach Fish and Farmers Market starting on Friday, Aug. 13, and they'll return for a show on Aug. 14.
The California Celts
are returning to Mr. Rick's for the Avila Beach Fish and Farmers Market starting at 4 p.m. this
Friday, Aug. 13
, and they'll return for a 9 p.m. show on
Saturday, Aug. 14
. The kilted band starts off with a Celtic parade that features bagpipes, brass, and drums. "From the street to the stage, the pipe processional is absorbed by warmth of the rhythm section," said their bio. "The Cali Celts then launch into their extensive repertoire of songs including Scottish jigs, Irish standards, Celtic originals, and songs of California. To top it off, the lads do a bit of ancient mouth music to make their show authentic and complete."
Pulp plays the Fuel Dock Saloon in Morro Bay this Saturday, Aug. 14 from 3 to 6 p.m. during Farmers Market. Headed by Katrina Resewehr, lead singer of prog rockers ENSO, Pulp is tailored to please a dance crowd, playing rock, funk, and soul.
The San Luis Obispo Democratic Party is holding a fundraiser at Brody Ranch in Cambria with barbecue and bluegrass by Grass Less Traveled this Saturday, Aug. 14 from 1 to 4 p.m. The Brody Ranch is located at 4485 Santa Rosa Creek Road, and tickets are $20 each or two for $35 (at actblue.com/page/bluerthanblue, or the Democratic booth at local farmers markets in SLO, Los Osos, and Cambria, as well as the SLO Democratic office). Invited speakers include John Laird, Hilda Zacarías, Bruce Gibson, John Ashbaugh, and Jan Marx.
Surf rockers Mimicking Birds will be joined by Nothing Ever Stays for a 7:30 p.m. show at Steynberg Gallery on Saturday, Aug. 14 ($8 at Boo Boo's and ticketweb.com). Portland-based Mimicking Birds name The Jingle Cats and Crash Test Dummies as influences.
Two gritty Americana and roots bands will play The Pour House this Saturday, Aug. 14 when Blackwater Union is joined by Mud Thump for an 8 to 11 p.m. show. "Blackwater Union will kick the night off around 8 p.m. and Mud Thump will take the stage around 9:30 p.m.," said Leah Smith of E-Music Productions. "Come thirsty and ready to stomp your boots."
Devastating Karate returns to the Frog and Peach this Saturday, Aug. 14 at 10:30 p.m. "No new albums or accomplishments to report, just another good-times, no-cover rock show," said band member Rat.
That little bundle of sweet-voiced joy, aka—Natalie Haskins—has a couple of shows this week that deserve your attention. First, she plays the Clubhouse on Saturday, Aug. 14 at 7 p.m. "I'm proud to announce the lineup includes my good friends and two local favorites Jon Clarke and Joe Koenig, and we'll also be joined by the amazing Bob Hamilton on pedal steel," said Haskins. "It should be a very special night of music, and if you can make it, you won't want to miss it. We'll be doing a live recording of the event, so come be a part of our crowd!" The cover's $8. Then she plays with Bob Lawrence at Downtown Brew on Tuesday, Aug. 17. "I'm proud to say we'll be opening for one of our favorite Red Dirt bands, Jason Boland & the Stragglers. No joke folks, we were ticket-holding concertgoers, ready to plant ourselves front and center for this show. So you can imagine our excitement when we were asked to play. No doubt there will be plenty of 'bourbon whiskey and pearl snap shirts' (as Jason Boland sings) filling the Brew. Pull your boots out and join us, and have a celebratory beer with us after the show."
This Sunday, Aug. 15, Reggae on the Pier features Levi Williamz of the band Rising Son performing a solo acoustic set beginning at 2 p.m. This is a weekly event at Pete's Pierside Café, located over the water on the Harford/Port San Luis Pier in Avila Beach, hosted by Central Coast reggae selector Dj KatchaFiya. Williamz has performed and recorded with reggae legend Pato Banton and has shared the stage with acts such as Eek-A-Mouse, Steel Pulse, and HR. Dj KatchaFiya will start spinning at noon.
PHOTO COURTESY OF CODE BLUES
WEST COAST BLUES : Code Blues and a line up of all-star guests will paint the Rotary Bandstand Stage blue during the Arroyo Grande Village Summer Concert Series show on Aug. 15.
Code Blues
and a lineup of all-star guests will paint the Rotary Bandstand Stage blue during the Arroyo Grande Village Summer Concert Series show this
Sunday, Aug. 15
, at 1 p.m. This free concert will feature "authentic, life affirming, West Coast blues."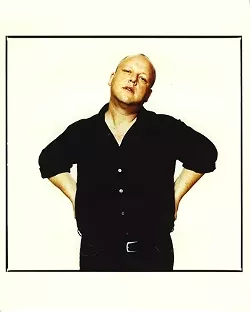 PHOTO COURTESY OF BLACK FRANCIS
ROUND 2 : Black Francis (aka Frank Black of The Pixies) is reprising the solo acoustic show he just did in Steynberg Gallery a few weeks ago at the Henry Miller Library in Big Sur on Aug. 15
Black Francis
(aka Frank Black of The Pixies) is reprising the solo acoustic show he just did in Steynberg Gallery a few weeks ago at the Henry Miller Library in Big Sur this
Sunday, Aug. 15
at 3 p.m. Buy tickets ($25) via henrymiller.org.
Guitar master James Edwards will bring his 30 years of performance and classical training to the Steynberg Gallery stage at 7 p.m. this Sunday, Aug. 15 ($20 general admission; $10 for students). His young protégé Samuel Shalhoub will also debut new guitar music, with influences ranging from grunge to Arabic to flamenco styles. "Come experience what the guitar can truly be on this dynamic journey of musical exploration," said event organizers. "Master and student come together to perform a variety of original pieces, including two guitar duets written as a challenge to each other specifically for this event!"
The Clubhouse's Songwriter Showcase this Tuesday, Aug. 17 includes local singer-songwriter Sanden Gocka, who'll bring his "soaring vocals and poignant originals backed by Jose Espinoza on the Spanish guitar and Alan Reti on the drums," said organizer Casey McDonald. "A bio-tech lab rat by day, Sanden has been working hard over the last few years to establish himself as one to watch. We look forward to hosting him as the featured act!" (7 p.m.; all ages; free.)
The featured act for the Songwriters at Play showcase at the Steynberg Gallery this Tuesday, Aug. 17 is singer, actor, and professional clown Gale McNeeley, a real showman. According to the event publicist, "His featured set on the Tuesday showcase will be a tribute to one of the great writers of the musical theatre, E.Y. 'Yip' Harburg, lyricist of "Brother Can You Spare A Dime" and the songs from The Wizard of Oz and Finian's Rainbow." Guest performers will include jazz guitarist Randy Rigby and showcase favorites Loren Radis, David Carroll, and Gary Garrett. The event runs from 6:30 to 9:30 p.m. (all ages; $5).
Casey McDonald, the dude who runs The Clubhouse songwriters showcase, is hosting a house concert at 7 p.m. this Wednesday, Aug. 18 with Dana Hubbard, who's been described as "a cross between Bruce Cockburn and Jorma Kaukonen." Local Texas soulman Joe Koenig will open the show. If you want to go, contact Casey at kcmacd@gmail.com. The cost is $15 each, or two for $25, with cocktails at 6 p.m.
Austin-based funk-rock trio Achachay! (pronounced ah-chah-chai) plays Sweet Springs Saloon this Wednesday, Aug. 18 in support of their new EP, Handy Escape Coach. It's part of the band's fourth national tour in just the past two years. Wrote drummer Ryan Greenblatt, the trio is "the brainchild of two hyperfunkadelicsuperbadslappin' dudes from Austin who seek to bring the groove to you and your booties on the dance floor. If Achachay! was pulled over by the police, we'd be charged with 'possession of funk with the intent to distribute.'" Nada Rasta is also on the bill.
Congratulations!
Talk about tireless dedication! SLO Symphony volunteer Linda Ashworth—orchestra oboe player, youth symphony coach, music librarian, music education committee co-chair, and board member—was awarded the Most Valuable Player Award at the Annual Meeting of the members of the Association of California Symphony Orchestras (ACSO) in San Francisco on July 22.
Initiated in 1996, the Most Valuable Player Awards were created to recognize exemplary volunteers, volunteer projects, and volunteer organizations working for California's symphony orchestras and choruses. A total
of six awards were presented at the ceremony, representing volunteers from orchestras and choruses from all budget categories throughout California.
"Linda wears a number of different hats at the SLO Symphony; she jumps in and takes action whenever there is a void to fill because she is passionate about sharing the gift of classical music with others," noted Operations Director Issy Roberts. "On top of all her other duties with the orchestra, she voluntarily created our music library database and catalogued over 1,100 works this year. Linda is a fervent music education advocate in the community. Simply put, she is amazing."
The retired biologist is also actively involved in marine mammal rescue, teaches oboe to adults and children, and has lectured at Cal Poly State University. She also performs with the Cal Poly Arab Music Ensemble and Opera SLO.
Now I feel lazy. Thanks, Linda!
Keep up with Glen Starkey via twitter at twitter.com/glenstarkey, friend him at Myspace.com/glenstarkey, or contact him at gstarkey@newtimesslo.com.