Co-writer/director Ryan Coogler helms this story about T'Challa (Chadwick Boseman), a newly crowned king of the technologically advanced but isolationist country of Wakanda, who finds his new kinghood challenged by Erik Killmonger (Michael B. Jordan), a vengeful victim of T'Challa's father's past actions. (134 min.)
Photo Courtesy Of Marvel Studios And Walt Disney Pictures
USURPER Erik Killmonger (Michael B. Jordan, left) demands ritual combat to challenge T'Challa (Chadwick Boseman) for the throne of Wakanda.
Glen Every comic book hero needs a villain, and the obvious one here is white South African arms dealer Ulysses Klaue (Andy Serkis), who's working with Killmonger to steal vibranium, an alien metal that arrived as a meteorite and is responsible for the Wakandan technology. But that's only looking at the surface. Dig deeper into this Afro-centric and female-centric film and the real villain is colonialism and the African diaspora it caused that fuels competing ideologies within the larger black community. Killmonger's father may have hailed from Wakanda, but Killmonger is a product of Oakland who as a kid had posters of rap group Public Enemy and African-American political activist Huey Newton on his wall. T'Challa and his ancestors have always kept Wakanda safe by hiding it from the world. Killmonger wants to exploit Wakanda's technological power to start a worldwide revolution and upend the white power structure. T'Challa surrounds himself with female warriors, who he treats as equals. Killmonger has adopted the patriarchy of his oppressors. This complexity of story and its focus on black heroes and an advanced but hidden black history upends the view that Africa is a continent devoid of its own history and only has a history as it entwines with European colonialism, which—if you were wondering—is what all the fuss is about. In that way, the film is truly groundbreaking.
Anna While the Black Panther hero is male, strong women warriors surround him, and the fate of Wakanda rests on their shoulders as well as his. Among those women is his sister Shuri (Letitia Wright), a technology expert responsible for the many vibranium-powered tools and weapons, and his mother, Ramonda (Angela Bassett)—a regal queen still mourning her lost husband yet strong and resilient and fierce with love for her family and her country. The king may be the one with Black Panther's powers, but the women are the ones that protect Wakanda and its valuable resources. I'm not always a superhero flick fan, but Black Panther managed to strike a solid hit with both a storyline I can get behind and a great and empowering cast. If you want a superhero story that's more than special effects and flare, Black Panther will deliver. Don't get me wrong, there's plenty of action and adventure to appease fans of big blowout superhero films, but enough heart to win over people like me who tend to get sick of new renditions of the same tired plots that these franchises can slip into. I'm sure we'll be seeing Black Panther team up with his fellow Marvel pals, but for now I'm happy to see an origin story with enough gusto to leave me wanting more.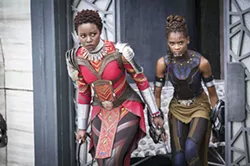 Photo Courtesy Of Marvel Studios And Walt Disney Pictures
POWERFUL WOMEN Nakia (Lupita Nyong'o, left) and Shuri (Letitia Wright) join in the fight for Wakanda, proving themselves equal to men.
Glen It's certainly a beautiful looking film, with cinematography by Rachel Morrison who worked with Coogler on his excellent feature-length debut Fruitville Station (2013) as well as Mudbound (2017). Picking up on the colors of Africa—yellows, reds, greens, blacks, and purples—the film's palette and African iconography such as spears, masks, and stylized clothing—as well as Wakanda's own unique mix of tribal village and modern cityscape—makes for a visual feast that celebrates Africa but hints at what an African culture might have developed into without European interference. Everything in the film is continually a reminder of European and Western patriarchy's corruption. In one funny moment that left the audience howling with laughter, CIA agent Everett K. Ross (Martin Freeman) surprises Shuri, who exclaims, "Don't scare me like that, colonizer!" It's an empowering reimagining of African roots but also—remember—a fantasy. Ultimately, this is a superhero flick that refuses to stay in the genre's rut and that's interested in exploring complicated political and cultural ideas. Sure, other Marvel stories have looked at politics, from Iron Man and the arms trade to Captain America: Winter's Soldier and drones, PTSD, and warfare, but Black Panther goes deeper than any other Marvel storyline. I say, keep it coming.
Anna It certainly is a visual feast, one that roams from the beautiful African landscape to the gritty and grimy inner city neighborhoods of Oakland, giving the film a wide breadth to work its storyline. While T'Challa is following in his father's footsteps and fiercely guarding Wakanda's technologies from the outside world, Killmonger wants desperately to overtake his throne and send those weapons worldwide. Deeply vengeful over his father's death, Killmonger's bitterness and anger have led him into a life of cruelty and murder. Sporting scars for each of his kills, his torso is covered in the markings of death and destruction, and he convinces some of T'Challa's closest friends that weaponizing the world is the only way to truly serve revenge for all the wrongs committed against their people. Unfortunately, this only means a war within Wakanda itself, and an epic and exciting battle it turns out to be. The film manages to thrill while at the same time make you laugh, and it leaves you cheering for good triumphing and change occurring. While ultimately T'Challa is the victor as both king and Black Panther, he doesn't dismiss Killmonger's view. Instead, he modifies the mission to empower the outside world instead of destroy it. This is a superhero and an origin story I can get behind. Δ
Split Screen is written by Senior Staff Writer Glen Starkey and his wife, Anna. Comment at gstarkey@newtimesslo.com.