When? 1979
What's it rated? PG
Where's it available? DVD, Blu-ray, Amazon, iTunes
In 1979, Steven Spielberg's stardom as a director was just coming into focus. Fresh off back-to-back hits (Jaws, Close Encounters of the Third Kind), Spielberg had only recently been thrust into the limelight and, for American audiences, he was really just known as a guy who made dramatic, fun, and thought-provoking summer blockbusters. Which is why 1941 is such a unique offering for fans of the renowned filmmaker: The movie is both a war epic and slapstick-drenched satire, and despite critical panning and general audience ambivalence at its time of release, the film over the years has slowly been welcomed into homes as a veritable cult classic.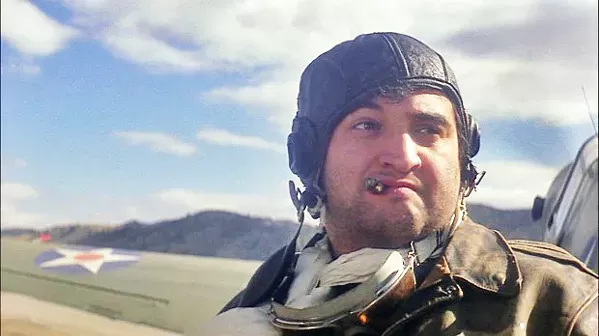 Photo Courtesy Of Universal Pictures
HOLLYWOOD 1941 may not be Steven Spielberg's best film but it might be his funniest, and the cast alone is worth at least one viewing. Pictured here is John Belushi as Capt. Wild Bill Kelso.
Even if you've seen 1941 and decided it wasn't for you because it was too long (two hours), politically incorrect, or you just didn't like it, you can't deny it has a hell of a cast. The film features large roles for then Saturday Night Live stars Dan Aykroyd and John Belushi, who are joined by some of the era's biggest stars including Nancy Allen, Ned Beatty, Lorraine Gary, Murray Hamilton, Christopher Lee, John Candy, Slim Pickins, Warren Oates, Tim Matheson, Robert Stack, and Samuel Fuller.
Actor Toshiro Mifune, who attained international stardom for his roles in multiple Akira Kurosawa films, plays a captain on a Japanese submarine that features Lee as a Nazi commander. The submarine is found in the movie's opening scene surfacing the water off the coast of Northern California. The crew has been searching for Hollywood for days since the attack on Pearl Harbor just one week before but now seems desperately lost. Following the crew and their struggles to navigate the California coast is a constant bright spot as 1941's plot progresses.
The rest of the film largely focuses on its American led cast, playing a variety of characters ranging from sailors, GIs, to the average family or citizen and how those people grappled with the reality of global conflict. Paranoia and how it affects society at all levels is a key component of 1941 and serves as a main driver for many of the film's funniest moments.
Indeed, the movie's climax spoofs the Great Los Angeles Air Raid of 1942, when U.S. Forces fired off rounds of anti-aircraft artillery at supposed Japanese airplanes that were later discovered to be a missing weather balloon. In 1983, the U.S. Office of Air Force History attributed the incident to "war nerves."
The film's writers, Robert Zemeckis (Forrest Gump, Back to the Future, Cast Away) and Bob Gale, at one point stated that 1941's plot was loosely based on that night and the Ellwood oil refinery bombardment by a Japanese Submarine near Santa Barbara. Historians now say that both events were emblematic of the paranoia that gripped the West Coast at the time.
1941 may not be for everyone, but those with an interest in history and a need for a little classic comedy should do themselves a favor, "knock out those lights," and give it a watch.
To be honest, just seeing the film for Belushi's Capt. Wild Bill Kelso is a worthy endeavor—a character described multiple times throughout the movie as the "craziest son of a bitch I've ever seen." (126 min.) Δ