When? 1995 | What's it rated? PG-13 | Where's it available? DVD, Streaming on Amazon.
Houston, we have a problem."
That famous line uttered by Tom Hanks playing astronaut Jim Lovell in Apollo 13 is about to turn 22 years old. I know, can you believe it? It doesn't feel like that long ago that this Academy Award-winner dropped. Funny that the only sign of aging I observed from watching it again in 2017 wasn't anything about old-school special effects. It was just how damn young Hanks and Kevin Bacon look. And the fact that the great Bill Paxton just passed away, which is super sad.
Anyway, wow—it was so much fun to watch this film again and be reminded of its brilliance. Despite all the so-called progress Hollywood's made in the arena of special effects and CGI technology since 1995, to me, Apollo 13 still sets the standard for space thrillers. The story, acting, pace, and tasteful minimalist use of special effects is what really makes the difference in Apollo 13. Director Ron Howard doesn't throw in exaggerated Hollywood-esque sequences for dramatic effect. It's strictly about the story, which doesn't need exaggerating, and you really are made to believe what's happening on the screen happened. And it did.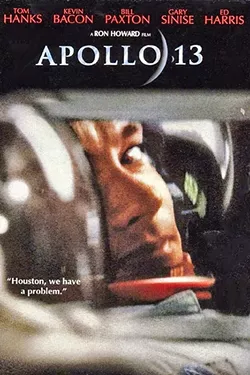 PHOTO COURTESY OF UNIVERSAL PICTURES
SPACE DISASTER : 'Apollo 13' tells the true story of a 1970 mission to the moon gone awry.
Apollo 13 is based on the true story of NASA's third mission to land on the moon. After two successful moon landings, America is a little "over" space travel by 1970. But three astronauts—Lovell (Hanks), John Swigert (Bacon), and Fred Haise (Paxton)—are as committed and passionate as ever about doing it. En route to the moon, one of the spacecraft's oxygen tanks explodes, which forces the crew to abort the moon landing. After another series of mishaps, the trio has to abandon the main ship and travel back to earth in the tiny moon lander module.
It's practically unfathomable that this story is real. Even knowing the outcome of it, I'm still biting my nails watching, wondering how the hell they're going to make it back alive. Howard captures the crisis in riveting detail and beautifully encapsulates the human sides of the men in space, as well as the folks at NASA's Mission Control working frantically to get them home. Ultimately, Apollo 13 is a tribute to human bravery, teamwork, and intelligence. When you combine those three, anything's possible.
"This is going to be our finest hour," Flight Director Gene Kranz (Ed Harris) tells a distraught Mission Control just before Apollo 13 braces to re-enter the earth's atmosphere. You can't argue with him. (140 min.)