When? 1952 | Where? Reissued on Blu-ray
If you've seen this film noir classic before, chances are you haven't seen it looking like this. Because the original license holder failed to renew the film's copyright, the film fell into public domain and was released in many substandard forms—poorly edited or duped from second or third generation sources. This new Blu-ray version was transferred from original 35mm archival film elements and looks stunning—crisp with deeply saturated B&W, just like the original.
Directed by Phil Karlson (Kid Galahad, The Silencers, Walking Tall) this is the story of ex-con Joe Rolfe (John Payne), who despite having "gone straight," finds himself framed for a $1 million armored car robbery. Released on lack of evidence but with his face plastered across the headlines and his reputation ruined, he follows clues to a Mexican fishing resort in search of the real culprits, only to become entangled with Helen Foster (Coleen Gray), a beauty whose ties soon pit Joe against a dirty ex-cop (Preston S. Foster) and his trio of thugs (Lee Van Cleef, Neville Brand, and Jack Elam).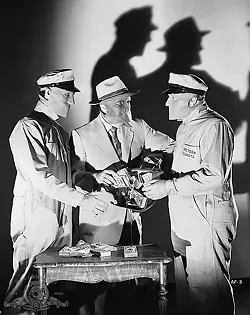 PHOTO COURTESY OF THE FILM DETECTIVE
FRAMED!: In the newly restored 1952 film noir classic 'Kansas City Confidential,' an ex-con trying to go straight is framed for an armored car robbery.
You'll see in this seminal film ideas that informed future films such as Quentin Tarantino's Reservoir Dogs, The Italian Job, The Place Beyond the Pines, or any number of other crime dramas. The dirty cop thinks he's devised the perfect robbery, enlisting his three thugs while remaining anonymous behind a mask. The idea is to sit on the cash until it's safe to split it up, but Joe is soon onto one of the henchmen and decides to assume his identity at the meet-up in Mexico—a brilliant plan until he realizes another of the henchman served time with the man he's impersonating. Meanwhile, the dirty cop mastermind has something other than an even split in mind.
It's a gritty tale of cops who'll beat a confession out of you, remorseless criminals, and a protagonist who must take them all on. Throw in a beautiful girl and you've got a recipe for the perfect storm of double-crosses. Plus you get dialogue like this:
"Look, you're a nice girl, but in case you're thinking of mothering me, forget it! I'm no stray dog you can pick up, and I like my neck without a collar. Now get lost!" Joe says.
"Now I'm supposed to be hurt. Maybe even cry. But I won't. I think you're in trouble, and I'm going to help you," Helen responds.
This may not be as good as The Asphalt Jungle, Double Indemnity, or The Killers, but it's got a lot of the elements that make for a time-tested film noir. (99 min.)