When? 1976 | What's it rated? NR | Where's it available? DVD.
Mowgli's Brothers is the third and final short film adapted for television from a story in Rudyard Kipling's The Jungle Book by animator Chuck Jones, released in 1976 after Rikki-Tikki-Tavi and The White Seal the previous year (and years after Disney's animated musical version of The Jungle Book in 1967). Like Rikki-Tikki-Tavi, which opens with its eponymous mongoose character's life being saved by a boy named Teddy and his family, Mowgli's Brothers begins in a similarly high stakes fashion, except this time it's the animals saving a human.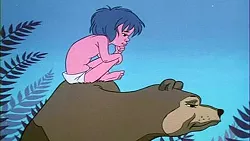 IMAGE COURTESY OF CHUCK JONES ENTERPRISES
IT'S A JUNGLE OUT THERE: Mowgli learns the laws of the jungle from bear pal, Baloo.
For unknown reasons, a boy—or man cub, as the animals call him—has ended up lost in the jungle with the sinister tiger Shere Kahn out to get him. Luckily, Mowgli happens upon a family of wolves who want to raise him as their own despite reluctance from the rest of the pack. With a little help from Baloo the bear and Bagheera the black panther, the wolf family is able to convince the pack to let Mowgli stay, sparing him from certain death. But as his family grows older and less able to protect him, Mowgli must decide whether to remain in the jungle or return to his fellow humans.
Much like the two preceding films, Mowgli's Brothers is both dark and humorous, featuring animation that is more realistic than some of Jones' earlier work, yet still highly stylized. The opening credits, which sets the blue silhouettes of the wolf pack and the pink silhouette of Mowgli against an all black background, helps set the tone for the rest of the film as shadowy yet colorful.
Jones once again doesn't pull any punches when it comes the more dramatic moments, despite who the main audience for the film might be. In addition to the threat of death by a tiger that provides the main conflict for the story, the film includes other moments of harsh reality: like how the wolf pack slays its leaders once they've missed their first kill while out on a hunt, or how the animals of the jungle choose not to hunt men for fear of violent retaliation.
Though it may be the most somber of the three shorts, Mowgli's Brothers also includes what is probably the most cartoonish character of them all, Tabaqui the jackal. Tabaqui is a close ally of Shere Khan and looks like a cowering, googley-eyed version of Wile E. Coyote—another Chuck Jones created character.
In the end, Mowgli's Brothers serves as a nice final addition to Jones' dramatic, comedic, and stylish interpretations of Rudyard Kipling's classic stories. (25 min.)