When? 1956 | What's it rated? NR | Where's it available? DVD and Blu-ray, streaming on Amazon.
Fielder Cook (The Philadelphia Story, 1959; A Big Hand for the Little Lady, 1966; Prudence and the Pill, 1968) directs this screenplay by Rod Serling (The Twilight Zone, 1959-1964; Planet of the Apes, 1968) about Fred Staples (Van Heflin), an industrial engineer who gets a shot at the big league when Mr. Ramsey (Everett Sloane), a ruthless businessman, recruits him to work as a business executive in his New York office after Ramsey acquires the company Staples had worked for. Once Staples begins his exciting new job, however, he discovers Ramsey is trying to groom him for Bill Briggs' (Ed Begley) position, even though Briggs has been an effective employee since Ramsey's father founded the company. Suddenly, Staples' sympathy for Briggs and his own ambition collide, setting up a power struggle between him and his new boss.
The film is based on Serling's teleplay by the same name that was originally broadcast live on TV in 1955 on the Kraft Television Theatre, which was so successful it was broadcast live again and eventually adapted to this film with many of the same actors. Many have called it Serling's finest piece of writing, and indeed, the dialogue is terrific. The teleplay also garnered Serling his first of six Emmy Awards.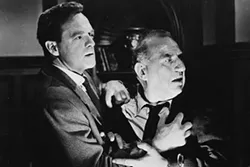 PHOTO COURTESY OF UNITED ARTISTS
CUTTHROAT: When industrial engineer and new executive Fred Staples (Van Haflin, left) discovers he's being groomed for aging executive Bill Briggs' (Ed Begley) job, his ambition and morals conflict.
"On our level you don't get fired, you know that," Briggs explains to Staples after Ramsey humiliates him in a business meeting. "After 30 years of productive work, they can't say to a man like me, 'Alright, now get out!' They just can't do that. So what do they do? They create a situation. A situation you can't work in and finally that you can't live in with this tension, abuse. Small humiliations. It all starts out on a scale so subtle, so microscopic that at first you can't really believe it's happening at all. But gradually the thing begins to take shape. The pieces fit together—all the little bits. And it becomes unmistakable. They chip away at your pride, your security until you begin to have doubts, and then fears."
Its examination of the cutthroat world of big business is just as relevant today as when it was written 61 years ago, and its examination of greed at any cost, of ambition, and of compromised morals is timeless.
The film is very similar to the teleplay and takes place largely in offices and boardrooms, but there are some remarkable exterior shots of 1950s New York, and it's beautifully filmed in black and white. Recently restored by Film Detective, Patterns is now available on DVD and Blu-ray, and it's definitely worth seeing. (B&W; 83 min).