When? 1977
What's it rated? R
Where's it available? Tubi TV
"The only thing more terrifying than the last 12 minutes of Suspiria are the first 92."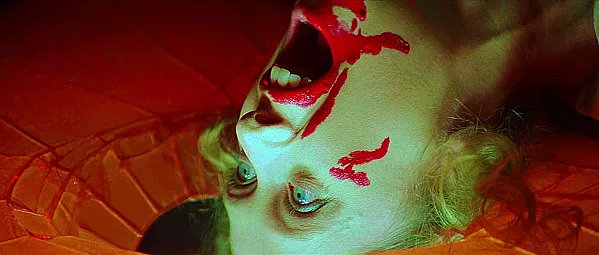 Photo Courtesy Of IMDB
WITCH SLAYER Dancer Pat Hingle (Eva Axen) is the first to escape a prestigious and secretive German ballet school, and in turn, the first to be killed by an illusive spirit, in the original Suspiria.
That's a direct (and grammatically questionable) quote from the last few seconds of an astonishingly melodramatic and wonderfully vague trailer for the original Suspiria. Although I'd say that statement is a bit of a reach (maybe it was true then, but nowadays, obvious pools of red paint don't quite qualify as "terrifying" Hollywood effects), there is something strangely unsettling and wildly captivating about the movie, an old show-don't-tell quality that most mainstream horror films today lack completely.
Director Dario Argento (The Bird with the Crystal Plumage, Four Flies on Grey Velvet), best known for his influential Italian horror films of the '70s and '80s, uses old-school gore and Technicolor lighting to enhance the sinister story of an American dancer turned witch slayer.
The American, Suzy Bannion (Jessica Harper), travels to Germany to attend a prestigious ballet school. There she faces a series of obstacles from the moment she arrives: first a storm that won't let up, an odd interaction with another dancer leaving the academy in hysterics, maggots falling from the ceiling, and a bout of severe illness, all followed each night by dreadful waking nightmares.
Several suspicious and brutal deaths of other academy affiliates lead Suzy to question the school and its leaders, and she later finds that a befriended psychologist's earlier ramblings of an internal coven and occult activity are not so far off.
Uneven camera angles and colorfully lit settings enhance the film's supernatural, dreamlike mood. A loud and overpowering score, the constant presence of shadowy figures, and scenes in which women appear to speak without moving their lips all work together to add to the sense of confusion and chaos felt by Suzy throughout the movie.
Though in its day Suspiria was criticized as being excessively gory, its special effects—bright red paint as blood, glass windows that seem to break with a single touch, makeup that makes actors look more like Claymation figurines than human beings—are now laughable.
Still, I much prefer old gore to new. It adds another dimension. The lack of available technology forced moviemakers to get creative, to keep their villains aloof and largely unseen. And that, in reality, makes them all the more frightening.
That gets to the heart of my biggest qualm with the new Suspiria, which director Luca Guadagnino (Call Me by Your Name) released in 2018. While there are major differences between the two, this one also includes lengthy portions of intensely graphic violence. While the effects show off enhanced Hollywood technology and are likely a nod to the original's use of graphic imagery, most of these scenes have that distracting CGI look and are really, really gross. Toss in some unfortunate casting decisions and you get a mediocre product. That being said, the remake's use of creepy, interpretive dance is amazing. Still, I'd pick the original over that any day. Δ