When people think fishing lures, they typically don't think of wearing them as jewelry. That's not the case with Mac McBurney, co-founder and chief designer of MacDaddy's Fishing Lures, Inc.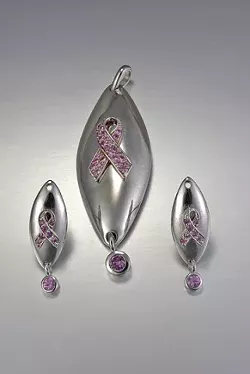 PHOTO COURTESY OF MACDADDY'S FISHING LURES
OOH, SHINY! : The Pink Ribbon collection, offered by MacDaddy's Fishing Lures, fights breast cancer and attracts hungry fish.
# McBurney, along with president and co-founder Terri Conrad, is creating fishing lures made of sterling silver, gold, or platinum, studded with diamonds. When he created his first lure at the age of 9, McBurney had no idea that he would someday be setting trends and raising funds with sponsored fishing tournaments and a new Pink Ribbon collection that helps support breast cancer research and recovery.
When he first began his career in the jewelry business 30 years ago as founder of All That Glitters, the idea of using gold and platinum fishing lures for jewelry and for fishing wasn't on his mind. But with the founding of his fishing lure jewelry business, McBurney is finding an as-yet untapped market.
His latest creation, the Million Dollar Fishing Lure, is exactly what it says it is: A fishing lure weighing more than three pounds, made of platinum and 14kt and 18kt gold, encrusted with 4,753 stones. Presently available for sale, the Million Dollar Fishing Lure isn't for those who want to hang it on the wall.
"I put the bling on your string," McBurney said. "The question is: Do you tie a good knot?"
His most prized creation, however, is the Pink Ribbon collection, which offers a variety of styles. Women and men can buy bracelets, necklaces with or without hooks, pendants, and earrings in platinum, sterling silver, and gold. Currently, the pieces command a four- to eight-week waiting list, and McBurney hopes this means he's shedding more light on the disease that will, by some estimates, claim a woman every 18 minutes.
"One out of eight women in the world will be diagnosed with breast cancer, and it's something that can be prevented," he said. "It's hard for women, but it's hard for everyone else too."
McBurney has set up a mission for his company and is encouraging everyone to get on board. He's currently working with the Make-a-Wish Foundation: Big Tuna Challenge, through which children get to fish with the professionals Angler's Legacy CASA the AIDS Foundation Jewelers for Children and Casting for Recovery,
"We're challenging everybody to get out there and get involved. Our main mission is giving back. We're doing more and more charity things," he said. "We've been contacted by Lance Armstrong to do a possible prostate cancer lure, and that affects a lot of fishermen. We're doing that for next Father's Day."
An avid fisherman himself, McBurney sees his company also as a way for families to reconnect with one another through a fishing trip, of which he has find childhood memories.
"You ask anyone, and they know fishing it's not about catching fish. It's about quality time," McBurney said.
As a collector's gift, MacDaddy's also offers personalized lures. In honor of Breast Cancer Awareness Month, the company will be launching an all-new website on Oct. 1. For more information or to purchase a personalized lure, go to www.macdaddysfishinglures.com or visit All That Glitters in the Madonna Shopping Center at 243 Madonna Road in San Luis Obispo.