Sustanance doesn't always denote substance. With a mass of avalanche of the wrongdoings of the food industry being exposed through documentaries, the growth in number of people choosing vegetarian and veganism as an alternate diet has grown. The ratio of non-meat and dairy eaters to the restaurants catering to them is imbalanced. In SLO so far, there are a few options, but Bliss Cafe covers all of the bases: vegan, vegetarian, raw, and gluten free diets are spoken for.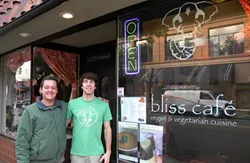 PHOTO BY RACHEL MOLLI FIELDS
TO OUR HEALTH! : Palaka Sauer and David Fintel upgraded from a mobile food facility to a fully functional café in downtown San Luis Obispo.
The café is located between Monterey and Higuera on Chorro and the noisy intersections can come to a deafening city swell, but once inside the narrow cafe, you can find peace in the spiritual music and portraits of Hindu gods representing perfection in body and mind. Blissful, if you will.
The goal of Bliss Cafe is to raise awareness: to the existing vegetarian foodies in the community, to those questioning a new way of eating, and to the general public of the important properties of a healthy, well balanced diet. Bliss' ideals behind running a totally meat and dairy free cafe fall in alignment with a practice called Ahimsa, which represents non-violence towards humans and animals alike, a principle that is in direct correlation with yoga.
The options on the menu vary not only in dietary influence as well as a range of cultural influences, such as Indian, Mediterranean, and Mexican style cuisines. Almost every item on the menu contains a superfood, meaning it is highly nutrient dense. One-third of the menu consists of nutritious smoothies, in which you can throw in additional energy boosters for fifty cents to a dollar each. Next to the smoothies, considerably the most popular part of the menu are Bliss' raw desserts, such as a raw chocolate mousse pie with a crust composed of chopped almonds, pecans, cashews, and dates.
Before Bliss Cafe had an official space, owners Palaka Sauer and David Fintel ran the cafe out of a mobile food facility, traveling from place to place to sell their fare. Most commonly, they could be found at music festivals throughout California, as well as local markets. For the past two months the space on Chorro has been their home, but they continue to travel often to farmers markets, and try to fit in festivals when they can.
"We plan on moving to a bigger space, a multi-use building that would be a yoga studio, café, and market. We're trying to get exposure through high quality foods with good prices. Many more people are converting their diets these days," said Fintel. "We hope to become 100 percent sustainable and organic."
With places like Bliss Cafe expanding, our waistlines will shrink and our lifelines will grow. Fintel explained, "It's been proven how this kind of diet reduces diabetes and cancers. You don't have to eat as much, because it's nutrient dense and energizing. All of the cells in the body experience it."
Bliss Cafe is located at 1035 Chorro St. To check out their full menu, stop into the cafe, visit blisscafeslo.com, or pop onto their Facebook. Or do it the old fashioned way by calling them at 547-0108.

FAST FACTS
Come join the North County Humane Society for their annual "My Tails in Jail" fundraiser! The fundraiser takes place on Feb. 8 from 10 a.m to 5 p.m. at 9315 Pismo Avenue in Atascadero. A benefit towards the Humane Society Shelter, NCHS is looking for people to act as "jailbirds", in order to raise $500 "bail" (the money will go towards NCHS.) For more information, call Shelley or Sherry at 466-5403.

Intern Rachel Molli Fields compiled this week's Strokes & Plugs article. Send your business news to strokesandplugs@newtimesslo.com.