At one point, employees of EcoBambino wore noise-cancelling headphones to battle the clamoring of construction crews jack hammering and pounding at the Copeland Properties' Chinatown project directly across the street.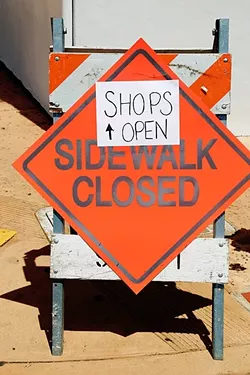 PHOTO BY DYLAN HONEA-BAUMANN
CLOPING: The shuttered parking lot, closed sidewalks, and construction activity has made things difficult for some of the locally-owned businesses surrounding the Chinatown project on Monterey Street in downtown SLO.
The natural children's and baby product store on Monterey Street is one of several locally owned small businesses that's taken a hit during the construction of new retail storefronts, a hotel, apartments, and offices in place of the parking lot that once stretched through half the block.
The parking lot is closed, half the street shut down, and utility trucks and machinery populate the space between Chorro and Morro streets.
Before construction began, sales were up 30 percent and rising, but since the parking lot closed and the project went full swing they have dropped 22 percent.
"I was basically paying my employees to dust," said owner Ariana Spaulding. "Retail's already hard. You're competing with moms that are able to order something off Amazon in their pajamas anytime of the day."
Because many of her customers are pregnant or have kids, getting to her store is a constant challenge.
"The last thing you want to do is haul your kids and all your stuff four or five blocks," she said.
They've survived, however, in part because Spaulding increased her focus on the online side of their business. She knows it's temporary and that the project may be a boon for business when it's done.
The project is one of two downtown developments that involve a hotel built in the place of a parking lot (the other is Garden Street Terrace). Once completed, the hotels and other new businesses will create more demand for parking, only some of which will be met onsite. In the meantime, the parking lot closures have had impacts to the surrounding businesses.
The project's manager referred questions to Copeland Properties, which didn't return New Times' phone calls.
Tim Bochum, San Luis Obispo's deputy director of public works, said the parking is still there, but it's mostly in existing garages. A recent study showed that the downtown area is only at a 67 percent parking capacity, and the parking garages are even lower.
"[The city is] trying to get the word out to not necessarily look to an on-street space first, but really to go to our structures first," Bochum said. "Not only do we have capacity there, but they get the first hour free."
And while the city has additional mitigation plans for the lost spaces, Bochum said adaptation takes time.
"A lot of the public, because there's been parking on the streets in the past, they've obviously been aggravated," he said.
While surveying business owners in that area, New Times bumped into Mayor Jan Marx and City Councilmember John Ashbaugh.
"The city does its best to mitigate these circumstances, and we know it's disruptive, but we want to make it temporary," Ashbaugh said.
Marx said that inevitably it's a matter of people changing the way they relate to accessing downtown.
"There needs to be a culture shift where you park your car and walk where you need to go," she said.
But several businesses surrounding the Chinatown Project say it's not just parking.
Many used their back gates for deliveries or to help customers load their purchases, but now must use the sidewalk area, where parking and loading spaces are few, and often occupied by construction trucks.
The garden store Growing Grounds Downtown now uses their narrow front entryway to move plants in and out. Their business has remained steady, however, thanks to the springtime planting season influx.
Down a few doors, Lynda Flynn, owner of the boutique and antique store The Nest, saw steady growth, but is now down about 5 percent, which she said is "not enough to get tweaked about."
Still, there have been adjustments. She used to close one day a week, now it's three because she doesn't have enough business to justify paying employees.
Flynn's shop also sells trellises, archways, and large custom-built aviaries, traditionally brought in and out through the back gate. Now they're trying to continue that aspect of the business from their home, but it's difficult to do without having a retail location for the customer to view and interact with the merchandise.
Around the corner, near EcoBambino, Fordon's has had a similar experience. Michael Hamilton, the store's manager, said the kitchenware side of their business is down, but the fireplace and BBQ sales have remained strong, though loading purchases has proven difficult.
They also learned in May that the high-end kitchenware and home furnishing chain Williams-Sonoma will be moving in directly across the street, which they learned about after several "we're hiring" banners went up.
"We were fairly shocked because it's such a direct competitor to the half of our business," Hamilton said.
Up the hill, The Palm Theatre has seen a decline, in part because nearby handicapped parking has been reduced. Paul Kwong, owner of Mee Heng Low Noodle House, said his sales are down 40 percent. He's had to cut employees loose only an hour or two after opening.
Business has crept up recently, and he recognizes the project could eventually bring more, but he's not sure how long he can survive.
He's also worried about a trend of chains crowding out locally owned business.
"It's going the way of Santa Barbara," Kwan said. "That's why I left there 30 years ago."
Contact Staff Writer Jono Kinkade at jkinkade@newtimesslo.com.
-- Melody DeMeritt - former city council member, Morro Bay