To really get into a Rhythms show, you have to enjoy a healthy dose of cheeze now and again. That's not to say there aren't poignant moments to CORE Dance Company's annual buffet of jazz, swing, tap, and contemporary ballet. Stacy Estrada's breathtaking duet "Blue Lips," set to the song of the same name by Regina Spektor, is downright poetic. "Optimist," choreographed by Civic Ballet Artistic Director Drew Silvaggio to the pure, plaintive sound of string instruments, is a lovely and wistful number. But the bulk of these dances are light-hearted, often purposefully silly, in nature.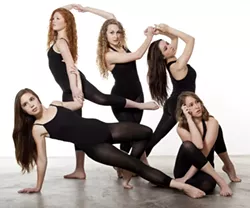 PHOTO BY MICHAEL HIGGINS
CORE STRENGTH: CORE, which stands for Creative Original Raw Energy, brings a veritable dance buffet to the Spanos Theatre with Rhythms. The show, an eclectic mix of tap, jazz, and contemporary ballet, is a tribute to American Dance founder Pat Jackson.
Take Suzy Miller's "Hey Mickey," featuring a set of cheerleaders, each afflicted with a special quirk. There's the pouty Paris Hilton type, all sparkle and no substance, complete with a miniature, overgroomed dog-as-accessory (dogcessory?) at her side. There's the goth chick (ripped black tights, eyeliner), the nerd (suspenders and enormous glasses), and, best of all, the accident-prone hottie who gracefully hobbles through the dance on crutches.
Miller also choreographed the Bob Fosse-inspired "Steam Heat"—set to the song from the '50s Broadway musical The Pajama Game.
This year's Rhythms show, a tribute to the late American Dance founder Pat Jackson, opens with the jazzy, infectious "13 Men," choreographed by Estrada to the sassy Ann-Margret tune. (The ditty is a gender-reversed version of Bill Haley and His Comets' "13 Women," which recounted a dream in which the H-Bomb had exploded, wiping out everything but one man—and 13 women. Woo-hoo! It's a rather macabre fantasy, though, if you think about it.)
Estrada also choreographed a comedy piece to V.V. Brown's poppy single "Leave!" The dance opens with a row of girls in pastel-hued, poofy '50s pajamas—taking a cue from Frenchie in the sleepover scene from Grease, Estrada explained—each of them clutching a photo of Justin Bieber and weeping uncontrollably. But while the other girls seem to cheer up and move on, one of them just can't seem to stop gazing longingly into Justin's dreamy chocolate-brown eyes, despite the efforts of the others to bring her out of her funk. But the piece isn't really about Bieber so much as it is about youthful infatuation; Bieber's just the placeholder, a handy, universal symbol for "tweenage crush."

GOT RHYTHM?: CORE Dance Company's Rhythms show takes place at the Spanos Theatre Saturday, March 24, and Sunday, March 25, at 2 p.m. Tickets cost $16 to $23. Visit pacslo.org or call 756-ARTS.
High school seniors Taryn Hastie and Emily MacDonald will each perform solos they've choreographed themselves, a Rhythms farewell tradition. Guest dancers include the senior tap-dancing group GRADS (Greatly Respected Adult Dancers) and the San Luis Jazz Dancers.
Wes Krukow choreographed the swingin' number "Loitering," which puts one in the mood of a smoky '40s bar.
Estrada's "Crash," set to the song by Dave Matthews Band, and the aforementioned "Blue Lips" follow,
each a refreshingly modern, melancholy counterbalance to the nostalgic, all-American camp in which much of the production seems to have been deep-fried—not that that's a bad thing.
Arts Editor Anna Weltner has a Twinkie and a gallon of vegetable oil. Contact her at aweltner@newtimesslo.com.