Rhythm and blues singer Sugar Pie DeSanto knows what living the blues is. In October 2006, her husband Jesse Davis died attempting to extinguish a fire that destroyed their apartment in Oakland, leaving her both a widow and homeless.
PHOTO COURTESY OF SUGAR PIE DESANTO
LIVING LEGEND : Sugar Pie DeSanto plays April 14 in the SLO Vets Hall in a show presented by the SLO Blues Society.
# Born Umpeylia Marsema Balinton in Brooklyn, New York, on October 16, 1935, to an African American mother and Filipino father, DeSanto spent most of her early life in San Francisco, where she moved with her family at a young age.
By the time she was 20, DeSanto was touring with The Johnny Otis Revue. In fact, Otis gave her the stage name "Little Miss Sugar Pie." In the early '60s, she found herself with The James Brown Revue. She finally got her "big break" in 1960 when she rose to national prominence when her single "I Want to Know" hit No. 4 on Billboard's Hot R&B Sides chart. Moving to Chicago, she spent the next decade or so recording for Chess Records and writing songs for Etta James, Little Milton, Sam & Dave, and others.
When she returned to San Francisco in the '70s, she sort of disappeared, not recording again until the '90s. Recent recordings include Sugar is Salty (1993), Classic Sugar Pie (1997), Slice of Pie (1999), and Refined Sugar (2005).
Now often called the "Queen of San Francisco Blues," DeSanto won the 1999 Bay Area Music Awards for "Best Female Blues Singer" and was named Blues Legend in 2003 by the California Music Awards. Real Blues Magazine has twice named her the Best Live Female Blues Performer and she's currently nominated for a Blues Music Award for Soul Blues Female Artist of the Year. Although best known as a songwriter with more than 100 published songs, her live shows are legendarily incendiary. As she says about her performances, "Don't put an amateur on the stage after me because I will leave it boiling hot."
See Sugar Pie DeSanto on Saturday, April 14, at 8 p.m. in the SLO Vets Hall when she and opening act The Mighty Croon Dogs appear, presented by the SLO Blues Society. Tickets are $17 for Blues Society members and $20 for the general public. All tickets are sold at the door (21 and older please). Call 541-7930 for more information or to volunteer.
PHOTO COURTESY OF BIG & RICH
LARGE & WEALTHY : Country duo Big & Rich plays Pozo Saloon on April 13.
# Country enough?
According to some country music aficionados, Big & Rich represent everything that's wrong with country music. They're too pop, too urban, too untraditional. But to these country music purists and elders, the duo mocks the criticism in the opening song "Rollin' (The Ballad of Big & Rich)" of their debut album Horse of a Different Color: "Country boys don't rock and roll/ Yeah the record man told me so/ Yeah you'll never get it on the radio/ Why they trying to complicate/ The simple music that we make?/ Oh cause if it moves my soul/ I'm gonna keep on rollin', rollin'."
Well, looks like Big & Rich had the last laugh, because their first album went platinum and now they're touring in support of Comin' To Your City, which is true if your city happens to be a tiny little hamlet called Pozo.
On Friday, April 13, at 6 p.m., see Big & Rich with Cowboy Troy at the Pozo Saloon. This is an all-ages show: $53 for general admission or reserved for $69. Pick 'em up at Boo Boo Records.
PHOTO COURTESY OF AEREOGRAMME
MESSAGE IN A BARROOM : Scotlands Aereogramme plays April 16 at Downtown Brew.
# A dark message for you
Scotland's Aereogramme hasn't played in the United States in four years, and as far as I know they've never been to SLO, so this week's Monday, April 16, Downtown Brew show marks a momentous occasion for the band's local fans.
The title of their newest album, My Heart Has A Wish That You Would Not Go, is taken from a line from William Peter Blatty's creepy novel The Exorcist: "At the door, the curator took the old man's hand with an extra firmness. 'My heart has a wish, Father: that you would not go.'"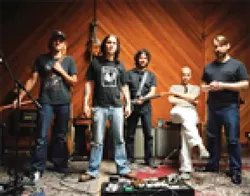 PHOTO COURTESY OF BLIND MELON
MELON HEADS UNITE : Travis Warren (center), shown here with Blind Melon for whom he now sings, plays a solo acoustic set along with three other local frontmen, on April 17 at Downtown Brew as part of a new series: Grassroots Tuesdays.
# Ominous, no?
Not too long ago, the band released a critically acclaimed CD with ISIS as part of the In the Fishtank series, so if you enjoyed last week's ISIS concert at the Brew, you'll probably dig this too.
The show starts at 8 p.m., is 21-and-older, and costs $7 at the door. Twilight Sad and A Northern Chorus open the show.
Grass + roots + Tuesdays = a local band fiesta
It's finally arrived: the first installment of Downtown Brew's new concert series Grassroots Tuesdays and it's starting off with a bang. The headliner is former Rain Fur Rent singer Travis Warren, who now fills the shoes of the late great Shanon Hoon in Blind Melon. Warren will be playing a solo acoustic set, and in fact the entire evening features frontmen turning down the volume to play solo. Chad Land from Axia, Dan Curcio from New Longview, and Heath Seager from Criticnue will also offer acoustic sets beginning at 8 p.m.
On Tuesday, April 17, the show is for 21-and-older guests, costs a mere $2, and offers $1 pints all night long. To quote Downtown Brew co-owner Korie Newman: "Woohoo!" Hear about all the crew's shows at downtownbrew.com.
Feeling irie?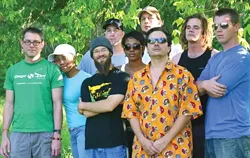 PHOTO COURTESY OF GROUNDATION
JAH RULES : Reggae act Groundation returns to SLO on April 17 at the Graduate for an 18-and-older show.
# I could call Groundation a roots reggae act, but that would underplay the elements of jazz and dub that filter through the nine-piece ensemble's sound. The group, which has just returned from a successful tour of Europe (their sixth in four years), has become something of a worldwide phenomenon, building a global fan base during shows played in 14 countries in the past two years. They played for 45,000 in Morocco 10,000 in Sao Paulo, Brazil and 15,000 during a headlining spot at SummerJam in Germany.
Recently they've been touring in support of their 2006 album Upon the Bridge, but they have five studio albums under their collective belts since forming in 1998 when three long-time musicians Marcus Urani, Ryan Newman, and Harrison Stafford came together to form the core of the group.
See Groundation when they return to SLO on Tuesday, April 17, at the Graduate for a 9 p.m., 18-and-older show. Tickets are $15 in advance (Boo Boo Records) or $20 at the door.
More music
Ska act Suburban Legends finds influence in disco, funk, and pop, and their live shows often involve synchronized dance moves
PHOTO COURTESY OF SUBURBAN LEGENDS
ONE FOR THE KIDS : Ska act Suburban Legends plays a 16-and-older Downtown Brew show on April 13.
# performed by horn players, as well as humorous banter between members. Check 'em out on Friday, April 13, at 7:30 p.m. This is a 16-and-older, $11.50 show (advance tickets at Boo Boo's).
John Batdorf and James Lee Stanley are playing the next M?sica Del RÃo House Concert in Atascadero. Two contemporary folk collaborators perform one show on Friday, April 13, at 8 p.m. According to concert organizer Fred Munroe, "Two more likely and unlikely collaborators may never set foot here again. The music of James Lee and John as individuals runs from traditional folk with pop and rock influences to a contemporary folk style that reflects more introspective themes. They've been on our short list of artists we must have at M?sica Del RÃo since we started this vision almost two years ago." This is a house concert, so for info, reservations, and directions call 466-6941 or visit online musicadelrio.org. Reservations are required.
Cal Poly music students will perform acts from Mozart's famed operas Le Nozze di Figaro (The Marriage of Figaro) and CosœFan Tutte (They're All Like That)on Friday and Saturday, April 13 and 14, at 8 p.m. in the Spanos Theatre on campus. "The two performances give more students an opportunity to participate in the celebration of Mozart on the tails of his milestone 250th birthday last year," said workshop producer Jacalyn Kreitzer, Cal Poly voice, performance, and diction teacher. Tickets are $6 for students and senior citizens and $10 for the public, available at the PAC Ticket Office or by phone at 756-2787.
PHOTO COURTESY OF SLO WIND ORCHESTRA
GET WINDED : The SLO Wind Orchestra, shown here at its winter concert with guest conductor Chungsam Doh, presents its Season Finale Concert on April 14 in the Clark Center.
# Rob Burpee of Strike Fire Productions has another punk show lined up for your listening pleasure at Mongo's. On Saturday, April 14, The Kegels (San Francisco punk), SLO Town act Impossible Sunday (punk/reggae/rock), and Grover Beach locals Malo Culo (punk/indie/rock) will play from 9 p.m. to 1 a.m., and the show is free.
"It's been a rough road these last few months trying to bring back the local punkrock scene in SLO county," Burpee said. "It seems that this type of music is not welcome by the older crowd in this county. We just need to show them the positive aspects of punkrock by creating and influencing more and more younger musicians and providing them with places to play."
The SLO Wind Orchestra presents its Season Finale Concert on Saturday April 14, at 3 p.m. in the Clark Center. Alfred Reed's "Armenian Dances," Felix Mendelssohn's "Overture for Band," Edward Elgar's "Enigma Variations," Derek Bourgeois's "Serenade," Alberto Ginastera's "Danza Final," and Robert Russell Bennett's "Suite of Old American Dances" are on the menu. Tickets are $15 for adults, $10 for students and seniors, available at the door or in advance at the Clark Center Box Office or by calling 489-9444. Learn more about the orchestra at slowinds.org.
Jazz trombonist Andy Martin plays the next Famous Jazz Artist Series concert at the Hamlet in Cambria on Sunday, April 15. Martin, currently recording on the Fresh Sound label, will be joined by pianist Joe Bagg, bassist Trey Henry, and drummer Ray Brinker. Concert co-producers Charlie and Sandi Shoemake will also be on hand. Don't miss your chance to see a player regarded by many critics to be the finest jazz trombonist of his era. Call 927-0567 for show times, ticket prices, and reservations.
Fred and Ginger, a musical starring Gayle McNeeley, Breanne Murphy, and Chuck McLane, is scheduled for Sunday, April 15, at
PHOTO COURTESY OF ANDY MARTIN
AVOID THE TAX MAN, EMBRACE THE JAZZ MAN: Jazz trombonist Andy Martin pays the next Famous Jazz Artist Series concert at the Hamlet in Cambria on April 15.
# 2:30 p.m. in Morro Bay's Coalesce Bookstore's Garden Chapel. Murphy and McClane who were just married this St. Patrick's Day have been making audiences laugh at the Great American Melodrama for many seasons. Now, they bring their acting, singing, and dancing talents to the songs of Irving Berlin, George Gershwin, and Cole Porter. McNeeley, a frequent guest artist at PCPA, creates a comic Fred Astaire to Murphy's Ginger. McLane plays the "other man." A $15 donation is requested at the door, or call 772-2880 for reservations.
The Amelia Piano Trio a young, exciting chamber ensemble plays Cal Poly's Spanos Theatre on Tuesday, April 17, at 8 p.m. The group includes Anthea Kreston (violin), Jason Duckles (cello), and Rieko Aizawa (piano), a trio that's made its mark by commissioning new works, "such as Pulitzer Prize-winning composer John Harbison's new piano trio piece, as well as by performing vivid interpretations of traditional chamber fare." This concert will include Harbison's "Short Stories," as well as Beethoven's "'Ghost' Trio in D Major, Op. 70, No. 1" and Mendelssohn's "Trio in D Minor, Op. 49." Tickets are $32 to $38 at the PAC Ticket Office or by calling 756-2787.
Afro-Brazilian funk act SambaD? returns to Downtown Brew, this time with opening act DJ Baiano, for a Wednesday, April 18, 9:45 p.m. show. Capoeira master Papiba Godinho, founder and guitarist of SambaD?, leads the band through global styles including Capoeira, samba, reggae, funk, and rock.Master dancer and lead vocalist Dandha da Hora sings and dances in the folkloric tradition of her home of Bahia Brazil. Take a trip south of the border without having to leave town! Tickets are $8 advance (Boo Boo's) or $10 at the door. This is a 21-and-older show. Learn more about the band at sambada.com.
PHOTO COURTESY OF SAMBADA
FEEL THE HEAT : Afro-Brazilian funk act SambaD· returns to Downtown Brew on April 18.
# Local jazz ensemble the Mike Raynor Group has another special guest artist lined up for its Wednesday, April 18, 6 to 9 p.m. Seaventure gig this week: flutist/vocalist Rebecca Kleinmann. She attended Indiana University's prestigious School of Music on scholarship and graduated with degrees in jazz and Spanish. Her love for Brazilian music was ignited there through her studies with Marcos Cavalcante and the Latin American Music Ensemble, and her debut Album, Raio de Sol, displays her love of Latin jazz. Learn more about both groups on www.myspace.com/mikeraynorgroup and /rebeccakleinmann.
A note from the shameless promotion department
What's in a name?An $825 guitar, that's what.
Divine Appointment Guitars in Paso Robles is changing its name, and they want you to pick it. They're looking for a name that better reflects the full scope of what they do, see? So owners Matt andHeidi Franscioni invite you to submit name ideas, and the person with the chosen name will win an $825 G&L electric guitar.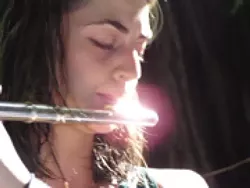 PHOTO COURTESY OF REBECCA KLEINMANN
DOUBLE THREAT! : Local jazz ensemble the Mike Raynor Group presents special guest flutist/vocalist Rebecca Kleinmann on April 18 at the Seaventure.
# According to Matt, "We need to change the name because with all kinds of string instruments and percussion, we are certainly not just guitars anymore.After the first month in business four years ago, we realized that the 'by appointment' concept would not work, so we quickly changed gears and have not been by appointment ever since. In fact, we're open seven days a week now.We're also not just a store.We're a music center with a full Music Academy and concerts each month."
Contest rules say you can only submit one name a day, and the winner will be selected based on how well it reflects the breadth of what the business is about.The winner will be announced on Saturday, June 2, at 2 p.m.For more information, call Divine Appointment Guitars at 237-0054 or stop into their store at 617 12th St. in downtown Paso Robles.
Strings and Things? Ye Olde Music Shoppe? Strum and Thump? It's harder than it looks, people.
CD REVIEWS
Los Straitjackets Rock En Espa"ol, Volume One
With their identities safely obscured behind lucha libre wrestler masks, Los Straitjackets revive the raw surge of early '60s instrumental garage bands: the thick bottoms of big beat drums, a feisty bouncing bass, and a pair of attacking, slashing guitars. However, here they've donned an additional tactical weapon: lyrics. With a ring corner now flooded with the heavyweight vocal assistance of Cesar Rosas of Los Lobos, the Fly-Rite Boys Big Sandy, East L.A. legend Little Willie G, and background harmonies by Los Lonely Boys, Los Straitjackets are irresistibly impressive in their Spanish-language rock'n'roll tribute. With much of their focus on early vintage exitos of Mexican garage acts (Los Teen Tops, Los Rockin' Devils, etc.), the disc is filled with Mexican translations of American hits. But don't consider this a gimmicky disc of covers. Everything here is heartfelt and reminds you how glorious and wildly fun rock'n'roll should be.
Malik Miko Thorne, of Boo Boo Records and KCBX's "Night Train."
Various Artists - Florida Funk
British ears have always been far more appreciative to the trials and sounds of Black America than our present generation. English DJs-turned-collectors have dirtied knees and stained thumbs flipping through the dustiest of dusty 7-inch bins, just to find that rare Maltese Falcon groove. UK label Jazzman now turns its attention to the Deep South after its encyclopedic uncovering of Texas and Midwest funk. Florida, a bordering state to James Brown's home base of Georgia, harvested a rich heritage of musicianship, partially due to the lively tourists and nightclubs. While national attention during the Civil Rights era was still limited, local independent deals and distributions were the norm, and here we see the hefty overview of Florida's super dynamite soul. With extensive liner notes and photos, you'll be impressed with the complete sight and sound of this re-issued release a thick-bottomed swampy sound for upcoming hot summer nights.
Malik Miko Thorne, of Boo Boo Records and KCBX's "Night Train."
---
Glen Starkey is watching you. Tell him he creeps you out at gstarkey@newtimesslo.com.