If you're old enough, you've experienced trauma, addiction, divorce, sexual abuse, death, and more. Maybe your experience is firsthand, maybe through a friend or relative, but either way, the lingering question is how to survive, recover, and thrive again.
Next Saturday, Oct. 17, two artists and friends will present a special evening at Big Sur's Henry Miller Library called Bob & the Monster & Sister Maple Syrup Eyes (film, books, some talking, and music).
PHOTO BY PIPER FERGUSON
MONSTER SLAYER: Bob Forrest (Thelonius Monster) will read from his memoir, play music from his new CD, and answer questions after the screening of a documentary about his life, heroin addiction, and recovery on Oct. 17 at the Henry Miller Library.
Bob Forrest of Thelonius Monster will be on hand for the screening of the documentary Bob & the Monster about his life and recovery from heroin addiction. He'll also share songs from his new CD Survival Songs and read from his 2013 memoir Running with Monsters. Hailed as the "Bob Dylan of his generation," Forrest's band was a contemporary of Guns & Roses, Jane's Addiction, and the Red Hot Chili Peppers, the latter from which Forrest recruited guitarists John Frusciante and Josh Klinghoffer. But while those other bands succeeded, Forrest and Thelonius Monster imploded on impact thanks to mismanagement and Forrest's heroin addiction. After 24 formal detox attempts, he got clean in 1996. He weighed 120 pounds, was toothless, and went on to become "the most famous drug counselor" in the world, starring in Celebrity Rehab and Sober House with Dr. Drew.
Author and Grammy-winning producer Ian Brennan (Tinariwen, Ramblin' Jack Elliott) will read from his fictional book Sister Maple Syrup Eyes, and possibly play songs from his new CD It Just Takes That Long: 1987-2015. Perhaps more importantly, Brennan is considered an expert on anger management, having written two non-fiction books about it: Anger Antidotes: How Not to Lose Your Shit and Hate-less. New Times spoke to Brennan during a recent phone interview.
New Times: First, I've got to get this out of my system even though it's not what your event is about but because I'm truly interested. If you had just one minute with someone with anger issues, what's the one most important piece of advice or the one coping method you would give him or her?
Ian Brennan: Generally, for most people the issue is feeling they don't have choices, so the main thing I want people to embrace is the option of leaving. Just leave. Most situations escalate because someone chooses not to leave or they leave and are followed into another room, or out the door, and eventually they stop and fight. But you always have the option to walk away and keep walking.
New Times: Tell me about Sister Maple Syrup Eyes, which is a fictionalized account of an actual rape of your friend and how it rippled out among her community. What do you hope the book accomplishes?
Ian Brennan: As in most projects I do, the goals are fairly modest. If the story resonates with one individual in one way or another, and that individual passes along what they experienced and felt to another down the line, that will be enough. There's never been much written about sexual assault and how it affect others. Usually it surrounds the primary victim, but it also affects the victim's community, sometimes down through generations. I don't think [the book] would prevent a single instance [of sexual abuse], but hopefully it will lend some solace to those experiencing something similar because these events are so isolating and secretive. There are feelings of pain, shame, or weakness, and it's hard to talk about. For me in my particular case, when I discovered what had happened 400 miles away, the person didn't want me to return, and the first rule of dealing with trauma is to give people control, so I had to honor that. I called one person I thought would be responsive, and it was 10 p.m., but he said, "Come over, let me make you some food, and stay the night." In the morning, in this city of 10 million people, he woke me up and said, "OK, now you have to leave, but before you go, I want to tell you something. My girlfriend was raped 10 years ago." Then I went to work literally the same day, and I told a few people there in a discreet way what had happened, told them I might not be myself, told people I thought might be compassionate and understanding, and a little later my boss said, "I want you to come see me." Well, I didn't know if he was going to tell me to go home or that I was fired because, you know, I didn't know him, and he told me, "My wife was raped in parking garage, but you can get through this." It's like being part of secret society that no one wants to be a member of.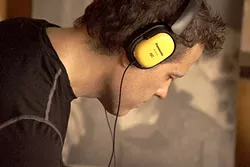 PHOTO COURTESY OF IAN BRENNAN
SURVIVING TRAUMA: Ian Brennan will read from his fictionalized account of a rape rippling through a community and present his new CD on Oct. 17 at the Henry Miller Library.
New Times: Your new CD is called Sometimes It Just Takes That Long: 1987-2015. Is this you taking your time, or is this more of a greatest hits?
Ian Brennan: Quite a bit of the CD is new material and some from earlier records. My focus shifted dramatically away from artist to music producer, shifting radically around 2000, so the fact is that many of my earlier records of the late-'80s are horrible, just unmanageably bad. Mostly the material was what I was writing while working on the book, whose rough draft was written in the early '90s and put through a really exhaustive writing workshop process for years.
New Times: Ah, so it's old but never recorded material. I checked out the song "Real Men Love Jesus ... and Drive Shitty Cars" online, and it's a very moving, emotional song. Is it typical of your new CD?
Ian Brennan: Yeah, I mean, I think it's that thing people get into when they're writing songs. They think they're drawing an apple, and it's coming out like an orange. I wasn't trying to write depressing music, but people have told me there's a darkness in what I've written from day one, so the dark tone is certainly there, but also the songs are ultimately about recovery and hope.
New Times: What can attendees expect at your Big Sur event?
Ian Brennan: I think we're going to have a nice evening. The book tour is about recovery, and Bob and I both have new records about addiction and recovery. My book is somewhat about how you never complete the process of recovery. I mean, maybe if we lived for 300 years we could fully get over something, but it's more about how we can't really know when it begins and ends. And we're going to show Bob's documentary. We'll read some and talk some, and Bob's going to play some music. I might perform a couple songs too.
Gates open at 7:30 p.m., Brennan will open the event at 8:05. Forrest's film screens at 8:20, after which he'll speak and perform, and maybe Brennan too. A meet-and-greet, book and CD signing, and social time follows. Reservations are recommended. Visit eventbright.com. A $10 to $20 donation is requested.
Red Dirt rounders
PHOTO BY JUSTIN VOIGHT
COWBOY UP: Charting Red Dirt artists the Turnpike Troubadours play SLO Brew on Oct. 10.
Notoriety didn't come easy for the Turnpike Troubadours.
"When we first started playing, people couldn't have cared less that we were there," Troubadours' frontman Evan Felker recalled in press materials. "They were there to drink beer and raise hell and they didn't really care what music was playing while they did it. But as we went on and as we got better, they started to listen. I mean, they were still drinkin' plenty of beer, but before too long, they were actually coming to hear us and asking us to play our songs, and not just covers of traditional favorites and all the other stuff we'd been doing."
This Saturday, Oct. 10, the Turnpike Troubadours will play SLO Brew thanks to Good Medicine Presents and Numbskull Productions (7:30 p.m.; 21-and-older; $20 presale or $25 at the door).
Three years ago, the band—Felker, bassist RC Edwards, fiddle player Kyle Nix, guitarist Ryan Engleman, and drummer Gabe Pearson—released Goodbye Normal Street, their third full-length album.
"We tried to balance things out," Edwards added. "We wanted to combine the idea of getting something perfect, the way you can only do in a proper studio, with the energy of playing in front of a thousand people jumping around and screaming."
"We all pretty much grew up with hardcore country music around us," Felker said. "I mean, sure, there was rock stuff in there, but the real old-school stuff, plus exposure to folks like Jason Boland and Cross Canadian Ragweed, really affected what we were playing. We're really a product of both our influences and our environment. It wasn't something that we sat in a room and dreamed up in one day. This music, at its best, can put into words what we have been thinking for our entire lives, and even at its worst, it gets people drinking beer and makes people happy. Either of those is fine with me."
PHOTO COURTESY OF QUEL BORDEL
ACOUSTIC WORLD PUNK: Check out crazy-cool quintet Quel Bordel on Oct. 8 at Frog and Peach.
Just last month, the band released their fourth album, a self-titled record that climbed to No. 3 and remains at No. 16. Come see what all the fuss is about with opening act Mike and the Moonpies, whose frontman said this about the inspiration for their new album: "That's how I spent my afternoons as a kid, drinking Sprite at the bar with my grandpa and playing songs on the jukebox—Randy Travis, George Strait, Clint Black, The Allman Brothers, The Marshall Tucker Band, Bob Seger, stuff like that. I wanted this record to sound like that jukebox."
Get yer country on, cowpokes!
And check out slobrewingco.com and goodmedicinepresents.com for a complete listing of this week's shows that include Rebel Souljahz at SLO Brew on Thursday, Oct. 8 (7:30 p.m.; all ages; $13 presale or $15 at the door); Singer-songwriter Jade Jackson at Tooth & Nail Winery on Friday, Oct. 9 (5 p.m.; all ages; free); The Frights with The Royal Suns and King Walrus & The Magicians at SLO Brew on Friday, Oct. 9 (7 p.m.; all ages; $10 presale or $12 at the door); and Alejandro Escovedo at SLO Brew on Tuesday, Oct. 13 (7 p.m.; all ages; $20 presale or $25 at the door).
More music …
PHOTO COURTESY OF MARE WALEFIELD & NOMAD
SOUL SONGS: Americana duo Mare Wakefield and Nomad play Oct. 9 at D'Ambino Cellars.
Violin- and banjo-driven acoustic world punk quintet Quel Bordel plays Frog and Peach this Thursday, Oct. 8 (8 p.m.; 21-and-older; free). Formed in San Diego in 2013, the group has multiple releases, played countless shows, and are returning from a three-week festival tour of the south of France.
Americana duo Mare Wakefield and Nomad return to the area this Friday, Oct. 9, at D'Ambino Cellers (7 p.m.; 12-and-older; $10; 227-6800). The duo was a songwriting finalist at Kerrville and a best emerging artists finalist at Falcon Ridge, and they're touring in support of their new CD, Poet on the Moon.
Christopher Cook and Emmy Rose, an acoustic duo from Austin and Taos, play original torch songs, folk, and blues at Linnaea's Café on Friday, Oct. 9 (8 p.m.; all ages; free). Cook has more than 30 years of experience as a songwriter, leader of rock and jazz bands, and as a solo performer, with five albums of original music under his belt. Rose sings and plays the harmonium, adding an old-world resonance to their music.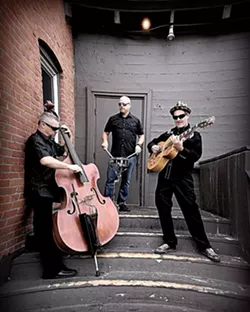 PHOTO COURTESY OF ROOSTER RA
COW BOP: Rooster Ra plays Frog and Peach Pub on Oct. 14, delivering "skankin' psycho-billy cow-bop bliss."
Rooster Ra plays Frog and Peach Pub on Wednesday, Oct. 14 (10 p.m.; 21-and-older; free), delivering a blistering two hours of "skankin' psycho-billy cow-bop bliss."

Keep up with Glen Starkey via twitter at twitter.com/glenstarkey, friend him at facebook.com/glenstarkey, or contact him at gstarkey@newtimesslo.com.