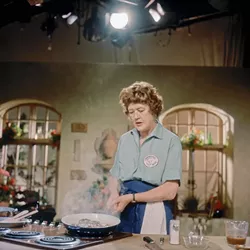 PHOTO COURTESY OF SCHLESINGER LIBRARY, RADCLIFFE INSTITUTE, HARVARD UNIVERSITY
THE FRENCH CHEF: America's first TV chef, the beloved Julia Child, is the inspiration for the inaugural Santa Barbara Food and Wine Weekend, held June 6 through 8 at Bacara Resort & Spa.
Legendary chef, author, and TV cooking show host Julia Child, who lived in Santa Barbara at the end of her storied life, once said, "Learn how to cook—try new recipes, learn from your mistakes, be fearless, and above all have fun."
How appropriate that the inaugural Santa Barbara Food and Wine Weekend, a festival of cooking classes, culinary seminars, and food and wine tastings, is also a tribute to the beloved chef, who passed away in 2004.
Bacara Resort and Spa, in partnership with Edible Magazine and The Julia Child Foundation for Gastronomy and the Culinary Arts, is bringing together Santa Barbara County's top culinary talent during the weekend of June 6 through 8.
Festivalgoers will have so many delicious choices: Master the art of meringue with esteemed pastry chef Elizabeth Colling; learn how to craft cocktails using Good Land Organics exotic fruits with Patrick Reynolds; create impressive cocktail party appetizers with the executive chef of the Montecito Country Club; dive into the world of sea urchin fishing with fisherwoman Stephanie Mutz; attend a panel discussion on what's new in Santa Barbara County's food scene; hear insights from seven experts on the ins and outs of food writing; witness an artisan bread baking demonstration with Bob Oswaks of Bob's Well Bread; observe how to cook quickly and deliciously with olive oil in a class led by Global Gardens' Theo Stephan; and tour a coffee farm near Goleta.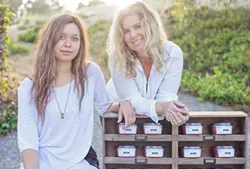 PHOTO COURTESY OF MESA SALSA CO.
LOCAL SALSA: Mother/daughter team Anne (right) and Ali Altamirano of Mesa Salsa, a specialty salsa company based in Santa Barbara, will serve their preservative-free products during the weekend's Neighborhood Tasting.
Also, watch a screening of Le Chef in Bacara's 211-seat movie theater paired with local tastings; enjoy a Santa Maria-style barbecue prepared by chef Frank Ostini of The Hitching Post II; sip Santa Barbara County's best wines at the welcome reception including a screening of Kitchen Wisdom, which pays homage to Child; taste your way through the county's most talked about culinary neighborhoods, including Los Alamos, The Funk Zone, Milpas Street, and Old Town Goleta; and take a mini farmers market tour with James Beard Award-winning author Anne Willan.
Santa Barbara Food and Wine Weekend ticket prices range from free to $250. For tickets and event details, visit BacaraCulinaryWeekend.com.
Proceeds benefit the grant-making, nonprofit foundation that furthers Julia's legacy, centering on the importance of understanding where food comes from, what makes for good food, and the value of cooking.
PHOTO COURTESY OF BACARA RESORT AND SPA
WHAT'S COOKIN': Chef Chris Turano of Bacara Resort and Spa, will lead the sea urchin cooking class during the Santa Barbara Food and Wine Weekend.
"The Foundation is very proud of Julia's and our connection to Santa Barbara. We can't think of a better way to honor Julia's legacy than a weekend celebrating the food and wine bounty around Santa Barbara," said Todd Schulkin, executive director of The Julia Child Foundation for Gastronomy and the Culinary Arts. "We are so pleased that Bacara has partnered with the Foundation to produce this most appetizing event."
"Julia spent her last years here in Santa Barbara and loved it," said Kathleen Cochran, general manager of Bacara Resort and Spa. "She is all about gastronomy and the culinary arts, and California has always been about farm-to-table. Those two things aren't necessarily synonymous, but things are changing … and the Central Coast is becoming better known for its advancement in food and beverage."
Cochran said the idea was to "try to create an event where we could raise some money for her foundation to continue to move food forward."
Culinary professionals and amateurs are coming from across the country to attend the festival. Locals are encouraged to come, too.
EAT, DRINK, AND LEARN: Santa Barbara County's top culinary talent comes together at the Santa Barbara Food and Wine Weekend, June 6 through 8, at Bacara Resort and Spa in Goleta. For class and tasting tickets and event details, go to BacaraCulinaryWeekend.com.
"We could see anywhere from at-home cooks to people in the business at a high level who want to open their minds, learn a little more, and have fun," Cochran said.
Ask yourself, what would Julia do?
Wendy Thies Sell writes the food and wine column at the Sun, New Times' sister paper to the south. Send comments to wthies@santamariasun.com.