When Tricia Reichert returned to her Arroyo Grande home after a summer sojourn in France, the painter-sculptor felt compelled to document her impressions of the country. From her immaculate studio—a room full of orderly books and busts—she explains that the entire purpose of her trip to France was to paint. With a fellow artist, Reichert's journey began in Marseilles, and the painterly pair spent five weeks traveling north, painting for several hours each day.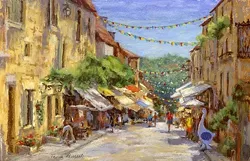 IMAGE BY TRICIA REICHERT
PATE IN DOMME :
Whether her Impressions of France—on display at Frame Works Gallery through September 19—is a faithful portrait of the country that proudly lives by the standard "Libert», Ögalit», Fraternit»" is a conclusion best drawn by each individual viewer.
But the term "impression" is an apt description of Reichert's painting style, though she does not consider her images to be impressionistic. Individually, many of Reichert's paintings resemble one another, a wave of color representing a field of flowers in the foreground with a farmhouse or cottage behind. Mountains and vegetation punctuate several of the images. That the artist who traveled to France in pursuit of beauty found this pleasing aesthetic is never in doubt. From the lavender field in "Abbee de Senanque" to the carpet of crimson poppies in "Coquelicot"—"poppy" in French—Reichert's France is a lovely vision, though not particularly distinctive. In one of the few paintings in which Reichert escapes France's legendary countryscapes, she captures a standard harbor scene, "Honfleur Harbor," with a row of buildings lining a street, water in the foreground and an orderly row of sailboats. Even the awnings at the base of the buildings—orange, blue, red, and green—fail to riot.
IMAGE BY TRICIA REICHERT
LAVENDER FIELD :
Reichert is at her best in "Pate in Domme," a colorful street scene depicting a lone goose beneath a sign advertising pÇt». The subtle humor underscores Reichert's singular perspective as a tourist, an outsider.
While working, Reichert mixes media readily and often.
"I used watercolors and pastels together in a lot of the paintings because, to me, I get more interest and texture," she said. Her impressions images fall into one of three categories: pastels, plein-air pastels, and mixed water media. The latter, which she used in about one third of her work, includes watercolors, gouache, and watercolor crayons.
IMAGE BY TRICIA REICHERT
SUNFLOWER FIELD :
When Reichert isn't splashing the French countryside with pastels, she works as a continuing education arts instructor at Cal Poly. She also offers classes from her studio and paints commissioned portraits of both animals and people. But the British native insists that she has not yet painted France from her system; the country, in fact, has made such an impression upon her that she may be painting France for some time to come. Canvas after canvas will blossom scarlet with poppies, lilac with lavender, and beige with the farmhouses and cottages that Reichert seemed to encounter everywhere in her travels. Even the rain, which often forced her to paint from within the structures that reappear in the background of many of her paintings, could not expunge Reichert's appreciation for the country's beauty. And she brought her picturesque and gentle France with her when she returned home.
IMAGE BY TRICIA REICHERT
PROVENCE FARMHOUSE :
INFOBOX: Cross the Atlantic
Impressions of France, an exhibit of paintings by Tricia Reichert, will be on display at Frame Works through Sept. 19. Frame Works is located at 339 Marsh Street. For more information visit www.sloart.com or call 542-9000.
---
Arts Editor Ashley Schwellenbach is rarely gentle, but picturesque on occasion. Render her absurd at aschwellenbach@newtimesslo.com.