"What the fuck?"
These three words erupted in my mind and escaped from my mouth quickly yet loud enough for an onlooker to think I was completely nuts to have this sort of reaction to a deserted storefront.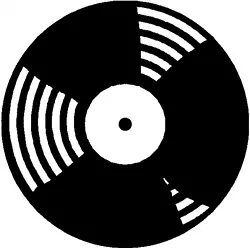 # I was returning a DVD to Blockbuster Video when I saw what made my heart sink and the expletives fly: butcher paper-covered windows and a sad sign, type-written, wishing customers well, but letting them know that Boo Boo Records at least in its Grover Beach incarnation was no longer.
No lingering goodbyes. No notice of any kind not that I was aware of anyway. Just a big "fuck off" to Boo Boo Records of Grover Beach.
What the hell is going on? What is wrong with Grover Beach? The Five Cities in general? Why can't we pull it together!? Are the meth heads, skater boys, and obese moms pushing strollers with cigarettes dangling from their mouths not listening to music anymore? And what about everyone else? Are you so tasteless and heartless that you want to destroy all that is original and charming?
You're not all to blame. I blame those of you who never stepped foot in Boo Boo Records, never gave it a chance, never browsed through or bought music, laid down a few bucks for a cool sticker, a colorful patch, or concert tickets. Shame on you for not supporting a business that rocked and guided you through three decades of tunes, customer service, and greatness in the Five Cities.
Now where will I buy that fabulous James Brown box set or hard-to-find Interpol import or Timbaland's latest or a rare Nina Simone album? Wal-Mart? Best Buy? Um, no. All I will find there is NOW! Vol. two hundred-and-fucking-ten.
Is this the frustrating and depressing trend we want to see for the Central Coast, an extra special locale so many of us cherish and are proud of? Small-town life gives way to big-city stores (and landscapes), and the little guy gets it in the end is this the cliched bullshit we will present to visitors, ourselves, but more importantly to the kids who now live here, and who will stay here to raise families? What will the Five Cities landscape be in another 30 years? Mounds of box stores, terrible chain restaurants, and enough banks to bankrupt us all, feeding an insatiable need to consume. And not just to consume to consume badly.
Whatever happened to promoting the mom-and-pops, keeping them alive with blood, sweat, and tears? San Luis seems to kinda, sorta do it. But maybe this commentary pertains to them as well.
But Boo Boo's is still open in SLO, isn't it?
It seems that Five Cities wants to closely guard and protect its uniqueness, but why allow the closure of the only local music store while simultaneously building a flippin' Applebee's across the street? And what's with a Long's Drugstore 20 feet away from a Rite Aid? I'm not saying we all don't need our toilet paper, tampons, and shampoo, but why the redundancy and absolute neglect of something a little bit more real? Something more worthy of our attention than a franchise?
If you think I'm overreacting to one town's lack of aesthetic judgment or city planning for that matter check out what's now left in the shopping center that once held Boo Boo Records:
A discount cigarette shop
A pizza shop
A Mexican food place
A Blockbuster Video
A Chinese food place
A frame shop (and art gallery, thank God).
Maybe it's an age thing. We all hate aging. No one wants to be over the hill. We want everything new, young, fresh, and clean. Will the Five Cities just close me down when I turn 30? Exchange me for something else, even though I was born and raised here? Do I need to move out of Oceano as of June 12, my 30th birthday?
I'm offended by and disappointed by anyone who was able to help Boo Boo Records and never did. I pray you drop your iPods in your toilets and that every single one of you gets fat as hell on mozzarella sticks and boneless buffalo wings at Applebee's.
Oh, and one more thing: Grover Beach shopping is now officially, completely useless.
Invite Calendar Editor Christy Heron out for boneless buffalo wings at cheron@newtimesslo.com.