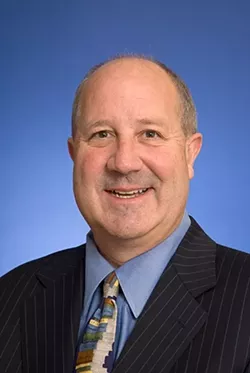 PHOTO BY STEVE E. MILLER
AUTHOR! AUTHOR! : Steven Hayward, political historian, will be among the writers who will sign books and reveal the secrets of their trade, for a good cause.
N
ationally recognized authors aren't coming to town for the holidays: They live in the area all year long. But on Dec. 5 from 1 p.m. to 5 p.m. they will sign books and talk to readers and aspiring writers at Adelaida Cellars annual Holiday Open House to benefit the Paso Library Foundation. Admission is free.
Winery owner Elizabeth Van Steenwyk, the published author of more than 70 books, found simple inspiration for the open house: "I love books. I write books, I read books, and I want other people to have the same enjoyment that I have. There's so much to learn from a book," she adds, "and you do it yourself."
Dr. Thomas J. Rice, who wrote Paso Robles: An American Terroir, Thomas C. Wilmer, who wrote Romancing the Coast: Romantic Getaways Along the California Coast, and Steven F. Hayward, who wrote The Age of Reagan: The Conservative Counterrevolution: 1980-1989, are among the authors who will attend. Children's book authors including Elizabeth Van Steenwyk, Tony Johnston, Elizebeth Spur, and Gu, author of The Great Chiweenie, will be on hand to explain where they find ideas and how they produce such vivid works. Book illustrator Helen K. Davie will be featured.
Tony Johnston has written more than 100 children's books, including: The Wagon, Any Small Goodness, and Bone, by Bone, By Bone. After retiring to raise her five children, Elizebeth Spurr focused on her first picture book, Mrs. Minetta's Carpool. She's since published 30 children's books. Illustrator Davie's beautiful watercolors have graced such children's books as What Lives in a Shell? and Animals in Winter.
Gu, who penned The Great Chiweenie with help from his adopted parents, Megan and Cubby Cashen, is half dachshund and half Chihuahua. They've helped him write four books to date, including Around the Hood, Coasting Along, and Sea for Yourself.
"I know most of them because I'm an author," says Steenwyk, "Steve Hayward is an old friend and we talk books when we get together. I write books primarily for his children, the age of his children. He writes books that are historical and biographical and I like to read that kind of book."
It's an event for all ages. "Children have rather a sense of awe that someone sitting in front of them wrote the book. A light bulb goes on," Steenwyk relates from long experience. "When I talk to children I tell them, 'You can do that too.'"
The holiday fair is a great way to connect with many savvy local authors while enjoying fine wine and helping the Paso Robles library. Jewelers will be there as well, displaying dazzling creations. For more information call 676-1232 or visit adelaida.com.
Fast facts
Be a Santa to a Senior is an opportunity to support elderly neighbors. Home Instead Senior Care is teaming up with several nonprofit agencies and area retailers to sponsor collecting, wrapping, and delivering gifts to seniors. For more information call (888) 296-2411 …
Paso Robles High School is proud to announce that its Crimson Chronicle newspaper received a Best of Show distinction at the National Scholastic Press Association's national convention. A record 6300 student journalists attended the convention …
The Holiday Skateboard Camp in Atascadero will teach skateboarding skills and tricks to kids ages 8-14, from Dec. 28 to 30 from 9 a.m to 12 p.m. Play games and participate in a skating competition. The fee is $50 for residents, and $55 for nonresidents. Register at A-Town Skate Park, or online at Atascadero.org …
Four local arts organizations were selected from a broad field of applicants to receive a total of $20,000 from the San Luis Obispo County Community Foundation's (SLOCCF) Arts Inspires! Endowment Fund. Created expressly to support local community arts, the fund was established by a gift from the William Randolph Hearst Foundation. This year's recipients are: The SLO International Film Festival, to aid the Youth Film Makers Program; the SLO Little Theatre, for a consultant to develop a fundraising plan; SLO Vocal Arts Ensemble, to develop a marketing program, integrate social networking, and redesign its website; and Studios on the Park, in Paso Robles, for consulting services to develop a five-year business plan.
Intern Lisa Spencer wrote Strokes&Plugs this week. Send your business and nonprofit news to strokes@newtimesslo.com.