In 1928 at the age of 15 Bud Mercer began a career that would span 75 years in an industry known for its harsh, fickle, and competitive nature: show business. At times he would reluctantly accept a non-entertainment job to supplement his income and, at others, his diet would consist of onion sandwiches while on tour, but his devotion to his industry never wavered. He documented his career as one half of The Mercer Brothers duo in his recently released book Tripping the Light Fantastic: Through the Evolution of Show Business From Vaudeville to MTV.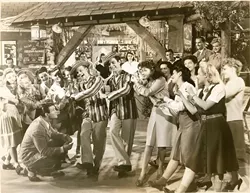 PHOTO COURTESY OF BUD MERCER
THE SIREN CALL OF THE SILVER SCREEN : The Mercer Brothers danced in the film Youth on Parade to "It Seems I have Heard that Song Before."
# Bud's mother, Elsa, came from a religious family that forbade her from developing her talent for acting. Consequentially, she exposed her four children Bob, Rose Marie, Bud, and Jim to music at a very young age. By the age of 14, Bud had been playing the violin for seven years, accompanying Rose Marie, who played the piano. The pair, along with younger brother Jim, also took tap and ballet lessons. In 1928, Bud and Rose Marie hit the stage of the Pasadena Community Playhouse, performing a waltz clog routine in the play Gentlemen, Be Seated. Bud and Rose Marie performed in local vaudeville houses for several years and, when 15-year-old Jim got his work permit, The Mercer Trio took off, singing and dancing in beer gardens and venues across Southern California, and eventually hitting the road for a Cook's Tour. After five years, Rose Marie decided to get married and The Mercer Trio became The Mercer Brothers, setting the stage for the next six and a half decades.
"When we came off the Cook's Tour, I told Jim, 'Let's try the picture business. Maybe we can get in town and stay at home for a little while,'" Bud explained. "We found out that the Screen Actor's Guild and Central Coast Casting was closed shop. I had a friend on a tour that told me to go to Central Coast Casting and ask for a particular person."
He followed the friend's advice, purchasing a jacket that he thought made him look more Hollywood, but it was only by a stroke of either brilliant timing or luck that Bud managed to get his foot in the door. He happened to arrive at Central Coast Casting and request the friend of a friend just as that man was walking in the door from lunch.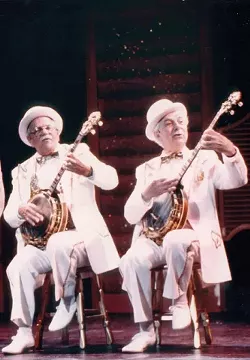 PHOTO COURTESY OF BUD MERCER
BANJOS WITH A VENGEANCE : Bud and Jim Mercer played a dueling banjos number at the Palm Springs Follies.
# He allowed Bud to leave his photograph with a list of his talents on the back despite having "closed shop." Bud used the opportunity to list every possible talent he could imagine.
"Even if I didn't know how to do it, I'd learn real quick," Bud explained.
Bud's willingness to adapt paid off more quickly than he expected. Within two weeks, he received a call asking if he could perform Spanish dancing while playing the castanets. He assured them that he could, got a job that lasted about three months, and received his guild card from MGM. Over the next four years, Jim and Bud would dance in countless movies, including Girl of the Golden West, Marie Antoinette, Rose of Washington Square, Youth on Parade, Babes on Broadway, Born to Sing, and Holiday Inn. It's impossible to say where The Mercer Brothers' career would have gone had World War II not interrupted their work in the film industry, but when the brothers returned from war they found yet another venue for their talent: vaudeville.
The tale of The Mercer Brothers' career is the tale of the evolution of show business, and the one reason the duo managed to stick with it as long as they did was their willingness to learn anything and to leap headlong into new entertainment venues. If they needed to learn to play a musical instrument or perform a new genre of dance, they did. And when television came knocking in the form of an Austrian named Klaus Landsberg, the manager of KTLA who was determined to improve the quality of television Bud and Jim embraced the opportunity to reach new audiences. Then, in 1953, Bud and Jim were offered a one-year contract with The Dude Martin Show.
"In TV we were very fortunate," Bud said. "That was a great
PHOTO COURTESY OF BUD MERCER
BAND OF BROTHERS : **** arts-Bud1-4/5 IN DO FILE**** Jim and Bud Mercer worked together in the entertainment industry for 31 years, dancing, singing, and clowning around.
# show for us. We could try anything we wanted. We did puppets. We did quite a few different things. We even danced on the wall. Every phase of show business we went into, we were a good standard performer."
They later performed with Bandstand Review, but as with every other phase of their career, their time on television ended and The Mercer Brothers spent some time scrambling for a new show.
In an unexpected twist, Bud and Jim began the gig that they most would most enjoy in 1992 when Bud was 79 years old. Jim's daughter, a Palm Springs resident, told them about a show called The Palm Springs Follies, which required that all cast members be at least 50 years old. The duo auditioned, was hired, and spent the next 11 years playing banjos, singing, and telling jokes to an appreciative Palm Springs audience. It was the perfect show for The Mercer Brothers, who fondly recalled their days in vaudeville and finally had the opportunity to make use of much of their old material. The show ended in 2003, when Jim passed away, sadly ending their 70-year partnership.
"We'd still be going on if my brother hadn't passed away," Bud said. "That sure took my right arm away."
Throughout their tumultuous years in show business, Bud and Jim met and performed with some very successful entertainers. Bud's book is full of anecdotes that include the likes of Bob Hope and Bing Crosby. Most audiences now know Phyllis Smith, the captain of the line girls for their shows Baggy Pants and Giggles Galore, as Phyllis in NBC's comedy The Office. In their early days, they sang on the same bill as the Gumm Sisters, the youngest of which (Baby Gumm) would soon become Judy Garland. Bud's writing illustrates his respect for all of his fellow performers though he insists that he was never starstruck.
Bud began writing his autobiography nearly 20 years ago.
PHOTO COURTESY OF BUD MERCER
BROTHERS IN ARMS : The Mercer Brothers performed a comic impression of Cesar Romero and Carmen Miranda.
# "I got a manuscript ready in about two years, but in those days you had to have an agent or nobody would even look at it," he explained.
So, he set the manuscript aside until the Sugar Daddies show at the Reno Hilton came to a close. (The show, incidentally, included line-girls led by a 60-something stripper named Tempest Storm).
"When we finished that show and came home to Lake Arrowhead, we couldn't find any work so that's when I started writing," Bud explained. "I had always wanted to be a writer."
In high school, when his English teacher asked him what career he wanted to pursue, he said that he wanted to be a writer. She advised him to obtain some life experience before he began writing. Armed with a wealth of show biz stories and a creative writing class at a college in Lancaster, Bud ultimately wrote.
He now lives in Arroyo Grande with his daughter Lin, and though his days of Spanish dancing and tap are behind him, he's full of jokes and memories. His next career move will probably include a second book based on philosophies and beliefs that he cultivated during his career as an entertainer. And he's been busy attending book signings in San Luis Obispo and Palm Springs.
"I'm back in the business with my brother through my writing," he said. "When Shakespeare was writing, he said 'All the world's a stage, the people but actors.' And if you think about it, it's absolutely true."
INFOBOX: Follow the light
Tripping the Light Fantastic: Through the Evolution of Show Business From Vaudeville to MTV by Bud Mercer is available on amazon.com or on Bud Mercer's web site, www.budmercer.com
Arts Editor Ashley Schwellenbach trips, but never on light. Send banana peels to aschwellenbach@newtimesslo.com.