Firestone Walker Brewing Company and Figueroa Mountain Brewing Company headlined for the Central Coast at the Great American Beer Festival once again this year. Fig Mountain took home a handful of awards, and Firestone received the distinction of being best mid-sized brewery for a fourth time. Central Coast Brewing also took home an award this year for best pale ale.
But breweries in SLO County are doing more than bringing home the gold. They are growing like crazy. Firestone recently cut a historic deal with Duvel Moortgat to help fund a second expansion in three years. Fig Mountain taprooms are popping up across the coast like wildflowers in the spring. But what's going on with everyone else?
The answer is a lot.
The Libertine
Scrawled across the chalkboard-covered wall at Libertine Brewing Company's new downtown SLO tasting room you'll see the words: "Yeah, we know it's sour." They're the same words that hang at Libertine's original 10-barrel brewery, restaurant, and taproom in Morro Bay. It's a cheeky way of introducing folks to the pucker-worthy world of small batch, barrel-aged wild ales, established in 2012 by founder/head of brewing operations Tyler Clark.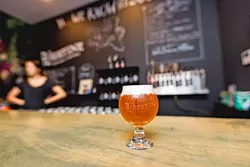 PHOTO BY KAORI FUNAHASHI
SWEET N SOUR: Libertine Pub's new 9,000-square-foot brewing facility is home to a cozy-yet-edgy tasting room at 1234 Broad St. in Downtown SLO. Founder and head of brewing operations Tyler Clark aims to transform the space into a place for wild sour beers as well as cold brew coffee, food, and local artisanal goods.
The new, 12-tap, 300-square-foot tasting room—which opened in August on the corner of Broad and Pacific streets—is located within a 9,000-square-foot warehouse space housing 14 tanks, a 15-barrel copper steam brewing system, coolship fermentation room, and about 200 barrels of beer. Libertine is known for employing open fermentation and will continue to use native yeast sourced from Morro Bay.
"We're using the same techniques, but we have a lot more variety now in terms of flavors. We're able to do more than just your big, gnarly sour beers," Clark said, adding that the brewery recently released a dry-hopped, funky "wild IPA" that boasts just a hint of tartness.
Libertine produced about 200 barrels of sour beer in 2014 and aims to expand to 1,000 barrels by 2016. Phase two will include the procurement of an off-site barrel storage and packaging facility that would allow the Broad Street operation to include a restaurant/coffee shop. The brewery currently offers locally roasted cold brew coffee flavored by bourbon casks. Both beer and coffee are available for purchase at the tasting room by the 5-ounce taster or 32-ounce growler.
If all goes to plan, this secondary phase will take place in January, the same month a state-of-the art bottling line is slated for delivery. The completed restaurant is planned to feature 60 beer taps, 15 wine taps, food, and four cask beers on tap.
"We want this to be an artisanal center where you can go and not only get wild sour beers," Clark said. "There's so many other fun ideas we could do that we just weren't able to do in Morro Bay due to space. We're starting to experiment with all of these ideas that we've been saving up for until we found a space like this."
Hours are Thursday and Friday from 4 to 10 p.m., Saturday from noon to 10 p.m. and Sunday from noon to 10 p.m.
—Hayley Thomas
BarrelHouse
BarrelHouse Brewing Company is bringing its "craft-centric" attitude and beer down the Cuesta Grade from its Paso Robles brewery to a new 1,600-square-foot taproom currently under construction at 1033 Chorro St. in Downtown SLO.
PHOTO BY KAORI FUNAHASHI
DOWNTOWN BREW: Paso Robles-based BarrelHouse Brewing Company will open a 1,600-square-foot taproom in downtown SLO on Chorro Street.
"This is a way to introduce San Luis Obispo to our brand," said Jason Carvalho, one of BarrelHouse's founders.
Carvalho said the taproom will feature knowledgeable staff and an array of BarrelHouse beers, including unique brews you can't find anywhere else. He is particularly proud of BarrelHouse's specialty "forager" series, which feature locally harvested ingredients.
But more than simply serving tasty craft beer, the taproom will offer a chance for visitors to experience just what makes the company so special.
"It's about our culture and our product," he said. "We don't take ourselves too seriously, but we take our product very seriously."
It's something he believes will stand out—even as other craft beer brewers set up shop in downtown SLO, and across SLO County—and will continue to attract more individuals who hope to get in on the beer and brewery boom in the area.
BarrelHouse came from humble beginnings, with Carvalho and his best friend/co-owner Kevin Nickell brewing in Carvalho's garage for four years while searching for brewery equipment. The pair later brought on another friend, Chris Vaughn, and realized their dream of starting a craft beer brewery in 2013.
Even while he is dealing with the business of running a successful brewery and taproom in Paso Robles, and preparing to finish and open the taproom in SLO, Caravlho said he makes sure to stay connected to the brewing process.
"I still enjoy brewing," he said. "I still like to be hands-on, so I don't lose focus on why I'm in the business."
The BarrelHouse taproom is tentatively scheduled to open before the end of the year.
—Chris McGuinness
Dunbar
Every single beer that Dunbar Brewing's produced over the last 18 years has a written recipe to go with it, one with copious notes detailing how many times it was brewed, whether people liked it, and what's changed over the years.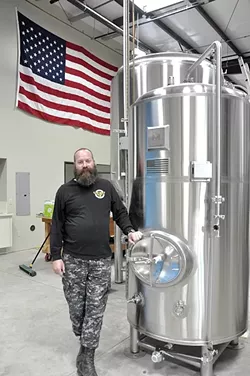 PHOTO BY CAMILLIA LANHAM
BUILT TO SUIT: Dunbar Brewing's Chris Chambers designed his new 10-barrel brewhouse, which was built by Paso Tank and Steel. The brite tank he's standing next to came out of Vancouver, Wash., and came complete with an American flag welded onto the side of it. Marks Metalworks added it specifically for Chambers, a veteran.
Chris Chambers, owner/brewer, likes to pull them out and look them over. He likes to remember where he started. Recently, Chambers and the bar crew from Dunbar's pub in Santa Margarita fished out a weissbier recipe. Collectively, they decided to throw some dark malt into the mix, brewing a fresh batch of dunkelweiss on the brewery's three-barrel system.
"People seem to like it," he said. "Those [recipes] are the ones we were making from the get-go, so it's cool to see this is why it worked."
It's clean, with roasted malts up front and that light wheat finish. Is it hoppy? Nope. That's not really Chambers' thing. He focuses on Irish/English/Scottish style ales: malt-heavy, well-balanced, maybe even a bit creamy. And there's enough demand for Dunbar's style that Chambers is almost finished building a new production brewhouse at the other end of Margarita.
"I've always hoped it would be something along this level. Doing it by myself, I never knew it was possible," he said. "Doing it slow is the way to do it."
Standing inside the newest 5,000-square-foot addition to Dunbar, there's a lot of room for growth. The almost finished 10-barrel brewing system sits in one corner, and a handful of 30-barrel fermentation tanks are set up in front of a gigantic American flag hanging near the ceiling on one wall. He's shooting to open by this fall.
It seems like Chambers has been building to this point for 18 years, chugging away on his self-designed three-barrel system since he opened Dunbar in Los Osos. He did take an eight-year hiatus when he joined the military, but when he was ready to brew again, he pulled the system out of storage and set up shop in Margarita.
Dunbar's been a standby in town ever since, which is part of the reason he's keeping the pub and bottle shop on one end of town and opening a brewery with tasting room on the other.
"We love it here and wanted to stay here," Chambers said.
—Camillia Lanham
Central Coast Brewing
While new breweries may be all the rage everywhere you go, there's one local stalwart that just earned a big honor to help them cut through all the noise.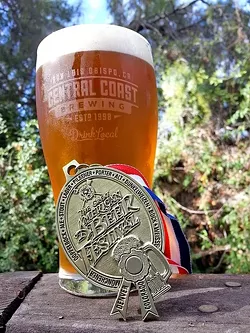 PHOTO COURTESY OF CENTRAL COAST BREWING
BEST PALE ALE IN THE COUNTY : No, really. Central Coast Brewing's Monterey Street Pale Ale—one part home-brew recipe, one part new-school hops (mosaic, galaxy, citra)—took the gold medal for American-style Pale Ale at the Great American Beer Festival in September.
Central Coast Brewing, located up at 1422 Monterey St., left the Great American Beer Festival in September with a gold medal for their American-style Pale Ale.
To clarify a bit: Central Coast Brewing's Monterey Street Pale Ale was named the best beer in a category with 160 entries, at the biggest, most prestigious beer competition in the United States. Cheers to that!
CCB has been doing its thing since owner George Peterson purchased the facility in 1997. Back then, it was a tiny, fairly new, brew-your-own-home-brew on-site operation. Little by little CCB started brewing more beer for sale, eventually becoming a production brewery. Peterson expanded by buying smaller-scale used equipment, and eventually bought some very reasonably priced production-scale equipment from a recently closed brewery in Nicaragua.
And they just kept growing, inch by inch, at times brewing better beer than at others, Peterson admits.
"We made some awful beer," Peterson said. "I'm not going to lie to you."
In the last few years, however, CCB has been getting serious. Enter Brendan Gough, CCB's head brewer since last year. Gough, a 34-year-old local from San Luis Obispo who worked at CCB part time off and on, left a full-time gig at Firestone Walker Brewery to go all in at CCB. Gough took production from 60 percent capacity to 100; countywide distribution ramped up; and Gough is dialing in several CCB standbys.
One of those beers is the Monterey Street Pale Ale. As the name says, it's a nod to local origins, and it's just as homegrown as the brewer and the business.
"The foundation of that beer at its core was my old home-brew recipe," Gough said. "That's why that was a big deal for me, for all of us. I still get tingles thinking about it."
The beer doesn't disappoint—a crisp, tropical hoppy pale ale that's like a session IPA, but unlike session IPAs, it isn't trying to be something it's not.
What does a brewery that's on the up-and-up do when their production is at 100 percent of capacity? Neither Gough nor Peterson will answer that question, but they seem to be scheming, so stay tuned.
—Jono Kinkade
Toro Creek Brewing Co.
Toro Creek Brewing Company might be San Luis Obispo County's most unique up-and-coming brewery. Operated by a trio of brothers on family-owned farmland between Morro Bay and Atascadero, Toro Creek Brewing combines homegrown ingredients to yield a pure, delicious product. Toro Creek has steadily ramped up production since its 2013 beginnings, and co-founder Brendan Cosgrove recently said the company is ready to take its next step.
PHOTO BY KAORI FUNAHASHI
ON TAP: Enjoy Toro Creek Brewing Co.'s beer in select SLO County bars, like here at Mother's Tavern.
"We have built a solid foundation for Toro Creek Brewing Company," Brendan said. "It is now a turning point for us to take that momentum and grow."
Brendan is currently looking for buildings in the county to serve as a bigger production brewery, in addition to opening a taproom "as soon as possible."
Meanwhile, Toro Creek recently unveiled its session IPA. The new brew will join Toro Creek's saison, red ale, and oatmeal stout at select locations across SLO County.
"We are very proud with the way the Session IPA came out," Brendan said. "Our red ale and session IPA are available year-round. And we seasonally release our saison and our oatmeal stout."
Toro Creek's founders—Brendan, Kyle, and Caleb—are brothers with distinct areas of expertise that synergize impeccably to run a brewery. Brendan has a degree in business administration, Kyle studied agriculture, and Caleb moseyed into the mix with 20 years of prior brewing experience. On their farm, the Cosgroves grow their own hops and barley, as well as citrus, avocados, grapes, and berries. Down the line, Brendan envisions Toro Creek brewing a wide variety, including sour, barrel-aged, and craft spirits.
"It's just a matter of time before we get to share them," he said.
While Brendan always knew he wanted to start his own company, Toro Creek Brewing—which began as his senior project at Cal Poly—has exceeded all his expectations.
"Craft beer turned into a passion for me, like it has for so many others, in the last few years," Brendan said. "Seeing the support of family, friends, and the community is very inspiring."
—Peter Johnson
Bang the Drum
While hoards of loud, often-obnoxious college students frequently overtake the alcoholic hot spots in downtown San Luis Obispo, a mellower, but still lively crowd congregates at Bang the Drum Brewery several miles from Higuera Street.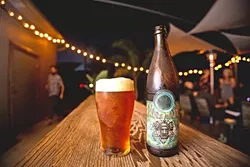 PHOTO BY KAORI FUNAHASHI
KING OF BEER: BTD's King Mate IPA is a gateway beer that lures non-IPA drinkers over to the hoppy side while still pleasing the hop-till-you-drop crowd. "It's an IPA, but it's a mild one," Gary said of BTD's most popular beer. "It's an English style so it's got an earthiness to it."
Located on Orcutt Road off Broad Street, Bang the Drum (BTD) offers a spacious and rustic outdoor area; ample parking; and plenty of music, movie, and food offerings. People don't come here just to drink, they come to unwind and have a good time with friends, often bringing along tail-wagging puppies and chubby-cheeked babies.
"The idea was to have a fun place where people could come and be a community and have that spirit of doing something fun," Gary DuBois, co-owner of BTD said.
The brewery—which he owns along with his daughter, Noelle DuBois, and brewmaster Jeremy Fleming—recently celebrated its one-year anniversary.
The trio originally wanted to open a brewery-restaurant, but found it was cheaper to start as a beer manufacturer. Working toward that original goal, BTD recently launched a catering company, Elder Stone, so customers can throw back a King Mate IPA and chomp on some pulled pork mole in lettuce wraps while enjoying live music, a movie night, or a salsa-dancing lesson.
Next steps for BTD include eventually having a kitchen on site and expanding its production capabilities. While many breweries boast of small batches of beer, BTD might be the smallest of them all. Their current setup yields about two barrels or 62 gallons of beers at a time.
The boom of craft breweries in San Luis Obispo shows no sign of stopping. Gary said having more breweries around only helps to distinguish San Luis Obispo as a beer hub.
"The beer industry is more like a club or a brotherhood, everyone gets together and supports one another," Gary said.
—Ryah Cooley
SLO Brew
Iconic.
That's how SLO Brew owner Hamish Marshall describes his beer brand. And four years ago, when Marshall took full ownership of the Garden Street brewery, the goal was to get the beer back in bottles and on store shelves.
RENDERING COURTESY OF SLO BREW
GROWING UP: The Rock out near the SLO airport will be the home of SLO Brew's new production facility, set to open early next year.
"We're starting again, on the ground," Marshall said. "I bought the brand with the intention of sort of building up brand recognition."
When he first moved to the Central Coast, the beer was on shelves and distributed in different states. Now, the 1,400 barrels worth of beer that flows from SLO Brew taps each year mostly pours out of the taprooms on Garden Street. Although, Marshall said there are 30 to 40 accounts in SLO County, such as the Shell Beach Brewhouse, that offer up SLO Brews, the brewery's limited capacity to make beer is making it hard to let loose in the market.
The projects under construction right now—a restaurant, taproom, and small brewery on Higuera with a much larger brewery going in near the airport—have been in the works for the past two years. The ultimate goals are ambitious: get SLO Brew out into the market, gracing taphandles in bars and restaurants throughout SLO County and beyond, and start bottling and canning to put the brand out on store shelves. Marshall said it should all happen within the next year.
The Rock, soon to house SLO Brew's new 35-barrel brewing system and eventually a bottling line, near the airport is just getting its feet. An in-construction foundation is the only sign of something to come. But Marshall said that will change on Nov. 2, when a pre-fabricated steel building shows up and gets erected over a 12-week period.
"It's like an erector set," he said. "It's really cool."
SLO Brew's brewhouse is also on its way, and will hit The Rock on Dec. 12. Although, Marshall wouldn't let on exactly which beers the brewery would concentrate on pushing into the market, he did say Reggae Red would be one of them.
The brewery that started in Paso Robles more than 20 years ago has changed form many times, but Marshall said the brand has always remained local. In fact, it was his first experience on the Central Coast.
"It's sort of ironic," Marshall said. "When I got here from Australia 20 years ago, it was the first place I went to when I got off the plane."
—Camillia Lanham

New Times staffers are on a brewery pub crawl. Reach them through the editor at clanham@newtimesslo.com.