Though the San Luis Obispo and Morro Bay Fire departments saw many of their rank assisting other departments throughout the state battling blazes, each sent a firefighter to the Otay Mesa California border, where they crossed in a donated 1983 Mack fire engine on July 27.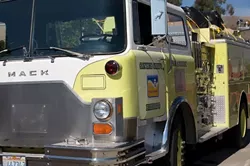 PHOTO BY JESSE ACOSTA
SIREN SONG : Volunteers from local fire departments took an engine to Mexico as part of a series of donations to help combat blazes south of the border.
# San Luis Obispo Fire Department Capt. Jerry James and Morro Bay Fire Department engineer and paramedic Ariane Leiter presented the engine to La Paz, Mexico's Fire Chief Raul Sanchez, who drove the engine 1,000 miles down the peninsula to the Baja community of La Paz.
The Morro Bay Fire Department, Pismo Beach Fire Department, Atascadero Fire Department, San Luis Obispo Fire Department, Duke Energy of Morro Bay, and the California Department of Forestry loaded the engine donated by the city of San Luis Obispo with donated supplies that included uniforms, boots, hoses, and air bottles.
The donation was in line with a long tradition of brotherhood between Central Coast firefighters and their comrades in Latin America. The 1983 Mack is the fifth fire engine donated to Mexico by the city of San Luis Obispo. The engines are no longer able to operate in California due to age restrictions and liability issues but they rank as the newest engines for putting out fires and saving lives south of the border.
"We have been donating engines since the early '80s," James said. "It started through a California program called Los Bomberos. These donations make a big difference to fire departments in Mexico." ?
Staff Writer Karen Velie compiled this week's Strokes and Plugs. Santa Maria Sun Arts Editor Craig Shafer contributed. Send your business news to kvelie@newtimesslo.com.