There's something so addicting about a really good açaí bowl," Bowl'd co-owner Chris Tarcon says. "When I'm eating it, I never want it to end. There's something in the açaí that makes you want another one. After two days, I'm craving the next one."
I know exactly what he means.
PHOTO BY HAYLEY THOMAS
BOWL BROS: Bowl'd owners James Whitaker (left) and Chris Tarcon aim to bring tasty, health-conscious açaí bowls, smoothies, and kombucha to downtown.
A contractor works in the background of our interview, attaching wooden facades to the walls that will soon brim with succulents and other greenery. Co-owner James Whitaker busies himself with the blender. He's whipping up a fresh, icy batch.
Just the sound of the machine whirring gets me going. My brain tells me to anticipate fresh fruit, crunchy granola, and that gotta-have-it tangy açaí goodness.
This is your brain on açaí.
I am not an "açaí addict" by any means, but once Bowl'd opens its doors officially this Fourth of July weekend, I can't say just what will happen. Ask me then, and look for the telltale purple lips and tongue that are the hallmarks of any açaí junkie.
You probably know Tarcon and Whitaker as the dynamic duo behind Kreuzberg, California. By now, you probably know that they have a way of flying by the seat of their Levi's. That's exactly how The Brat Stop became Bowl'd in the proverbial blink of an eye (don't worry: The Brat cart is still operational during Thursday Farmers' Market).
You really have to hand it to these guys: They always seem to know what SLO needs before SLO does.
After noshing on açaí at a string of popular Backyard Bowls in Santa Barbara, inspiration struck like a ton of frozen açaí packs.
IMAGE COURTESY OF BOWL'D
GREEN SPACE : A rendering of Bowl'd at 1028 Chorro Street in downtown SLO shows off a garden of hanging plants and a calm, modern vibe.
"Açaí is popular in other cities, and we don't have an açaí place in downtown SLO," Whitaker said. "We knew someone else was going to do it, so we thought, 'it might as well be us.'"
Yes, you can already find açaí in SLO: At Kreuzberg, Bliss Café, Nautical Bean, Neighborhood Açaí & Juice Bar, and Sally Loo's to name a few—but there isn't a one-stop shop for the true connoisseur.
And, according to the guys, an "açaí bowl" and a "really good crack-like açaí bowl" are two entirely different beasts.
"It has to be made right. It has to be smooth, rich, thick, dark, and delicious," Tarcon said. "The toppings have to be right. The fruit has to be super fresh, cut right before topping."
The Bowl'd açaí is sourced from a trusted Brazil puveyor, and the duo is currently working with an importer to see if they can cut out the middleman. That means vast shipping containers full of frozen açaí delivered direct.
"We want to see lines out the door," Tarcon said of this weekend's opening. "Our focus is açaí bowls, but we also serve warm bowls with oatmeal or quinoa, smoothies, and we'll also have a kombucha bar."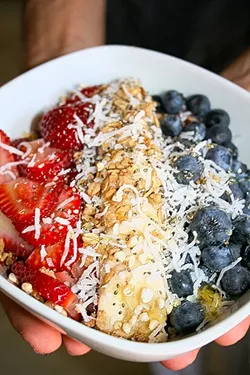 PHOTO BY HAYLEY THOMAS
ALLURING AÇAÍ: Bowl'd is mixing up bold açaí creations, including this healthy, refreshing San Luis ObisBowl, pictured.
Local purveyor Komplete Kombucha will supply eight taps of the fizzy pro-biotic elixir (say goodbye to that bloating soda habit and hello to Mother Nature's Fanta).
As for the bowls, there's a flavor for every taste, including a spinach kale green bowl, tropical kiwi mango bowl, and a chocolate almond concoction that screams dessert yet won't make you lazy. Oh! And there's even a bowl featuring beets. We need more excuses to consume beets!
"I see this as being something for everybody: Families love açaí bowls, tourists love them, fitness people who are into health and don't eat steak and eggs for breakfast; college kids love it," Whitaker said. "I see it as frozen yogurt in the sense that it's something everyone loves."
Correction: Fro yo that's healthy for you. And what could be more desirable in this biking, kayaking, Bishop's-hiking region?
I put Whitaker's hypothesis to the test as I dug my spoon into the San Luis ObisBowl—a mix of açaí, strawberry, banana, apple juice, granola, and honey. Supple fruit played against the crunch of granola and cool silkiness of the açaí.
Despite my lunch of pork enchiladas, I couldn't stop eating the açaí—I found myself powerless against its charms. Neither could Whitaker either, who dove in for a spoonful that turned into five. Soon, local wine distributor Brad Bowdey stopped by to talk to the guys about a shipment for Kreuzberg Lounge. That could wait—first, he needed to try this new açaí bowl (now being topped with dried goji berries by an enthusiastic Tarcon).
THE PURPLE FIX: Bowl'd is located at 1028 Chorro St. in downtown SLO and will be open for breakfast and lunch hours beginning with an official opening this Fourth of July weekend, July 3 to 5. For updated hours and information, visit the business's Facebook page or call 548-2695.
Suddenly, all three of us were digging in with our spoons, pleasure receptors lighting up like a pinball machine.
"One last bite," I said. "This is my very last bite!"
Famous last words.
Flavor writer Hayley Thomas has purple drool on her chin at hthomas@newtimesslo.com.