First Shredder ever! This ran on April 16, 1992.
HEY WHAT'S THAT IN MY PEPSI? Has anyone heard the supposed real story behind that recent piece in the Telegram-Tribune about the deputy SLO County prosecutor recently suspended for allegedly offending one or more female employees at the District Attorney's office?
Apparently the suspended deputy wasn't the only male employee in the DA's internal investigation.
The Shredder hears there were up to three men accused of doing things their female co-workers thought were, well, let's say a tad bit offensive.
The rumor mill also has it that there were as many as six women who complained about rude humor and raunchy jokes, not to mention an office party where a deputy prosecutor took down his pants in front of one or more women who for some reason just didn't think the stunt was particularly funny.
Amazing how rumors get started.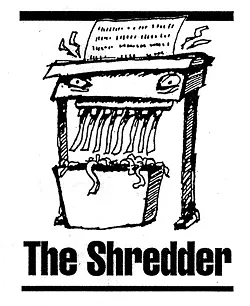 UH, WE'LL GET BACK TO YOU ON THAT ONE The pro-choice rally a couple of weekends ago in SLO Town sponsored by the local chapter of the National Organization for Women (NOW) looked more like a Gloria-Ochoa-for-Congress rally than anything else. Just wondering why no pro-choice candidates other than Ochoa, a Democrat, were speaking.
After all, if the pro-choice abortion issue really transcends party ideology as NOW contends, you'd think they'd have invited Republican congressional candidates Michael Huffington and Democratic Assembly candidate John Ashbaugh—two widely acknowledged pro-choicers—to address the rally, too.
Unless you've been dead, you know by now that umpteen-term incumbent Republican Bob Lagomarsino is fervently anti-choice and that any true pro-choice voter would want anyone in office but gag-rule Bob.
It's not complicated: if the Supreme Court overturns Roe v. Wade, it could be up to state legislatures to decide the issue. Republican Assemblywoman Andrea Seastrand? That's right: your local dyed-in-the-wool, fight-to-the-death right-to-lifer.
OH, GO FLY A KITER And it's too bad the district of Republican Congressman Bill Thomas—formerly one of SLO County's two reps in Washington—was drawn back into the San Joaquin Valley and out of this county.
Because it'd have been great fun voting against him this June, considering he bounced well over 100 checks at the House bank. With characteristic congressional regard for the people's right to know, one of his top aides was quoted on a Bakersfield TV station as telling a reporter something like "It's none of your business" when asked what Thomas bought with all those bad checks.
SEEEEEEEE YA It seems Bob Tapella, long-time local aide to Thomas, has jumped ship, swimming over to the Huffington campaign. Word has it that Tapella had been working with the Lagomarsino campaign, but didn't seem to get along too well with some of the Lago crew. The Shredder hears Tapella's move to Huffington has ruffled feathers on some Huffington supporters because of the fashion during this political season to shy far away from anything to do with the "I" word—they don't want their tidy candidate sullied by any of that messy, sticky, hard-to-wash-off incumbent dirt.
SCHMIDT HAPPENS Outgoing SLO Planning Commissioner, New Times columnist, and full-time rabble rouser Richard Schmidt is giving serious thought to running for mayor of SLO, according to those in the know. Why? Mayoral candidate Penny Rappa's pro-state water pronouncements. Why else?
GEE, WHAT A GREAT WAY TO START OFF THIS YEAR'S EARTH DAY Last Thursday the county gave the boot to county Recycling Coordinator Karen Casper. According to the county engineer's office, Casper didn't pass her six-month evaluation period and, well you know, these things do happen so, hey, it's really no big deal.
But word has it Casper was no milquetoast and was axed due to her habit of speaking her mind—a definite no-no in the county bureaucracy. Just ask Van Laurn, the guy who was in charge of the state water project for the county Engineering Department until he was "removed from the project" last year. Couldn't seem to keep his mouth shut either when it came to saying what he thought about state water. When will these people learn to shut up and behave, anyway?
'CAUSE THEY'RE, LIKE, I MEAN, YOU KNOW, REALLY FAR OUT Just a mention that Roger Freeberg's bumper stickers for his county supervisor campaign look mighty psychedelic for our resident, self-proclaimed anti-drug czar.
SOMETHING STINKS Boy, get a good whiff of that recent "economic study" paid for by the tobacco industry to determine the impact of SLO Town's no-smoking ordinance. Whew! Give us a respirator!
The startling conclusion of this so-called study was that (can you believe it?) the smoking ban is bad for business!
What else could the conclusion have been? Imagine a study paid for by the tobacco industry that said a smoking ban is good for business. Yeah, right.
AND NOW, THE HOLE STORY Speaking of business, anybody read in the Telegram-Tribune about the Copeland family and how successful they are at business and how they've bought the big French Hole in Downtown San Luis and how they're going to make a great, successful business out of it?
And then did you read a few days later about how the Copeland family freaked out completely over the story because their corporate policy is to never talk to the press and never allow the press to write things about them, and how those impertinent T-T folks did it anyway so Copelands pulled all its T-T advertising because the newspaper had the gall to disobey corporate policy and write about the Copelands without permission?
It wouldn't have meant anything to anyone if the Copelands hadn't blown their cool and started a letter-writing campaign to the T-T from family friends, all of whom seem to have little sense of community and its right to know who bought the big hole and what they're going to do with it. The Shredder's Press Onward Award this month goes to the T-T for delivering a story we all needed to know. Corporate policy? In your face.
The Shredder's been keeping it real since April 16, 1992, and has no plans to stop anytime soon. Send comments to shredder@newtimesslo.com.