North County got the autumn memo just in time. It's in the high 70s and breezy as my boyfriend and I drive into Templeton on Sept. 30, and for a second I can actually believe fall has arrived. It wouldn't be Oktoberfest without feeling like it's October—although I'm not exactly an expert on the matter. This Oktoberfest is both a first for me and Templeton city organizers. I think everyone's excited to see what's in store.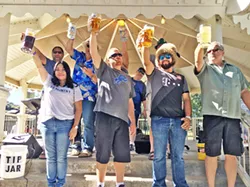 Photo By Sinéad Schouten
RAISE A GLASS! Stein hoisting contestants show off their arm strength for the crowd at Oktoberfest in Templeton. The rules are simple: take a full stein, lock your elbow, and hold it at shoulder height for as long as you can!
We park in downtown Templeton, and it looks like a Norman Rockwell painting. You have the Americana Main Street, polished fire station, clapboard-sided chapel, and a new addition: several haphazardly roped off drunks. The park seems a little less wholesome when wasted 50-somethings are screaming drinking songs in slurred German, but hopefully God (or the neighborhood watch) isn't judging.
After waiting in line a few minutes—and eyeing the adult bounce house—we pick up tickets, receive our complimentary mini-mug, and instantly regret not buying a proper stein. After a little begging and eyelash batting, organizers tell my boyfriend and I that we can purchase any unclaimed steins in an hour. Thank the lord. Time to find out how many mini-mug refills we can get in 60 minutes. College has trained us for this moment.
Accordion music spills from the park gazebo as we make our way through the party. A sea of pop-up tents and booths are sprawled out under massive oak trees. Hawkers are selling everything from jerky to jewelry, but we're of course in it for the beer. After a bit of debate we decide on a hefeweizen since, you know, when in Rome (or fake Germany). While we're drinking, two guys in lederhosen fall off the bounce house behind us. I instantly decide that I love Oktoberfest.
The relaxed vibe of the event is easy to get used to. Besides some rowdy central tables there's no main area, so we do a few more refills and a bit of wandering. At this point the gazebo band is playing a version of "Do-Re-Mi" from The Sound of Music, with new lyrics featuring lines like "Fa: I really want some beer! So: I really want some beeeeer!" At least 50 percent of the crowd doesn't seem to notice.
It wouldn't be a beer event without me disappointing my beer snob boyfriend, so I soon lunge for a pumpkin pie spiced ale. It even comes with a massive glob of whipped cream on top. I reach white girl nirvana. Luckily there's nearly 30 breweries in attendance, so when we finally buy our stein we fill it with something much more respectable from Central Coast Brewing. As we enjoy our long-awaited stein, the contest segment of the day begins.
First up is the classic stein hoisting. Keep those elbows locked, gents! About half the contestants give up in 10 seconds just because they want another sip, but I respect that decision. After the hoisting, costume contestants prance around in dirndls, all while an announcer tries to organize a chug-off. But at this point it's like herding drunken cats.
Soon there are more people lying on benches than standing in beer lines. Things are starting to wind down. My boyfriend and I decide to sober up and call a DD (safety first, kids) and make our way back home after a thorough four hours of Oktoberfest-ing.
Ten minutes later we are passed out in the car and curled around those trusty steins. Best $10 upgrade ever spent. Δ
Reach intern Sinéad Schouten through Arts Editor Ryah Cooley at rcooley@newtimesslo.com.