PHOTO BY STEVE E. MILLER
DO THE TWIST ALL: Around baking expert extraordinaire, chef Sheila McCann, who owns House of Bread in SLO, knows the secrets to fabulous challah.
As a young child, I could devour a quarter loaf of my beloved grandmother's Portuguese sweet bread slathered with butter in just one sitting. I loved that sweet, egg-enriched bread and dipped it in my coffee for the sweetest treat, just as my grandfather did every day (and, yes, my mother was crazy for allowing a 5-year-old to drink coffee, as I often reminded her in later years). While reminiscing with my friend Marilynn Rosenberg, a prize-winning bread baker, that my fondness for bread began at an early age, the gracious woman offered to make that delicious bread of my dreams for me.
Not only did she do a fabulous job of recreating the flavor and texture from my grandma's recipe, she provided me with a taste trip to the past. When I expressed my appreciation she said she could easily teach me to make it myself. I used to make it when I cooked professionally in the early 1990s but had not looked at the recipe in years. Honestly, I'd often tell myself I didn't have the time to bake yeast breads. But after a few hours in the kitchen with Marilynn and two of her friends Patti and Mimi, who also wanted to learn to bake the traditional treat, she taught us just how easy it is to bake challah, or my grandma's traditional Portuguese bread for holidays.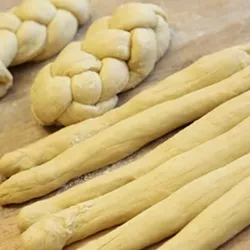 Afterward I told Marilynn her "breadmaking class" was the best I've ever had, and I was professionally trained. While I studied at the California Culinary Academy, we had one teacher to train three dozen students. Marilynn had only three of us so we had her full attention. She provided us with the artistry that comes only after many years of experience. In fact, she said: "I'm teaching you all of the tips I learned while l studied baking in six books on the subject." As we rolled out the ropes for the challah braid, she was quick to notice when we made mistakes, particularly pressing too hard on the dough when we tried to roll it out.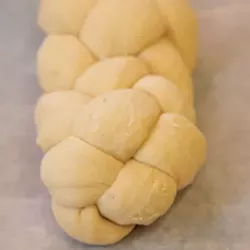 Although she was teaching us, she was making challah for her dinner that night. I watched her handle the dough with all the skill of a pastry chef, and just the feel of it told her what it required. "This feels tough to me," she noted, then she put it back into the mixer, added a tablespoon of water, and once it was mixed, was happy with the texture. "The dough should be tacky, not sticky. But this is a forgiving bread, and you can easily adjust it if it doesn't seem right." If you're watching your cholesterol, Marilynn suggested using one whole egg and two egg whites. "You can also subsititute one or two tablespoons of honey for the sugar, or replace the water with milk for a more tender crumb but then it won't be kosher."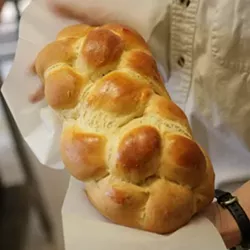 MARILYNN ROSENBERG'S CHALLAH: Sponge:


2 tsp. instant yeast
3 oz. unbleached bread flour
6 oz. water (90 - 110 degrees)
Prepare sponge at least 60 minutes before mixing the final dough. Mix yeast, flour and water together in mixer, until blended. Cover with plastic wrap and then a towel and allow to proof. When sponge has doubled in size, it's ready.

Final Dough:

15 oz. unbleached bread flour
2 oz. granulated sugar
2 tsp. kosher salt
2 eggs or 1 egg and 2 egg whites, lightly beaten
2 T. vegetable oil
Prepared sponge
1 egg with about 1 T. water mixed for egg wash

Place first five ingredients in electric mixer with dough hook, starting at lowest speed to combine, then stir in sponge. Once mixed, turn speed up to level three and knead for five minutes until dough is tacky but not sticking to fingers. In a bowl coated with cooking spray, place dough smooth side down. Turn dough over and cover bowl with plastic wrap, then cover with a towel, allow to rise until doubled in size.
Knead dough slightly, divide into three equal pieces, about 10 oz. each. Pat each piece into a rectangle that's even in thickness. Starting with the top of rectangle, roll down until you have a thick log, tightly pinch the seam. Allow it to rest a few minutes. Begin rolling each log out by placing hands in the middle and gently rolling it back and forth while moving hands outward, which will taper ends. Each rope should be equal in length, about 18 to 20 inches long. Place them side by side. At the top, tightly pinch the ends together and tuck underneath. Braid the three ropes, at the end pinch the three ends together and tuck under braid. Place on baking pan covered with cooking parchment, brush with egg wash, then top with sesame seeds or poppy seeds if desired. Place pan into a large plastic bag and allow to rise one hour. Preheat oven to 350 degrees. Uncover bread and brush with egg wash again. Bake until golden brown and the internal temperature checked with an instant-read thermometer is 185 degrees. Cool on wire rack at least one hour before serving.
Professional baker, chef Sheila McCann, owner of House of Bread in SLO, said she makes challah year round on Thursday and Friday for SLO's Jewish community. Author of House of Bread Made Easy
, McCann also teaches baking classes: "A common error of beginners is that they don't knead long enough. Gluten is the structure but if there's not enough kneading the bread ends up short and squatty." Part of the intimidation for beginners is the lengthy process, but should you be interrupted, McCann says put the dough in the refrigerator to retard development until you can restart the process. Rosenberg also suggested letting challah rise the second time in the refrigerator. The next day you bring it back to room temperature for baking. McCann concluded: "Once you know what good bread dough feels like, the process becomes easier."
You can reach New Times' Cuisine columnist at khardesty@newtimesslo.com.