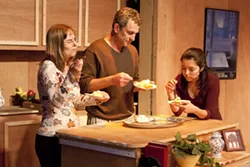 PHOTO BY STEVE E. MILLER
SOUL FOOD : Married Karen and Gabe (Maggie Koons and Daniel Freeman, left) console longtime friend Beth (Maya Addison, right) after hearing her husband is leaving her.
Dinner with Friends is so real, so domestic, it often feels like spying on one's own neighbors. Donald Margulies' Pulitzer-winning play, while tightly wound and nonchalantly brilliant, has a sheen of quotidian ordinariness. The homes, like the relationships, feel lived-in and comfortable. Conversations almost always begin on a cordial note, but from there, they can go anywhere.
The show, directed by Lisa Woske and staged at the SLO Little Theatre, opens as the married Karen and Gabe (Maggie Koons and Daniel Freeman, who have excellent chemistry together) are having their longtime friend Beth (Maya Addison) over for dinner. The food eaten—an exquisite Italian meal—the three are swilling wine as Karen and Gabe regale their friend with every little detail of their fabulous trip to Italy, squabbling here and there over minutiae. Ah, Italia, they swoon. The food! The wine! The Tuscan scenery! The crazy drivers! Beth listens attentively, volunteering questions at the appropriate intervals, but we get the feeling something is irking her. Suddenly, after Gabe steps out of the room to tend to the couples' children, Beth bursts into tears, finally admitting what's really on her mind: Her husband Tom (Bob Peterson) is leaving her for a stewardess.
It's the first of many cracks in the surface of cheery domesticity, and we look on, guiltily intrigued by Beth's suffering. Karen and Gabe each offer up their sympathies—Karen doing substantially more of the emotional heavy lifting than Gabe, who turns suddenly quiet.
It was they who, 12 years ago, first introduced Tom to Beth. Since then, the two couples had been best friends. So this sudden news comes as a shock, as though one of the sides of their perfect square has collapsed.
But as in any disintegrating marriage, there are myriad more reasons for the collapse than can be expressed by just one party over a dessert of limone mandorle polenta.
PHOTO BY STEVE E. MILLER
HONEY, I'M HOME! : Beth (Maya Addison) is startled by her estranged husband Tom (Bob Peterson) in Dinner with Friends, directed by Lisa Woske.
When Tom returns home to his estranged wife to discover she's already told Gabe and Karen of his infidelity and their impending separation, he's furious. Tom is certain Beth has unfairly villainized him while portraying herself as the abandoned victim, thus bringing Gabe and Karen over to her side. Despite the late hour, he dashes over to Gabe and Karen's home, where the startled couple is still reeling from the news of their friends' split. Karen is clearly angry with Tom, while her husband Gabe, perhaps out of some kind of gender allegiance, takes a more sympathetic approach, inviting his friend to share his own side of the story.
Tom, a lawyer, had supported Beth, a rather unsuccessful artist, for years. And yet, he explains, she constantly made him feel rebuked, undesired, and put down. The loneliness he felt had finally been alleviated, he said, when he met Nancy—who is a travel agent, he clarifies, not the trampy stewardess Beth had described.
We watch these four friends interact in nearly every possible combination, and each time we do, we see them from another, sometimes quite unflattering angle. There's no pivotal scene to this play, no big reveal, just a slow shedding of pretense, new truths cropping up in every conversation. A flashback scene to the day Beth and Tom met is quite funny, she flirtatious and annoyingly artsy; he coming off as an overgrown frat boy with an unwittingly abrasive sense of humor.

TASTY: Dinner with Friends, written by Donald Margulies and directed by Lisa Woske, plays at the SLO Little Theatre, 888 Morro St. in downtown SLO April 13 through May 6. Tickets cost $22 for general admission, $19 for seniors, and $15 for students. Visit slolittletheatre.org or call 786-2440.
In my experience, domestic dramadies about upper-middle class couples can get dull pretty fast, and yet somehow Dinner with Friends riveted me. Part of it was Margulies' expert dialogue; he manages to sneak in lovely, soul-probing monologues in the guise of idle conversation or frustrated ranting. The questions these monologues hint at are natural, yet invariably taboo: Does my partner love me? Are we happy? Have we exchanged passion for contentedness and security? The questions push up at the surface but only rarely break through, bringing tension to every scene.
Part of it, too, was the very real quality with which these four characters were portrayed. At a recent rehearsal, with a week and a half to go until opening night, the dialogue already felt airtight—no awkward pauses, no interjections from the director, no calling for lines. Such preparedness, quite a rarity in the theater community, seemed to enable the cast to sink more deeply into the emotional lives of their characters, the technical aspects of their portrayals already mastered.
As Gabe, Freeman is an incredibly believable everyman. Coons' Karen is slightly high maintenance, often flustered with a bewildered Gabe, who has little idea what the problem is. Peterson's Tom tends to walk that line between charming and utterly exasperating, while Addison's Beth is capricious, coldly withholding affection when she doesn't feel like giving it anymore, then pouring it out like a sudden storm.
People looking for more action and intrigue may find the hyper-realistic plot of Dinner with Friends rather bland, but that's like saying people used to eating jalapeños may find bread rather uninspiring. Once the palate has adjusted, though, there are ever so many subtle flavors to discover.
Arts Editor Anna Weltner has a hankering for some jalapeño bread. Contact her at aweltner@newtimesslo.com.