You know how I can tell Cal Poly is about to start? Because there's a ton of awesome music happening this weekend and into next week, that's how!
From SLO Brew's packed schedule to Otter Production's Avila Beach blowout concert to Pozo Saloon's country throw down and so on, there's just one great show after another.

PHOTO COURTESY OF BASSNECTAR
THE FUTURE OF AVILA : This concert shot of Bassnectar at The Hangout in Alabama is indicative of the scene to expect when they play Sept. 16 at Avila Beach Resort.
Let's start with Bassnectar, a veritable live music force to be reckoned with, which plays on Friday, Sept. 16, at Avila Beach Resort (gates open at 5 p.m.; all ages; tickets at valllitix.com or 1-888-825-5484), with Big Gigantic opening.
You don't just see and hear a Bassnectar concert, you experience it with all your senses. The concept comes from Lorin Ashton, and it's an "adventure [that] has no rules, no limitations, and no hesitation in fusing the familiar with the strange or the classic with the cutting edge. It exists as an open-sourced musical project that is as diverse as it is heavy, as raw as it is meticulous, and as fierce as it is imaginary. Spanning the spectrum of sonic style, the music covers every genre imaginable and smashes it all into a synthesis of intense, wobbling bass lines and hypnotic soundscapes."
According to Ashton, "We are so blessed, and so deeply fortunate to be alive and awake right now … it's a basic truth, but it's very powerful. I think privilege confers responsibility, and Bassnectar is a reflection of that opportunity to give back; the motion of my cells bouncing back at the world."
Bassnectar promises to be an unforgettable experience!
The dark horse
Gary Allen is what's right with country music. In a world of Taylor Swifts and Blake Sheltons, Allen is the troubadour for the downtrodden, the longshots, the losers, the cranks, and the iconoclasts.
"I ain't really happy until the sky starts driving rain," he sings on "Get Off on the Pain," the title track of his new album that embodies his dark side. Like Waylon, Willie, and Kris Kristofferson (whose rugged, lanky good looks he resembles), Allen is an outlaw at heart.
Get Off on the Pain is his eighth studio album, and perhaps the one closest to him.
"That's, like, very autobiographical," he says of the title track in press materials. "I feel like I'm living that right now. It's got a lot of life in there for me: It represents the relentless quality of life on the road. You'll never hear me singing about tractors or farms, just because I don't know anything about that stuff. Wrong roads and dark horses I know about. Still, I think the pain can get to be some kind of a positive for me because it connects to everything I've ever dreamed of. While it's relentless, it's confirmation of the actual existence of this big musical drama, the result of the dream."
PHOTO COURTESY OF GARY ALLEN
STOIC COUNTRY : Gary Allen brings his songs of the downtrodden to Pozo Saloon on Sept. 18.
Check out Gary Allan with special guests Chaparral and Jason Charles Miller on Sunday, Sept. 18 (gates open at 2; all ages; tickets at pozosaloon.com). Bring a low-back beach chair or blanket for lawn seating. Assigned seating is reserved.
SLO Brew blitz
You're going to need plenty of stamina to keep up with the machinegun pace of shows at SLO Brew this next week. Let's start with Thursday, Sept. 15, a show about which I got a frantic instant message from former K-Otter DJ and all-around music maven Cyndi Hafley: "Glen, I need you! You need to put the word out for the Steve Poltz show this Thursday! OK, so I love Steve Poltz."
PHOTO COURTESY OF STEVE POLTZ
GOOF BALL ROCK : If you like music with a sense of humor, check out Steve Poltz on Sept. 15 at SLO Brew.
The truth is out! Sorry Cyndi's husband, Shawn! Sorry you had to read about it in print. At least you have your new bike shop, Flanders.
Cyndi can be forgiven, because Steve Poltz is pretty awesome—clever, creative, and humorous. According to his bio, which Cyndi sent me, "He's a goofy, funny, incredibly talented man. He trick-or-treated at Liberace's house, planned a two-day stay in Amsterdam that ended a month later with him escaping the city under the cover of darkness, and was Bob Hope's favorite altar boy. In an alcohol-soaked haze, he infamously accosted David Cassidy, who had summoned him to Las Vegas to write a hit song for the aging Tiger Beat cover boy. On top of these add that this person also co-wrote the longest-running song on the Billboard Top 100, and was awarded the title of 'San Diego's Most Influential Artist of the Decade' at the San Diego Music Awards."
The former high school wrestler (98 pound class!) is "also an obsessive baseball fan, a die-hard yoga practitioner, a hopeless romantic, a smart-ass philosopher, and a child-like adventurer with an absurdist's view of the planet and all of its curious life forms."
This is a 21-and-older show with doors at 7 p.m. and advance tickets for $12 ($14 at the door).
"Oh! I forgot to say, he was in the San Diego band The Rugburns," added Cyndi. "We played them like crazy at KOTR and had a listener threaten to drive her car through the front of the studio if we played their song 'Dick's Automotive' one more time."
Now I know what request to scream out.
The Brew also is host to a show sponsored by K-PYG on Friday, Sept. 16, when Band of Heathens hits the stage (7 p.m.; 21-and-older; $12 presale or $14 at the door) with Truth and Salvage Company opening. Both these acts are great American bands, and if you listen to K-PYG, you've heard them.
On Saturday, Sept. 17, check out Murder by Death (7 p.m.; all ages; $12), and I don't mean the hokey movie that featured a cameo by author Truman Capote. They feature rocking Americana noir and dramatic post-punk sound, and local act Briertone will open.
J Boog takes the stage on Sunday, Sept. 18 (8 p.m.; all ages; $18 presale or $20 at the door). The Samoan reggae artist, born Jerry Afemata, got his first taste of an audience at age 9, singing the Whitney Houston song "One Moment in Time" for a church audience of 200. He's never looked back.
Finally, Monday, Sept. 19, check out Dumpstaphunk (7:30 p.m.; all ages; $15). Formed in 2003 by Ivan Neville of the famous Neville brothers, the one-off side project blossomed into one of New Orleans' favorite music exports. Get funkified!

Songwriters at Play
Steve Key's Songwriters at Play singer-songwriter showcases have a little magic cooked up for you this week beginning on Thursday, Sept. 15, when blues harpist Jakob Martin is the featured performer at the Porch in Santa Margarita(6:30 p.m.; all ages; pass the hat). The L.A. performer is touring in support of his new EP, Leave the Light On.
On Sunday, Sept. 18, Sculpterra is host to Santa Cruz's Nancy Cassidy as the featured performer (1 p.m.; all ages; pass the hat). Cassidy draws on life experiences, distilling moments and moods to create songs in a variety of genres: country, folk, torch, Caribbean, and gospel.
On Tuesday, Sept. 20, the newly relocated Kreuzberg is host to father and son duo Young Ireland, playing original music inspired by Irish folk traditions (6:30 p.m.; all ages; pass the hat).
All the showcases feature other performers playing four-song sets.
More music …
Lompoc-based band Saint Anne's Place—a young trio playing blues rock with a psychedelic twist—makes its SLO debut on Thursday, Sept. 15, at Frog and Peach.
Texas-based Americana-indie songwriter David Ramirez plays Linnaea's Café on Friday, Sept. 16, touring in support of Strangetown, which dropped last April. Paste Magazine called David "The best damn songwriter you don't know yet," and the Dallas Observer called David's music "electrifying, yet intimate." Also appearing is JUNO Award winner Lynn Miles, bringing her emotional rich folk sounds to Linnaea's intimate stage.
Local music legend Al "Shival" Redwine is the gift that keeps on giving, this time in the form of his son Balaram Redwine, who used to play with his dad but left town to make his own way. Now he's back. "I've recently formed a reggae band called BoomBala and have been steadily working. We'll be releasing a CD by October, in time for the Morro Bay Harbor Festival. I have been away for about 10 years and have a lot of catching up to do!" See BoomBala at Frog and Peach on Friday, Sept 16, at 10 p.m.

PHOTO COURTESY OF RED SKUNK JIPZEE SWING BAND

RED HOT : The Court Street Summer Jazz Series features the amazingly talented gypsy jazz act The Red Skunk Jipzee Swing Band on Sept. 17.
The Court Street Summer Jazz Series features the amazingly talented gypsy jazz act The Red Skunk Jipzee Swing Band from noon to 3 p.m. on Saturday, Sept. 17, on the Court Street promenade. Free live music!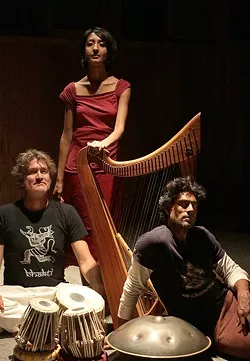 PHOTO COURTESY OF RUDOLF BUDGINAS
OM : Masood Ali Khan and PremaSoul with Johnee Gange and Alex Cordrey play Sept. 17 at m. BODY Yoga & Massage.
Ready to get your head on straight? Get that peaceful feeling going? Then check out the magical return performance by Masood Ali Khan and PremaSoul with Johnee Gange and Alex Cordrey on Saturday, Sept. 17, at 7 p.m. in m. BODY Yoga & Massage (780 Caudill St., SLO; $20 presale or $25 at the door; mbodyslo.com). "This magical, mystical kirtan-focused group returns again to play in the beautiful garden studio setting. The music combines the talents of Los Angeles-based band PremaSoul and international recording artist Masood Ali Khan, with local tabla player Johnee Gange and Bay Area bassist Alex Cordrey," according to press materials. This concert is a fundraiser for karmaNICA, an international charitable nonprofit organization m. BODY's director Peter Sterios co-founded in 2010, for building schools for impoverished children in Nicaragua. Thirty percent of the proceeds will be donated.
D'Anbino Vineyards and Cellars features the swinging hipster sounds of Three Martini Lunch on Saturday, Sept. 17, from 7:30 to 9:30 p.m. These Lounge Lizards want to swankify you. There's a $10 cover ($5 for Record Club members).
PHOTO COURTESY OF RUDOLF BUDGINAS
ROLL OVER, BEETHOVEN : Rudolf Budginas will take classic music into the rock realm on Sept. 17 at the Clark Center.
Rudolf Budginas may be a gifted classic pianist, but at heart he's a rock star who takes classical music and turns it on its ear. He's a charming entertainer whose audience patter is just as fun to watch as his playing. On Saturday, Sept. 17, he plays at 8 p.m. in the Clark Center with a special guest rock guitarist, presenting a crossover show of classical hits such as "Beethoven's 5th," Khachaturian's "Sabre Dance," and Tchaikovsky's "Black Swan." According to press materials, "These rock, pop, and jazz-inspired arrangements for piano, guitar, bass, and drums take classical music to surprising and unexpected directions." Tickets are $38 to $48 (489-9444).
The Village Summer Concert Series closes with a whopper of a concert on Sunday, Sept. 18, when local guitar guru Guy Budd and angelic vocalist Inga Swearingen join forces at 1 p.m. on the Rotary Bandstand in the Arroyo Grande Village. The DPAC Competition Dancers will open the free, all-ages show.
Local prog-rock kingpin Travis Larson will be joined by Grammy Award-winning guitarist Larry Mitchell for two local shows this week: Tuesday, Sept. 20, at Frog and Peach at 9 p.m.; and Wednesday, Sept. 21, at The Pour House at 7 p.m. According to his bio, "Mitchell is a distinctive and reputable six-stringer who reveals his playing style as instrumental music with emphasis on the guitar." He said, "I like my music to move people in some way, tears, smiles, erotic arousal, laughs, just to move people."
On Thursday, Sept. 22, painted Sky is proud to present Cambria's own singer-songwriter Jude Johnstone, whose songs have been recorded by the likes of Bonnie Raitt, Johnny Cash, and Trish Yearwood. She'll be joined by Austin-based Ray Bonneville, who is known for his "loose, darkly funky vibe" (All Music Guide). Tickets are $20 (927-8330).
Keep up with Glen Starkey via twitter at twitter.com/glenstarkey, friend him at Myspace.com/glenstarkey, or contact him at gstarkey@newtimesslo.com.