I'm gonna let you in on a little secret, which will probably only surprise people who knew me as a jock in high school: I don't really like watching most sports, even the ones I really like playing. Mostly, it's just not nearly as satisfying as getting off your butt, throwing on 20 pounds of padding, and joining the field of battle.
But there's something about roller derby. Maybe it's the ridiculously cool names, or the ridiculously cool tights, or the fact that the players aren't out there because of a multimillion-dollar contract or college scholarship. They're out there because they want to be, because they enjoy each other's company, because sometimes you just need to hip check a woman in booty shorts wearing a helmet with a star on it.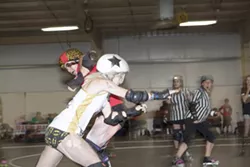 PHOTO BY COLIN RIGLEY
NA NA NA NA NA NA NA NA: CCAD's Talia al Ghoul goes head to head with Paso Aggressive's Lola Von Carnage—who was wearing my favorite pair of tights of the night.
This is all a lengthy way of saying Colin and I—Colin being the paper's senior staff writer who's down for any event that features nachos and cheap beer—attended Central Coast Roller Derby's double header championship bout on Saturday, Nov. 22. It started with the SLO CO Junior Derby Devils squaring off against the V-Town Derby Delinquents from Visalia at 3:30 p.m. Then Paso Aggressive would go up against CCAD's Rock & Rollas from Fresno at 5 p.m. Finally, the Broad Street Brawlers faced off against A-Town Asylum for the championship at 7:30 p.m. We've learned from experience that Colin doesn't have the attention span necessary to sit through three full-length roller derby bouts, so we were going to have to make some tough choices.
Paso Aggressive has always been my favorite team, and I really enjoy bouts against teams from other counties because it gives me an opportunity to see some new skaters. Also, we happened to be present at the end of last year's championship bout and the crowd got a little ugly, so we knew we didn't want to stick around for the end of the last match.
We arrived just as the junior players were finishing their bout, and while I was bummed that we didn't get more time to watch the future of Central Coast Roller Derby develop their skating skills; the junior league is still pretty young and I know there will be plenty of future opportunities.
Colin takes off in search of nachos and I use the warm-up period to try to gauge CCAD's team and make predictions about how they're going to fare. The thing that I love about roller derby is how the players are capable of surprising you. The player with the toughest name isn't always the biggest badass on the track, and the smallest player is sometimes the most intense or talented. This was certainly the case with the bout between Paso Aggressive and the Rock n Rollas.
Pretty much immediately, Talia al Ghoul—this tiny blonde kid who seriously looks like she could be a doll—establishes herself as a jammer to be reckoned with. She just throws herself into the pack, finds a way through, grips her teammate's jersey, and flies like Tarzan through the fray. Talia's a total badass and watching her I finally recognized that the difference between the amazing jammers and the decent jammers is that they both take the same hits—which there are A LOT of—but the amazing jammers somehow keep on fighting. She always gets up. It's pretty obvious that Paso doesn't have a jammer to match Talia. In fact, it's a very different team than I remember watching last year, and a woman sitting behind me unwittingly provides a clue as to why this is by talking about the fact that recruiting numbers are down and CCRD is having a tough time maintaining three local teams. This theory is born out when I see basically half the team change out of their Paso jerseys to don Broad Street Brawlers attire for the next match. But I'm jumping ahead of myself.
While Paso clearly couldn't keep up with CCAD in the offense category, I've always been a bigger fan of a strong defense, and several Paso players were downright brutal defenders. You pretty much know Blaque'n Deckher is going to put the hurt on the opposing team's jammer, and I saw her lay Talia out flat on multiple occasions. But it was Pinball—who would play a second bout for Broad Street Brawlers soon after the match—who really surprised me.
"She's kind of a psychopath, isn't she?" Colin breathed in awe, as we watched her fling herself at the opposing team's jammer, spinning to face them, and fighting them with everything she's got. Pinball's not very big, but she was everywhere on that track, and I imagine Talia would have racked up a lot more points than she did if it weren't for Pinball's solid defense.
That's when I had my second revelation of the evening: The players that are the most fun to watch—jammer and blocker alike—all have a psychopathic quality on the track. CCAD's jammer was approaching the pack and both team's blockers were relatively calm when suddenly AFROdisiac launched herself at the Paso Aggressive blockers, trying to make a path for her team's jammer. It was brutal, unexpected, and utterly beautiful.
Later, after CCAD was done defeating Paso Aggressive 222 to 94, I watched A-Town Asylum's Rita Bandita get this sort of terrifying, very intense expression on her face when it was her turn at jammer. She was frantic, and quick, as though her life depended on her ability to get out of the pack. I found myself looking forward to her jams, elbowing Colin and telling him to put down the camera and watch her skate. Definitely a psychopath, but the very best kind of psychopath, who skates for love and charity and kicks all kinds of ass.
So here's to you, psychopaths on wheels! May your numbers increase, may your vendors never run out of nacho cheese, and may your bruises and gashes heal quickly and infection free.
Managing Editor Ashley Schwellenbach is one pair of roller skates away from joining the fray. Send elbow pads to aschwellenbach@newtimesslo.com.