I know I had some 2,500 years to plan for the Mayan apocalypse, but the end simply couldn't have come at a worse time. As an adult with a brain, I didn't really believe in it, so it's not like I could flush all my obligations down the toilet and get crazy smashed with friends till the sun blew up. And if I did, I would have started celebrating last month and done it right.
PHOTOS BY NICK POWELL
WHAT COULD GO WRONG? : Lovely till the end, Simone served "bath salt" shots on the supposed eve of the Mayan apocalypse. This one time in Florida, a dude smoked (?) bath salts and ate somebody's face, which would have made this party really epic.
I was beat by the time Dec. 20 rolled around. Although the world was scheduled to come to screeching halt a few hours after midnight, I wanted nothing more than a nap (I'm old and boring). I was ready for the world to end, to be honest, but didn't even have the energy to party appropriately.
I'd slept a mere five hours the night before, worked eight that day, spent another three with the delightful cast of It's a Wonderful Life putting on a Christmas play so touching it can melt any heart (except ice-queen reviewer/my boss Ashley Schwellenbach), and followed that with a late-night arts and crafts session making gay Christmas cards for the hate-mongers at Westboro Baptist Church.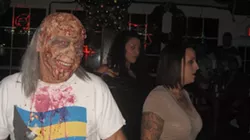 HUNGRY FOR BRAINS? : Known only as "Black," this zombified fellow rocked the dance floor with all the beautiful people, a fine way to bow out if you ask me.
By the time I got home for a quick snatch of rest, I found my wife curled up in warm blankets watching the first disc of Game of Thrones, which had finally arrived from Netflix. I couldn't think of a better way to spend my last night on Earth, but pictures of that wouldn't have made for an appropriate Art Bash.
So I dragged my ass out of bed and went to the bars. My local watering hole was already dead, no apocalypse needed, so I hopped on the highway to Grover Beach, where Mongo's was apparently being overrun by zombies.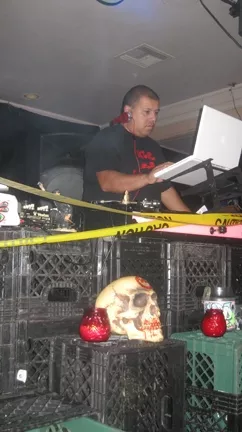 BRING THE BEATS : The Milk Cr8 Kleptos were spinning dub-stepping dance tunes late into the night.
I'd never been there before, but I'll be back. The place has the perfect floor plan for every kind of drinking one could imagine: a big ol' dance floor, a labyrinth of bar space where the singles could mingle, and tables set in the back for alcohol-addled discourse. The crowd was great—young, good looking people who mostly weren't in college anymore—and the music was bumping.
If I had any clue what to do as a married guy alone at a rowdy bar full of pheromones at the end of the world, I might have stayed, but I didn't. I snapped a few pics, said a few hellos, and bounced, arriving home an hour or so too late to wake my wife for some end-of-the-world whoopie.

Staff Writer Nick Powell is so freakin' ready for the holiday break. Send absolutely nothing to npowell@newtimesslo.com.